I've made some changes to my plan for where guests will stay at my Build & Breakfast since I first told you about my big plans. The Covid 19 Pandemic has certainly slowed down the process of renovating the workshop space. Also, I don't yet know when I'll feel it's smart and safe to open up and start holding classes. I'm not getting impatient about the timeline because everyone's health and safety is my main concern right now.
I'm just going with the flow and working on what I can while I wait for products, materials, people…and clarity on the situation. In the meantime, I've continued to design (and design and design) the upstairs, guest suite/living portion of the B&B. I literally drew up 54 more configurations. This is the one I settled on as the best use of space for guest suites AND our own temporary living space while I renovate our house.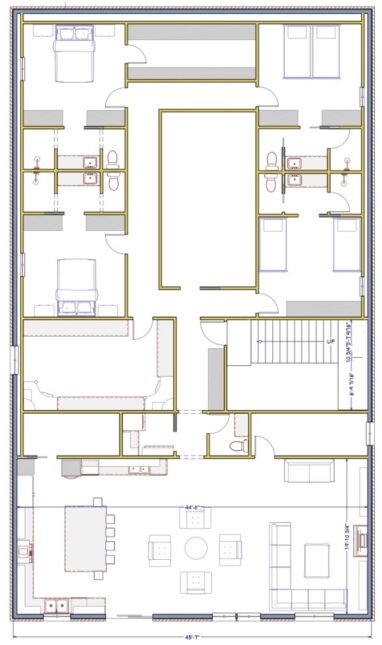 Temporarily, the top, left room would be Wes and my room, which is why it has a larger closet. Once we were ready to move back to the house, I'd move the door to the hallway and it would be a normal guest suite. The room in the center is a craft room with an office across from the stairs. It's a really functional plan and I'm sure it would have been an amazing place to hang out! However, a couple months ago I realized that building a big gourmet kitchen huge living room up there AND in the main house didn't make any sense.
What makes sense is to build a g as a part of the Guest Wing as part of the main house addition. It makes so much sense because I was planning on adding guest rooms to our main house addition anyway and now I'm not using up my limited finances to build duplicates of…pretty much everything!
Existing House
So here's the main house as it exists today. I've found out some interesting things in the last year about this house. Apparently, there was a secret door that led to a cellar! Supposedly that got filled in because it was collapsing (but Madison is convinced we're going to find some hidden mysteries eventually). Perhaps we'll find some when I get to the point where I renovate this space. For now, it's going to stay as it is. I promised Wes he wouldn't have to LIVE through another renovation so I'm not doing anything to this space until the addition is built. Then I'll gut and redo this space.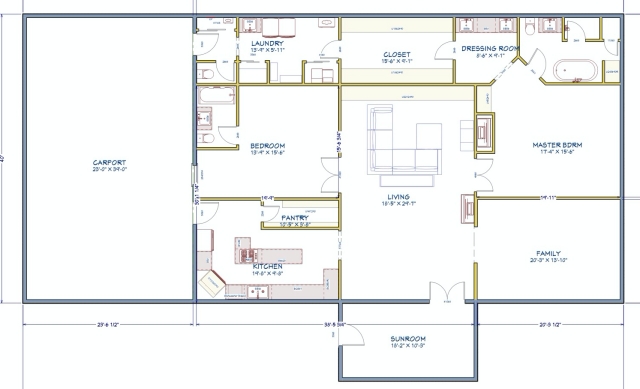 Guest-Wing Addition
The following picture is the house as I will eventually make it, WITH the addition of the Guest Wing. The guest suites will all be above the new garage, pantry, guest entry… The guest entry door will be keyed along with each guest suite, pretty much like a hotel. The door from the guest entry to the house will also be keyed so our house is only open to guests — when we want it to be. Muahahahaha.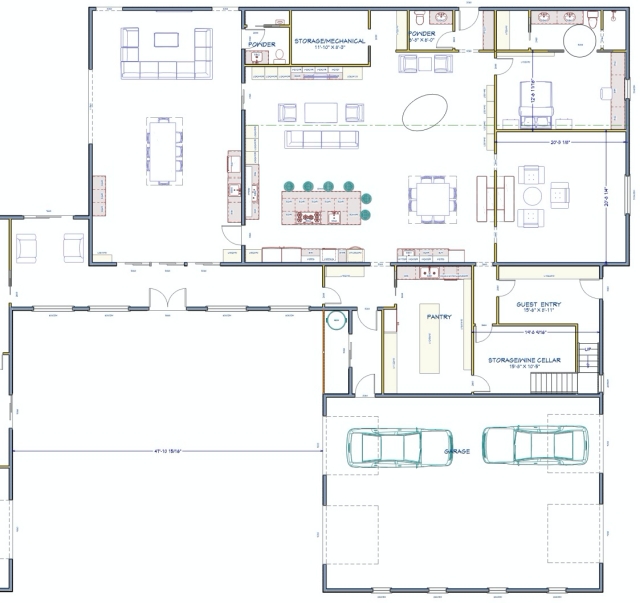 Upstairs
As like before, I designed and configured this space about 100 different ways. This, for now, is what I have decided is the best configuration to provide a comfy, homey, luxurious experience for guests. Which is absolutely what I want to provide.
My plan provides a community coffee bar and laundry closet in addition to five guest suites. One guest suite will be a bunk room. The only item I'm still vacillating on is the bunk room configuration. The bunk room will provide 4-6 beds AND a place for occupants of this room to have their own place to hang out. (I'm imagining a group of friends or family that all want to visit together.)
Option 1
The below option allows the bunks to be in an area that can be closed off from the rest of the room. That way some people can sleep while other's stay up and watch tv or chat. This option could accommodate 4 beds, spaciously or I could add another set of bunks to create a U shape with 6 bunks.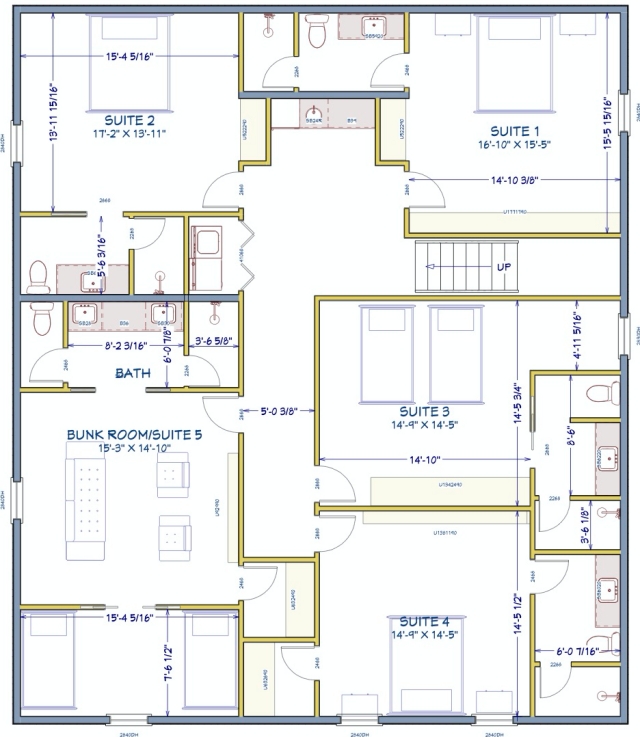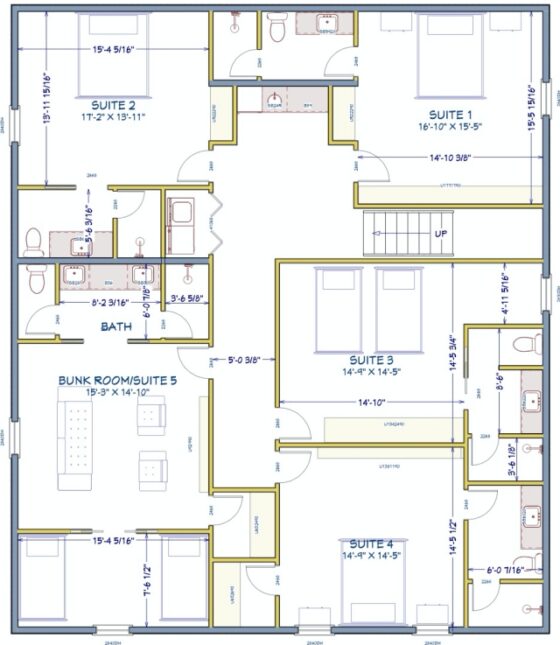 Option 2
This next option has 6 bunks out in the open with sofas, chair, beanbags, etc. set up around the room. I can picture this setup and it would LOOK super cool (the blogger aspect of me is always analyzing how things will look in photos). However, it's not as functional because if one person wanted to go to sleep, everyone would have to comply or try to be quiet. That, of course, would be very difficult and I can only imagine what kind of drama might follow in the days to come.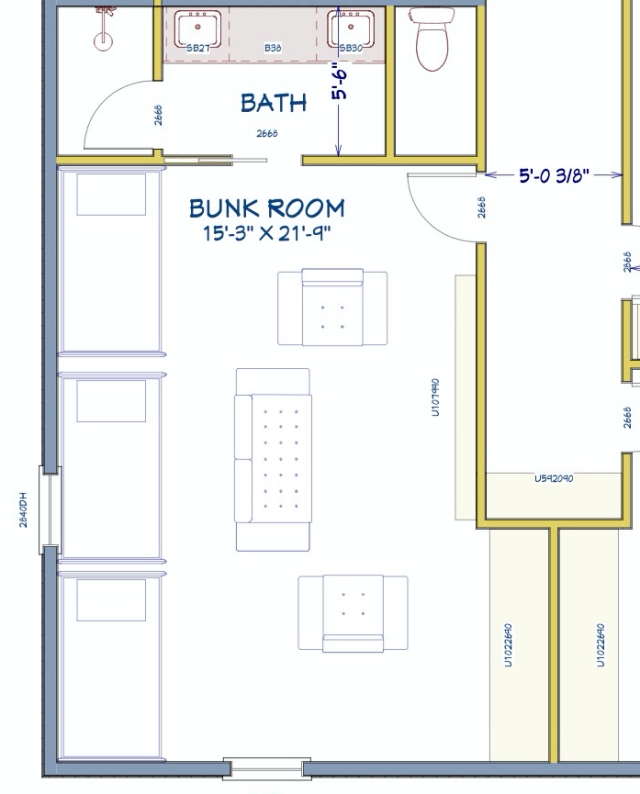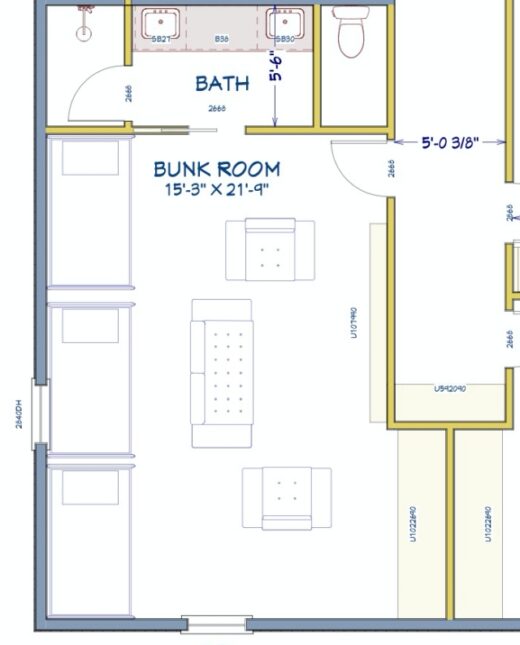 Six people in one party is A LOT of people. DO I NEED a bunk room with 6 beds? Or is 4 plenty and I would never need more? These are the things that keep me up at night, imaging. It makes no difference in cost or work -at this point in development. What I don't want is to build it one way and then WISH I would have done it differently! SO weigh in and let me know if you can imagine ever wanting to book a 6 bunk suite with friends. And IF you do, which configuration would you rather stay in? OK? Thanks!
Wheelchair bound guests
I don't know if I'll have a wheelchair bound guest who wants to come to the B&B, but I'm going to do my best to make it an option. Because I'm not able to modify most of the major power tool bases, (table saw, shaper, jointer, planer…) I would need to customize a session for that person, depending on what they wanted to learn. BUT I think we could work together to figure something out and I'm absolutely willing to try.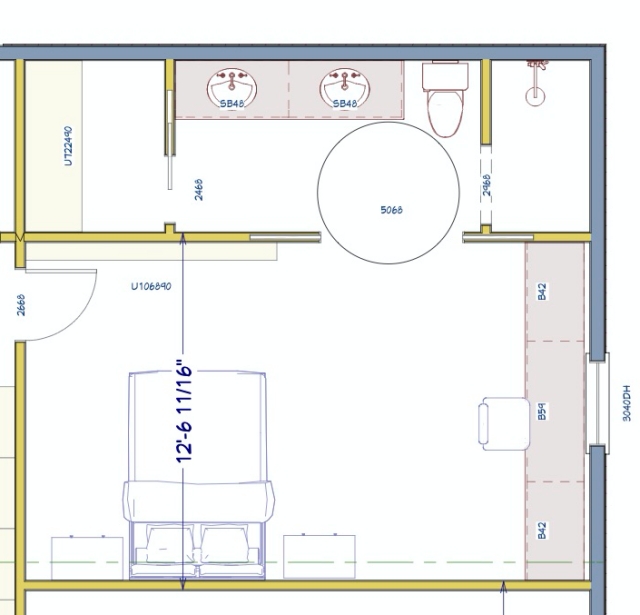 3000 sq/ft Studio and Event Center
You might be wondering what I plan to do with the upstairs 3000 sq/ft of my giant building, now that I'm not building guest suites. Well, let me show-and-tell you!
"Event Space"
I know a lot of people don't want to renovate their house but they would love to build a little something to take home so the large, open space in the front of the building is going to be a BIG classroom kinda room.
Wheelchair Ramp and Bathroom
The back side of this building being partially below grade is what caused some of my drainage issues, but it's also what will hopefully allow me to make this upper floor, wheelchair accessible. We're hoping to build a wheelchair ramp and adding a door on the back. Also why I've designed one of the bathrooms accessible for a wheelchair.
Kitchen and Laundry
I'll add a catering kitchen and pantry because who wants to attend an event without food? Not me (probably). Also in the plan is a small laundry center for linens and whatever washing might be associated to the crafting that goes on.
Studio
Also, you remember the craft room I built in my last house? I'm going to build a new one! In the last year since we put all our stuff in storage, I can't tell you the number of times I needed to sew something (or paint, cut out, print, etc)! This studio/craft room will be large enough that I can set it up as an additional "class space", in case I decide to do a CRAFT WEEK at the B&B sometimes. (I think I do!)
Office
The room you see labeled as a "podcast room" is most likely going to be my office. I didn't plan my office in my house addition because it's more convenient for me to have it here. Probably most importantly because there are no dogs barking at every leaf that falls outside which makes it REALLY hard to do voice overs, have a phone or video call, OR do any kind of filming or recording! SO that's where my office needs to be.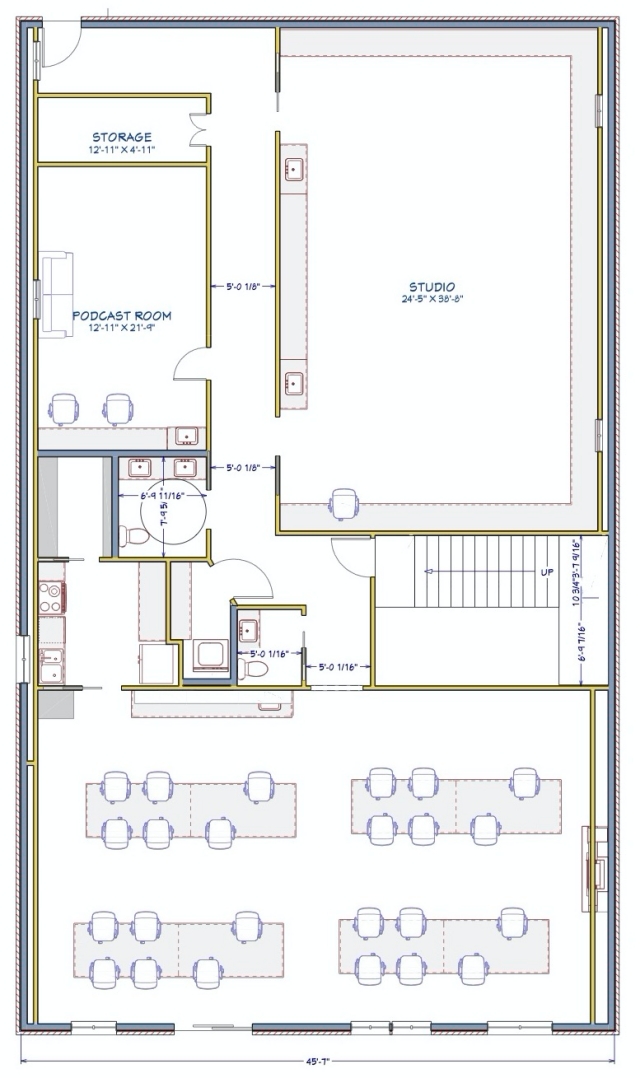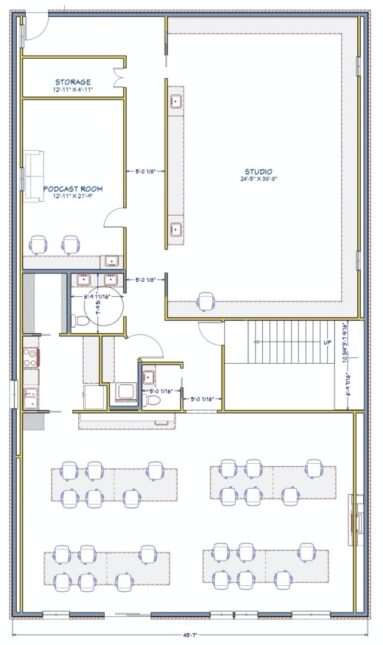 Alternative option
I'm 97% sure I WON'T do this alternative plan but I had to draw up an option for TV- just for the heck of it. About 1 1/2 year ago when Julie and I were talking to (yet another) production company about "creating a tv show us and what we do" (that will 99.999% NEVER happen), we suggested that my B&B would be a great spot for a building competition show. So when I think about the logistics of what I imagine that show would be like, I consider we might need some kind of convenient accommodation for it.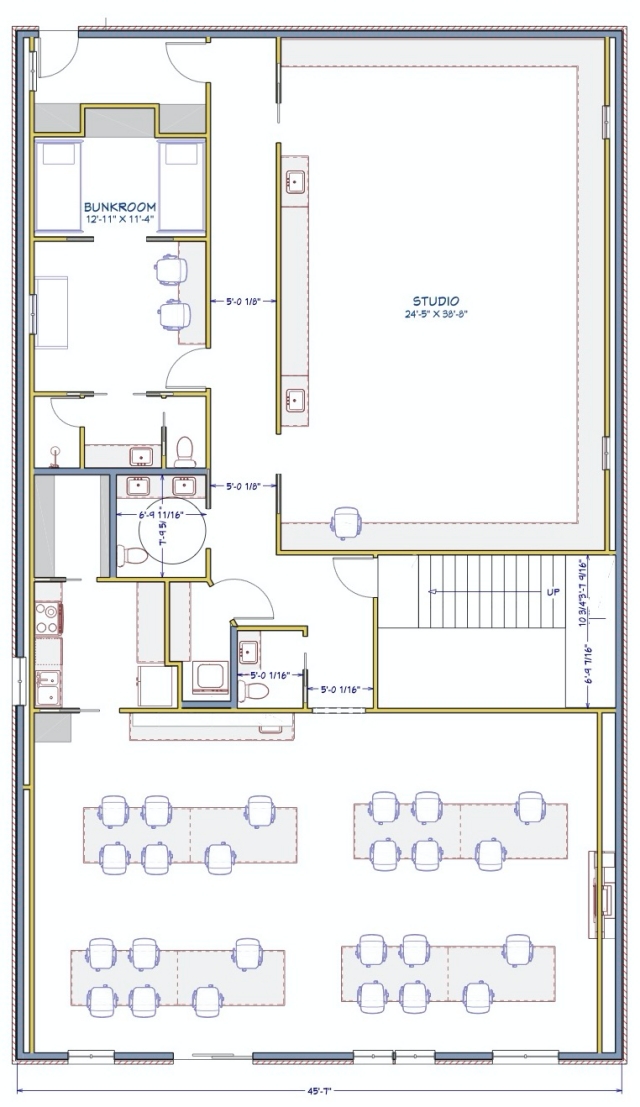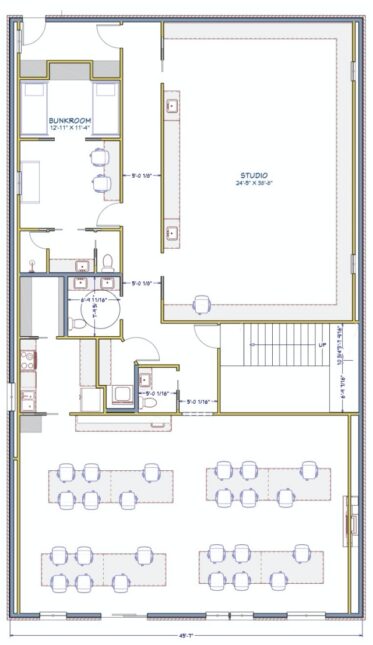 Since I drew it up (dozens of times) I figured I might as well share it, even though I'll 99.999% build the first option. I have 100 things to finish on the main floor of the workshop before I worry about the upstairs over there anyway.
The guest wing addition of the house is going to start as soon as the draftsman and I finish going back and forth on change requests and he gives me the completed construction plans! We're on our second round of changes. I've drawn up the floor-plan but I needed someone to take those and design what the house is going to look like from the outside. I have zero experience changing the outside of a house like I'm about to do. I've renovated the inside of 8 houses but never built from nothing or added on before. As soon as I have the final construction plans I'll start getting quotes and submitting for permits! I'm excited to get started on this but have 100 things to keep working on in the workshop too. And keep working on those in between and around the addition work. Thankfully Julie LIKES GC'ing so I don't have to take everything on myself. Between the two of us, we'll come up with something amazing. I just know it!
I know this is A LOT of information! Don't forget to tell me what you think about the bunk room. 4 or 6 bunks? Why? Separated or in the room? Why? And anything else you think I should consider. Thanks in advance!