My amazing craft room (that I will never use) is complete! This room has TONS of functional space with four designated work stations and more storage than a person will probably ever utilize.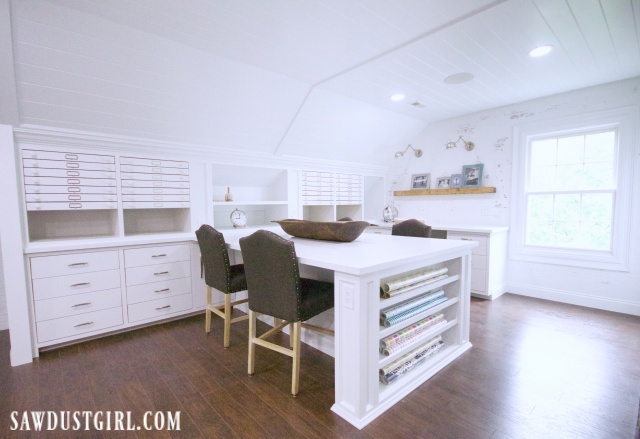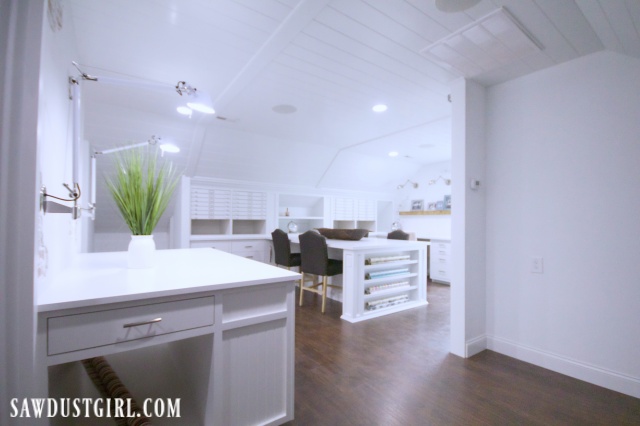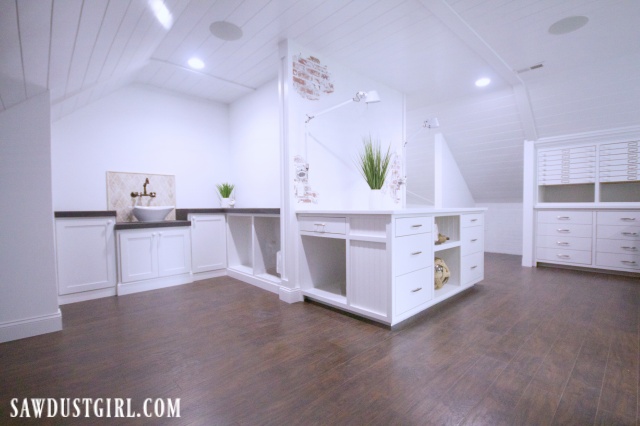 Craft Island
The main section of the craft room has a large island the comfortably seats 4-6 people. Four people could easily share the island countertop with plenty of space for each person to do their crafty project. I installed plenty of power receptacles at every work station so every person seated at the island has access to at least one.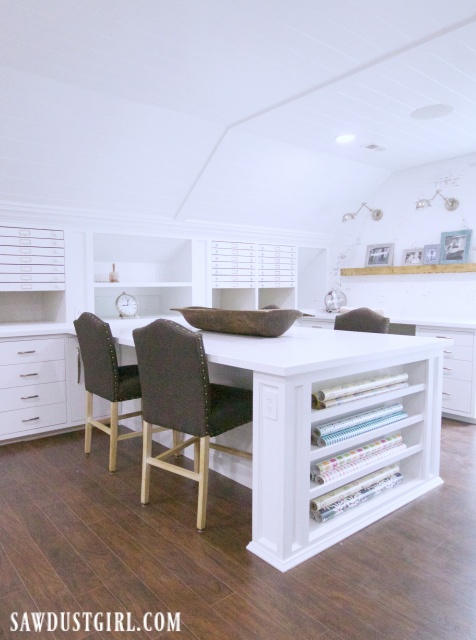 Six people wouldn't have as much countertop space, which would be fine if you were just drinking coffee and having "book club" or something like that.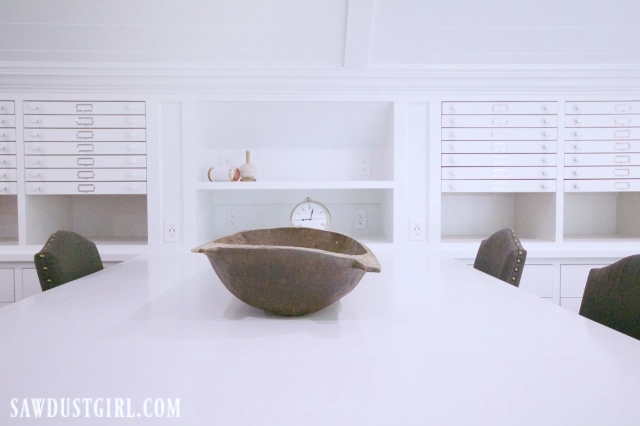 Storage
There isn't an inch of wasted space in this room. I built pull out storage cabinets under the countertop, on each side.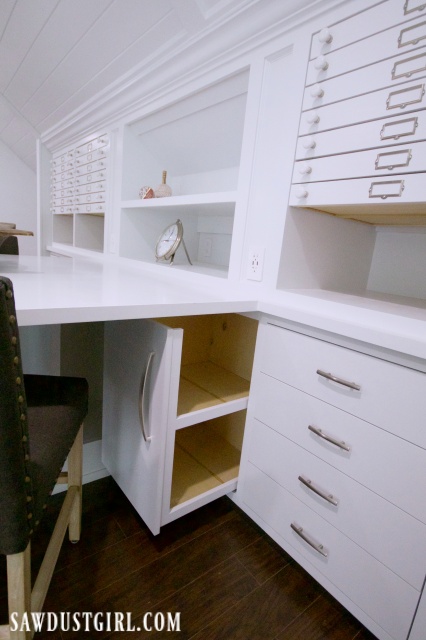 The far side of the island has open cabinets. I lifted them off the floor enough that I could add a foot rest bar — though I never did. Someone can add shelves to these cabinets, or use them as is, to store tall items.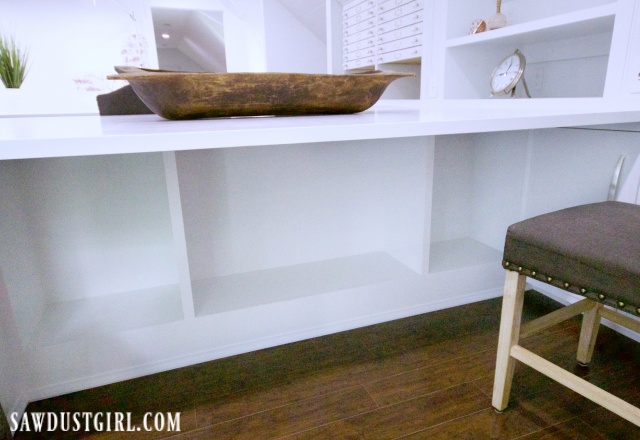 The end of the island is a wrapping paper cabinet. Well, it can hold whatever, but I built it with the intention of it being a wrapping station.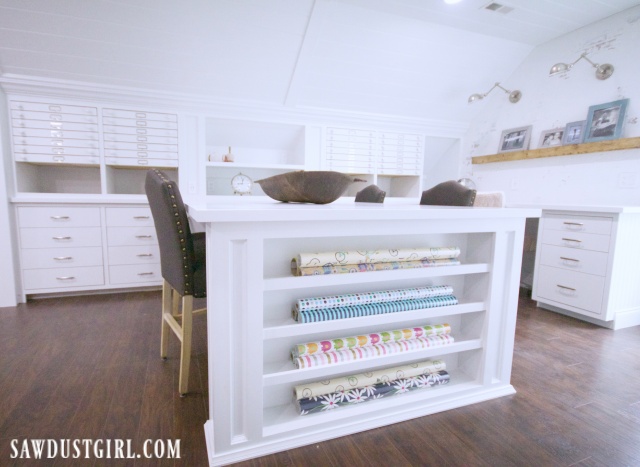 The wall to the left of the island is full of drawers. Drawers and drawers and drawers! On the lower section, there are eight drawers, plus the pull out cabinet, on each side of the island.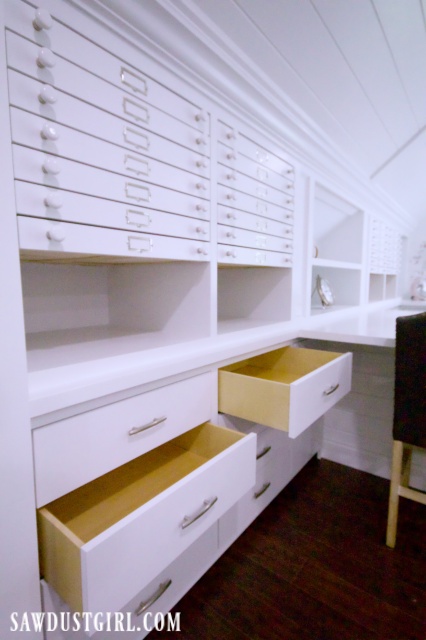 The map drawers in the top section are built into angled cabinets. Each drawer is slotted to accept dividers, though I didn't cut any. The drawers are all different depths. The top one is only about 3″ deep.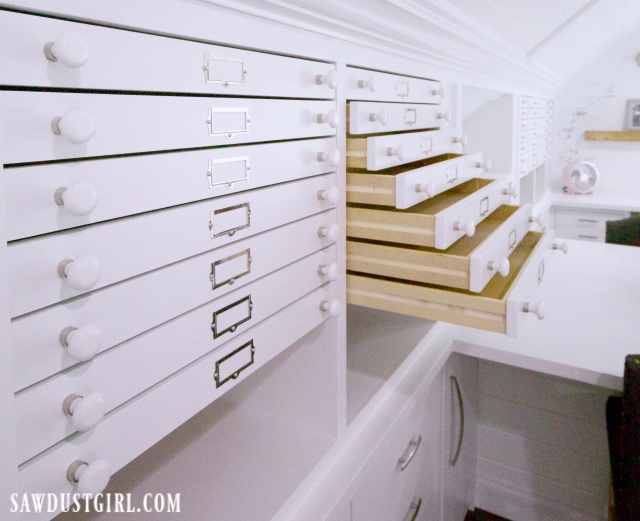 Work Stations
The far end of the room is a single desk area with task lighting. This space could be used for planning or "office work" or for another crafting station. I built the picture ledge out of scrap wood. The sconces are from Restoration Hardware Baby & Child. Amazon has some more affordable and similar options like this one.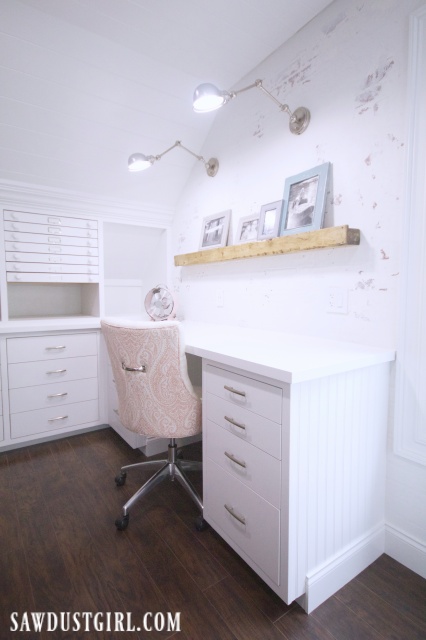 Standing at the far end of the craft room, looking back towards the entrance, you can see there's even more to this room.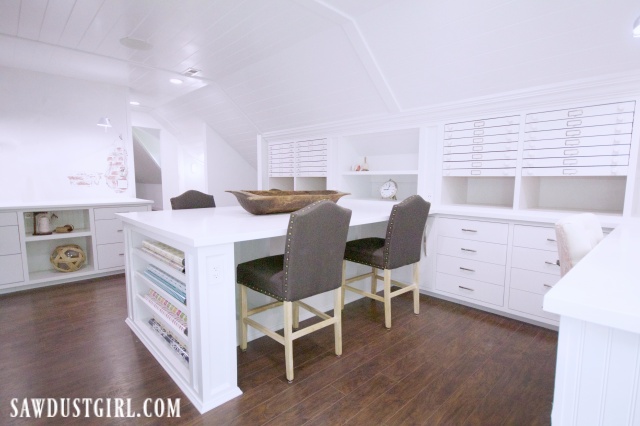 Cutting Table
The top of the cutting table is 42″x72″. This top, along with the island and desk surfaces are painted with Sherwin Williams, semi gloss, ProClassic paint. It's a cabinet/trim paint that is very hard once cured. It holds up very well to normal wear and use. However, I wouldn't use a cutting wheel directly on the painted surface. I purchased a self healing mat — which I'm taking with me.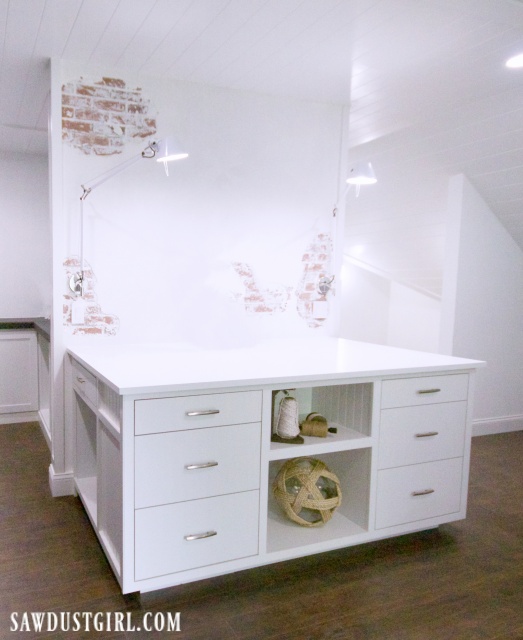 The back of the cutting table is a long cabinet that holds full fabric bolts. Above that are two shallow drawers, perfect for scissors and other tools.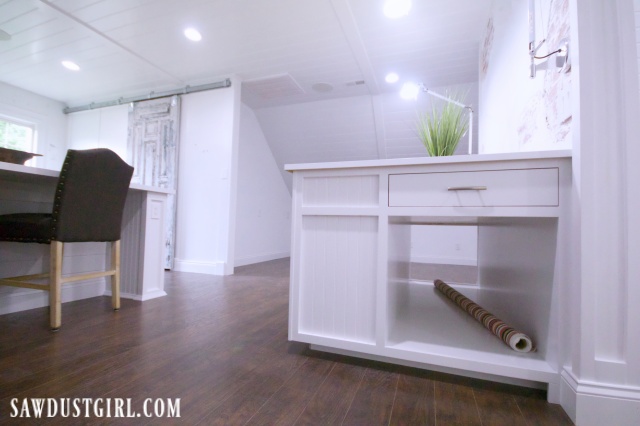 The task lights are posable so you can move them around and direct them exactly where you want light.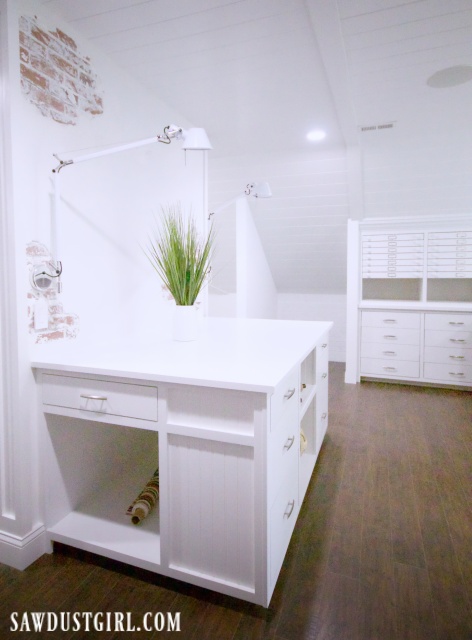 I installed a power receptacle and cable/internet for TV in the faux chipped plaster and brick wall . For the sake of pretty photos, I edited that box out of most of the pictures. I also installed ceiling speakers. The wires for those, along with a power receptacle are housed in the front of the cutting table. (I planned this craft room out well! LOL)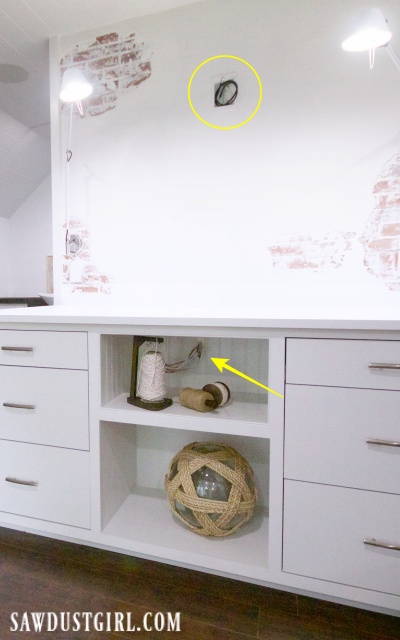 To the left, behind the cutting table, is the sink area.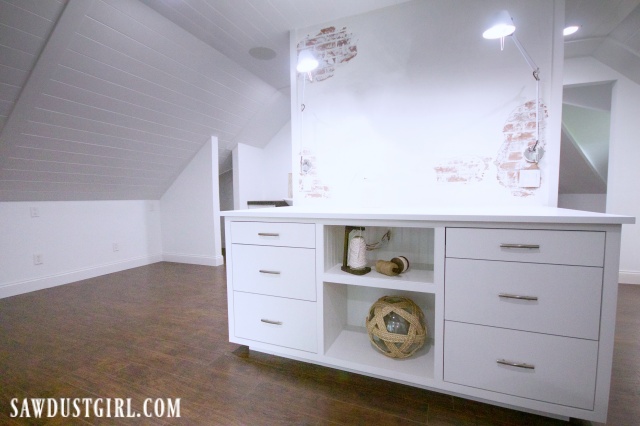 Craft Room Sink
This is not the sink I had planned on putting in this craft room. I built these cabinets specifically to hold an apron sink. But since I'm now just "finishing to sell", I want to take that sink with me and use it in my new house. Because I've moved a lot, this isn't the first time I haven't completed my full vision of a renovation. So I have a few light fixtures, sinks and faucets that never got used. Luckily I had a sink and faucet that worked with the cabinets and plumbing so I was able to use up some of my excess. Whoop- whoop!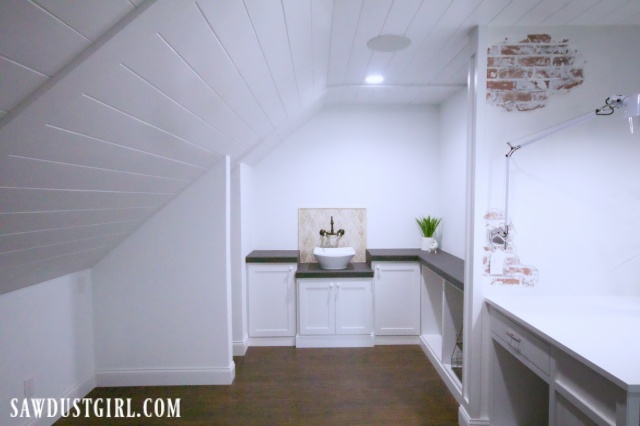 Julie tiled the countertops and backsplash last week. I opted not to build doors for the shallow side cabinets. Open shelf cabinets are fine there.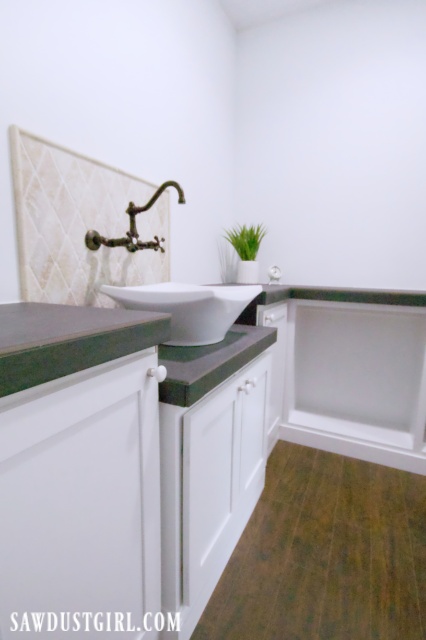 I had intended to build cabinets all the way to the ceiling when I was building this space for myself. Now that I'm selling, I've taken most of the additional projects off the table. This space could use a wall shelf or two but that's something a new owner can decide.
Future Potential
In front of the sink, there is a whole other area that I didn't bring to my full vision. I planned on a large L shaped desk along these two walls. Those walls were intended for "office" and "sewing stations". My handy electrician wired receptacles above and below the designated desk height, to provide power wherever needed. I'm leaving it empty. Someone else can decide how they want to use this space.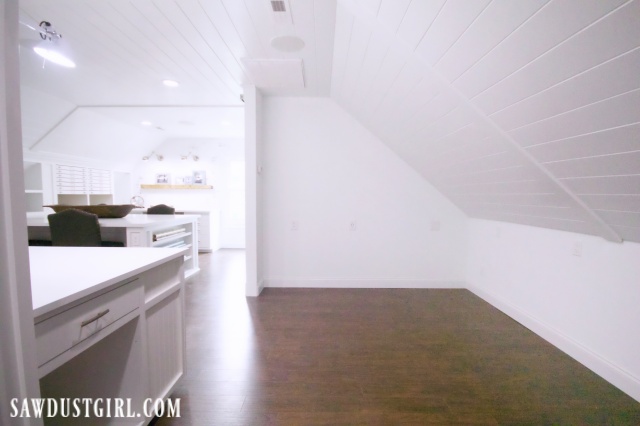 On the right side of the cutting table is another space I never got to.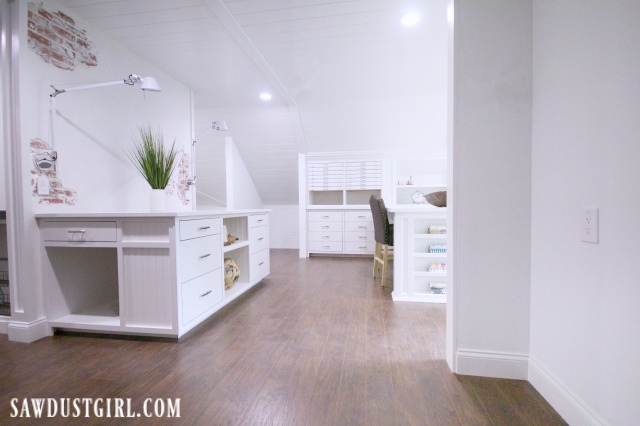 This little space has an access panel to allow a person to shimmy behind the angled cabinets if for any reason they need to. Perhaps someone will place a piece of furniture here…or something.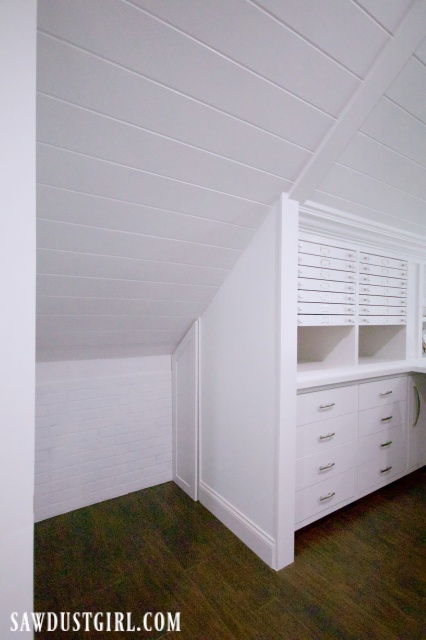 Reading Nook
This is the entrance into the craft room. Right as you walk through the doorway, there is a little reading nook to the left.
I planned on hiding this space behind a hidden bookcase door but it's pretty cute as is.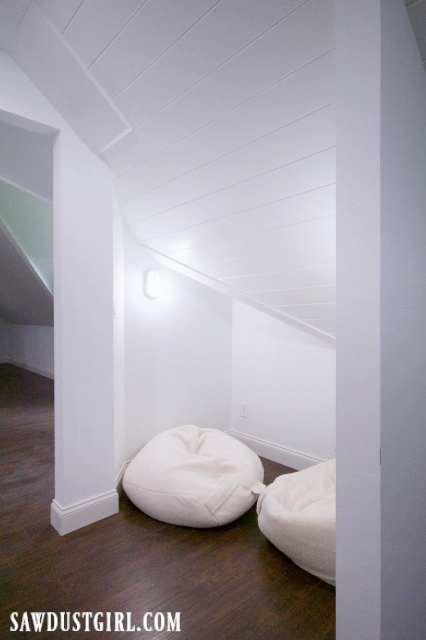 Closet
You may remember the chippy paint barn door I made. The barn door hardware extends the full length of the wall (which is actually a cork wall!)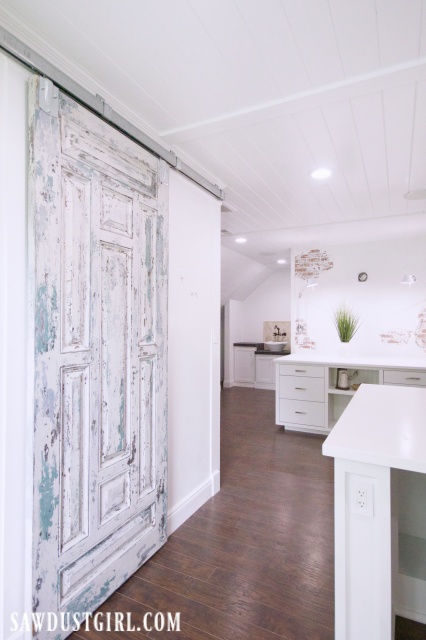 The barn door hides the entrance to the walk in-closet where I built long floating shelves. (After I moved the door, build an additional wall and relocated the thermostat…)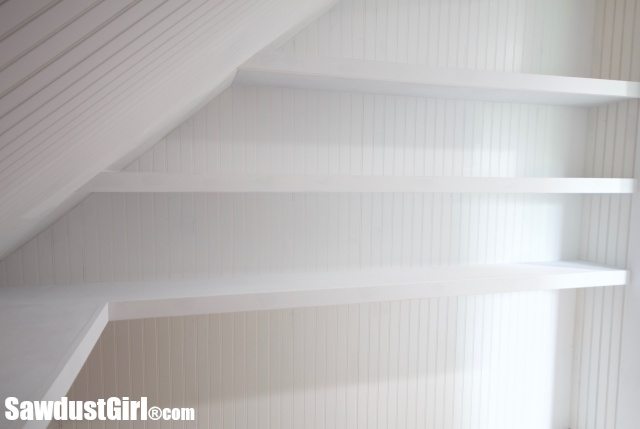 Moving on
We'll see how I feel when I actually move out of the house, but right now I'm not sad. I'm happy to see it finally finished (mostly to my original vision) and excited to get on to my next adventure. Maybe part of the reason I'm not sad about leaving this room is because I don't really "Craft" any more. I've migrated more towards woodworking and "making" which is why we're moving in the first place. The 3000 sq/ft workshop at my new place is calling my name!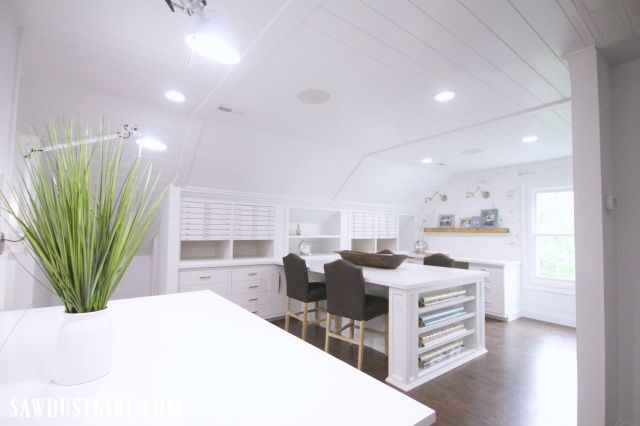 Though I never had time to enjoy it, I hope this amazing craft room makes someone else very happy! Click here to see all the posts I shared while building this ultimate craft room.