My island is finished and the craft room is now ready for countertops!  In designing each aspect to this room, I've tried to think about every possible "craft room usage" scenario and anticipate where I might want or need access to a power outlet.   I originally dismissed the thought that I could, at some point, wish I had an outlet on the end of the island.  There is an outlet on the wall right there, I could reach.  But why not just create an option where access to power is easy and convenient?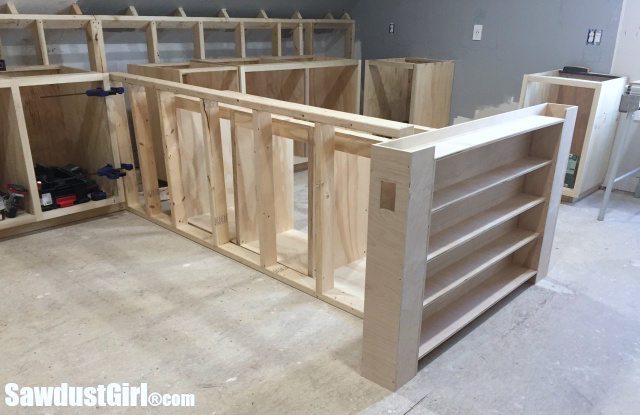 Craft Room Island Progress
I knew I wanted a wide, shallow cabinet for the end of the island so I designed it with space for outlets and ran the wire through the half wall I built to support the cabinets.  I probably didn't need the half wall, I could have just secured the island cabinets to the floor with blocks and then secured the end cabinet to those and run the Romex under the cabinets, but decided on the half wall.  6 in one hand, half dozen in the other kind of decision.  The half wall option made my brain happier.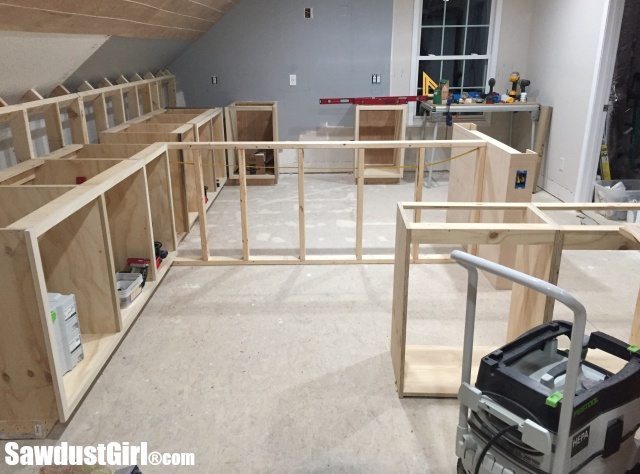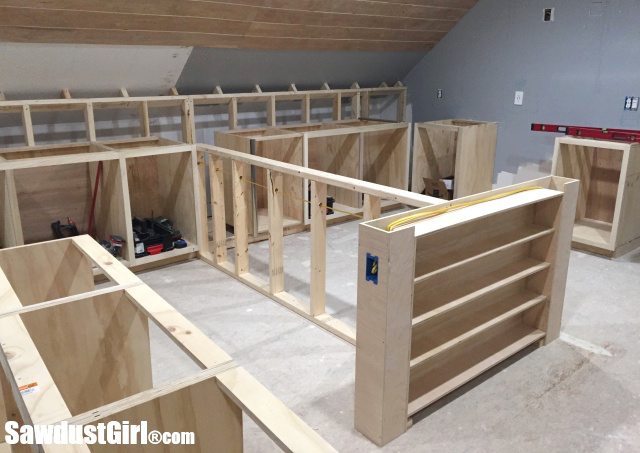 Then I built cabinets for under the island.  These won't be easy to get to, I'll have to get under the countertop but there's enough space to have them so I'm putting them in there.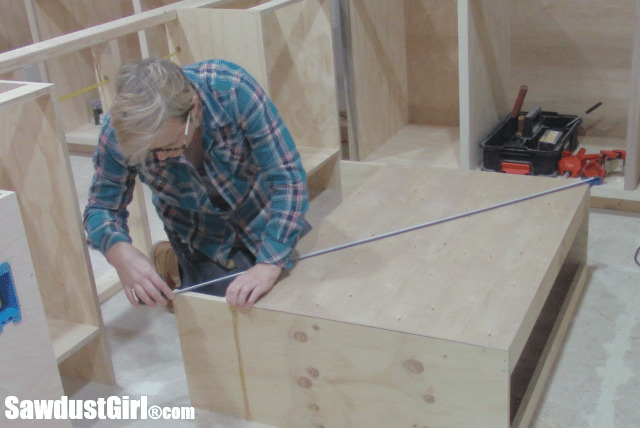 I was going to build 4 identical cabinets but I cut all my cabinet bottoms 1 1/2″ too wide because I looked at the outer cabinet dimension on my drawing instead of the width of the shelf.  It turned out to be a happy mistake because I decided to make one wider cabinet for the center so I could store wide things, like rolls of wrapping paper.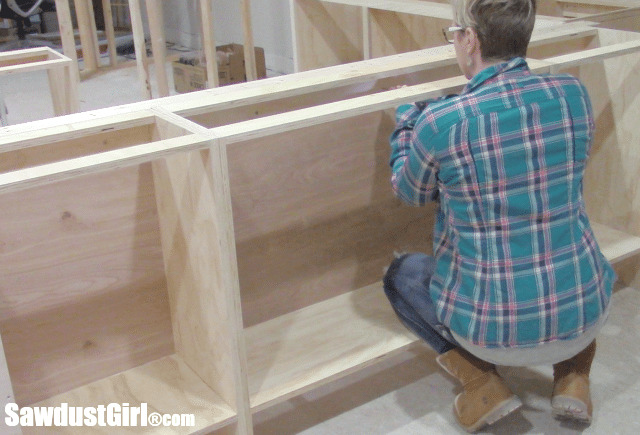 The cabinet bottoms are 7″ off the floor because I want a foot rest so I'm not always kicking my cabinet doors/drawers which is what I do at the kitchen island.  Trying to anticipate everything I can…
I don't have any 8″ wide poplar for the bottom rail of this faceframe and I'm totally snowed in today so I'm going to either wait on that piece or use something untraditional — like plywood.  
I want to get going on my countertop in here but I'm hung up on what to do.  I have 3 or 4 ideas that take me in different visual directions but I've got to make a decision and move forward because I can't build the upper cabinets until the countertop is in place.  What to do, what to do…  I think just a few more days and this space is going to start looking like a room.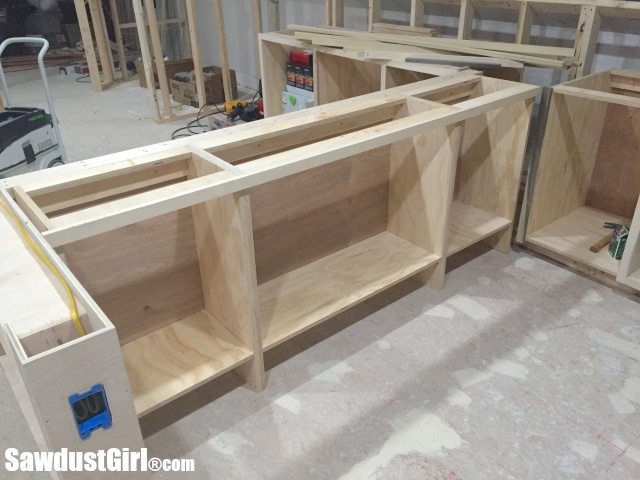 Interested in building custom cabinets?  Get my eBook Cabinet Building 101.