I couldn't do everything in my shop even if I wanted to. Sometimes my space is completely cluttered and crowded, sometimes I've got projects I'm in the middle of set-up, sometimes it's a nice day and I want to go outside. The weather affects how paint dries and stains set, so sometimes the outside is your friend. Other times, I need to sand something, but I've got paint drying, or I need to have paint dry but I'm sanding something. Whatever the reason, having the ability to take work outside is crucial.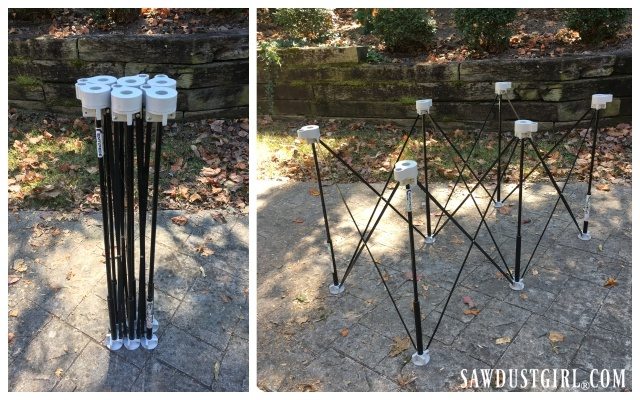 The Centipede Sawhorse is a lightweight, mobile work table that is easy to carry, set up, collapse and store! It is so light I can hold it with one hand, but it can support up to 1000 lbs.! About 8 months ago, I bought a 2×4 Centipede Sawhorse and have used it a ton since then. I have two traditional sawhorses, but the Centipede is much easier for me to carry and set up. So I grab it first, every time I need a mobile work table. 
Centipede Sawhorse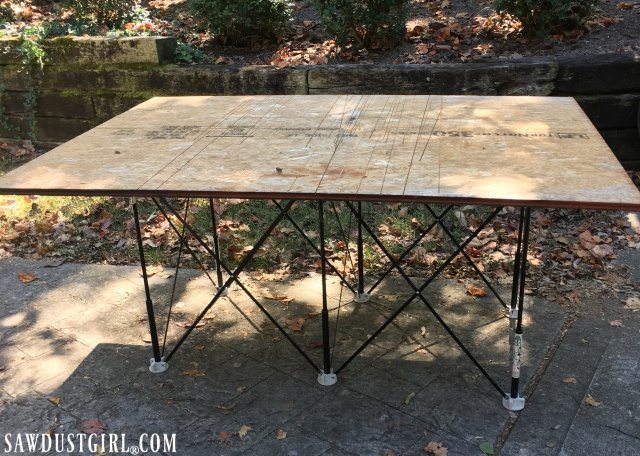 When it appeared in my Cantilevered Garage Shelves project, 10% of the comments I received on that post were questions about the mobile work table base I was using. In light of that, I thought I better spread the word about this handy unit. I purchased mine for about $50 at a local home improvement store. Online, they can run $30 or more higher so shop around for the best price.
Mobile Work Table Setup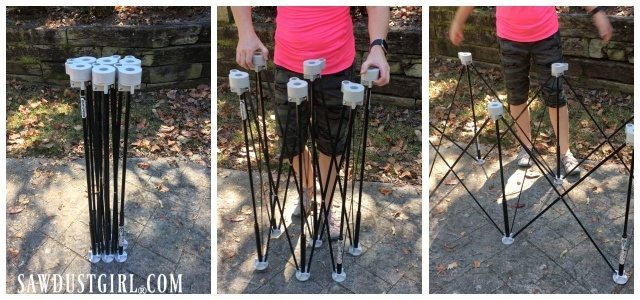 The Centipede Sawhorse goes from a compact bundle of steel legs and cross bars to a sturdy work table stand in just seconds. Set it down on a flat surface and pull the legs outward to open the stand.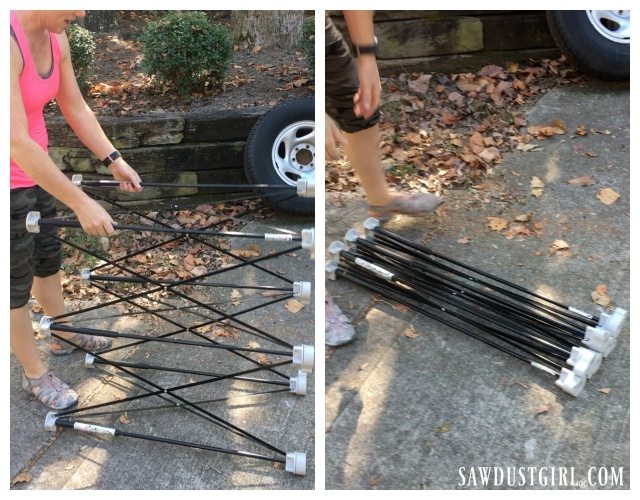 To close it, I put it on it's side so I can push the legs inward and down at the same time. It collapses back into is compact size as quickly as it set up.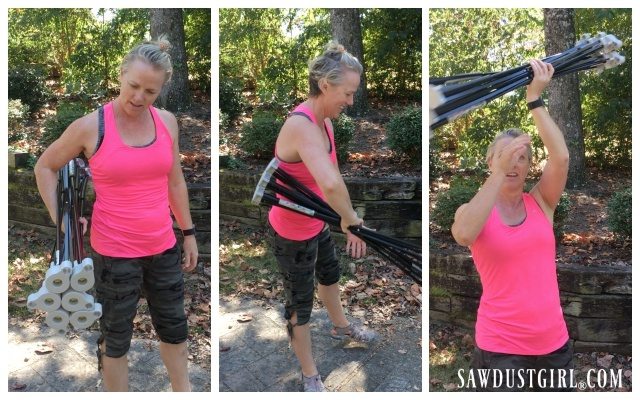 The steel stand is heavy duty and lightweight. It is so lightweight I can twirl it around, one handed like a baton. This totally makes me feel like a badass, which is reason enough to have it around. The Centipede Sawhorse mobile work table is available in four sizes: 2×2, 2×4, 4×4, and 4×8. Or, you can order custom units. I have a 2×4, and it works great for cutting full sheets of plywood. The unit came with attachments that hold 2x4s, but I have never used them. I always just use a scrap piece of plywood or OSB to create a solid top surface. Since I love mine so much, I asked Centipede Tools if they'd give one away–they said yes!
Giveaway – One 4×4 Centipede Sawhorse valued at $110
This giveaway has ended.
You must be at least 18 years old and have a US Shipping address.
Just leave a comment on this post and
Click the box in the Rafflecopter widget saying you left a comment
If you missed out on this giveaway, don't worry! You can subscribe and follow along for the next time I do a giveaway. Take a look around my blog at some of the other content I have available, I'm almost positive I've got something that will interest you!
Build safe and be well!