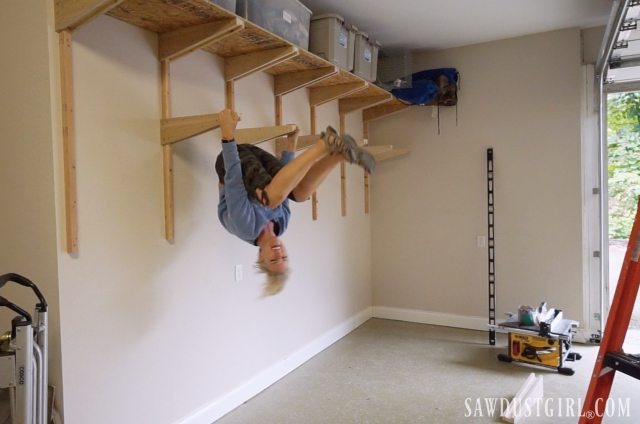 I'm building garage shelves and organizing my workshop while waiting for mud to dry on my purple TARDIS. Since my sewer saga happened literally right after we moved all the tools from the Jack and Jill remodel — I can't find anything.  No, I didn't FINISH that jack and jill bathroom, but I was close!  And I had moved down all the remodeling tools that were piling up in the living room.  They didn't get put away, because I had also started re-organizing my workshop.  I was going to spend the weekends on the workshop and the rest of my time finishing the bathroom.  Then literal shit "hit the fan" and you know the rest of that story.  So I've been going crazy because EVERYTHING is everywhere and I can't find what I need when I need it.  Half of my tools have been outside, under a tent for months.  Which is so not good for tools.  (I have a good rust clean up post to share with you –so there's an upside.  ha)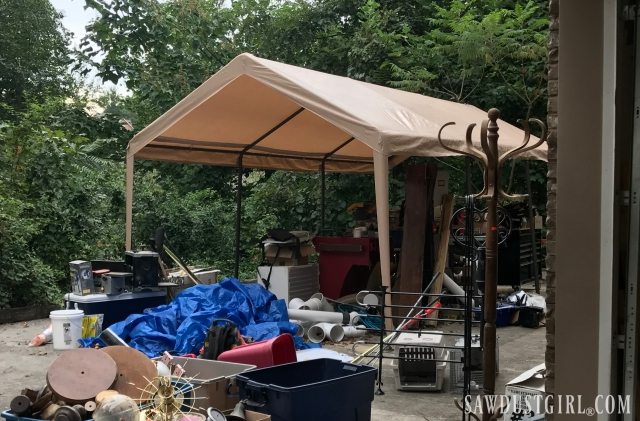 The problem with tents is that strong winds tend to wreck them.  Every time we get winds I have to move EVERYTHING inside my workshop and take the top off the tent.  Then I can't use my workshop (because it's too crowded) until I can put the top back on the tent and move things back out.  I can't put all my tools in Wes' garage because "separate my workshop from Wes' garage" was our SINGLE BIGGEST RULE when looking for a house when we moved to Knoxville.
I often, temporarily use his side for cutting or storage — but have to clear it out before he gets home from work so he can park there.  He puts up with a LOT of chaos from my remodeling endeavors so I try not to invade this space.
But Wes' garage a ton of extra room on the side that has been "storage" for a whole bunch of crap since we moved here.  So I decided to spend a few days building garage shelves so we could better store all that crap AND I could use the extra space for my tools that currently live outside, in the tent.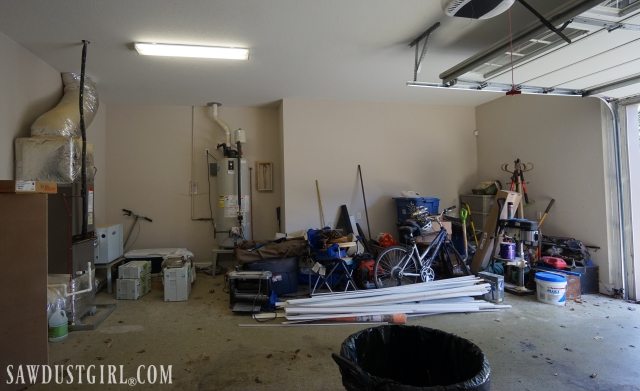 Building Garage Shelves
These shelf brackets are really strong because of the cantilever design.  I used all scraps and supplies that I had on hand.
2×2 wall cleat (36″ long)
3/4″ plywood (8×22)
2×6 (about 26″ long)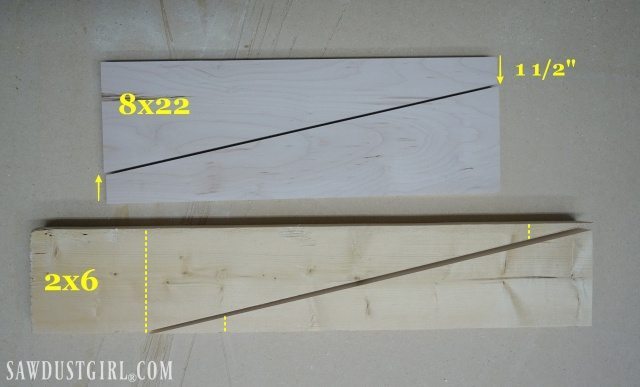 To make two sides out of the one 8×22″ piece of plywood, I measured 1 1/2″ up from the bottom right, and 1 1/2″ down from the top left.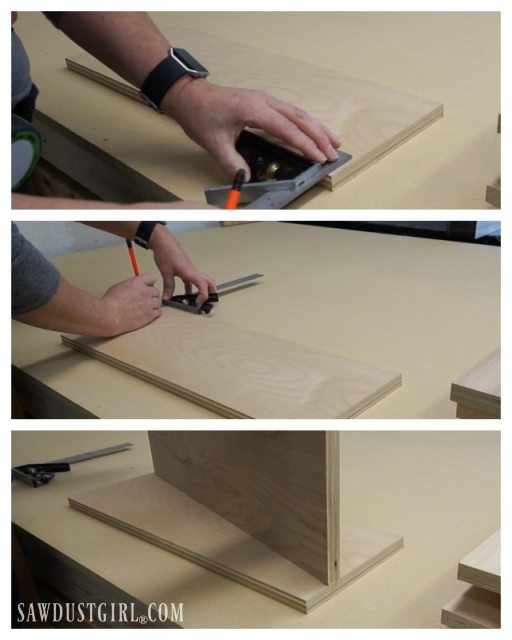 Then used my track saw to cut along that diagonal line.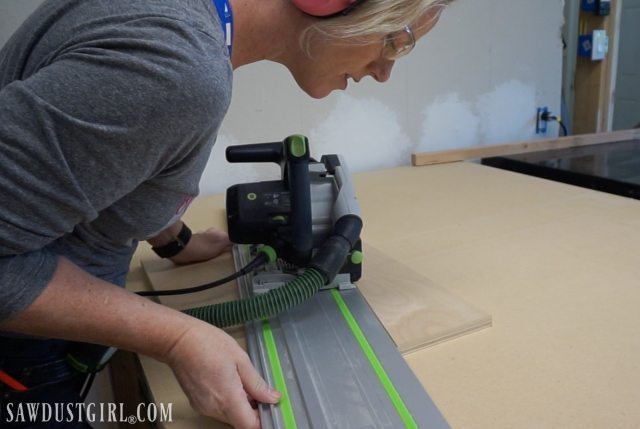 I traced that diagonal line onto my 2×6 and cut it.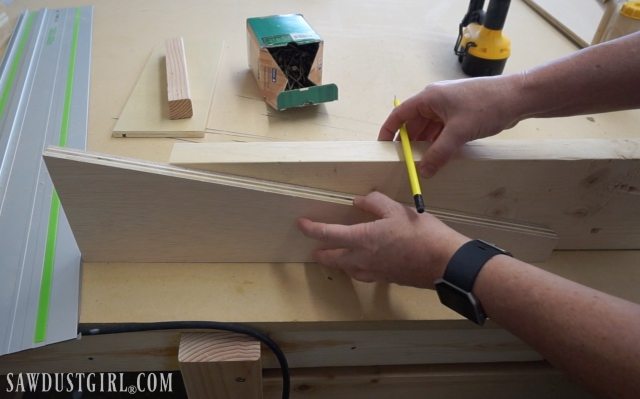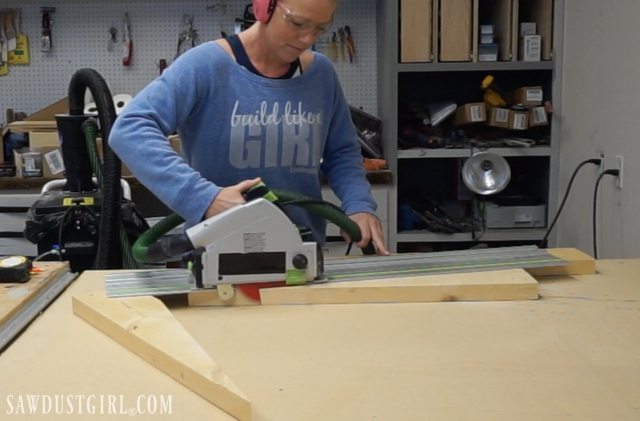 To put the brackets together, I used scrap wood and a small scrap of 2×2 as backer to keep the sides even and move the center forward exactly 1 1/2″.
The top of the shelf is flat and all three pieces are even on the top.  (The brackets are upside down while being built.)
generously spread glue
nail so everything stays put until you can either clamp it or screw it together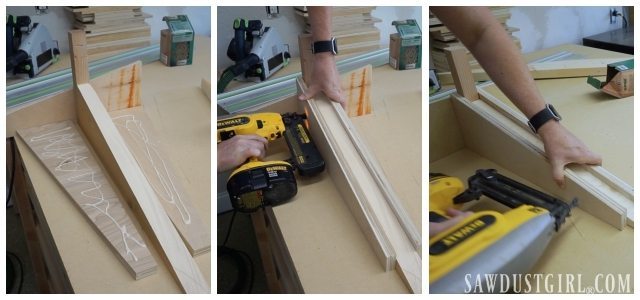 I didn't have enough clamps to hold 19 brackets together while the glue set– so I used plenty of 2 1/2″ screws.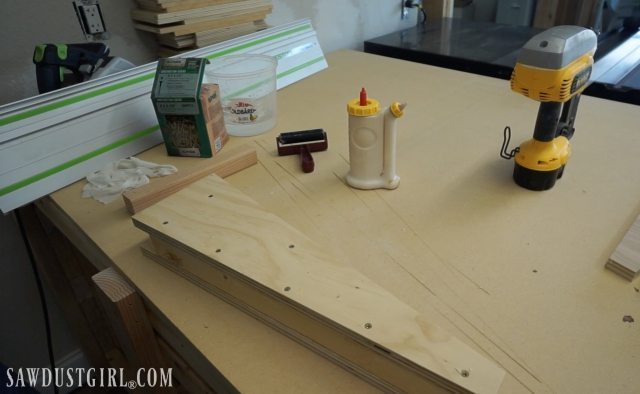 Up-close look at how the bracket will "embrace" the wall cleat.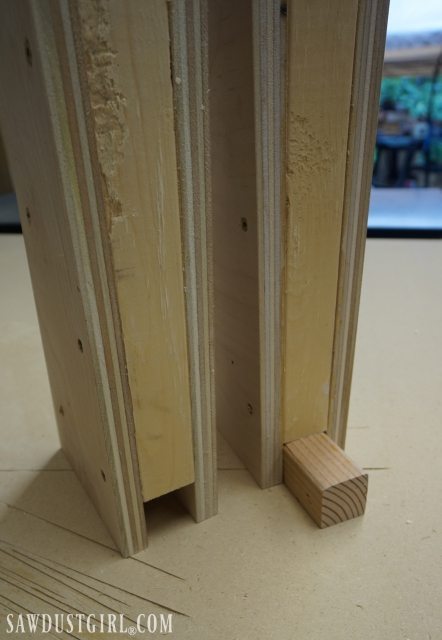 I used a miter saw to trim off the pointy ends of the 2×6, after the brackets were built.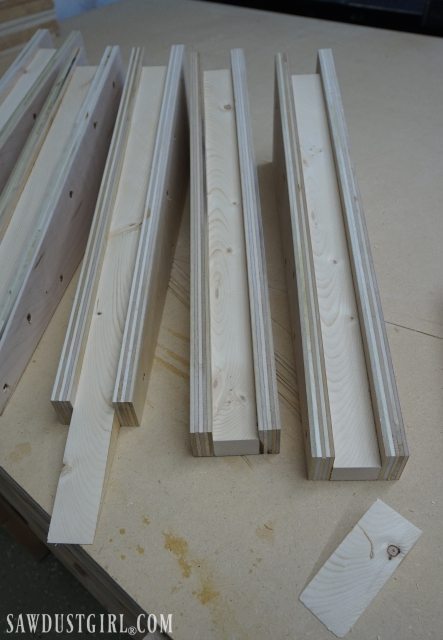 I secured my 2×2 cleats to the studs with lag screws. With my 10′ tall basement ceilings, I have plenty of height for three rows of shelves.  I installed the cleats 24″ down from the ceiling.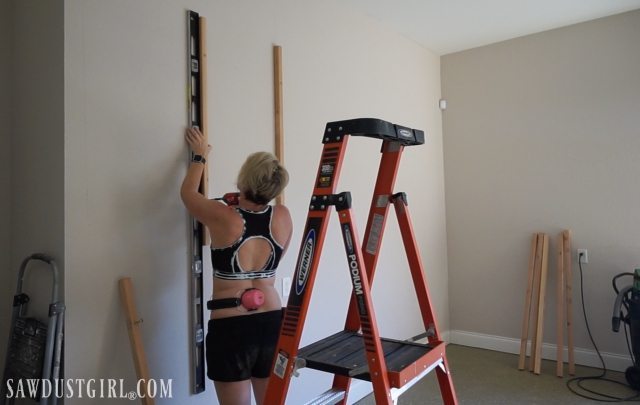 After getting my brackets to hug the wall cleats, I drove 3″ lag screws through both sides of the back of the bracket.  This secured the plywood sides to the 2×2 wall cleat.  I used 2-3 screws on both sides.  
I don't like the look of OSB as shelving but I had 3 sheets of it taking up space in the garage so I used it.  I got two birds with one stone -right there.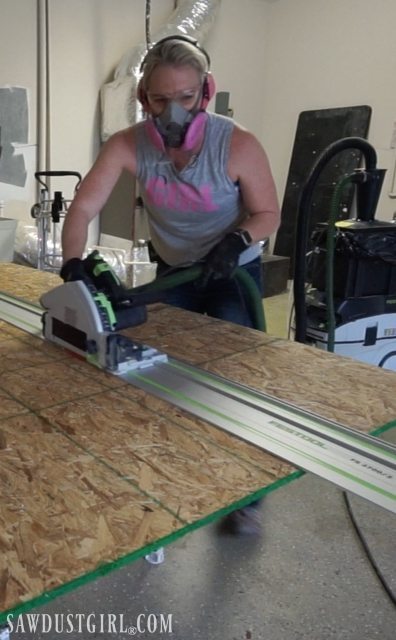 This wall is 12′ long so I'm building garage shelves on the whole thing!  Which means I had to have a seam in the shelves.  No problem.  Just make sure the seam is on a bracket.  I secured the shelves to the brackets with 1 1/2″ screws.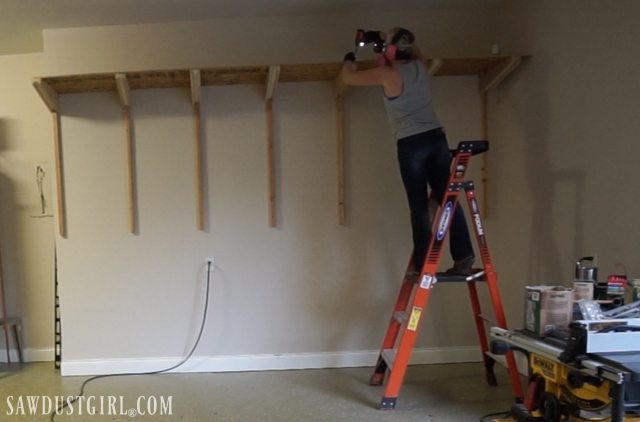 The lower shelves had to be cut around the wall cleats.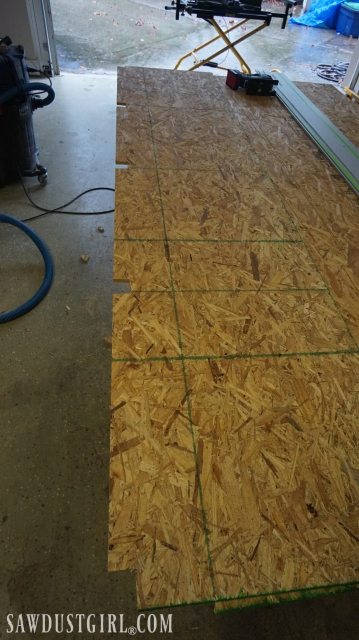 The easiest way to get that right was to put the shelves up and mark them in place.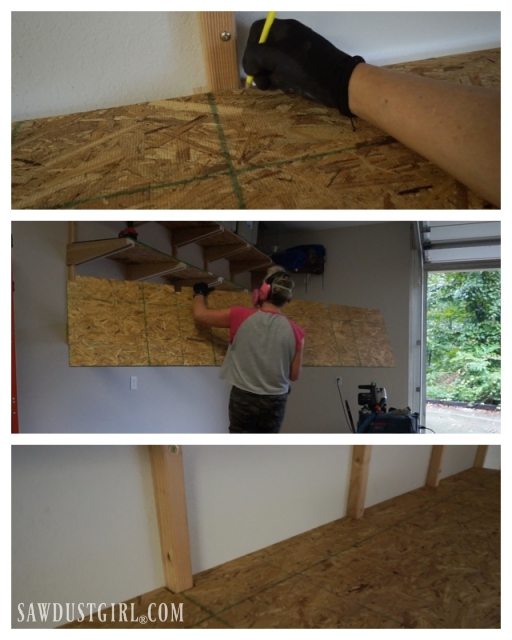 I left room for my ladders and theres still room on the floor for a whole lot of tools and thangs.  Plus, we actually went through all our stuff and got rid of a LOT.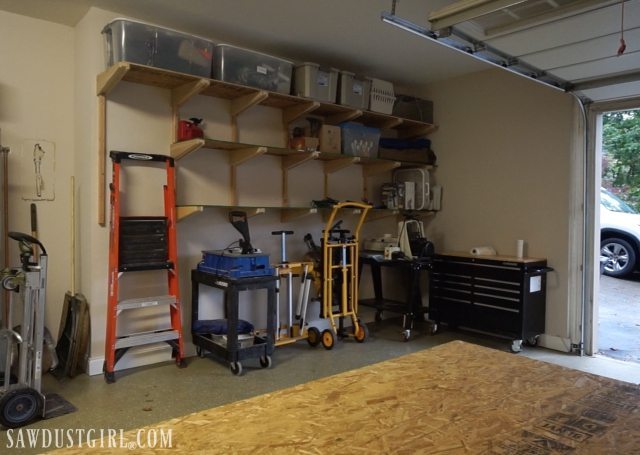 I spent two days building garage shelves — after living with THIS for 6 years.  This particular spot hadn't been a priority until now.  (Until I needed it.  heeheehee)  It's amazing how much better we FEEL when we walk into this garage now.  The mess always bugged me but I didn't know how much.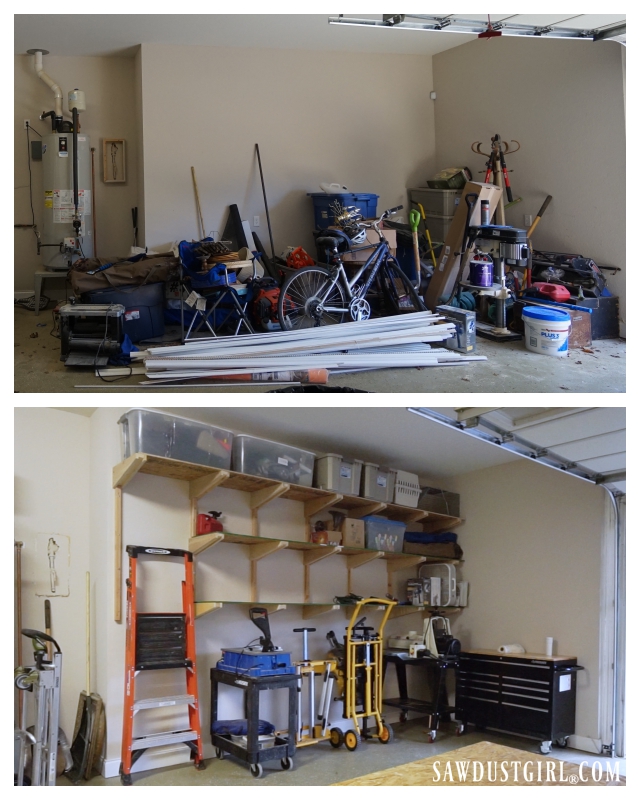 I LOVE not having the mess.  Chalk up another WIN for the Powell household!  We're on a roll now!
Building Garage Shelves Video