Today I'm showing the progress we've made on the back section of Calderwood Cottage.  In part 2 I showed you all the digging we had to do in order to get the HVAC ductwork installed. Today I'm showing you what we've done in the back of the house.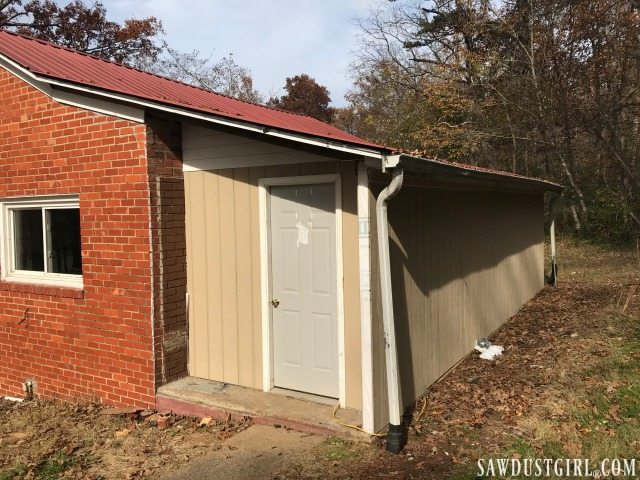 Back in October, when we fought Round 1 with this house, we removed the rotted trim from around one of the windows. Not surprisingly, we found the rot wasn't isolated to the trim. Once again we found we had to demo and rebuild way more than we were planning.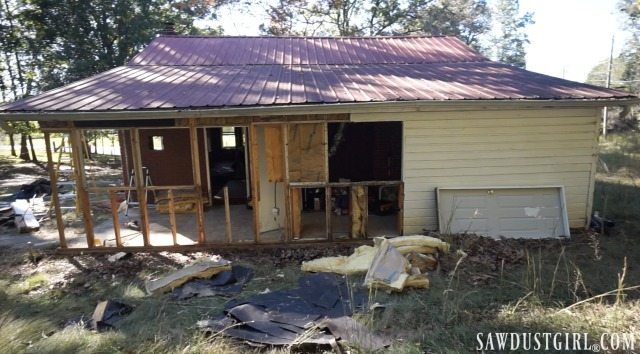 We had to deal with the entire back side of the house.  But we're not ones to waste an opportunity…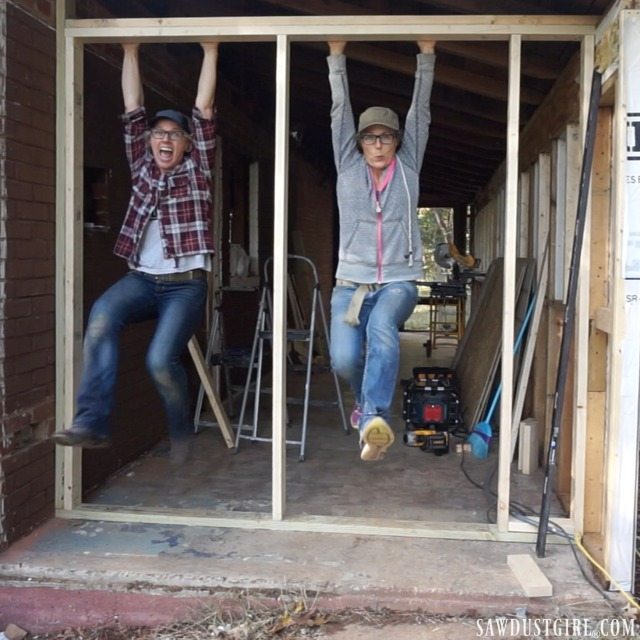 We reframed the entrance wall, moving the door over and the wall back. Having a little roof shelter to stand under as you unlock your door is always nice.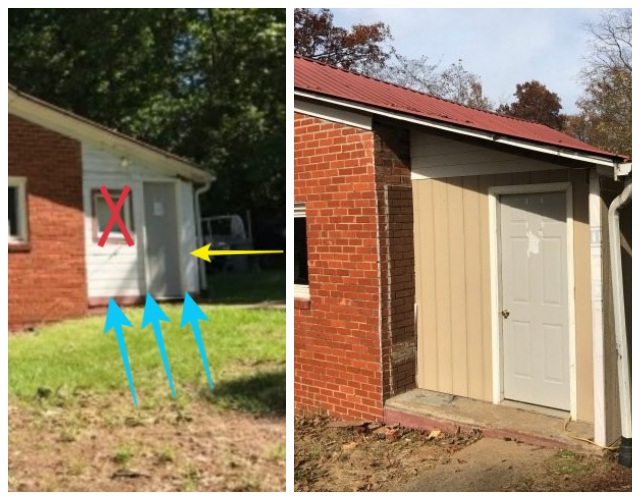 Moving the door over gives us space inside to have storage cabinets along the back wall. The original layout was a waste of space. Not sure what purpose was of that little shelf. The window mechanisms were all broken so we didn't mind losing them. Storage or natural light? In this small house we're going with storage.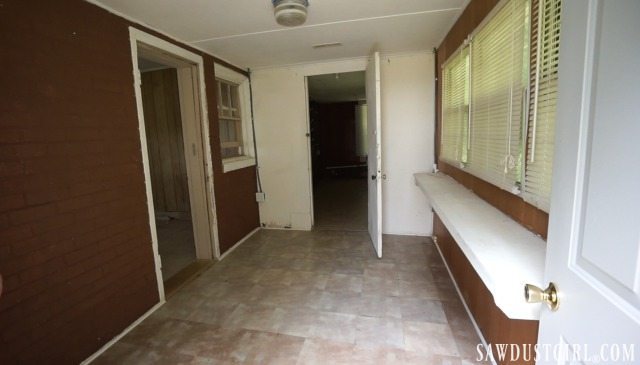 The back half of the "back of the house" was a…laundry room? It was a BIG space with hook ups for a washer and dryer. We are turning it into a master bathroom. This section was an addition to the original house. Under all the paneling was the original brick.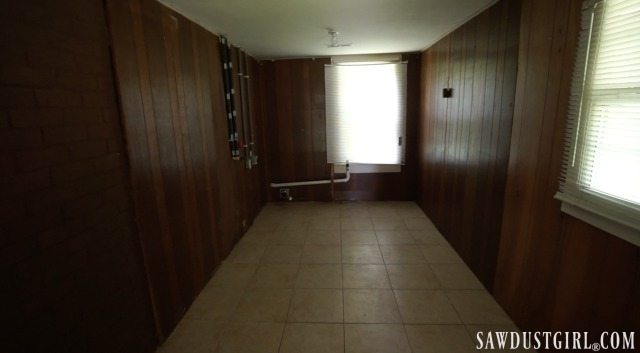 Including an original window that had been bricked over. We just needed to open that window back up…and make it a door. We tried a few sorry options for cutting through the mortar line. Without buying or renting another way too heavy for us tool, we used a rotary hammer with a chisel bit. I did the trick.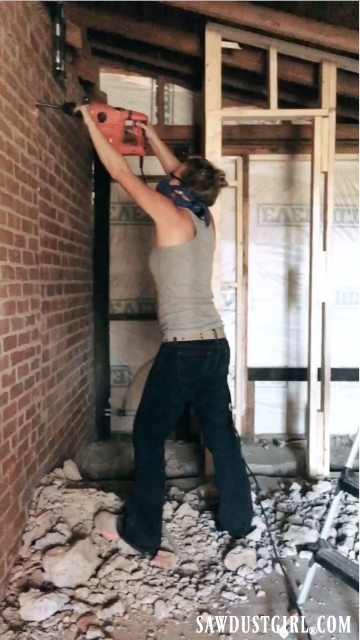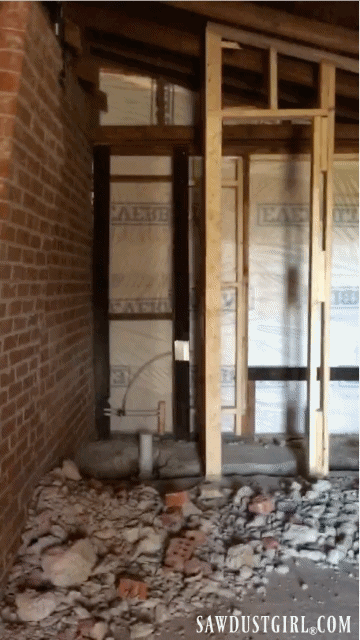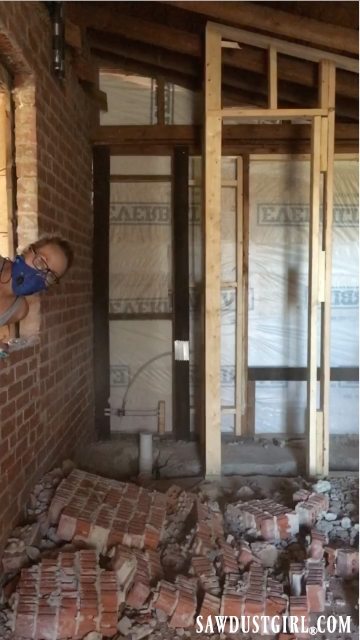 It was surprising how difficult it was to get the wall to fall over, even after all the mortar was cut through. Julie and I took turns whacking it with our little sledge hammer. We don't have time to run into town for another tool every time we find we need one.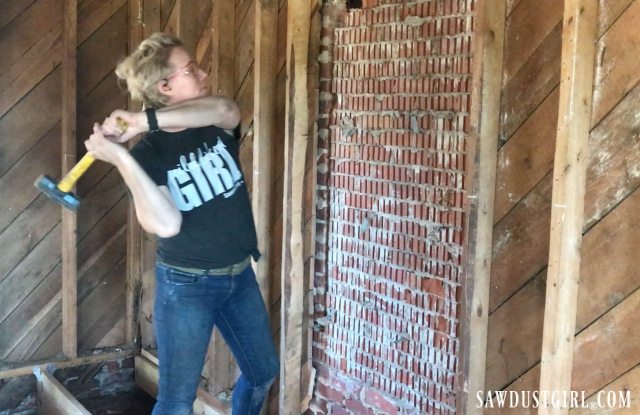 I was filming to catch the big moment as the wall toppled over. This video makes me laugh out loud — do hard!  Julie had a pulled muscle in her butt that she kept forgetting about. She kept kicking the wall which didn't feel too good. Seriously laugh out loud EVERY single time I watch this.
We got it done. Now we have an entrance to our new master bathroom!