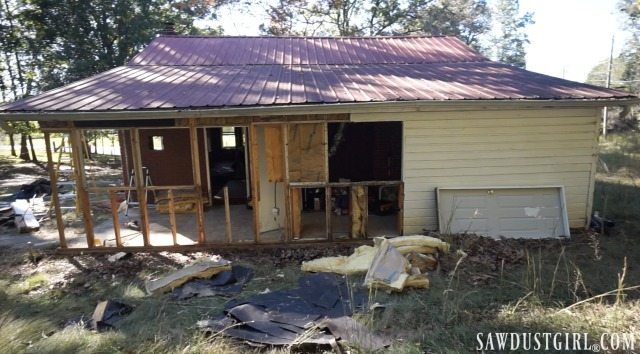 I've shown you all the work we've done on the inside of our Calderwood Cottage (parts 1, 2, 3, and 4).  Today I'm showing you what's been happening on the back addition.  This back addition is on a concrete slab.  There are two rooms.  We have no idea what the intended purpose was for the first room.  With that ledge, we think it might have been a "dining room" area.  Or maybe an office space.  It was really a wasted opportunity.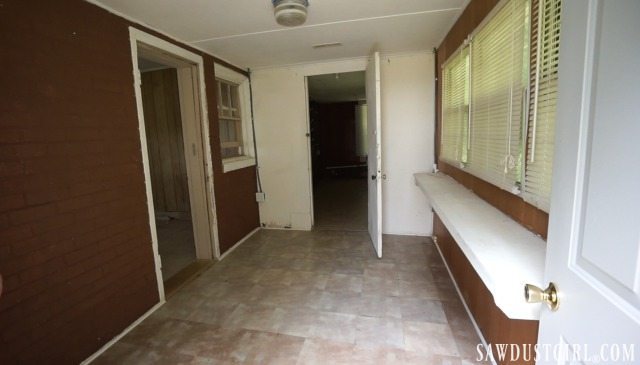 As was this huge room which was obviously the laundry room.  The space is so big we can't understand why they didn't put the water heater in here, instead of in the kitchen.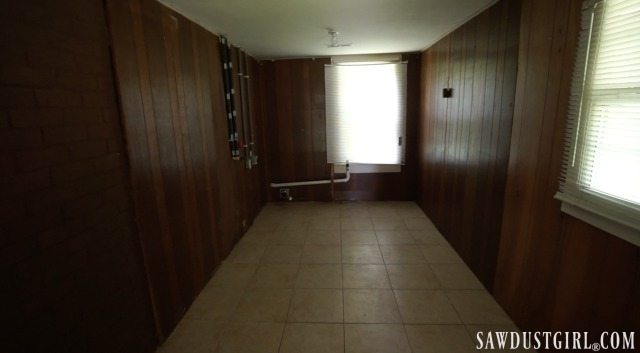 It doesn't matter what it "WAS" because it won't be that once we're done with it!  Termite damage and dry rot was evident from the outside so we gutted it all.  Julie wanted to keep a portion of the siding in tact so we wouldn't have to replace it.  At that point we were still planning on keeping this as a rental property.  I wanted to tear off all the old siding, regardless.  I won in the end but we had to take baby steps to get there.
We gutted the first room first, leaving the back room as is so we would have a place to lock up our tools at night.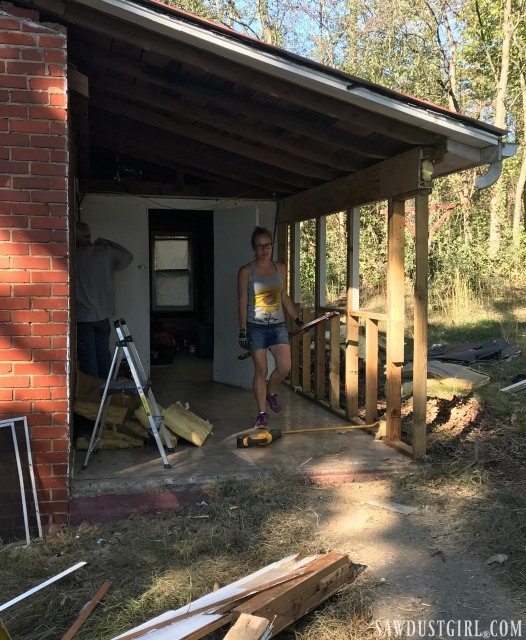 We removed all the windows as well as the whole front wall.  BUT we left that back portion of siding because "it was fine".  And that was going to save us $30 $100 worth of new siding.  We were going to make the transition make sense.  I was going to keep pushing to get my way and rip it all off.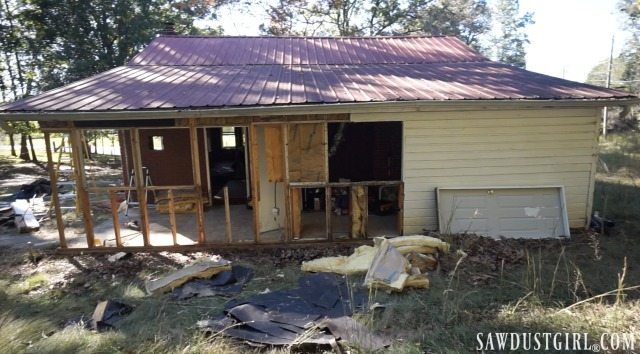 The wall was in bad shape and stud spacing was completely happenstance.  We added studs where they were needed to achieve uniform spacing which is important for siding and drywall installation.  We also framed in where the windows had been because our layout will have no windows on that wall.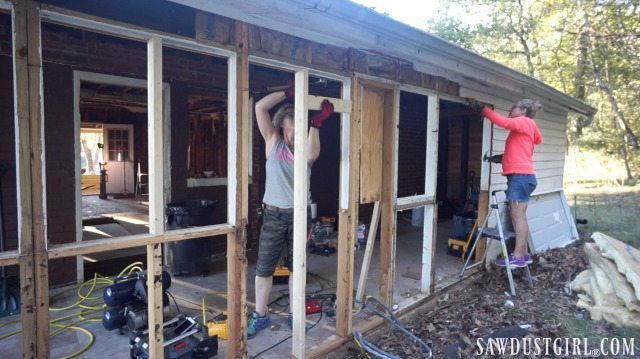 After walking through with a plumber and talking about where things needed to be.  We came up with a firm design for the future master bathroom. Finally it made sense for us to gut the rest of that back room.  Haha!  I won!  LOL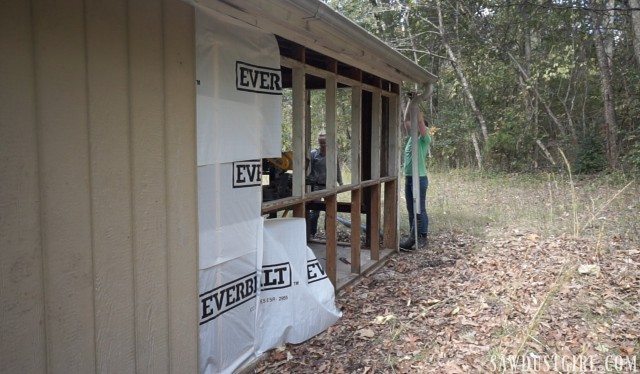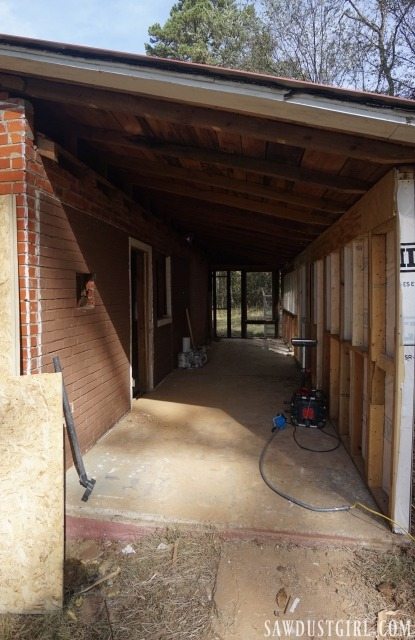 Julie and I reframed the back entrance, moving the door over to the right to maximize useful storage in the future room!  It's going to be SO MUCH FUN once we get to the point where we're making this house look amazing!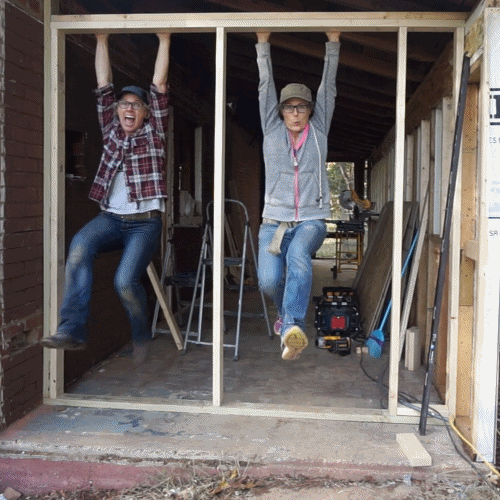 Julie only had a few days left on this "Build Trip" so we had to BUST out some hard work to get this house buttoned up for winter.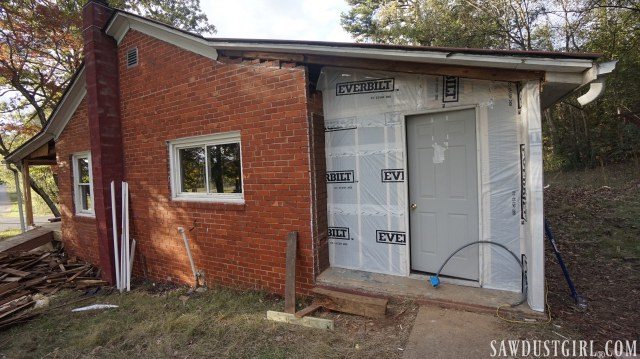 It will still be winter when she returns for another 30 day "Build trip".  Not sure why I keep putting that in "…" but it feels important that I continue to point out that Julie lives in San Deigo.  Per our plan, she spends 30 days out here, every other month so we can flip a house.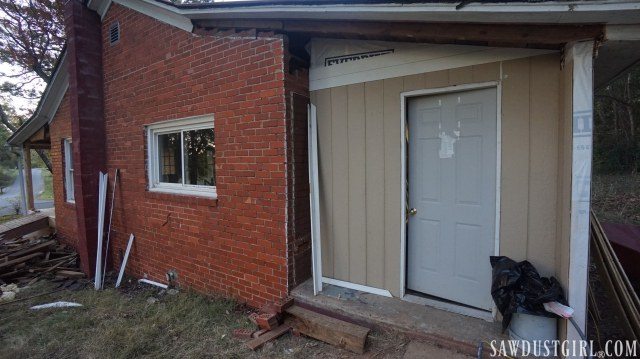 Obviously this house is not a 30 day flip.  We bought this house at auction without seeing the inside and knew it would take an extra trip.  It was even worse than we expected but we did almost all of the demo needed.  The plumber will have to jack hammer some of the concrete slab to rough in the master bath plumbing but that's the last of the demo needed.  I think.
I'm pretty overwhelmed by my own house right now.  Bringing back ALL the tools to my house has created an almost unusable workshop for me.  Because there are considerably more tools now than what we borrowed from my workshop when we started.  I need to make space to store them so I can use my workshop to do things for my house.  I still need to finish my Jack and Jill bathroom.  That's just kinda' depressing.  But I'll get it.  Goals tend to motivate me and since it's almost Christmas it's a good goal to finish by then.  So that's my goal.  I can't still be working on that when Julie returns in January to finish Calderwood Cottage!
Wish me luck.  Send me good vibes.  I realllllly appreciate all your supportive comments.  You don't even know…  So thanks for those!