I planned on building and installing 34 drawers in my studio this week. I got off to a rocky start, waisting time searching for materials and screws and by day two this week I had only finished ONE cabinet drawer.  Things should pick up for me now that I have everything I need!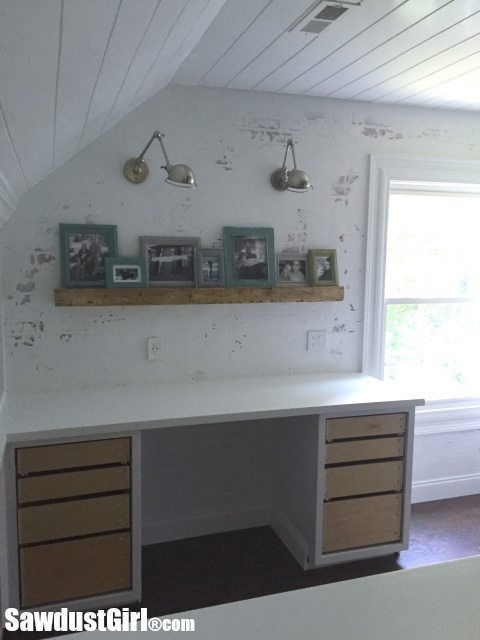 Cabinet Drawer Tips
I drove in to Knoxville to pick up some drawer material and runners.  Pre-finished drawer material saves me three steps when building drawers.  It only comes in certain sizes so it's not always an option but when it will work it makes building drawers tons faster.  I haven't found an online source for this material.  I get it from a local building and lumber supplier.  (For any locals, A&M Supply in Knoxville.)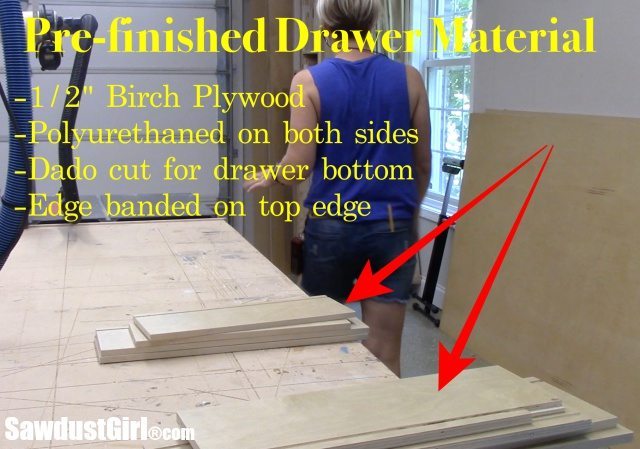 I'm using Blum, Tandem plus Blumotion drawer runners.  I always get asked so — when I want them TODAY I get them locally at A&M Supply.  Sometimes I order them online.  I have found the best prices at CSHardware.com or Build.com.  
These drawer runners are more expensive than common drawer glides but I find myself buying them for all my projects any more because the ease of installation makes the cost totally worth it.  (Once you figure out how to read their instructions.)  I have tutorials to help, here, here, and here.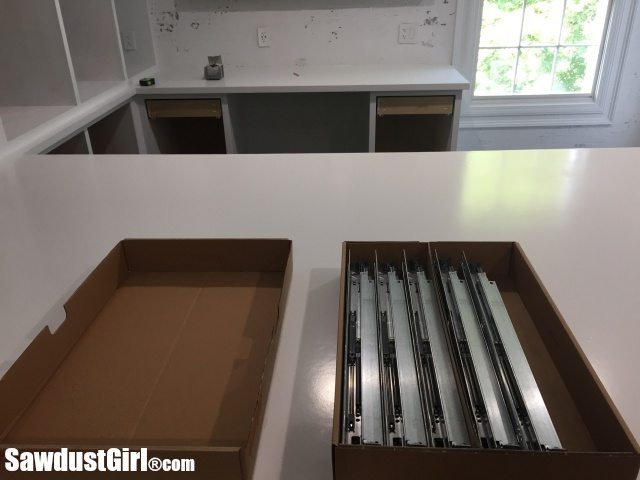 I have to notch and drill a hole in the back for the drawer runner and I do that before assembly.  You can find my tutorial and video for this here.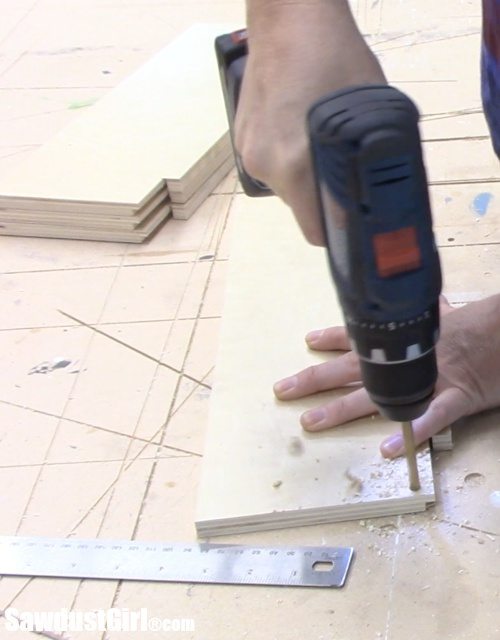 I'm trying the newest locking mechanism that supposedly gives you more adjustability.  I won't know what I think about them until I get the drawer fronts on but they are WAY more expensive than the other locking mechanisms.  Like cost 3 times more so I hope they're worth it!  (Don't forget that you have to buy a right and left locking mech — they are not sold in pairs.)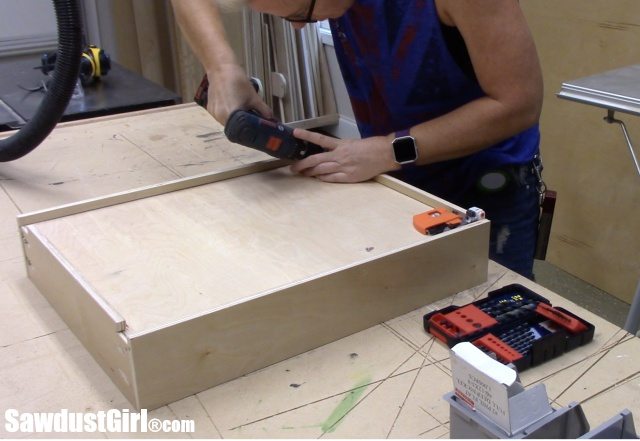 Because I want to build these cabinet drawers fast, I'm using pocket hole screws.  I'm not using glue because the plywood is already coated with poly.  I don't like pocket screws because the driving the screw at a steep angle almost always causes the wood to creep.  No matter how hard you clamp.  BUT sometimes I opt for pocket screws anyway.  When I do use pocket screws, I use my Porter-Cable pocket hole jig. Read my review and comparison of the Kreg K5 jig to the Porter-Cable jig here.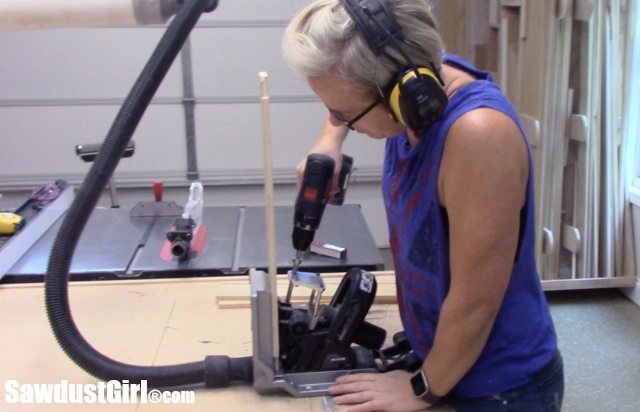 I wasted hours going from store to store on Tuesday to find 3/4″ screws.  I have always used 1″ pocket hole screws with 1/2″ material but there's always a bit of jury rigging that has to happen to prevent the tip from poking through or the head being proud of the material.  I was working with a client last month who had a Kreg jig and her manual said to use 3/4″ pocket screws with 1/2″ material.  So I looked it up and half the Kreg literature says to use 1″ screws with 1/2″ material and the other half says to use 3/4″ screws.   NO ONE anywhere near me stocks 3/4″ pocket hole screws so I looked for another option and SPAX came through and they worked awesome.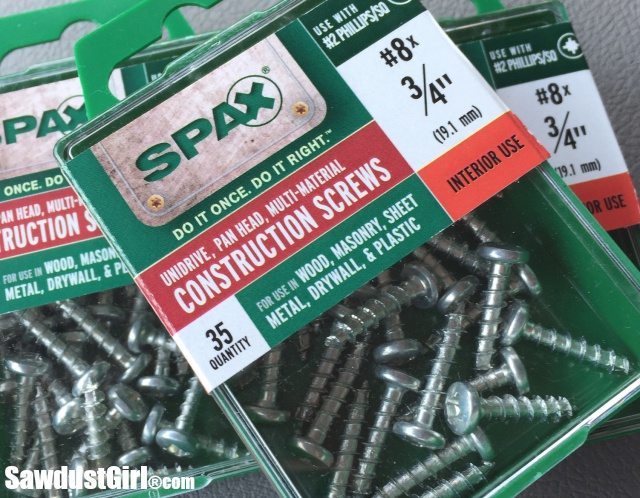 I tried about 5 different clamping methods to see what was the fastest and easiest way to keep the wood from creeping while I drove the pocket screws.  The fastest, best option I found was using my Festool MFT (multi function table).  That's not something most people have so THIS clamping setup is my best option requiring no specialized clamps or assembly tables.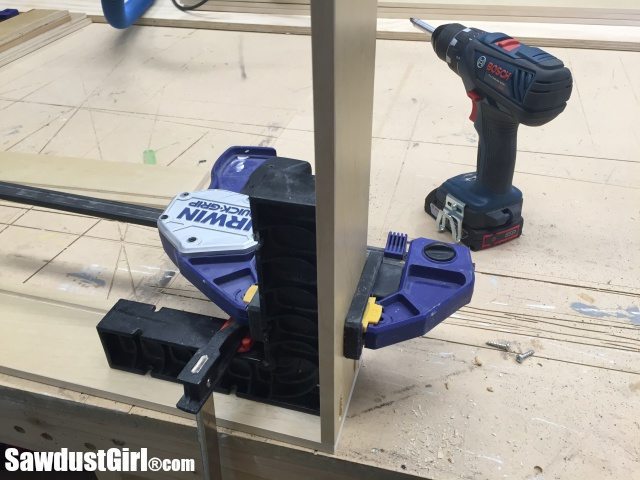 My drawer bottoms are pre-finished 1/4″ birch plywood.  This plywood is only polyurethaned on one side.  I get it at A&M but it may be something than can be ordered from a big box home improvement store.  Again, using pre-finished plywood saves me time.  I could buy 1/4″ plywood and apply poly myself and then keep it on hand but this is easier.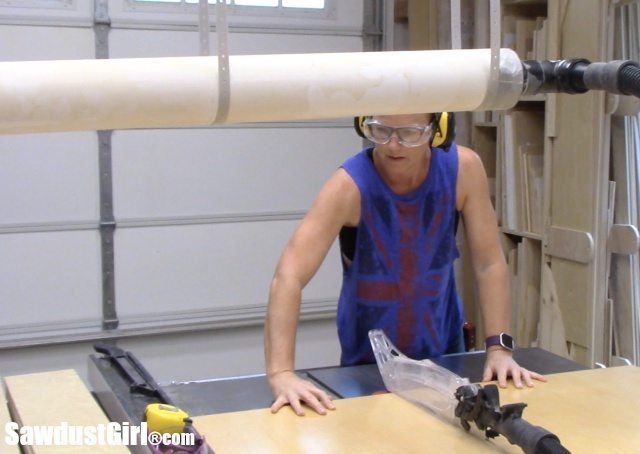 After my drawer is assembled, I sand the bottom edges so they are not sharp or rough.  I don't like scraping my knuckles on sharp edges or snagging my clothes because they get caught on rough wood if I brush my knee against an open drawer.  #AlwaysThinkAhead  🙂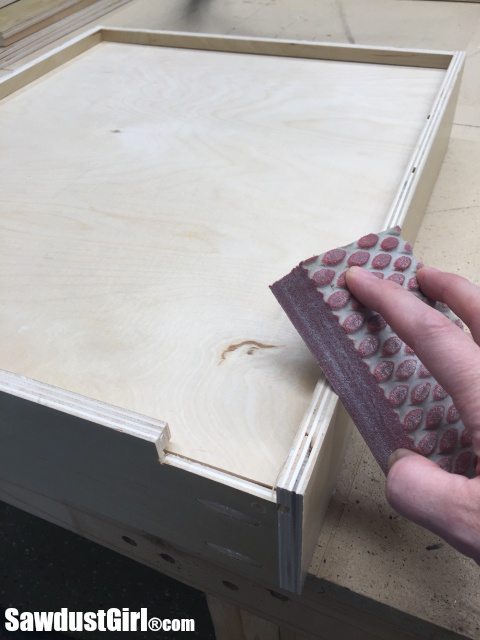 I don't use the $50 jig that helps you drill pilot holes in the right spot for the locking mechanism.   I drill pilot holes through the locking mechanism while I hold it in place.  I use a self centering drill bit and it works like a charm.  $50 jig!  Phhhffft!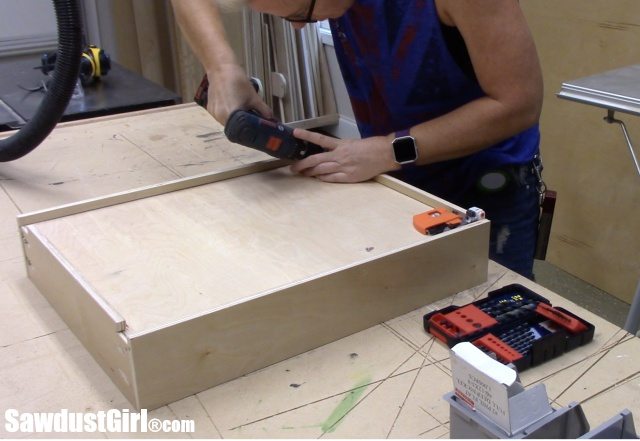 I built my cabinets so the faceframe would be flush with the inside of the cabinet.  If you have a reveal, to mount your drawer runner you'll either have to use a rear socket or block out the side of your cabinet.  I always block out the side of my cabinet.  Tutorial here.
Then I cut pieces of wood to hold my runners while I  attach them to the cabinet.  That way the runners are attached in exactly the same place on both the right and left side of the cabinet –in every cabinet if you are doing a run of identical cabinets.  Install the top runner first and then work your way down, cutting a new "support piece" for each runner pair.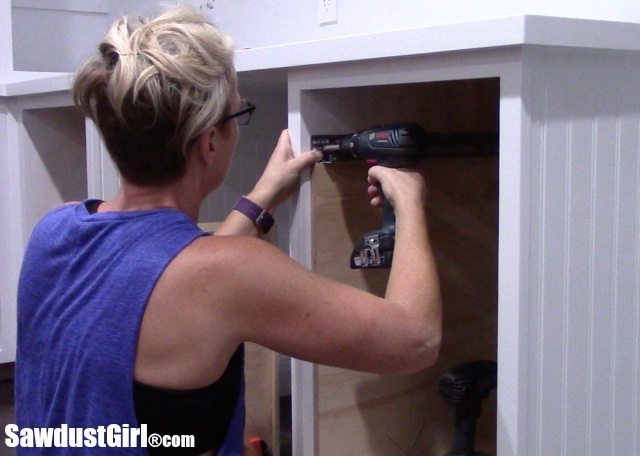 Make sure to mark and label each support piece so you don't flip it sideways while you're working.  When you're performing tasks over and over, it's easy to start doing it methodically while your mind wanders.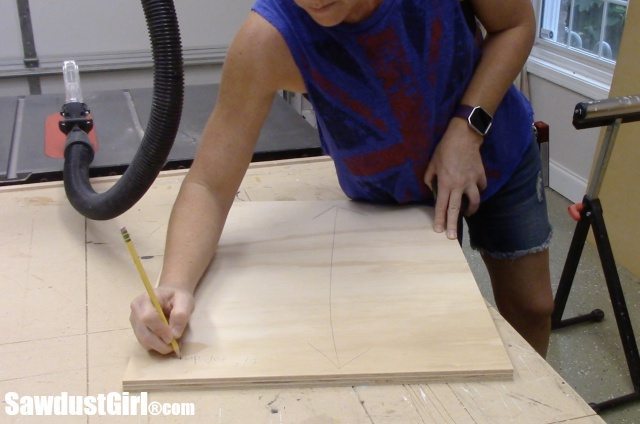 When using this Blum hardware, their instructions are kind of confusing when you're figuring out how much extra space you need to add for the drawer runner.  You need to know this while planning your drawer sizes as well as for installation.
I'll make it easy.
Add a minimum of 7/8″ to your desired drawer height.  I generally add 1″ because it makes it easier to do the math.
My top drawer is 4″ tall so I mount the drawer runner 5″ from the top of the cabinet opening.  My next drawer is 4″ tall so I measure down 5″ from the bottom of that first runner.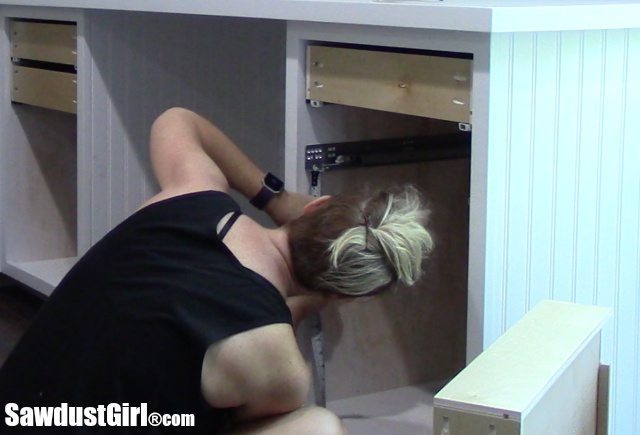 I cut a new "support piece" for each pair of runners.  Set the runner of that support piece, install those runners and move down to the next one.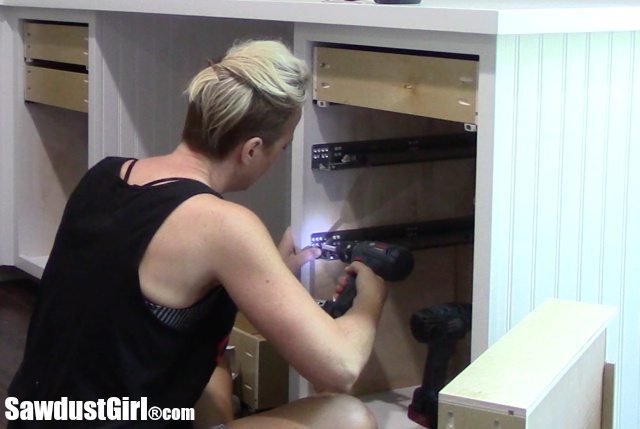 Technically the drawer runner can sit on the faceframe but, if I have room, I set the bottom drawer runner on 1/4″ plywood to raise it up.  There is a little plastic clip on these new locking mechanisms that sticks out in front of the runner.  It is exactly under the cabinet drawer so the drawer front will hide it (along with the runner) but these clips don't seem to stick straight out.  They seem to tilt down a bit and I don't want that delicate little plastic extrusion breaking off because it gets caught on the cabinet.
My bottom drawers are larger than the others so the spacing difference won't matter.  If the whole cabinet was full of drawers of the same height, I'd have to add that extra 1/4″ into the equation to space them all equally.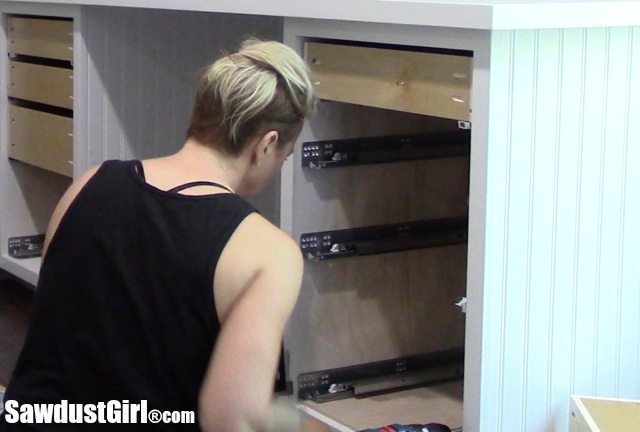 I sized my drawers: 4″, 4″, 6″, and 10″.  I don't know if I will put files in these drawers but I want the option.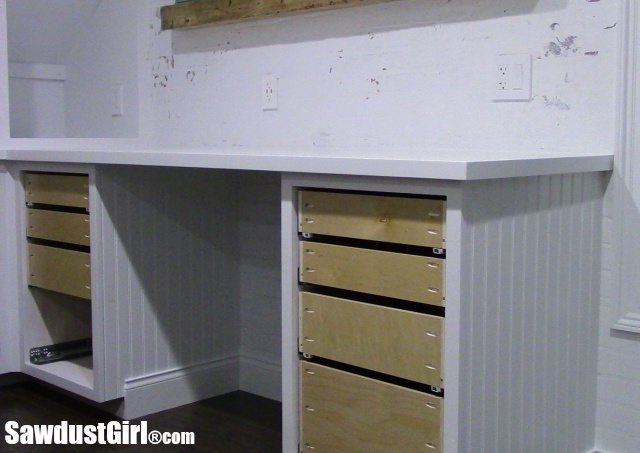 I have 26 more drawers to build before I start building cabinet drawer fronts so it will be a while before I test the locking mechanisms.  I use drawer front adjusting screws for attaching drawer fronts which makes getting perfectly places inset drawers pretty easy.  Hopefully these locking mechanisms will improve that system even more.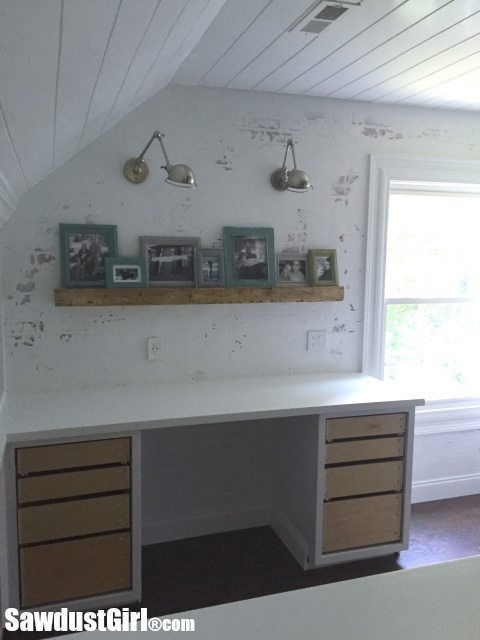 If you'd like more information on building cabinets and drawers, I have a lot of free tutorials.  I have a whole category for Cabinet Building Tutorials – here.
I also have a Cabinet Building 101 eBook that you can purchase, download and print!