Day 5!  This is what our new pantry looks like from the hallway.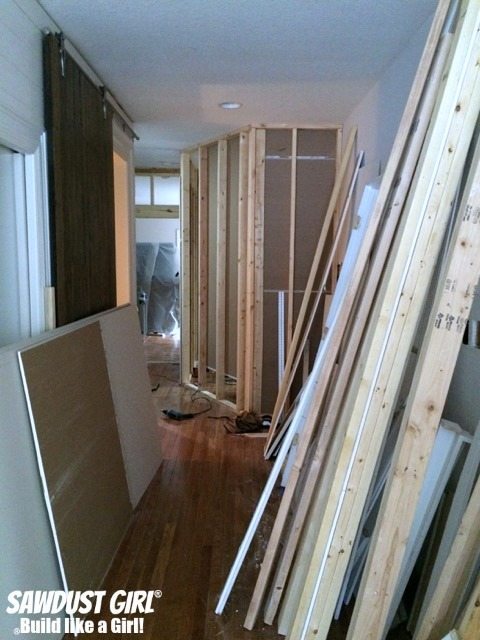 We got most of the inside drywalled yesterday.  Today we had to finish drywalling and clean this place up!  As long as things are clean when Wes gets home, he won't stress out about a project that he knew nothing about.  That's how it works.
Madison is back in action so she and Penny finished the drywall.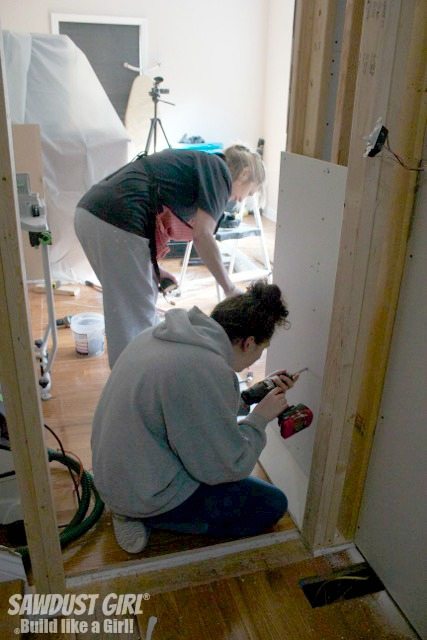 I had to hook up a few things!
I relocated the thermostat and security system alarm.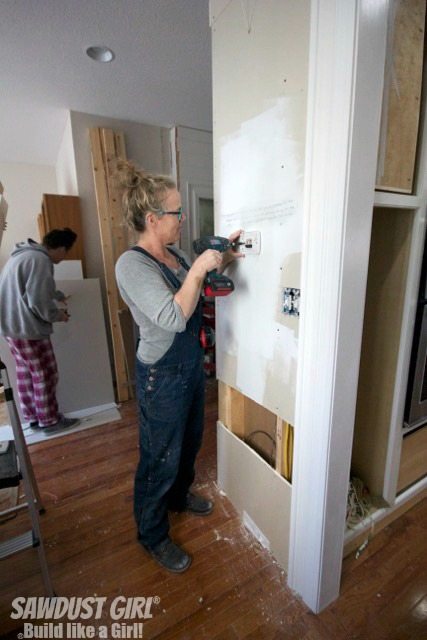 Wes called and had some weather delays so he'll be a few hours late.  Darnwoohoo!
I took time get a light in the pantry.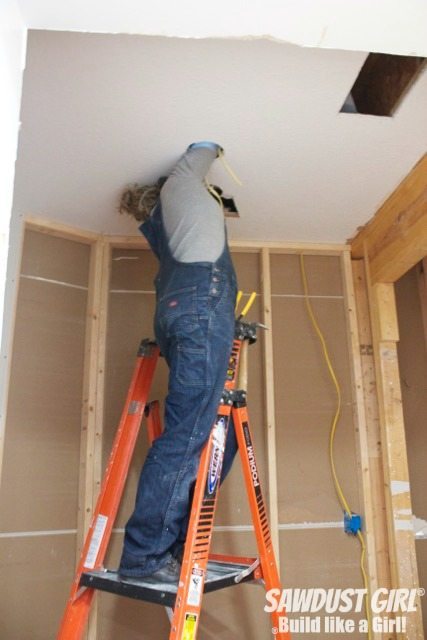 And we finished patching the rest of the drywall…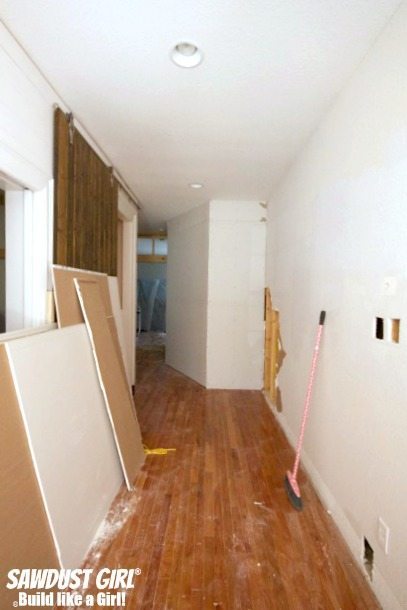 We even had time to do a little mudding and then clean up!
5 days and WE MADE IT!!!!!  
The new view of the hallway.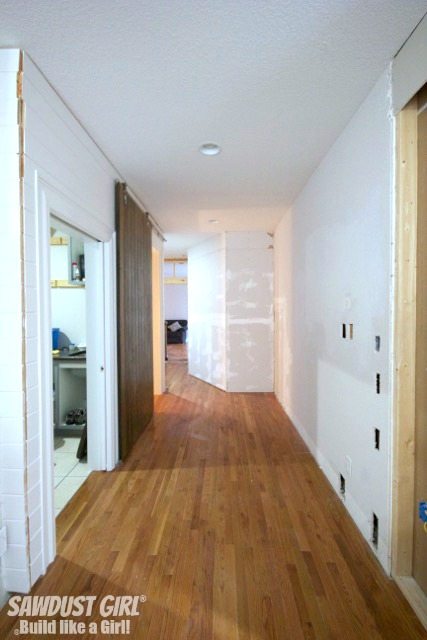 Coming down the stairs from the upstairs.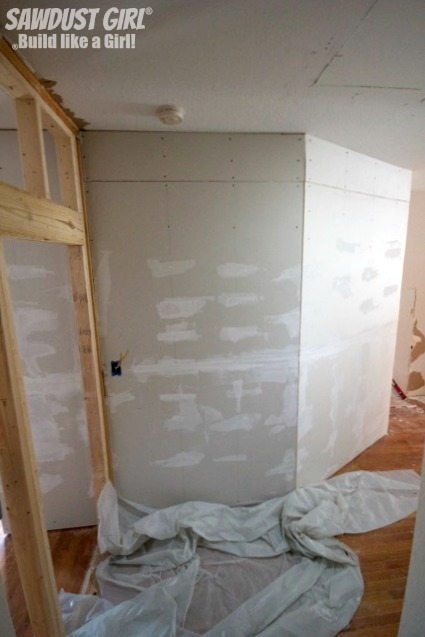 And the new master bedroom space.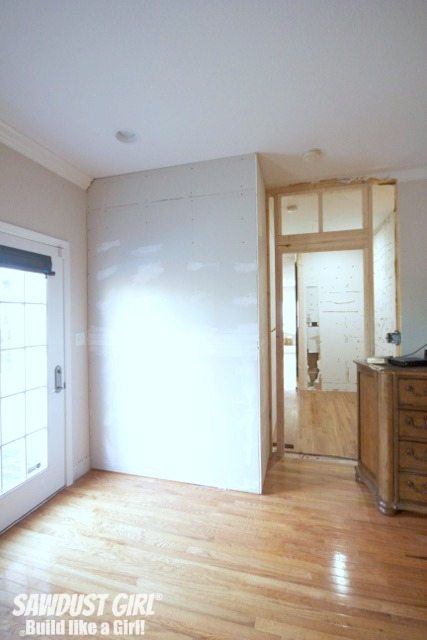 There's still a lot to do in the pantry to make it functional but the layout changes to the kitchen, hallway and bedroom have been made and everything is clean so when Wes comes home he'll see the vision without the stress.  And that is the end of our Impossible Mission because we had to go pick up Wes at the airport.
Feeling a little nervous/excited to show him what we were up to…and after 2 minutes of waiting in the "cell phone lot".   It's been one heck of a busy week!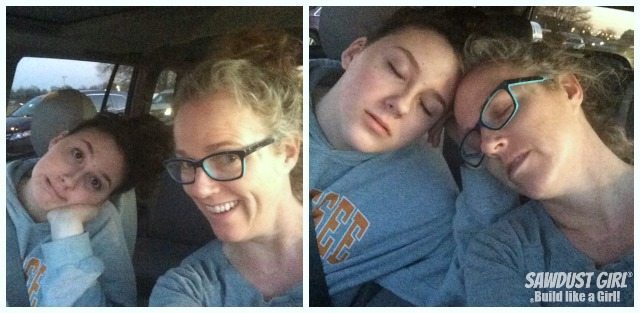 Driving past our 2 Bagsters full of demo material was Wes' first tip that we had been up to something.
He asked, "So what's the new project?"
I said, "It's a surprise!"
So we walked in and he checked it out.
And he loved it!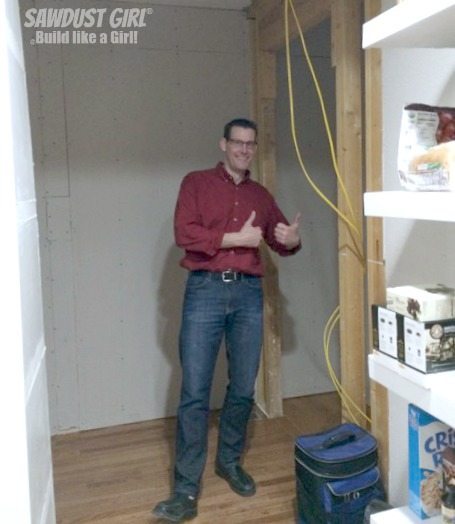 How could he not?  I mean, look at all this space!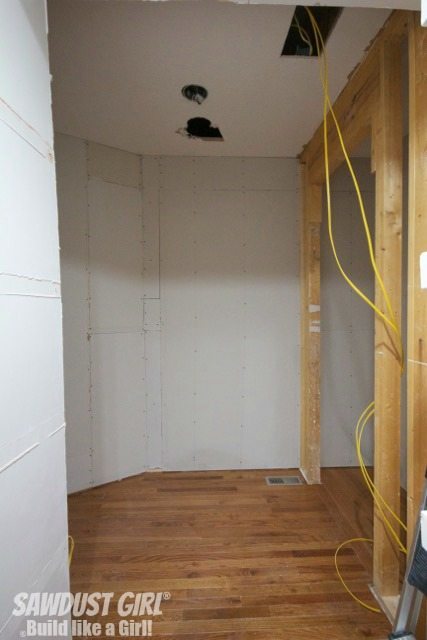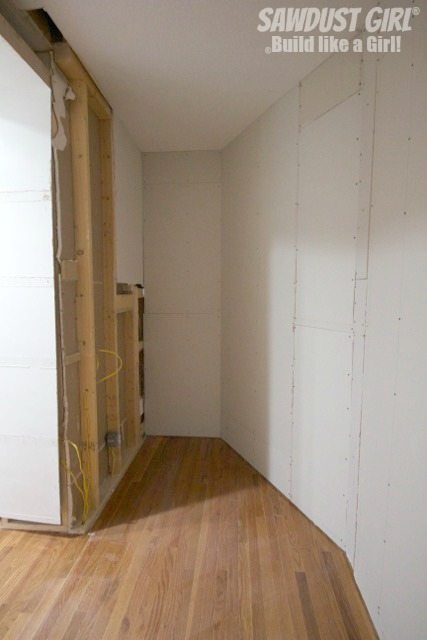 I'm so excited about all this new space.  The space we stole from the bedroom and hallway was wasted before. Who needs a 6′ wide hallway?  The small space stolen from the bedroom is nothing.  I could chop that bedroom in half and it would still be too big.  So the pantry is HUGE now in comparison to what we had before and nothing else feels too small or crowded.  I just wish I would have thought of this BEFORE I built that first (two) pantries and hall closet.  Oh well.  Sometimes I have to let things brew.
Now I just need to add the functionality and we'll be GOLDEN.  I think I have a really great plan but first Madison and I need a few days of sleep!