I'm planning the rest of my laundry room and want to share my plan and ideas with you BEFORE I get started.   Then, as I go, I'll share the specific "build plans" with you along with pictures of my progress and tutorials of each feature.
Yesterday I asked, "What features would you put in your dream laundry room?" on facebook.  There were a LOT of great ideas and links to awesome ideas.  I've got quite a few "functional features" planned.  I've thought about how I want my laundry room to function and designed my Left Side (You've already seen the bones to the Right side).
This is my general plan without the doors so you can see what's going on in there.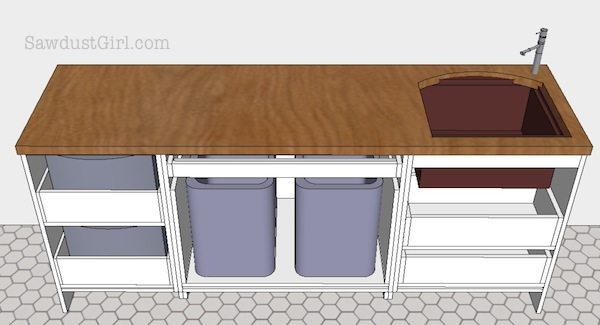 First cabinet I'm going to build is the sink cabinet.  I want to make sure I have enough room to install the sink but don't want to give it 1/2″ more than I have to because I NEED that space for the other cabinets.  I've ordered a sink but don't have it yet and am not relying on the manufacturers dimensions.  They are not always reliable.  I'm going to build shallow drawers below the sink.  The will only by 12″ deep because of the drain pipe in the cabinet back.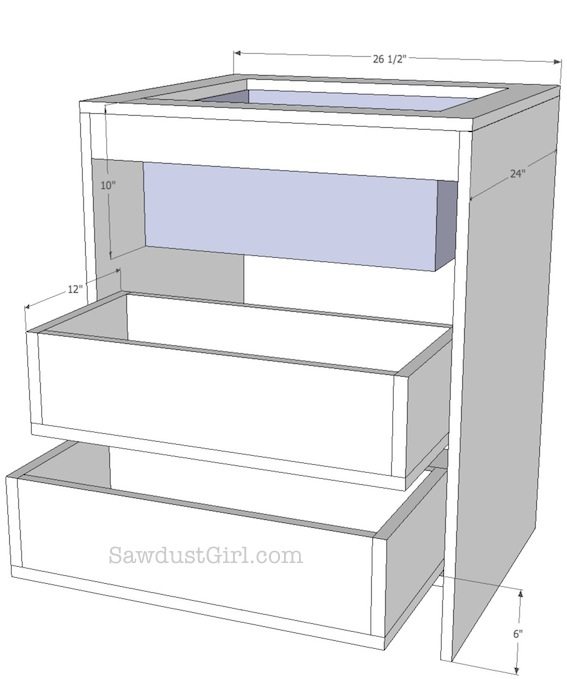 Next I'm building the middle cabinet.  This will be a wide cabinet with one large pullout drawer to hold two laundry baskets.  (whites and darks)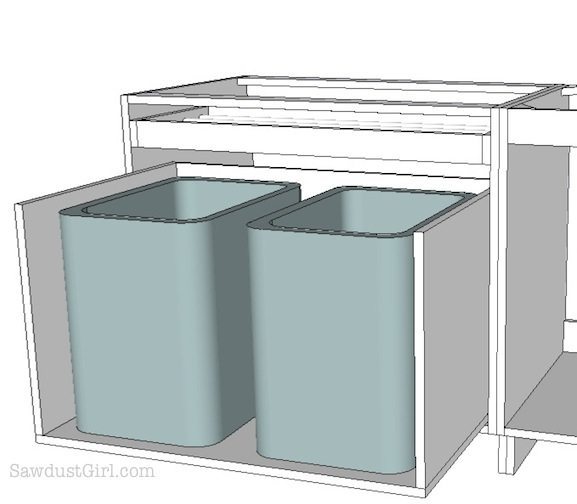 It will also house a shallow pullout drying rack.  Unlike my pullout sweater drying racks, this one will have larger, stronger, metal dowels for hanging items.  Mine will only pull out 12-14″ because that will allow it to be left open, while in use, and not block the path to our closet.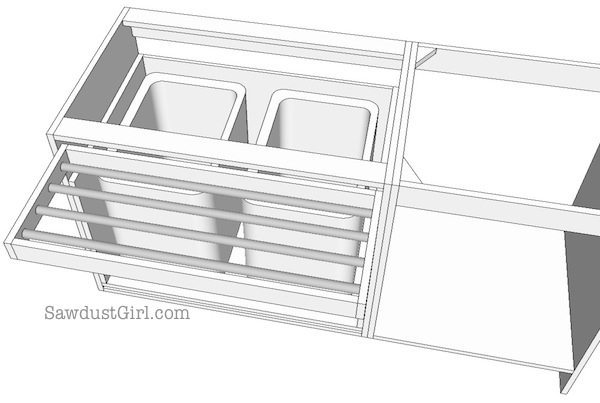 The last cabinet will have two separate pull out drawers  that will hold laundry baskets.  I want these here so as I'm folding clothes, I can separate peoples clothes into designated containers and not have to take up counter space–because I'll have a big pile of clothes up there.   🙂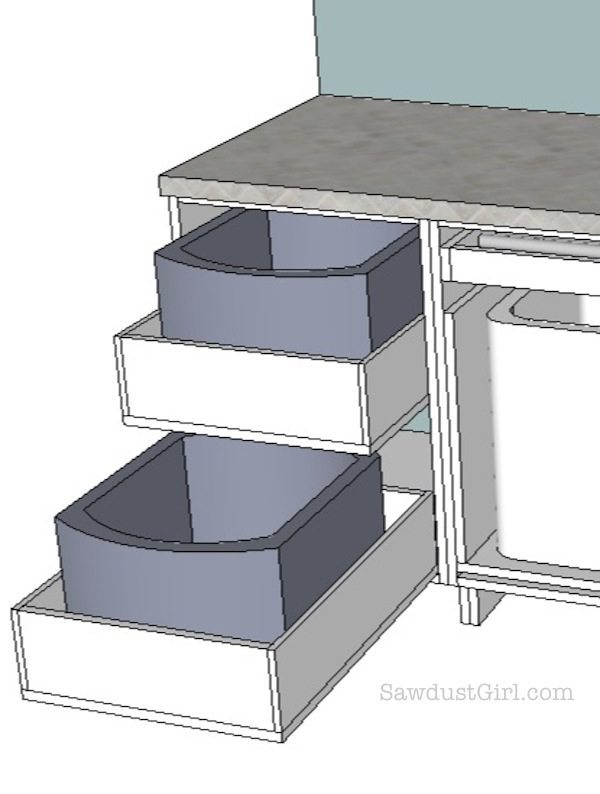 Last but not least — my PLAN is to install my sink so there is a rim that I can set an inset onto.  I'll build my countertop out of wood so I can easily cut out the sink hole and the inset.
I don't use the sink all the time.  I usually only use it for washing paint brushes and bathing Brody.  I don't want to lose counterspace for a function I hardly ever use.  It may prove too difficult to be worth the gain but I'm going to try.  I also strategically bought a rounded sink so I could mount the faucet in the corner so it wouldn't be in the way.  Installing a corner faucet will be much less work than tearing into my wall to plumb for a wall mounted faucet.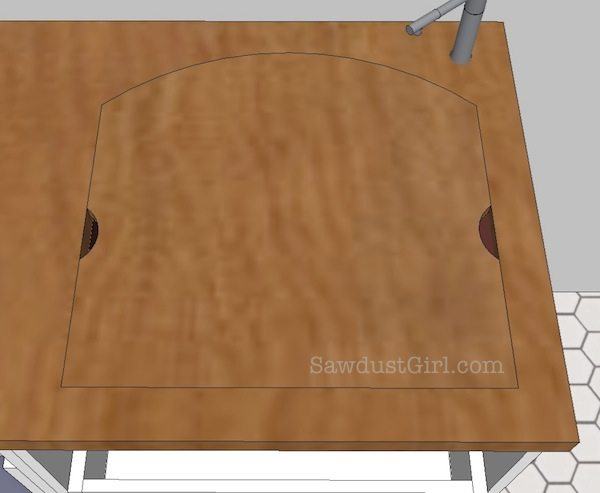 So that's my plan.  I'm excited to get into it — now that my back is finally "back".  Hoping to make quick progress but you know how it goes.
While I wait for the sink, I'm building doors for the left side.  But I'm not asking for opinions on MY doors. 🙂
Like how I let you give Beckie opinions but not me.  LOL.  I'm already in it so there's no turning back now and if someone gave me an idea I liked better than what I'm doing it would just throw a wrench in my progress because I MIGHT start over.  Naaa.  😀