I'm working on my dining room (among other things).  This room had a LOT of drywall repair and damage to be dealt with and I'm on the final stages of creating perfectly smooth walls.  Right now my work involves joint compound, mudding, sanding and a bit of swearing.   What better time to share a helpful tip with you about how to reduce drywall dust in your home when sanding?  I am nothing if not helpful!  ;-D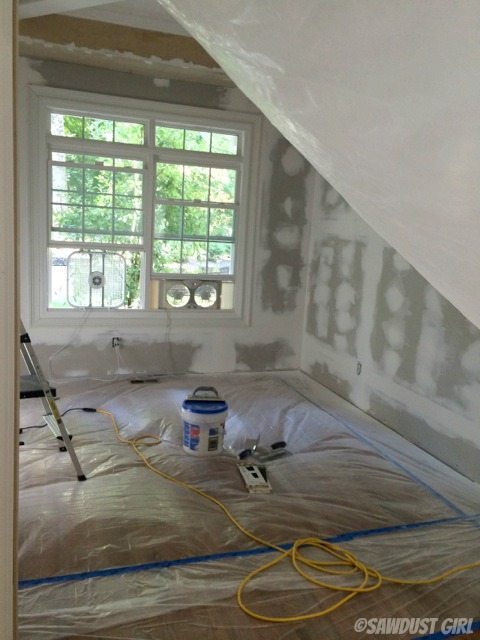 This tip only works in rooms with a window but it's a great tip for those rooms!
Put a box fan in the open window blowing the air out.
Open a window in an adjacent room to allow air to easily circulate through and OUT of the house through the work room.
Tape plastic on the doorway but don't seal it.  Leave the bottom untaped to allow the air to flow through.
Tape plastic on your floor so when you are all done you can roll the residual dust up in the plastic and remove it from your home — easy peasy.
I put it all in a short video so demonstrate how well this tip works.

If you're interested, I have lots more drywall tips including this this post and video on Skim Coating to cover UGLY texture!
Related Posts