Adding some custom detail to your staircase can be an inexpensive project if you build a newel post yourself. While generally newel posts are structural elements that support the handrail, this one is purely decorative.  When a handrail sits on top of a half wall, a newel post is simply a decorative architectural element that gives an otherwise boring stair wall some character.  
This stairway leads downstairs into my basement where we have a craft room, playroom and entertainment room. Such a fun basement needed more than a boring entry, it needed a newel post!
How to Build a Newel Post
I nailed and screwed two 2×4's onto the end of the wall
Covered that on 3 sides with MDF
Primed and painted that.
Added some more MDF on the bottom to "stack" the base.
Added some 1×2 pine (just cut and nailed in place…no fancy joinery or anything!)
Added some moulding
Primed and painted that!
8.  Topped it off with a piece of MDF (making sure the top would extend over the edge far enough to cover the crown moulding I was going to attach.)
9.  Added a small Crown moulding.
10.  Added some more MDF, moulding and a finial on the top (because I thought it needed something more.)
11.  Added another, even smaller finial to the first finial because it was flat on top and I thought it looked weird being flat!
12.  Primed what needed to be primed and painted everything again!
That's how I built my Newel post!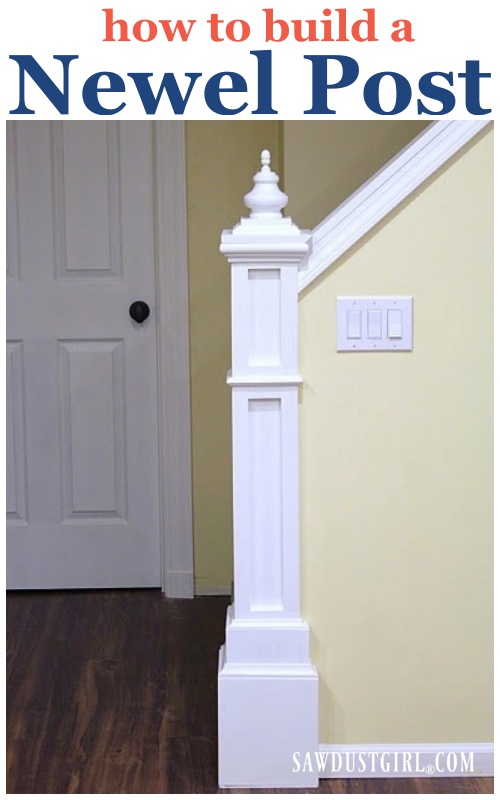 13 more projects to do on this house, 13 more project to do.
I have to get a lot done today because tomorrow is Get Nothing Done Wednesday because I volunteer at Maddie's schoooool,
13 more projects to do…!!!