I have been SO busy this week and gotten a ton done!  I got all my shelves cut, painted and installed.  There are a couple fixed shelves in this large cabinet but the rest are adjustable.  The fixed shelves are covered by the faceframe so I like to add a faceframe to adjustable shelves too.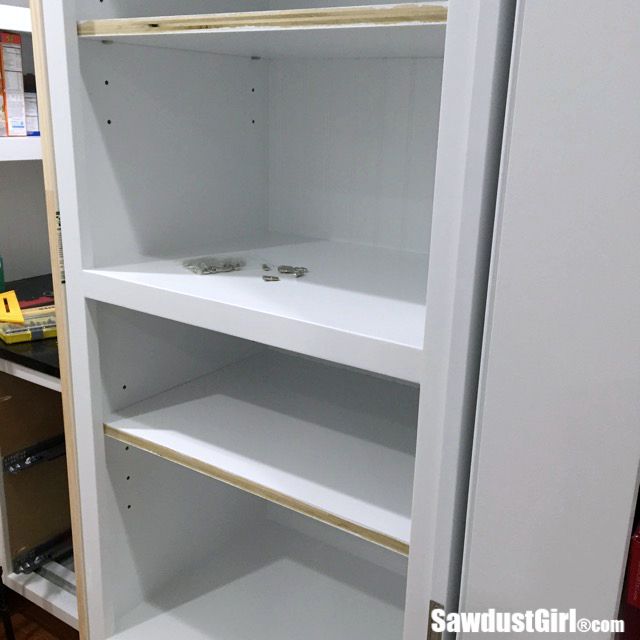 How to add Faceframe to Adjustable Shelves
I've shown you my tricks for drilling shelf pin holes and I frequently get asked about adding a faceframe to adjustable shelves.
When adding a faceframe to shelves that sit behind the cabinet faceframe, I first size the adjustable shelves and set them in place.  Then attach a faceframe to each shelf.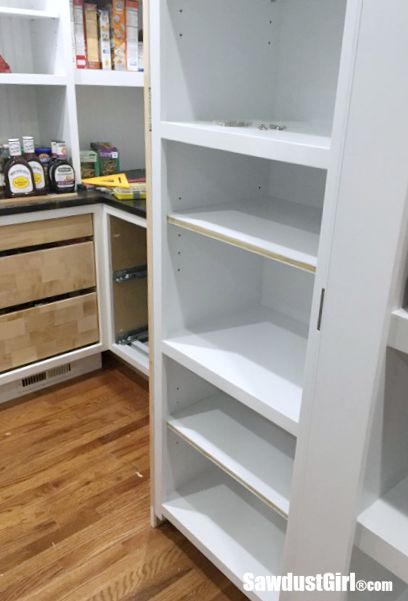 The "rail" needs to be cut short to allow the shelf to move — because that's the purpose of adjustable shelves.  😉  If you butt the rail up to the cabinet "stile" (vertical faceframe piece), you won't be able to tilt the shelf up in order to adjust it.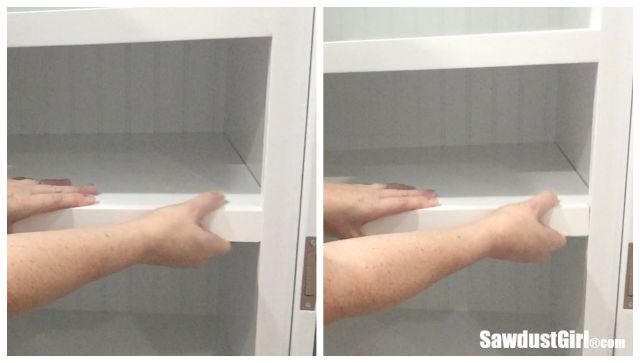 I leave about 1/16″ of space on each side.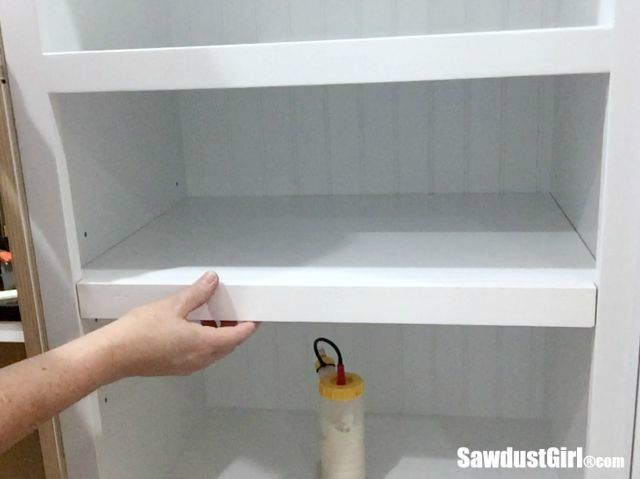 Attach with glue and nails.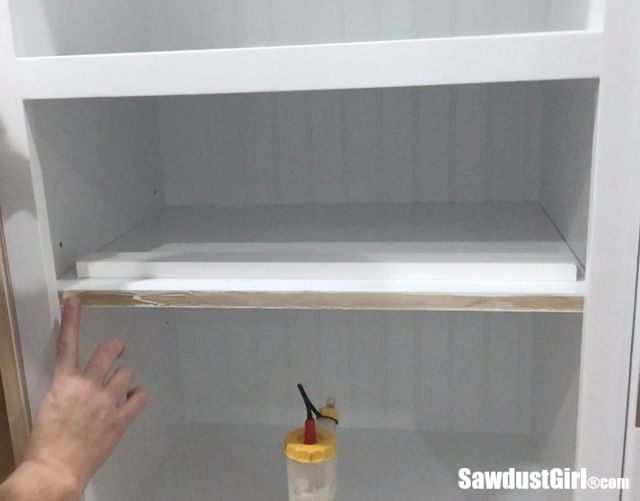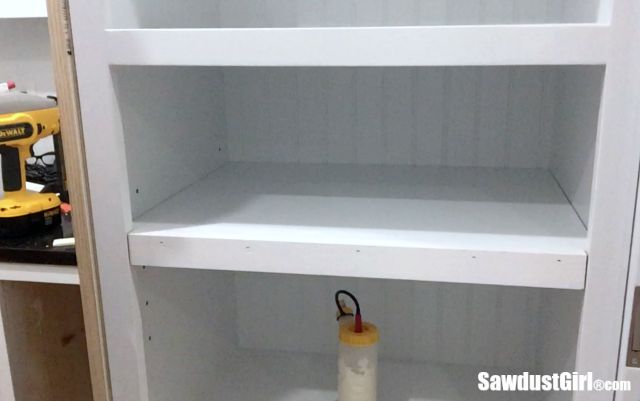 All of the shelves are plywood so the ones where I just painted the fronts, I first coated the front with wood putty and sanded them smooth.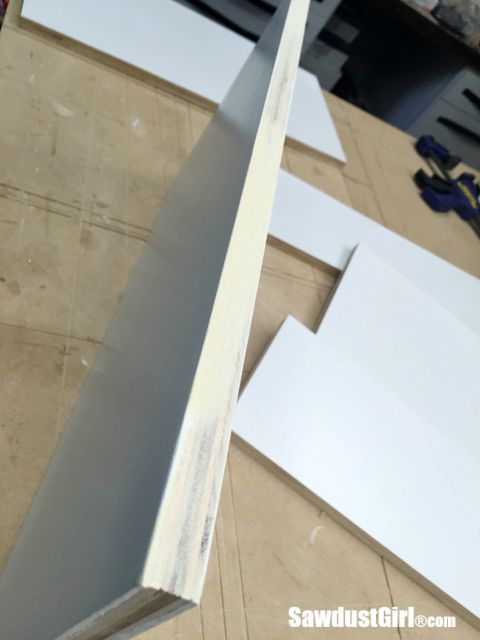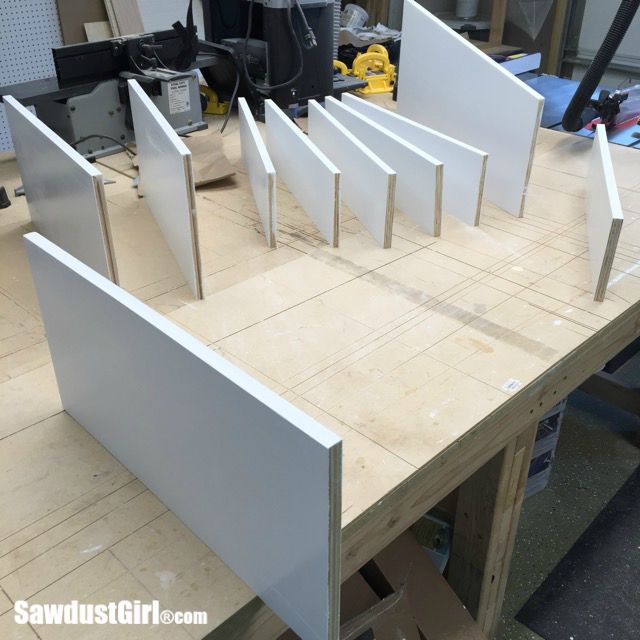 So now we have lots and lots of shelves.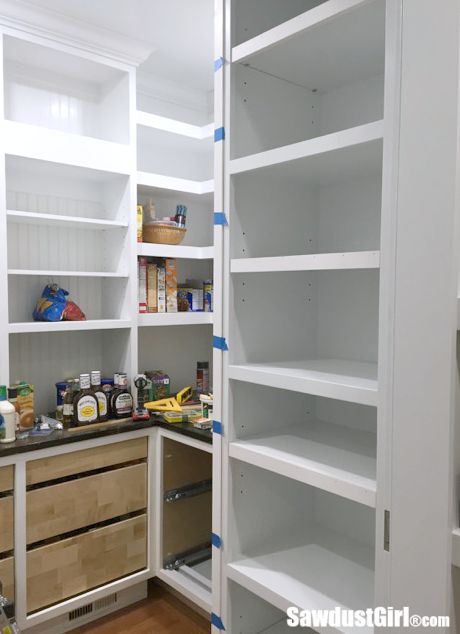 I put a few things in the pantry so I could determine where to place the adjustable shelves so it's a mess.
But it periodically gets messy like this because Wes thinks it's funny to put stuff away IN the pantry while I'm still working on it so I have to continually move stuff back out again.  So I started storing bottles of caulk on his spice shelf right next to the cooktop.  It took hime about 4 days to realize it! hahaha
The things we do to entertain ourselves.