There are a lot of factors in choosing the right cabinet door hinges. The type of cabinet and door being at the top of the list. Followed closely by the type, style, and function of the cabinet hinge. With as many options as there are available, there's surely a hinge that will work for every possible cabinet door scenario you could imagine.
Types of Cabinets
One thing to consider when selecting cabinet hardware is the type of cabinet you have.There are two types. Cabinets that are framed with a faceframe and those that are not.  Cabinets without faceframes are, not surprisingly, called "frameless cabinets".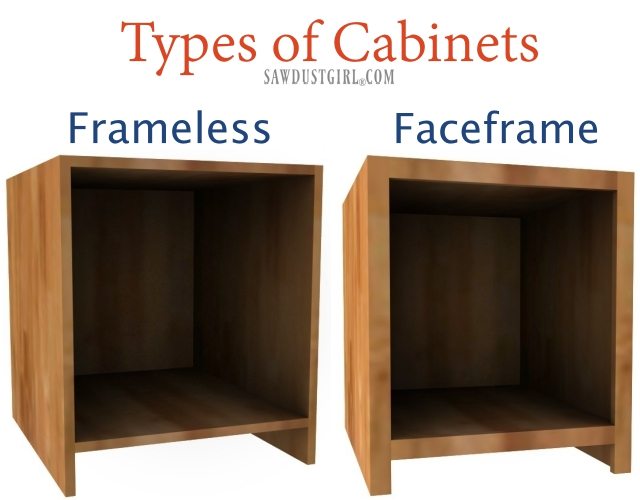 Face-frames are attached to the front of cabinets. Faceframes are generally 1×2 material so 3/4″ thick by 1 1/2″ wide.  Cabinet sides are almost always 3/4″ or 1/2″ thick so the faceframe covers the front edge of the cabinet and overhangs the cabinet opening.
Frameless cabinets simply do not have a faceframe. The front edge of the cabinet box will have an edge treatment to cover the cabinet material.  Frameless cabinets are also called European style cabinets.
Types of Door Installations
Both frameless and faceframe cabinets can have inset and overlay door installations. The position of the door when closed is the determining factor.
If a door closes inside the cabinet opening,  it is inset.

Generally, when an inset door is closed, it sits flush with the front of the cabinet (or faceframe).

If a cabinet door rests on the front of the cabinet (or faceframe) it is called an overlay door.

Full overlay doors cover the full front edge of the cabinet.
Partial overlay doors cover just a a portion of the cabinet front.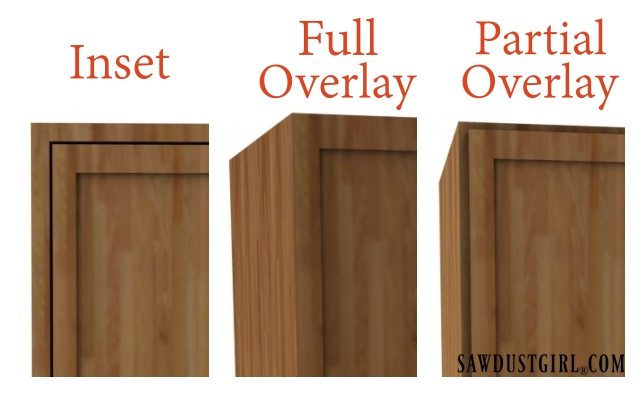 Overlay Doors
The overlay of a door is determined by how much of the cabinet front or faceframe the door covers when it is closed.
Full overlay covers everything. So you don't see any of the cabinet box or faceframe when the door is closed.
Partial overlay doors leave a portion of the cabinet box or faceframe showing.

The amount of cabinet showing on partial overlay doors is determined by the hinge you choose.
With the wide array of hinges available, you can make your door overlay anywhere from 1/4″ to over 1 1/2″ of your cabinet front material
Overlay doors are easiest to install because they don't have to be perfectly sized and fitted.  Additionally, they are more forgiving if your cabinet door opening is not perfectly square.
Inset Doors
Inset doors sit inside your cabinet opening, usually flush with the front edge.
There is a great deal of fiddle factor that goes into installing inset doors. Your cabinet door must be perfectly sized to fit inside your cabinet opening.
Inset doors are generally sized 1/8″ to 1/4″ smaller (in height and width) than the cabinet opening. This extra space is called a reveal.  Getting that reveal perfectly uniform on all sides can be tedious. 1/8″ reveal on all sides is good.  If you can get an even 1/16″ reveal you've mastered the inset door!
Choosing Hinges
When purchasing hinges, you have a lot of things to consider. In addition to the type of cabinet (faceframe or frameless), and the door overlay, you have lots of different styles of hinges to choose from!
Concealed hinges – not visible from the outside of the cabinet when the door is closed. These are often called European hinges.
Semi Concealed hinges – show a portion of the hinge while the rest is concealed inside the cabinet.
Wrap around hinges – a portion of the hinge is bent to wrap around the door.
Non-mortise hinges – are surface mounted.
Concealed hinges can be mounted on the surface of the door or a pressed into a "cup" that is drilled into the door.  These are often called "cup hinges".  The cup diameter is generally 35mm but that can vary as can the drill depth required to accept the hinge.  Most concealed hinges have built in adjustability so you can slightly change the position of the door without relocating the hinge.
Exposed hinges are most often used when replacing hardware on old kitchen cabinet doors. Most don't have the adjustability that concealed hinges have.
When installing hinges on new doors, I always try to buy hinges that have the most built-in adjustability possible. Not much sucks more than drilling multiple holes in your cabinet sides in order to reposition your door slightly.
With that in mind, let's break down hinges by cabinet style.
Faceframe Hinges
Deciding between concealed or exposed hinges is a matter of functionality as much as it is a style choice.  Exposed hinges add a decorative element to cabinet doors though you loose the adjustability allowed by modern concealed hinges.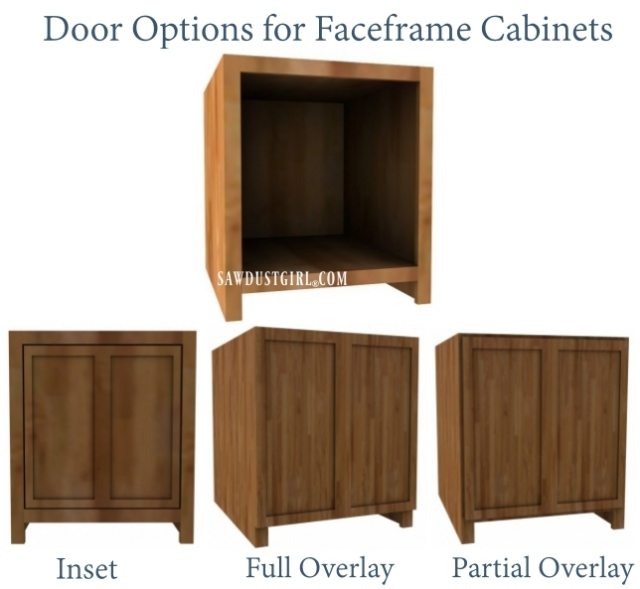 This hinge is a self-closing concealed hinge for face-frame cabinets that mounts on the surface.  No drilling required. These are designed for use on materials from 5/8″ to 3/4″ thick and allow overlays of 1/2″ to 5/8″ (depending on door thickness).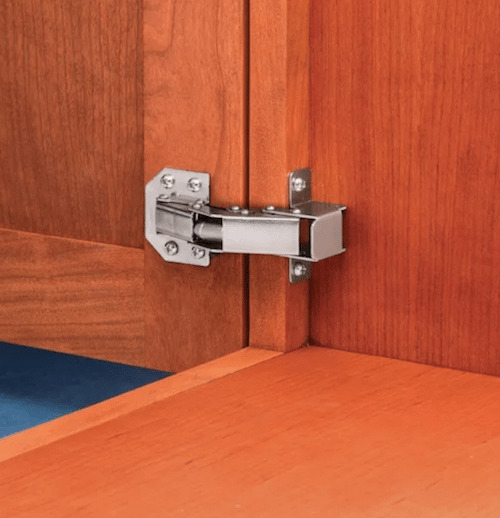 These hinges are compact and have a soft-close feature.  They have 3 way adjustability and come in overlays that range rom 3/8 to 1 3/8″. 35mm cup diameter with 110 degree opening.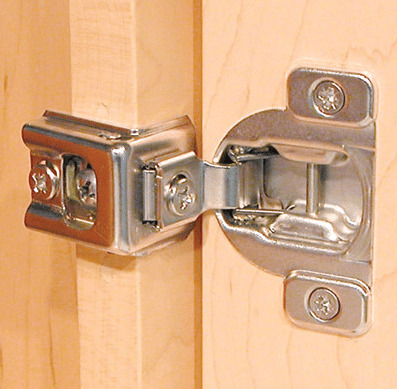 A lot of older cabinets have surface mounted overlay hinges. These have no built in adjustability.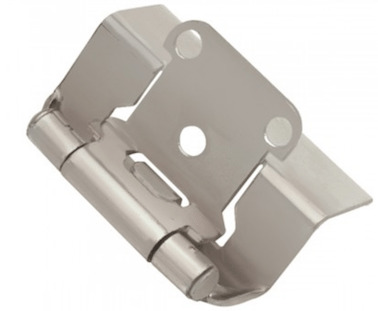 Another 3 way adjustability hinge for face frame applications. This is for inset doors. These are not soft close hinges.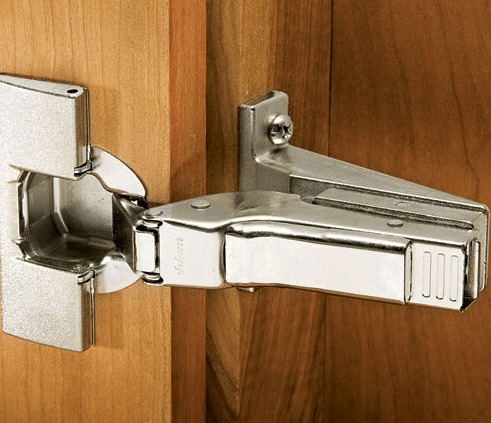 Face-frame cabinet hinge that requires no mortising to install.  Screw right on to the door and cabinet. Meant for doors that are 3/4″ thick. (Which most doors are.)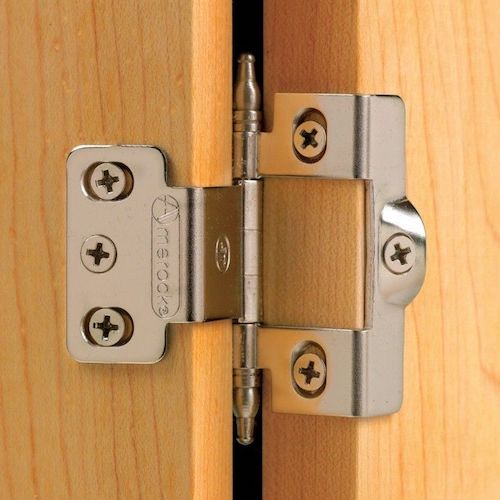 Frameless Cabinet Door Hinges
Sometimes hinges can be used for either faceframe or frameless cabinets.  Make sure you read all the specifications on the hinges to ensure you're getting what will work for you.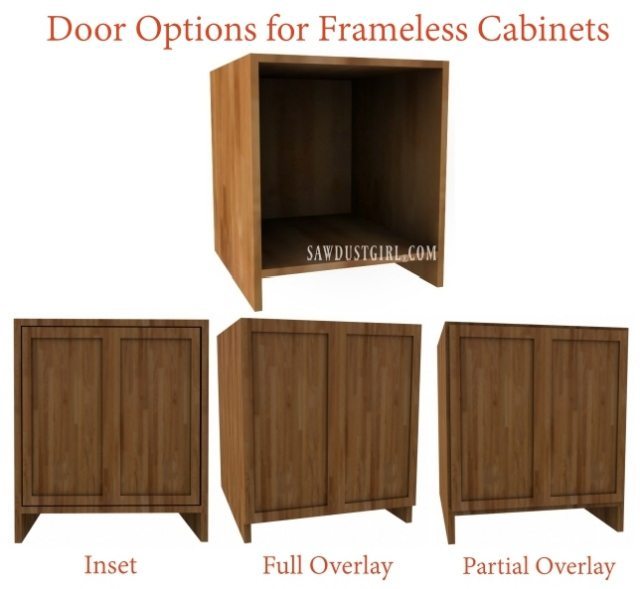 These overlay hinges swing the door completely around to the exterior side of the cabinet wall. They're great for cabinets with slide out shelves.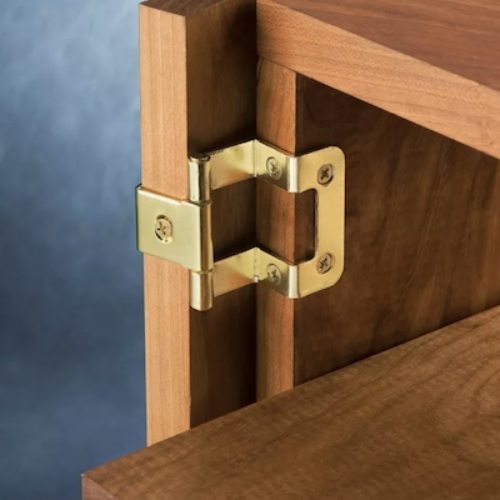 This invisible spring hinge is surface mounted and can be used for inset, or overlay doors on frameless cabinets.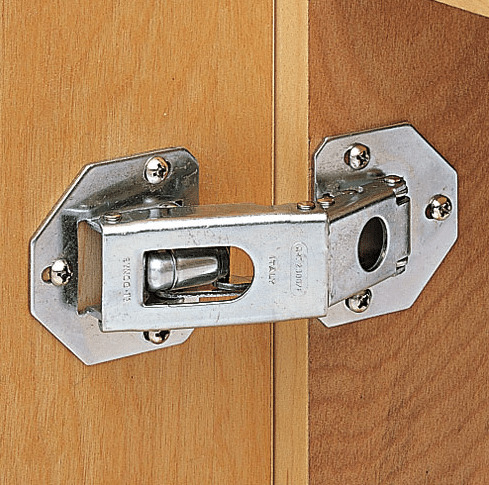 This is the kind of hinge I probably use the for frameless cabinets.  (When I build a cabinet with a faceframes but there is no lip on my faceframe — this is also what I use.)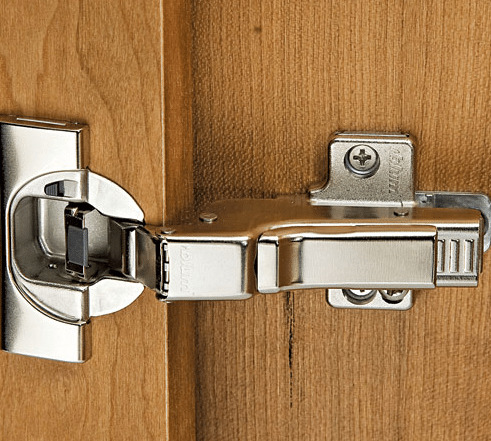 Cup Hinge Drilling Jigs
When using cup hinges, make sure you have the right size bit for the cup hinge you bought.  The Jig It from Rockler is one of less expensive cup hinge drilling jigs.  It helps keeps the drill straight while you drill cup holes. And the stop collar ensures you drill to the correct depth. This jig is about $140.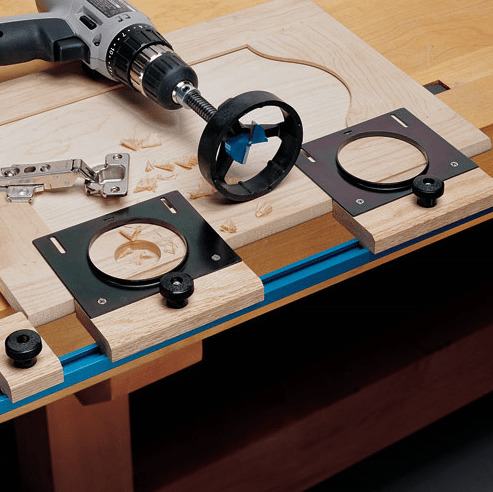 There are a lot more hinge choices that what I've included in this post.  It would be impossible to list every single option available.  Since new innovations are being made all the time, the list would have to keep growing endlessly.
Hopefully now you have a good understanding of the different types of doors, and overlays.  And with that knowledge you should be able to find exactly the type of hinge that you want to use in your next cabinet door project.
Get my Cabinet Building 101 eBook.  All the information in one place that you can download and keep on hand!
$9.99Add to cart
I'd love for you to share this post!