The basement bathroom floor looks SO MUCH BETTER after updating it with grout paint! It changed the whole look of the tile and now I don't hate the floors in that room. It was a pretty fast and inexpensive solution to changing the look of the outdated floors which kind of ruined the vibe I was going for with the crisp, white board and batten wainscoting.
I was afraid that if the grout paint didn't work, I'd have to tear out and redo the bathroom floors. (Or just hate them and sell the house without ever having "closure" on those ugly floors.) Luckily, the grout paint elevated the look just enough that I can now, at least not notice the floors. I don't LOVE them. But I don't HATE them either. And I can live with that.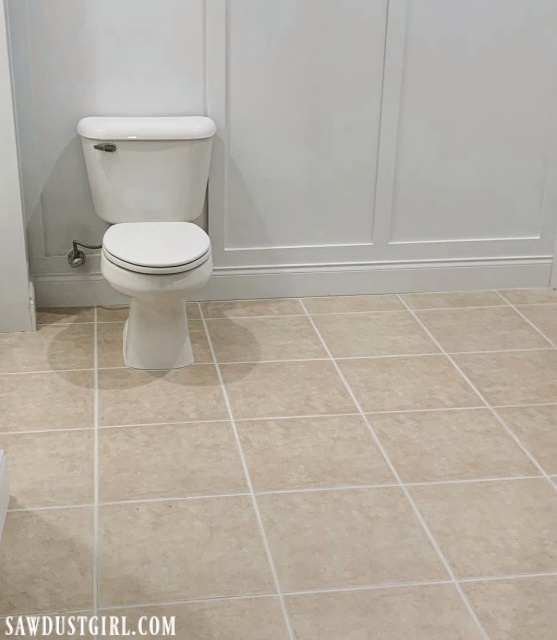 Clean Grout Lines
Julie tackled this project for me while I worked on something else. The first step was to clean the grout thoroughly. She scraped, swept and vacuumed up all the joint compound and paint splatters. Application instructions say to use an acid cleaner to prepare the grout. Julie just used vinegar and a toothbrush to scrub the grout lines. There wasn't any grease build up on these particular floors nor do I think they were ever sealed. In a spot like a kitchen backsplash or a shower, where the grout was most likely sealed or there is grease build-up, I would use the recommended products to clean the grout.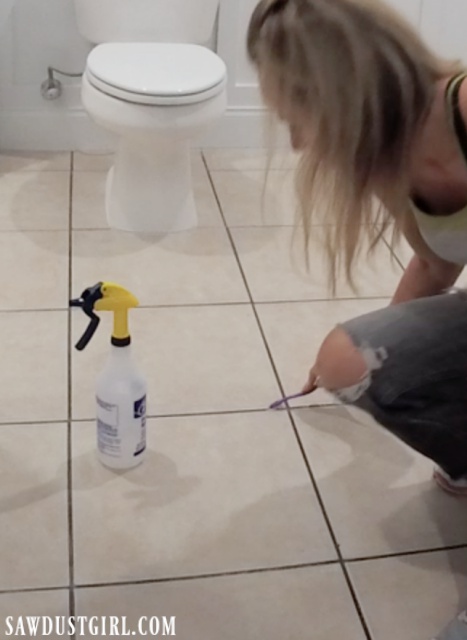 After scrubbing the grout lines, she rinsed the whole floor with water. Once everything was completely dry, it was ready to apply the grout paint.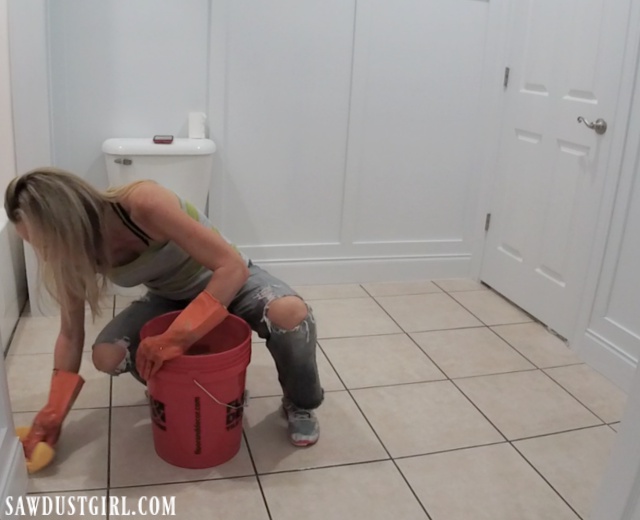 Painting Grout
I'm sure there are lots of options out there but we are on a mission to complete this house and get it on the market so we didn't shop around. I picked up Poly Blend Grout Renew from Home Depot while I was there getting other supplies. I grabbed two, Bright White and Snow White, so we could test in place and pick the best for our tile. We ended up liking the more creamy, Snow White. There are 40 pre-mixed colors available from this particular brand.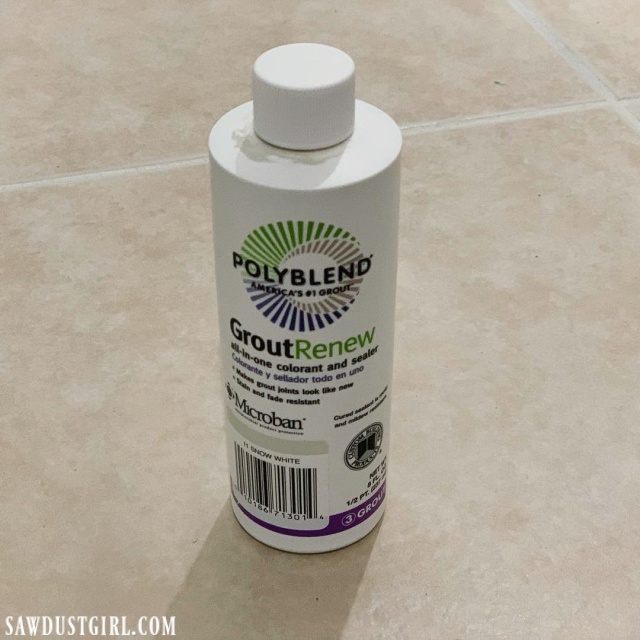 Polyblend Grout Renew is a colorant and sealer "all-in-one". That's a good thing so you don't have to crawl around on your hands and knees, repeating the entire "painting" process twice. It's water-based so you can clean up with water (before product dries). It can be used on both sanded or unsanded grout.
Instructions say not to apply when ambient temperature is below 50°F (10°C) or above 80°F. I don't know about you, but I don't let my house get above or below those temperatures so we were good to go.
Other instructions I took directly from the manufacturer include:
Shake well before using.
Do not allow it to bead or puddle.
Carefully apply to the grout joint and allow to dry 30-60 minutes.
Work small areas at a time.
The newly painted grout is ready for light traffic in 2 to 4 hours and regular traffic in 24 hours. You should not expose it to water and should avoid scrubbing joints for 72 hours.
How to Apply Grout Paint
We purchased an Applicator Roller Bottle because it looked like it would make the process go faster. However, the roller tip wasn't fat enough to get the whole grout line in one pass. Nor was it soft enough to apply enough grout paint when rolling to allow you to come back with a paintbrush and spread it out.
What ended up working best for us was
a decent artist paintbrush for application
a container to hold the paint in which the paintbrush could be dipped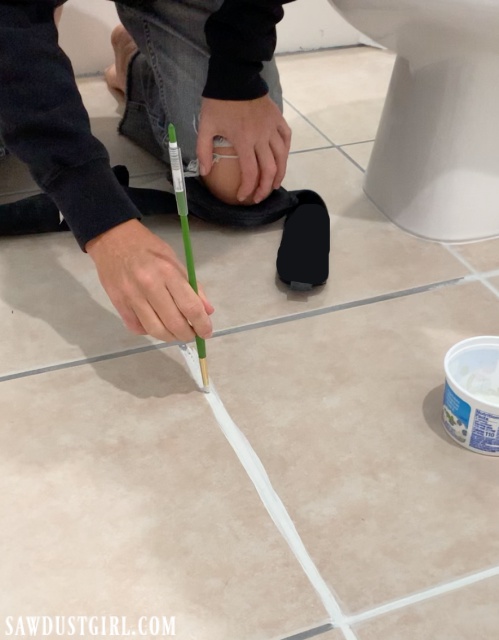 We didn't worry about precision during application. The tile is sealed so it won't absorb any of the grout paint. (If you are painting grout next to porous, unsealed tile you want to seal it before you paint the grout.)
The trick is to keep the paintbrush thickly loaded with GroutRenew so there's enough to flood around all the little gritty protrusions. Sanded grout is rough, so you've got to force the paint in between all the roughness. Smoosh it into the nooks and crannies. Then use the paintbrush to draw the excess paint further down the grout line. So you're not leaving a pool or puddle of paint anywhere. Just getting everything well coated.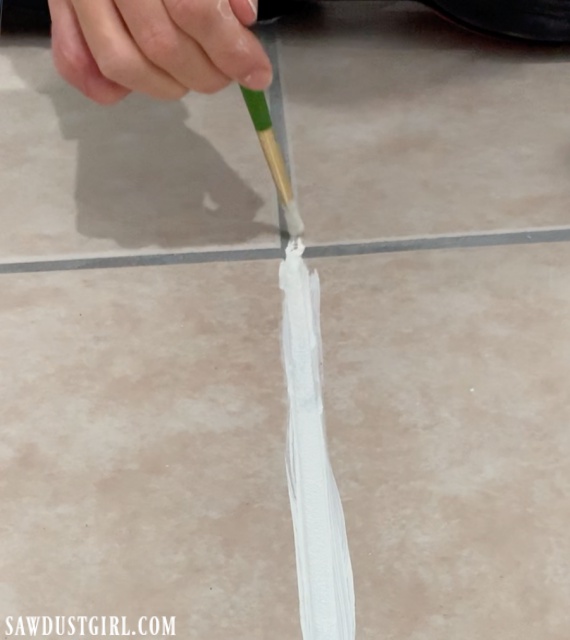 Julie worked on small areas (probably a 3′ section) at a time. After applying the grout paint, she'd come back with a damp cloth and wipe off what got onto the tile. The GroutRenew wiped off the sealed tile very easily while it was still wet. I have an idea that this stuff might stick to anything if you let it sit there long enough to dry and cure.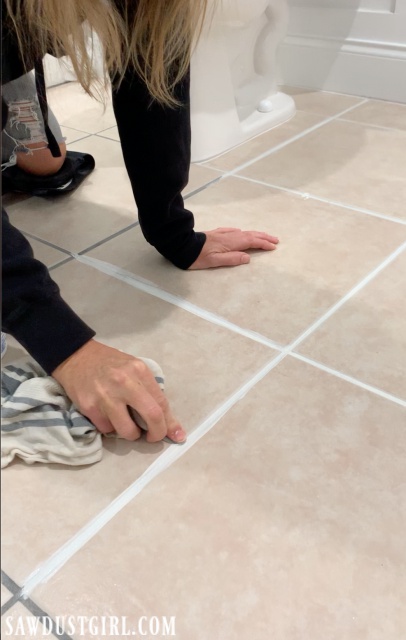 Not letting the grout paint dry before you're ready is the purpose of working in small areas. Apply paint then wipe. Move to the next section. Apply paint and wipe…
We ended up only doing one coat, even though we applied white paint over grey grout. The coverage was really good.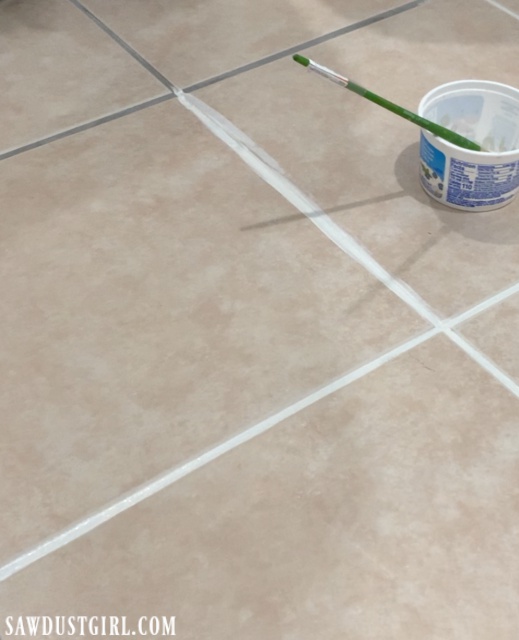 I imagine if we'd gone with the Bright White and wanted a really crisp, white line, we might have needed a second coat. But then, the Bright White was more bright white so it might have achieved a crisp white look in one coat as well. I can't say, because we didn't use that color. The Snow White gave us a creamy white that works well with the tile we were zhushing.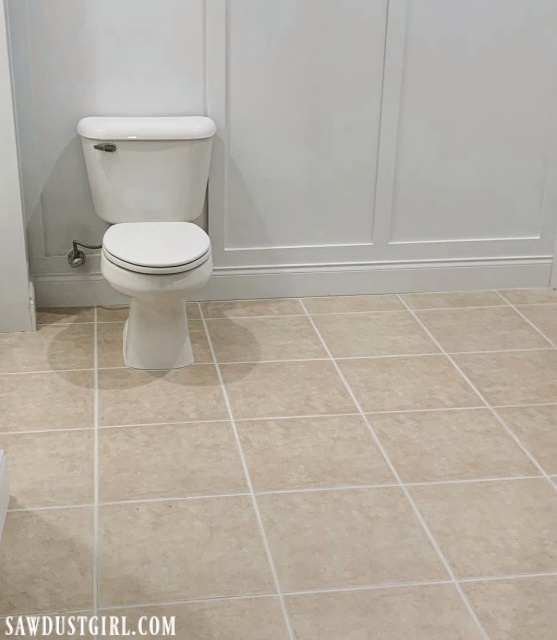 We can speak to the "Sealing" quality of the Poly Blend Grout Renew because we've already tested it. Julie applied some brown caulk right next to the white grout we'd just painted 2 days prior. Colored caulk is highly pigmented and will stain absorptive surfaces very easily. The Grout Renew wiped off the painted/sealed grout easily and didn't leave a trace. We were impressed! We expected some color to remain behind and thought we'd have to do another pass with the grout paint. But we didn't! So this stuff works wonders at both sealing the grout and changing it's color. Thank goodness because I really needed closure on this floor!