So far, I've built three different sections of vertical drawers in my workshop. All the drawers in each sections are spaced equally so the drawer fronts are the same size but I built each drawer based on what I wanted to store in it. I love, love LOVE being organized and knowing exactly where to find what I want! On Monday I gave you a sneak peek at some of my workshop organization and shared how to install vertical storage drawers in existing cabinets. Today I'm showing you my drawers!
I'm partnering with SPAX to bring you this tutorial.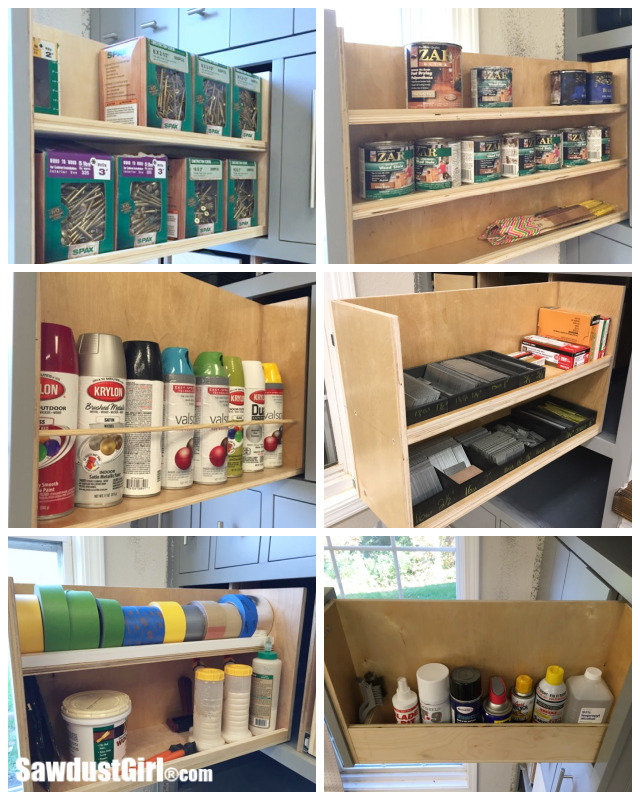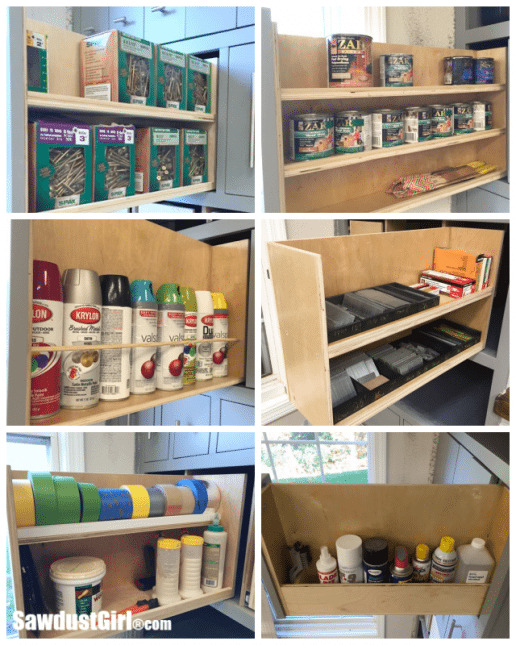 Building Vertical Drawers
All of my cabinet sections are the same height and depth so the height and depth of all the vertical drawers are the same. The width of the drawers vary per section. If you are building vertical drawers for an existing cabinet, you'll have to plan your drawers based on the space you have. To give you an idea how I came up with my dimensions, here's how I figured my depth and height:
My cabinet is 24″ deep but I'm using 22″ drawer slides. My drawer slides are mounted on the side of the cabinet flush with the front and back of the drawer — so my drawer needs to be 22″ long (deep).
My cabinet opening is 15 1/2″ tall. I wanted 1/2″ space below my drawer and 1″ above it so my drawer is 14″ tall.
The drawer width is determined by dividing the width of your cabinet opening up by the number of drawers you want. Then you also have take into account the width of the vertical dividers you need to install each drawer and drawer slide for each drawer. My dividers were 3/4″ wide and my drawer slides require 1/2″ installation space.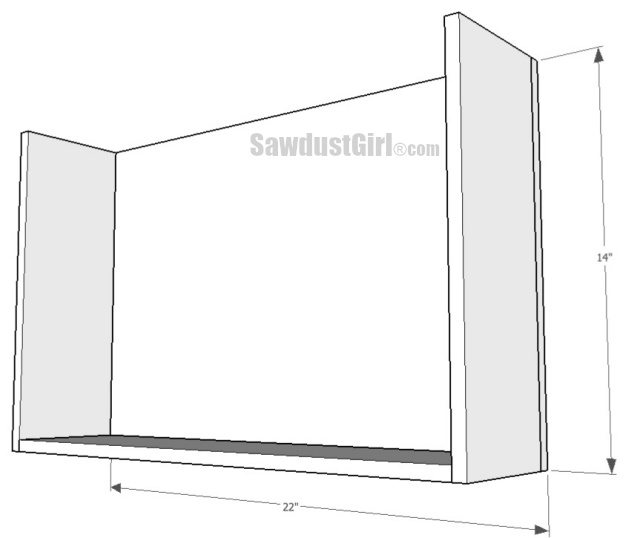 Once I roughly determined what I wanted to store in each section, I determined how wide to build my vertical drawers and The I was able to cut out my pieces.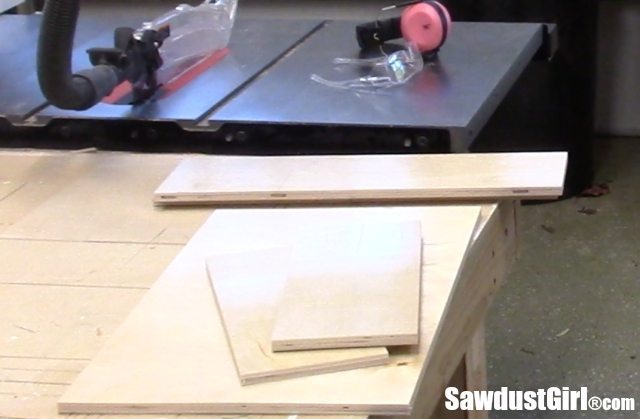 I used 1/2″ plywood for all my vertical drawers. With 1/2″ material, I use SPAX #6 Hardwood and MDF screws. The reason I like SPAX screws is because you don't have to drill a pilot hole or countersink. The threads are serrated which prevent splitting without pre-drilling and the underside of the trim head has cutting ribs that allow you to drive the screw flush or countersunk.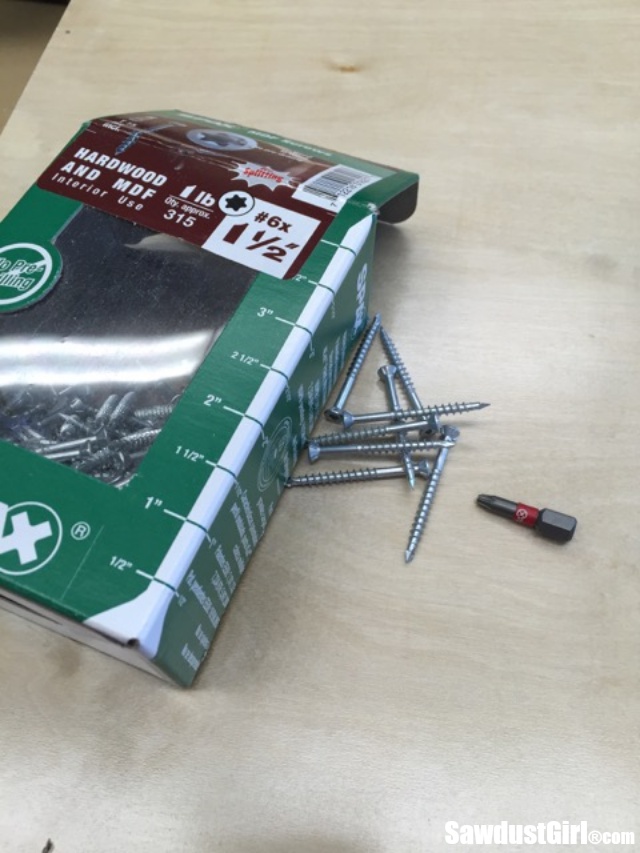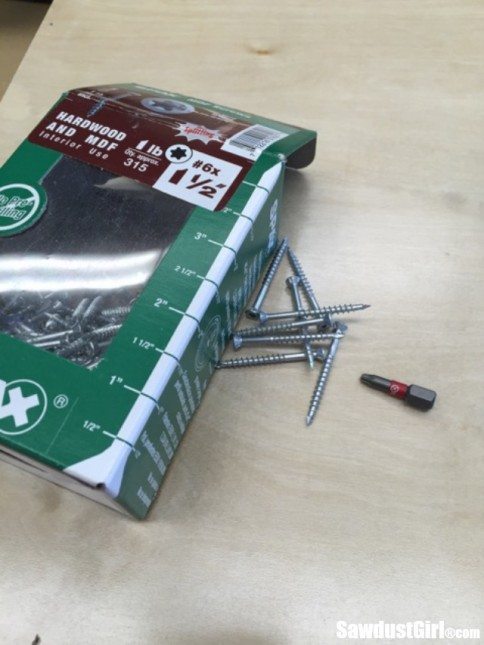 It's always easier to mark the location of any center shelves on the front and back of the pieces they will be attached to before you start building. I use a tape measure to mark and then transfer that mark along the length of the back with a long T-Square.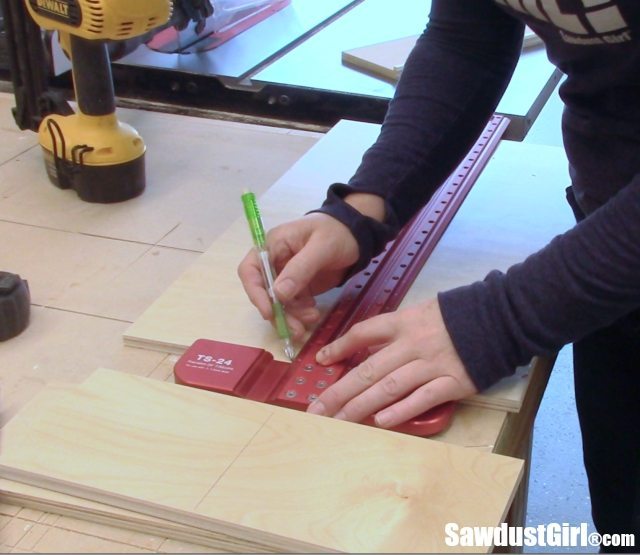 Then attach the front and back pieces. Bessey 90º angle clamps are great for holding cabinet parts square while you drive your screws.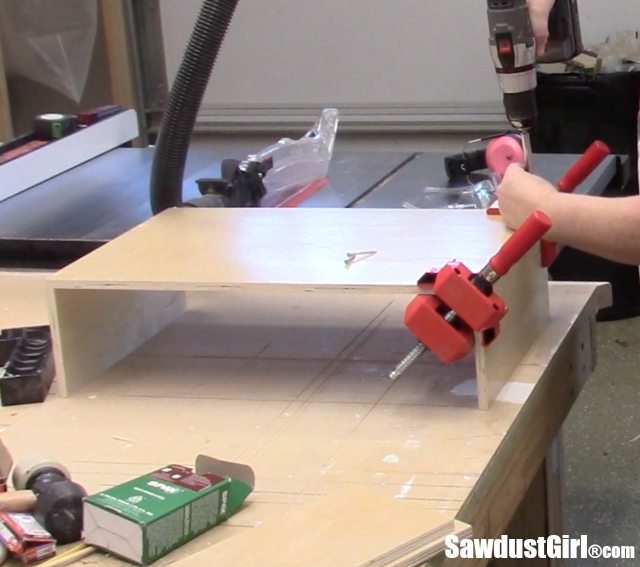 For 14″ tall drawers, I used three screws on each side.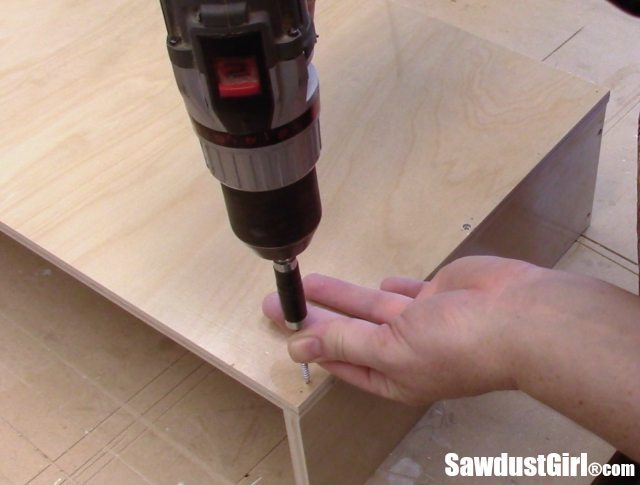 I installed my middle shelf and bottom with more #6 screws. Two screws on each side of each shelf.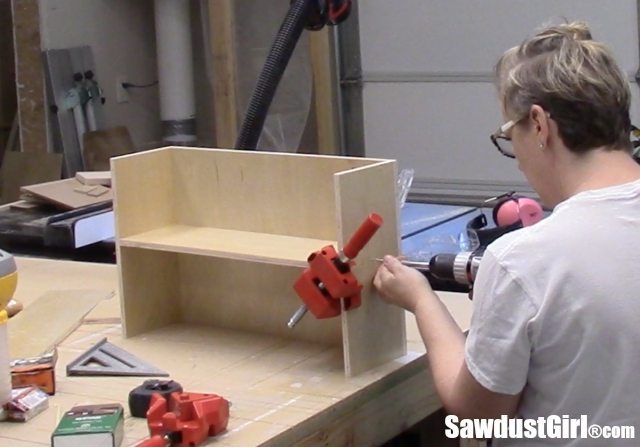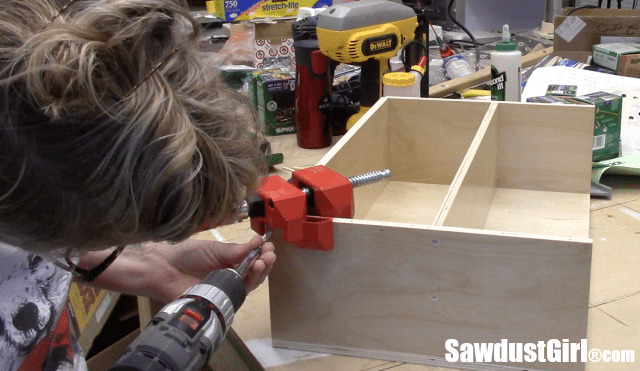 I decided I needed to add a "lip" on the front of both of these shelves to help keep things in place on the shelves. I used wood glue and clamped the two pieces together while I shot in some nails so I could then remove the clamps and move on with the next drawer.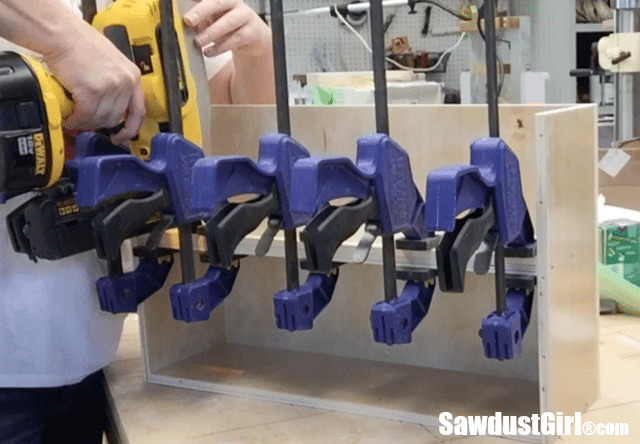 Attaching the front lip on shelves is way easier if you do it before you build the drawer!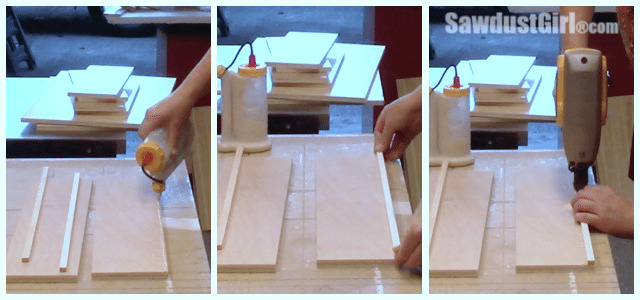 I make sure to sand all the edges and corners so they are smooth to the touch. I hate sharp corners.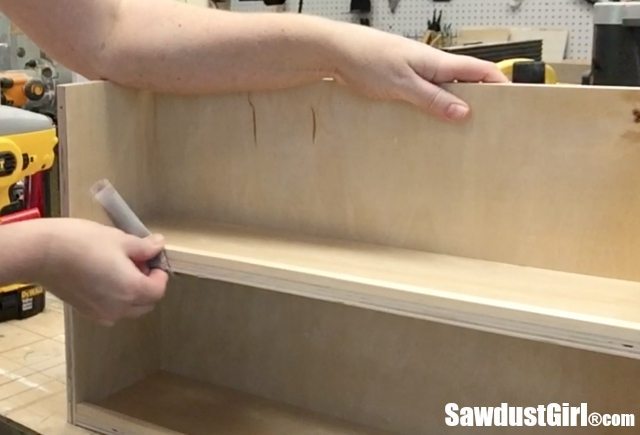 I clearcoated the bare plywood. Some of the plywood I used was pre-finished with a semi gloss clearcoat and I wanted it all to have the same sheen and protection so I sprayed the bare wood and edges with Deft.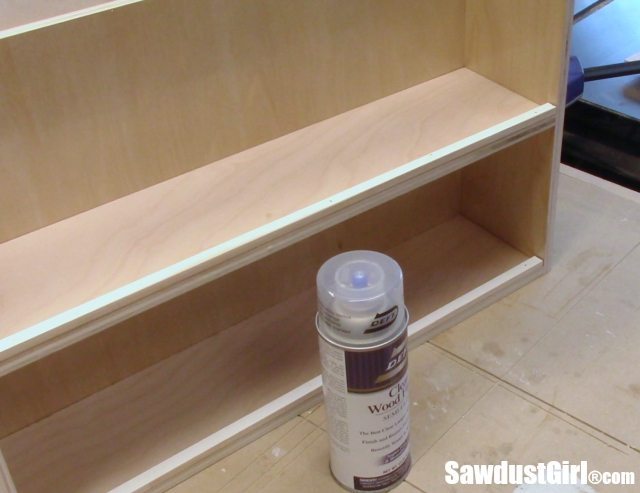 These are the drawers I build for the 4 drawer section which holds all my screws!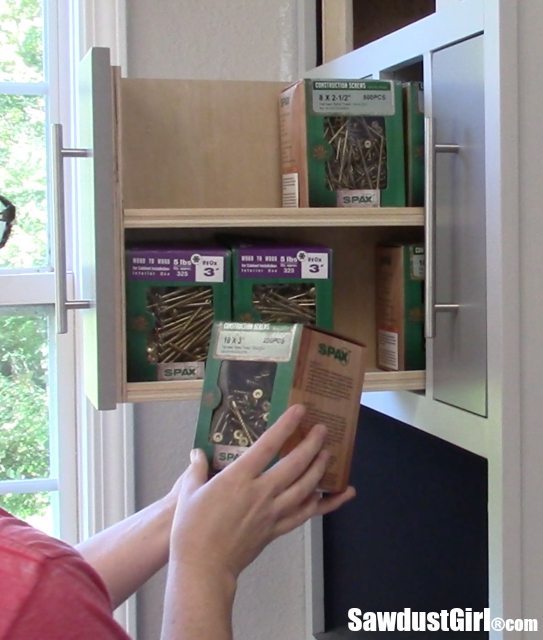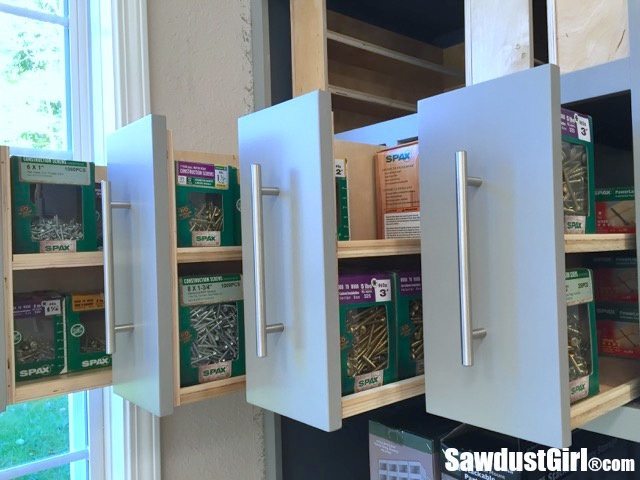 Steel Bar Pulls from DLawlessHardware.com
The section below that includes 3 drawers. One is similar to the screw drawers where the shelves are equal depth. This drawer holds all my nails for my nail guns.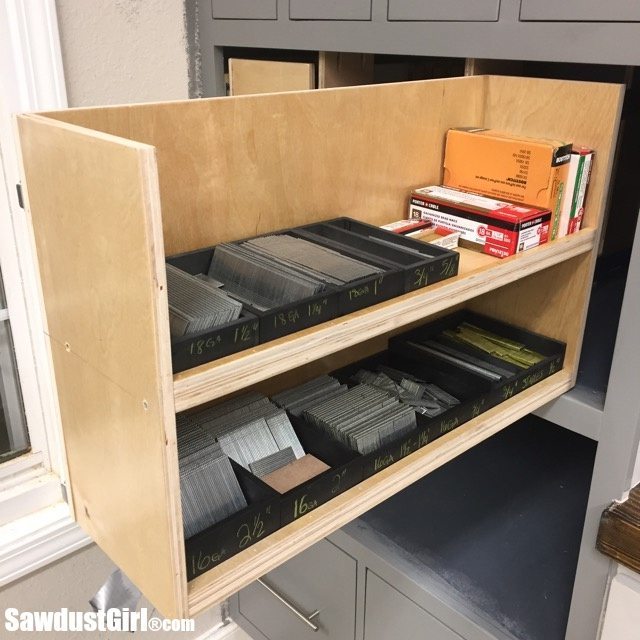 I also built some MDF boxes and painted them with chalkboard paint so I could label the boxes but change things up in the future if needed.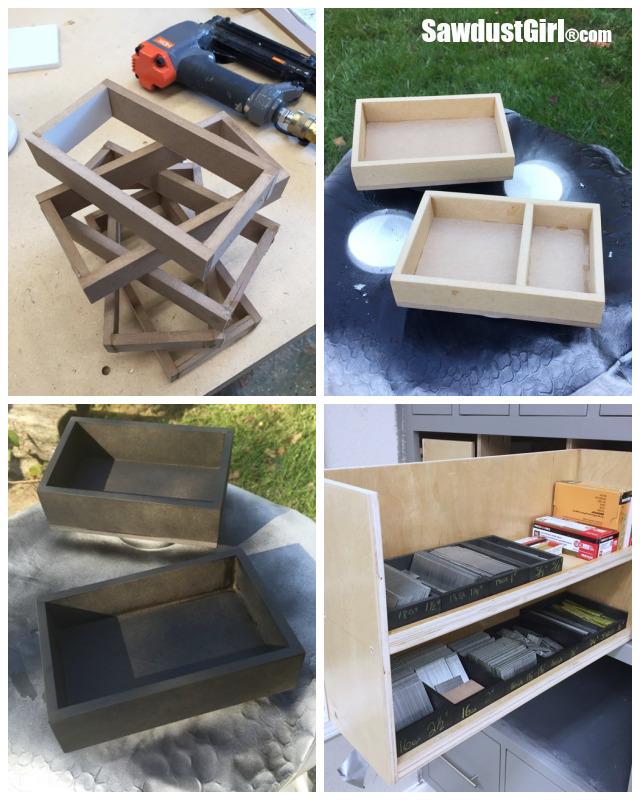 The other two drawers in this section vary slightly in that the middle shelf is more narrow than the bottom.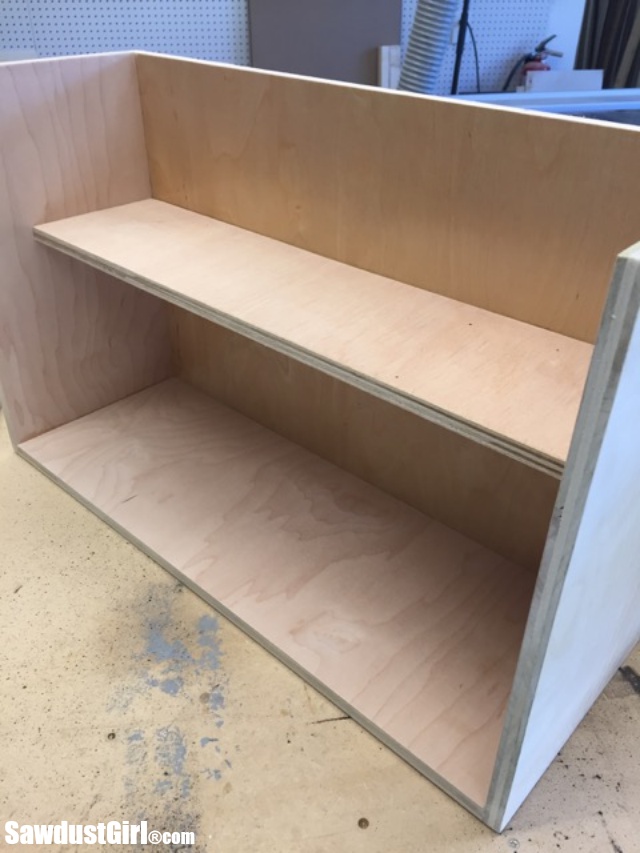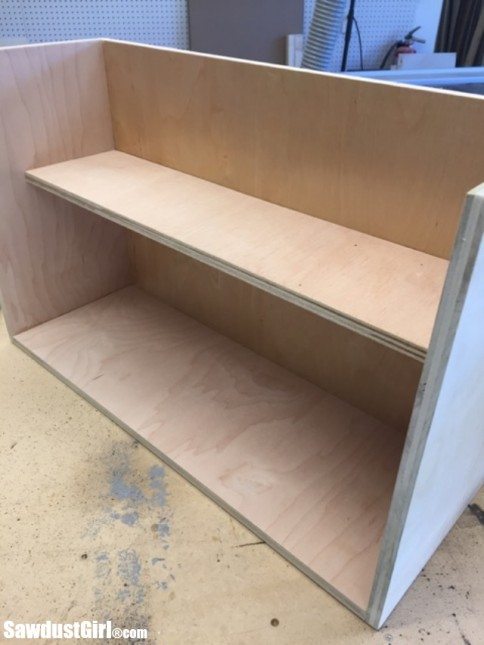 One of them holds my wood glue, wood filler and respective spreading tools on the bottom and rolls of tape on the top.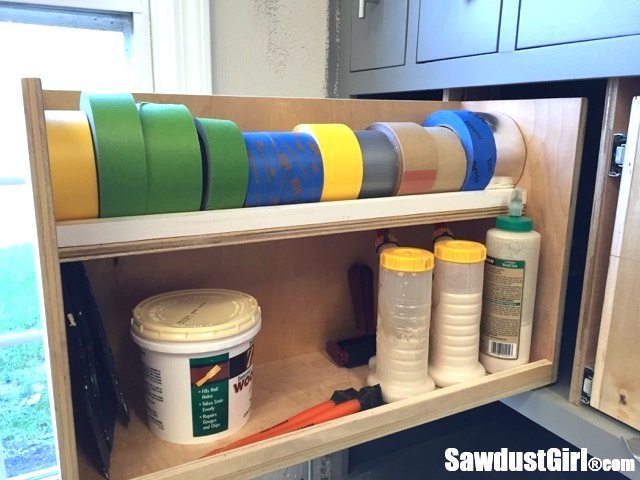 I was trying to figure out the best way to store the tape without having to move anything but the roll I want (i.e. using a dowel) when I picked up a scrap of wood off my workshop floor and it hit me! The scrap was a piece of primed pine that I'd ripped at a 45º angle – the solution was clear.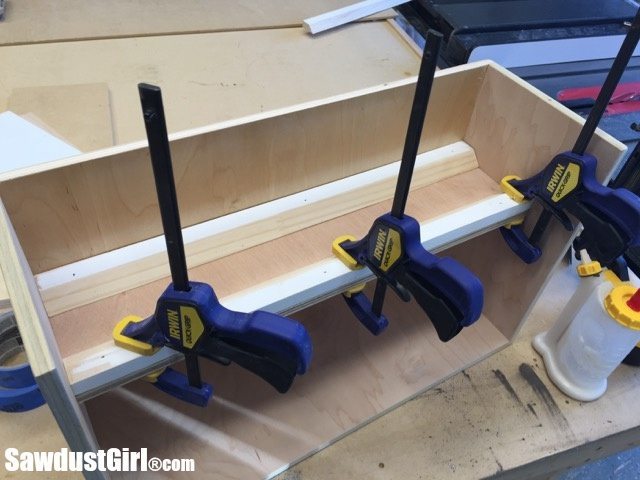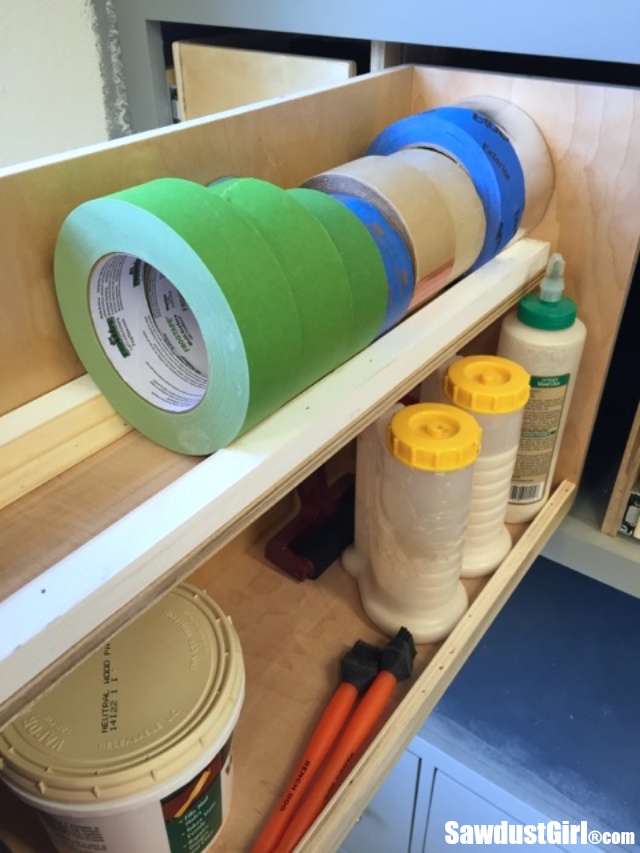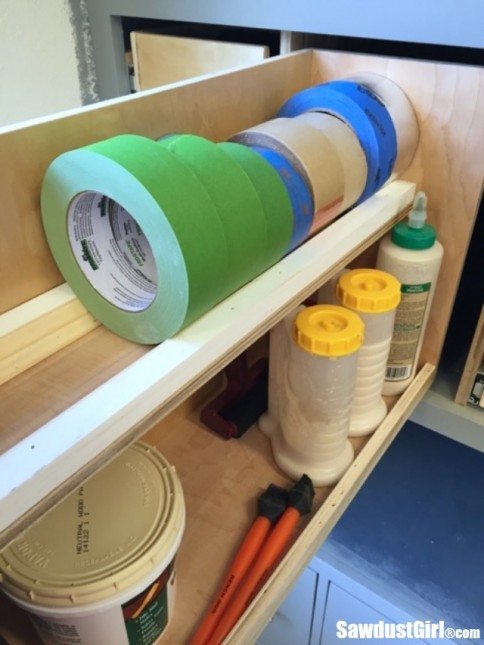 Perfect!
The other drawer in this section is for my orbital sandpaper.
I played around with spacing of the shelves both in height and depth to make sure I created the best space to be able to grab any piece of sandpaper I wanted without lifting or moving anything else out of the way first. It may look odd but the bottom shelf sticking out like this created the perfect clearance for the bottom boxes of sandpaper.
The rectangular boxes fit perfectly on the bottom shelf and the square boxes fit on either shelf. I put a small block of wood behind them when they are on the bottom shelf to push them all the way to the front for convenience of sandpaper retrieval.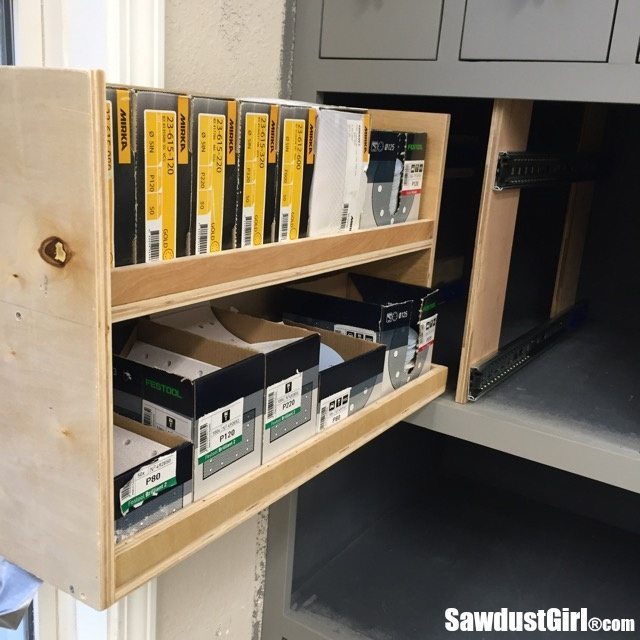 The top section of vertical drawers has 5 drawers and they are all different. The first one has three shelves and holds my small cans of stain and my DIY stain color sample fan.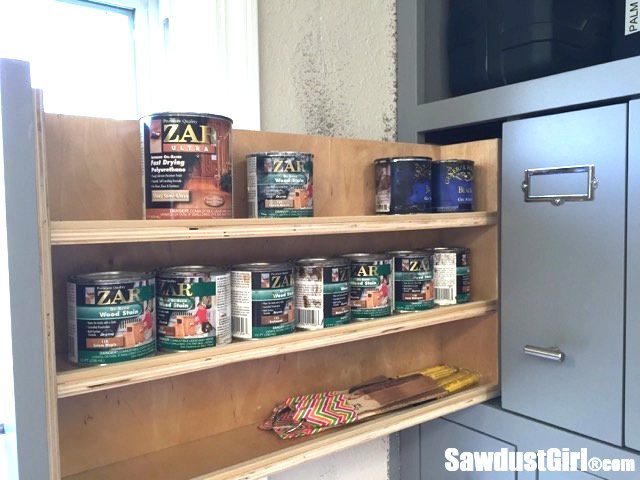 Another of these narrower drawers holds cans and bottles of cleaners.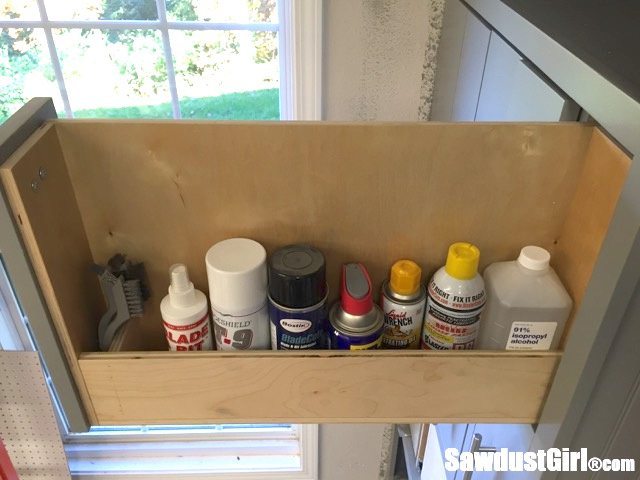 I added a small divider to keep the brushes from falling over and getting lost behind the cans. (You want to install your drawer front and pull before installing this divider.)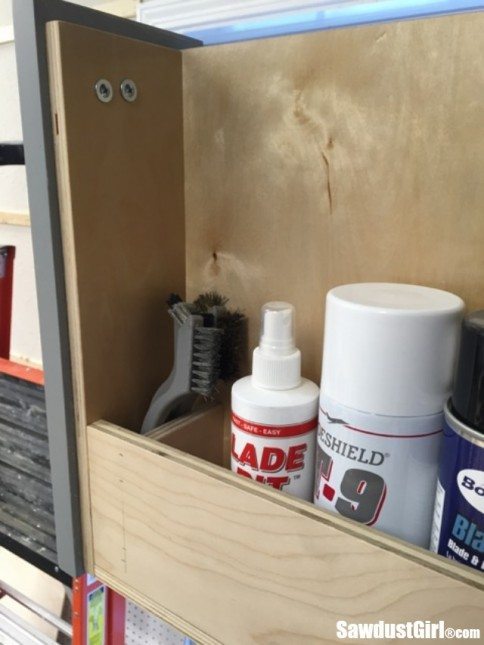 The last three drawers in this section use dowels to keep things on the shelves but allow me to see the full face of the items stored. The first one also has a shelf above the cans for additional small cans of paint or stain.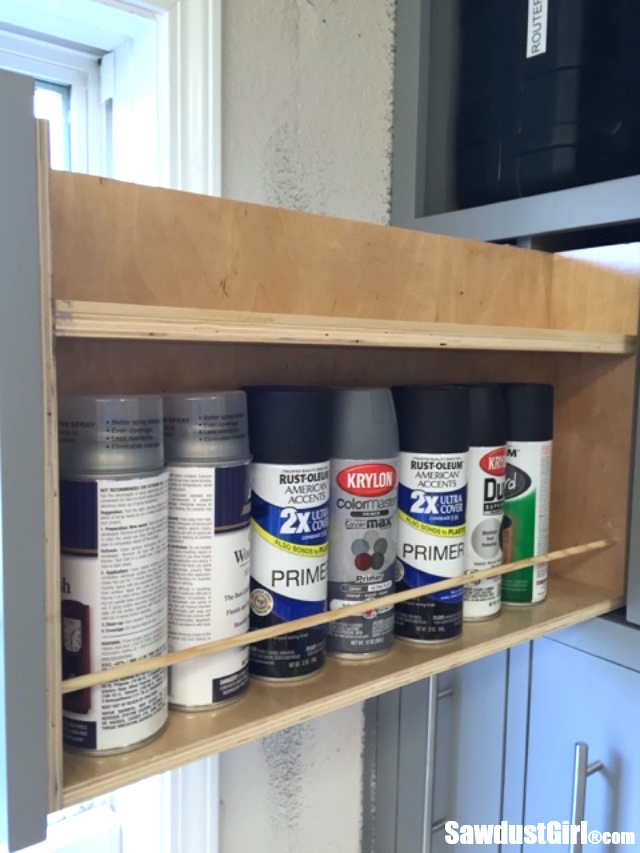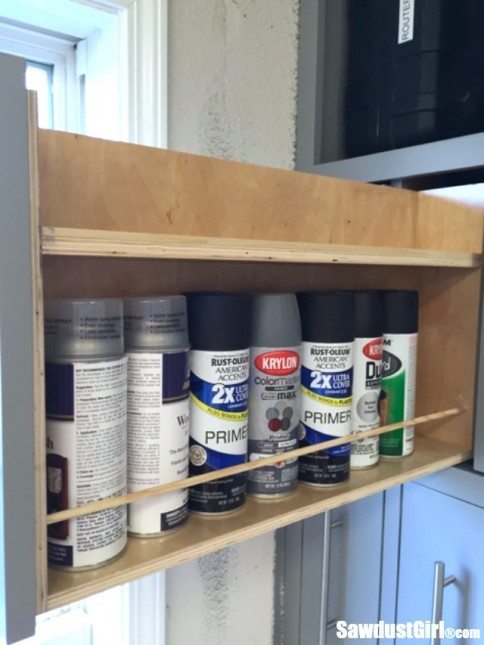 I installed the dowel higher up in this drawer so I could store taller items (like tubes of caulk) and keep them from falling out but I must not have been paying attention when installing the drawers and faceframes because this drawer ended up right next to the other spray paint drawer so I HAD to put the rest of the spray paint I had in this drawer…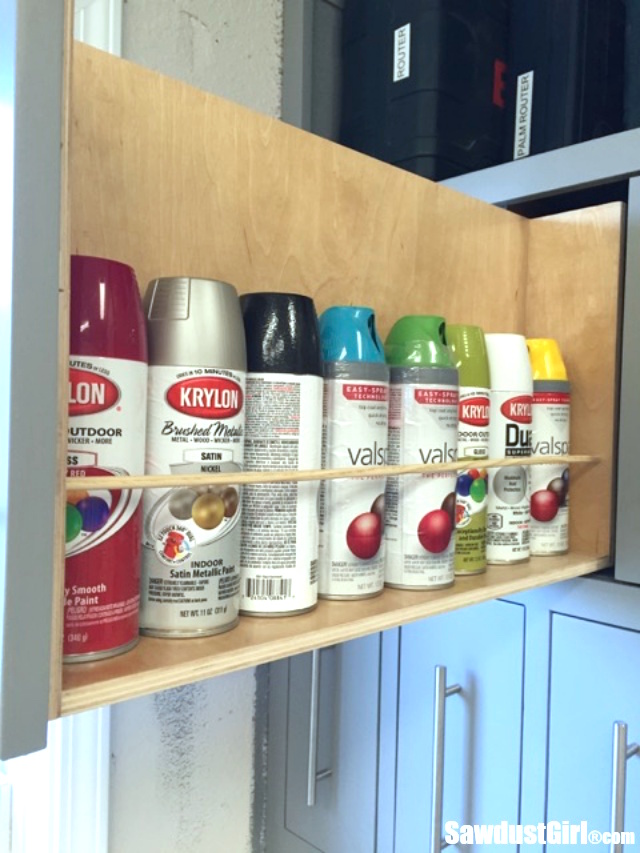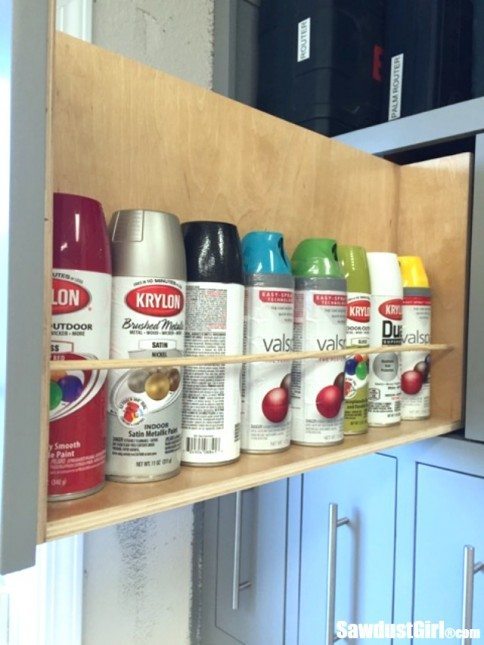 …even though the tubes of caulk some extra supervision! I can't store caulk in between two drawers of spray paint. I just can't do that. I do need to add some parental guidance in this drawer though because when I pull it open all the tubes rock and sway and fall over on top of each other and at least one slides out under the rail. (I don't open it that often so I haven't fixed it yet.)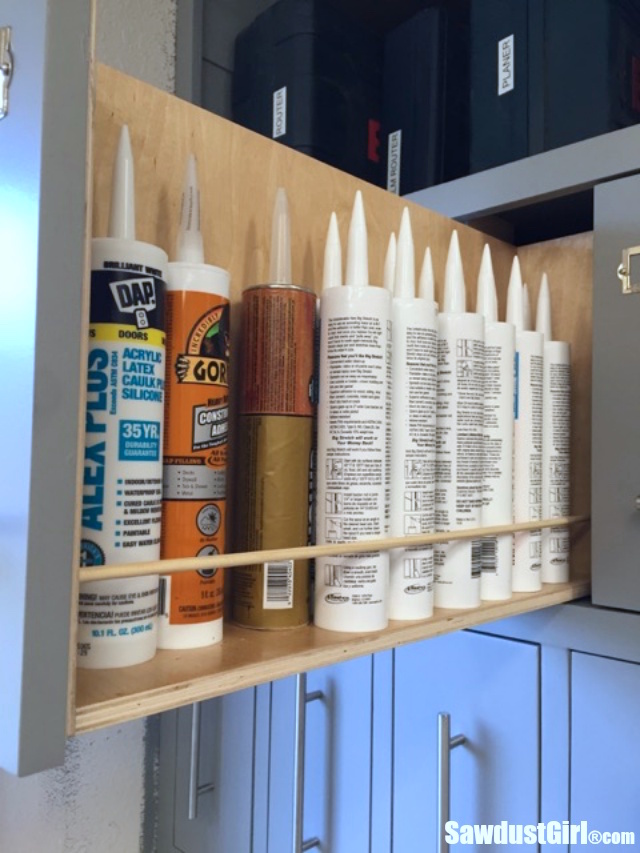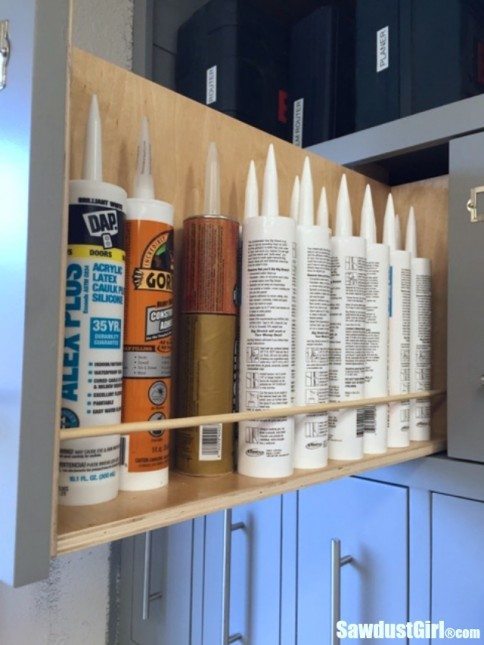 Building the dowel drawers is easiest if you drill the dowel holes before you assemble the drawer. I stack the two side pieces and drill completely through them both.
Put a little wood glue in the hole before you feed the dowel through and it should stay put.
But just in case, I glued a little block on the back of the side that will face the back of the cabinet (so it will never be seen.) The faceframe will cover the front of the drawer ensuring the dowel doesn't ever slip out the front side so you're definitely set with this plan.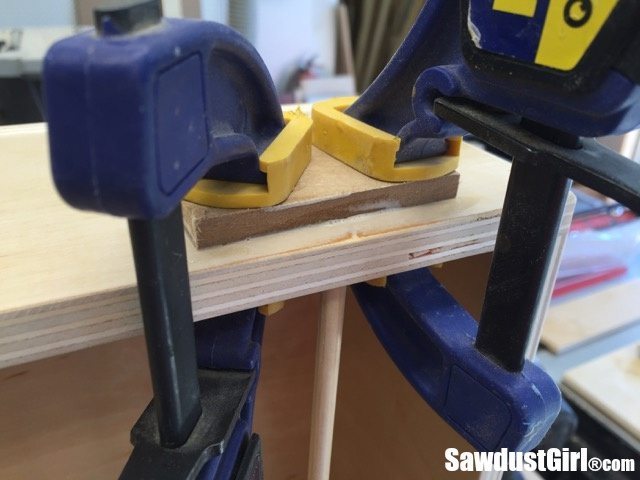 And that my friends is all my organized storage in the vertical drawers I have build. I have plenty of spaces left to fill but I haven't been able to figure out how best to make use of that remaining space. At some point a storage need will arise and I'll figure out how to proceed. Until that inspiration hits I'm going to "put a pin" in the workshop organization project. I have something else I KNOW what to do with so I'll go work on that for a while.
5 Drawer Section
4 Drawer Section 3 Drawer Section

This post is sponsored by SPAX. I received product and compensation for my work. All ideas and opinions are my own.