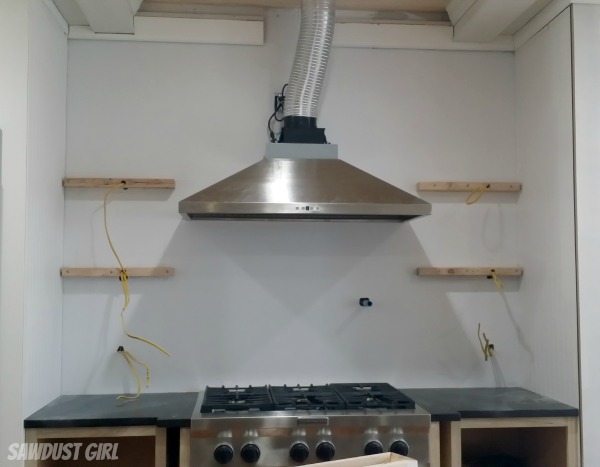 I  literally spent 12 hours tiling yesterday and I'm done with the backsplash!  I'm sore all over but am so glad to be finished.  I took the hood down twice last week thinking I was ready to tile — I was overly excited to get it done.  I sketched out several layout options and had you all cast your vote.  I had made a decision on which pattern I wanted to do and I was raring to go!  But then I remembered my plan to have some floating shelves on the wall and realized that I needed to put the hood back on the wall so I could get the shelf placement just right.  I installed the cleats that the shelves will hang on and pulled the electrical through and THEN — I really was ready to tile.
But the thing is…with the hood AND the shelves on the wall, the wall is really broken up and I decided that I didn't want to do any of the patterns I had drawn and went with a completely different option.
I taped off my cooktop in an effort to keep it somewhat clean and covered everything with towels to protect both the countertops and the tile in case I dropped one.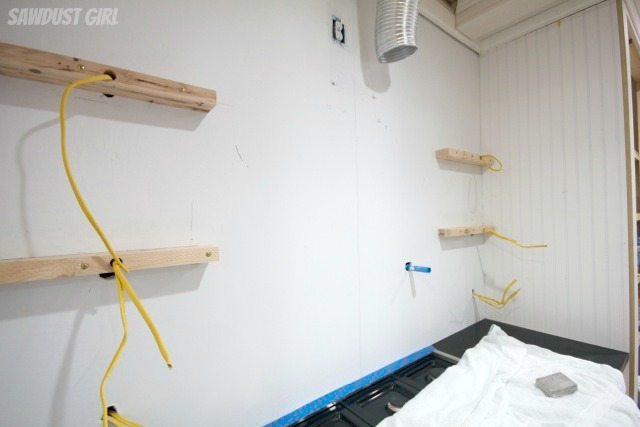 I had contemplated using a tile setting adhesive tape kind of product I saw at the home improvement center but didn't feel confident about going that route so I stuck with the tried and true method.  It's messy but it works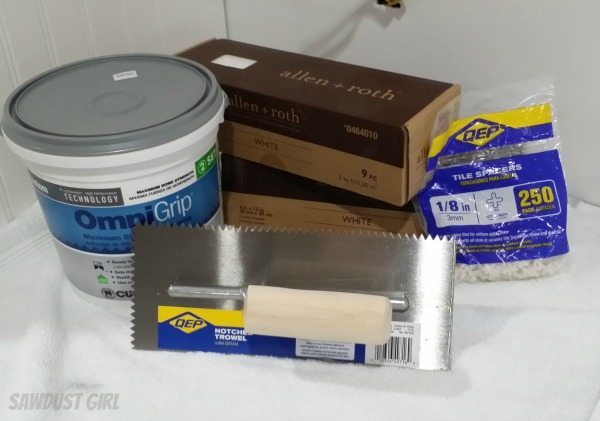 And then I started installing my tile…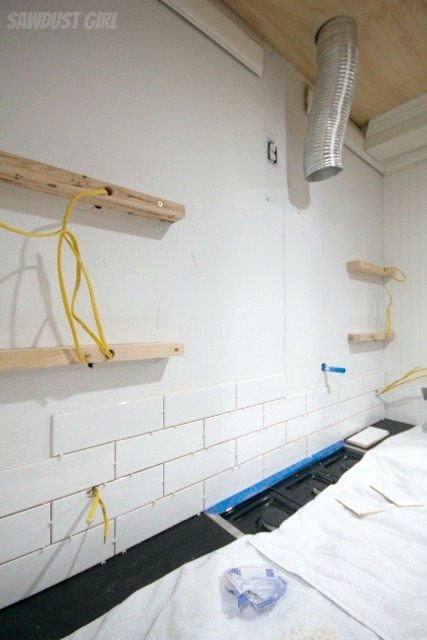 Surprised?  Me too!  I had every intention of doing the …basket weave pattern!  But I changed my mind.  I've changed my mind A LOT throughout this kitchen remodel and I don't mind.  It's really fun to have complete control and the ability to change directions on a whim.  Of course I put a lot of thought into it before I follow my whims before I follow them.
The tile I selected is a LARGE subway tile.  It's 4″x10″!  So it's BIG.  I loved the idea of using a non standard size tile because I always want an element of "different" but I also always consider longevity.  I don't want my hard work looking dated before I even finish remodeling the house.
When all is said and done, there will be a lot going on (visually) in the kitchen so I don't need any one element to be really complicated busy.  So I ended up with a classic layout after all that planning and I'm really happy with it.
I have to wait a day to grout and thank heaven for that because I AM SORE!  But there's no rest for the weary because I have 10000000099 other things on my to-do list and I need to press on.
Forward and upward my peeps!  Forward and upward!