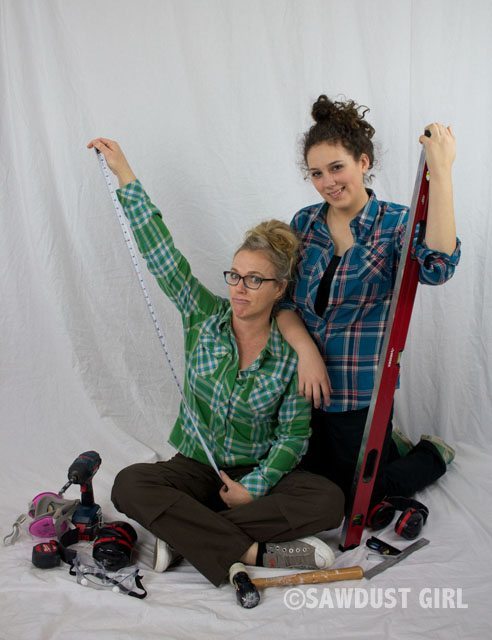 Hey guys!  I am SO excited to be partnering with Duluth Trading Co. on an awesome project WITH MADISON!   Madison is definitely her own person.  She and I have completely different interests and our brains process information in different ways so that makes communicating — challenging. We are different in many ways but we do share SOME characteristics:  we are both tough, strong, confident women and we're not afraid to dig in and get our hands dirty to accomplish something we want done!  Which brings me back to Duluth Trading Co. 
Duluth is all about rugged and functional yet comfortable workwear — and accessories.  And they keep it SO REAL! They don't ever leave you guessing about the purpose of a product.  LongTail T-shirts  Well that is a fix for plumber's butt.   Plain and simple!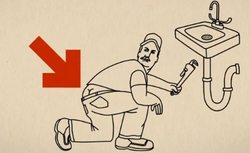 I'm a big fan of keeping it real myself!  I'm also ALL about comfort and functionality … and covering the crack!  Definitely a fan of keeping that part of oneself — to oneself!  And I promise to do all within my power to abide by that as I share Madison and my journey through this project!
And speaking of project, Madison and I are building a Built-in Bookshelf in the little alcove in the living room — where I tore out the bathtub!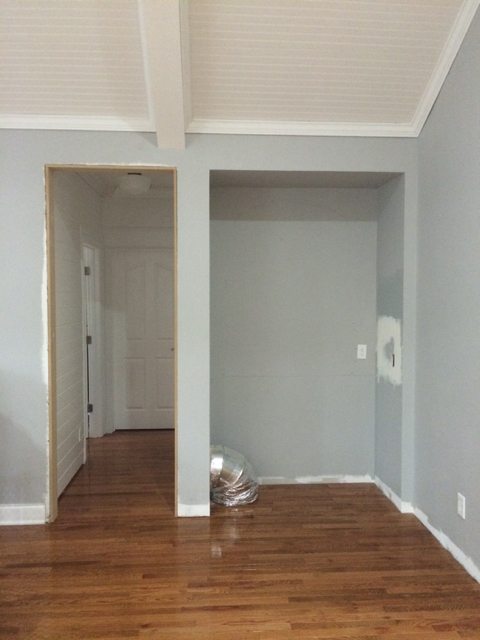 Madison is a fan of getting our house looking and feeling more "finished".   She is also a big fan of books which is why this particular project is the perfect project to get her involved in.  (She seriously reads more in a month than I read in — my whole life! )
When we go to the library, she has a bad habit of checking out her maximum of 15 books and also using up some of my limit — and then sometimes turning them in a bit late.  Late fees on 25 books can get pricey!  After the last incident used up her entire savings, she gave herself a limit of three books at a time.  She also decided that not taking a giant TOTE bag to carry all the books home will stifle her urge to disregard her self set limit.  Sometimes LESS really IS better!  This Duluth travel bag is perfect for just the right amount of books!
Madison and I measured and talked and taped off, then moved that tape 10 times and finally came up with a plan!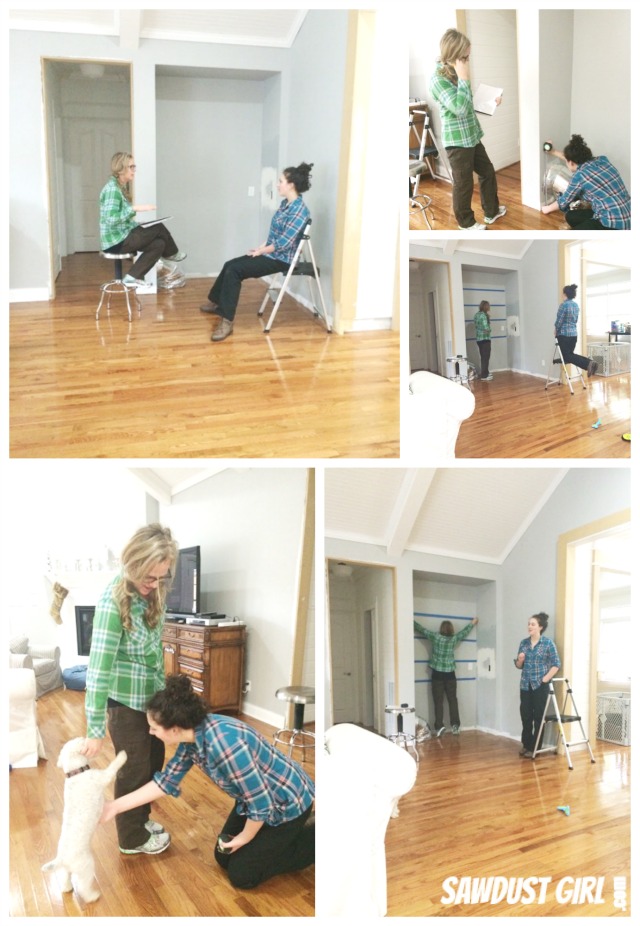 And we're going to be sharing the project build with you AS IT HAPPENS throughout the week.  I always work best with a deadline so I've given myself one!  Friday, November 21!
Follow along on Instagram, Facebook and Twitter as we progress!
Then check in here for the project reveal on Friday, November 21!
Making it all dramatic so I feel a super sense of urgency to get my butt in gear and make it happen — start to FINISH!
Besides sponsoring this project and supplying Madi and me with rugged work gear to rock out this build, Duluth Trading Co. is giving away a 2 $100 gift cards!
Woohoo!!
And because Madison and I also share another characteristic: BEING SUPER GOOFY — especially when there is a camera present, we couldn't resist "modeling" our duds!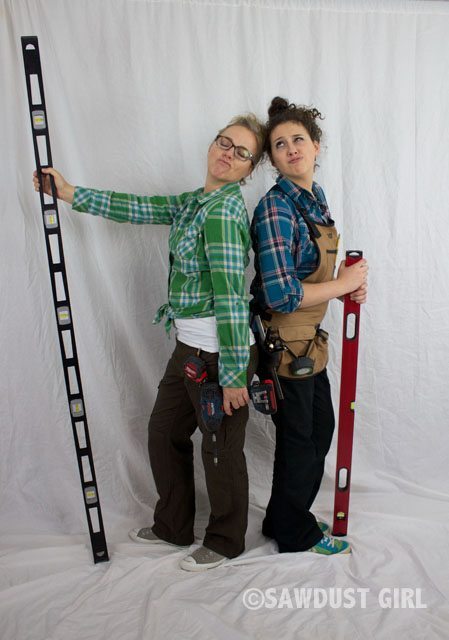 We won't quit our day jobs to pursue a new career in modeling!  I actually had to bribe Madison to participate at all!   Does it show?  Bwahahaha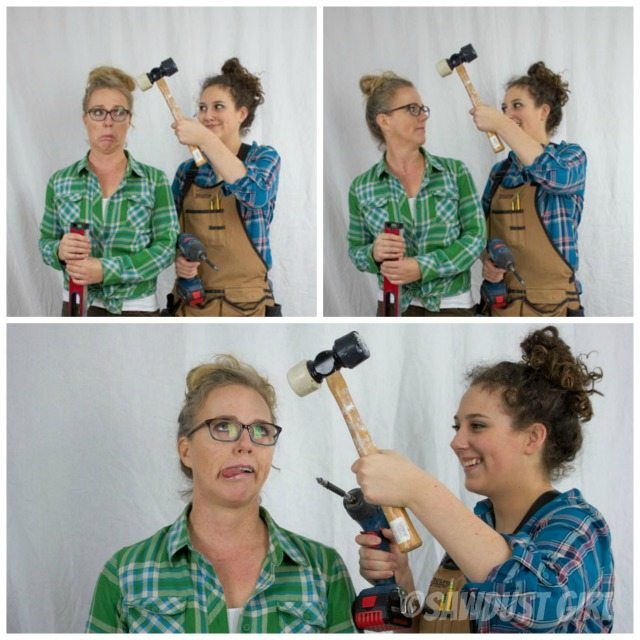 I decided Madison needed a refresher coarse in Tool Safety!

She didn't think she needed to pay attention.  Teenagers!
I'm wearing the WOMEN'S DULUTHFLEX FIRE HOSE CARGO PANTS which have pockets on the knees so you can insert KNEE PADS!
I think that is pretty brilliant since whenever I wear traditional knee pads they constantly slip down and I find the elastic behind my knee super uncomfortable!  I picked out these particular pants specifically so I could put knee pads in them!  Madison picked out pants that don't have pockets for knee pad pockets.  Too bad for her!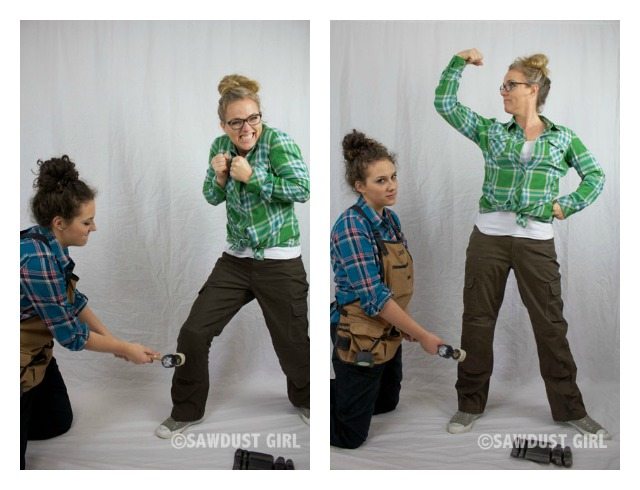 (warning: not everyone has superhuman shins like I do so I do not recommend re-enacting this photo!)
These knee pads take care of your knees but do nothing for a bad charlie horse.  You just have to stretch those out!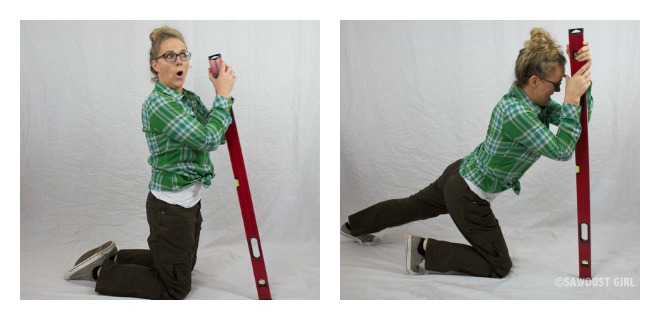 Madison and I have a lot of fun together.  We're silly and goofy and we enjoy spending time together.  So I'm looking forward to "teaching" her how to build and helping her gain new skills that she can use when she's out on her own…which is going to happen sooner than I like to think about.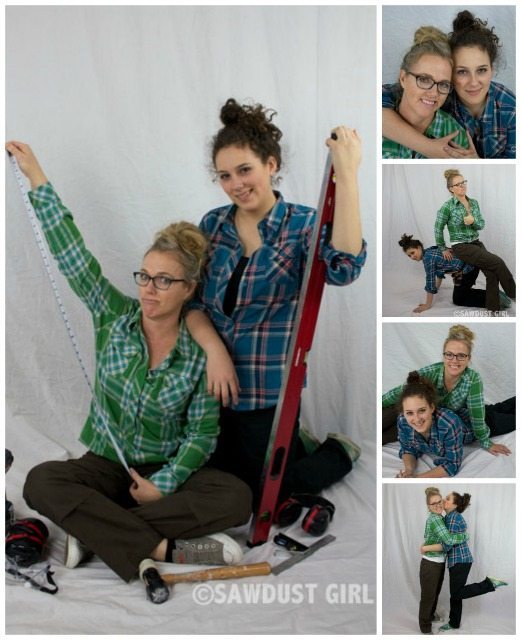 She is growing up so fast and I couldn't be more proud of the strong, capable, confident, funny, brilliant, charismatic and compassionate person — that is Madison!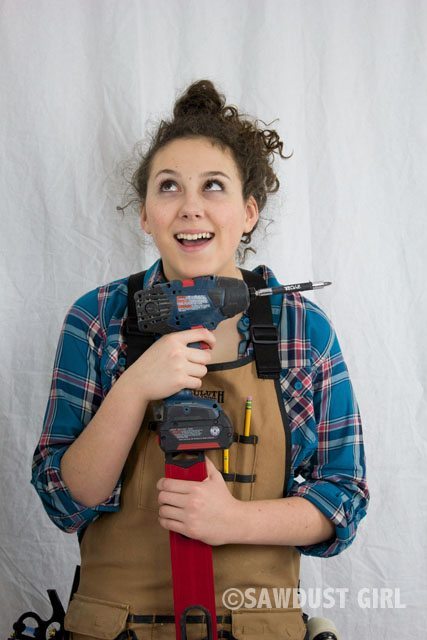 So now that we are both dressed for the part we are ready to get to building!  Follow along on Instagram, Facebook and Twitter this week as we progress!  
GIVEAWAY Deets:
For a chance to win one of the $100 gift cards from Duluth Trading Co. enter the Rafflecopter widget below.  You must click in the widget to be entered, leave a comment on the blog but CLICK THE BOX too!
ANYONE in the WHOLE WIDE WORLD that is at least 18 years old can enter!  Whoohooo!!!

For your convenience, here are all the links to the Duluth Trading Co. items we "MODELED".

Sandra is wearing:

Madison is wearing:

Accessories: