Hey there!  Remember me?  Yeah me, the one they call "Sawdust Girl".  Usually I'm all "up in your grill" building stuff and being goofy enjoying life.  The last two months — not so much.  Remember that post right before Christmas when  I told you how I was getting out of the car and "BAM", pain jumped from my batoosky all the way down to my foot?  (Madison calls it my batoosky — I like that.)
Well that pain just kept getting worse and worse.  I couldn't sit AT ALL but felt fine walking around and laying down.  Spent a lot of time like this whenever we needed to drive anywhere.  (I was NOT driving like this!)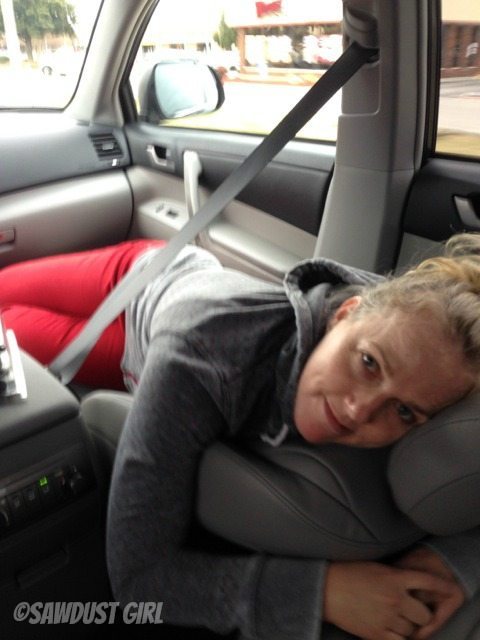 Obviously we wanted to keep making progress on the kitchen but I WAS TAKING IT EASY!  Wes and Madison took over and I directed.
They carried the lumber.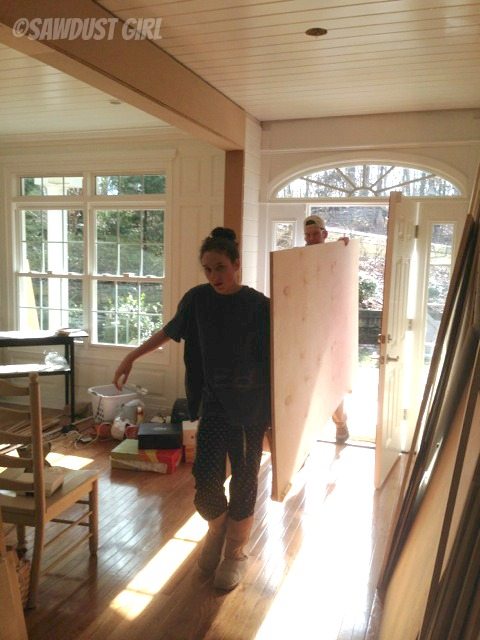 Wes became my latest Sawdust Diary student and has been rocking it!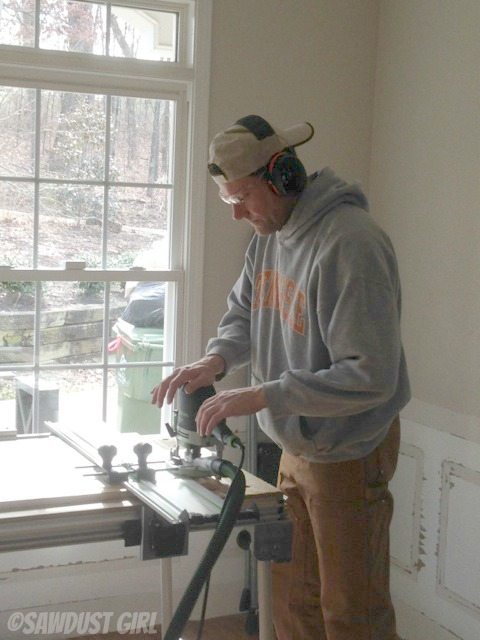 He has the tolerance for this "Sawdust thing" because of my condition and because he hates not having a kitchen — so he picked up the slack and built the last of the island cabinets.  The carcasses anyway.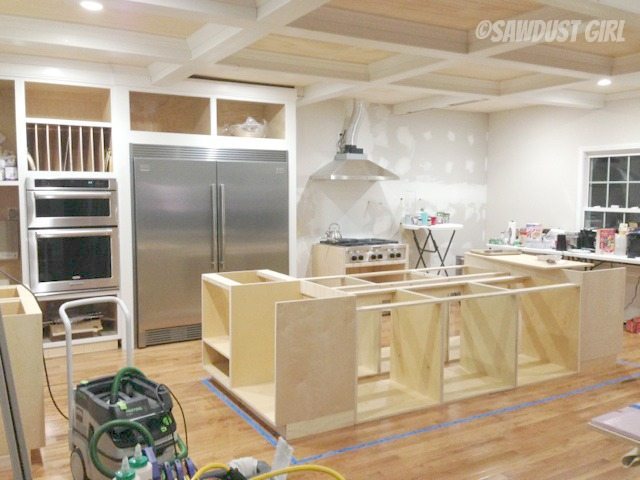 So while Wes was making sure the condition in the kitchen has been moving steadily forward …my own condition was getting steadily worse.
I finally got the results for my MRI from my doctor (turns out I had a SUPER DUPER ruptured disk that was CRUSHING the nerve that went to my leg) and she set up a consultation with a surgeon to discuss options for recovery.   We scheduled appointments with two additional orthopedic surgeons to get multiple opinions.
By the time my first appointment came around I was pretty much in constant, excruciating pain.  I couldn't sit or lay down without exacerbating the problem.  I could avoid sitting but had to try to sleep.  I tried!  No position was comfortable anymore, not even standing or walking.
The only way I could travel to my Dr. appointments was like this.  (And at the time I couldn't have cared less that my seat belt was not doing any particular good.)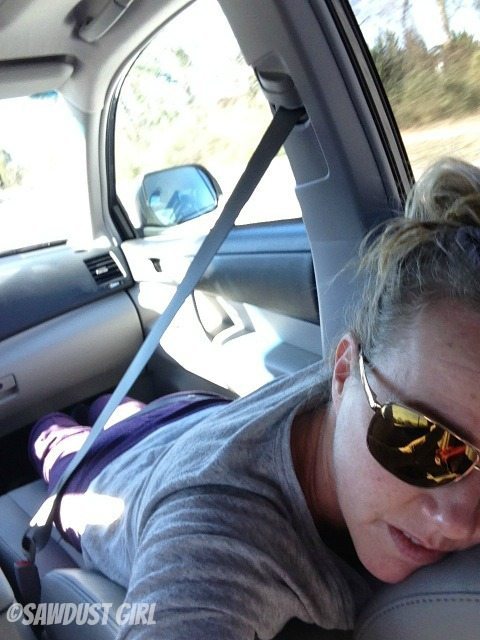 So Wes and I met with the three surgeons and talked about all the options.
Do nothing
Physical Therapy
Steroid injections
Surgery
I made a decision that I felt was best for me.
Friday morning at 0Dark:30 started out like this…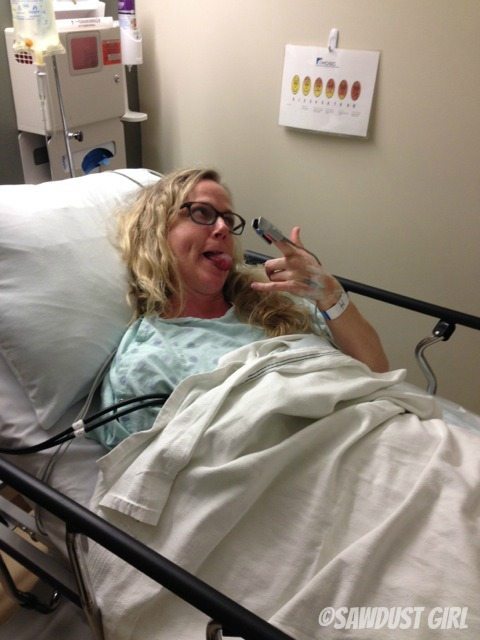 …and Saturday morning looked like this.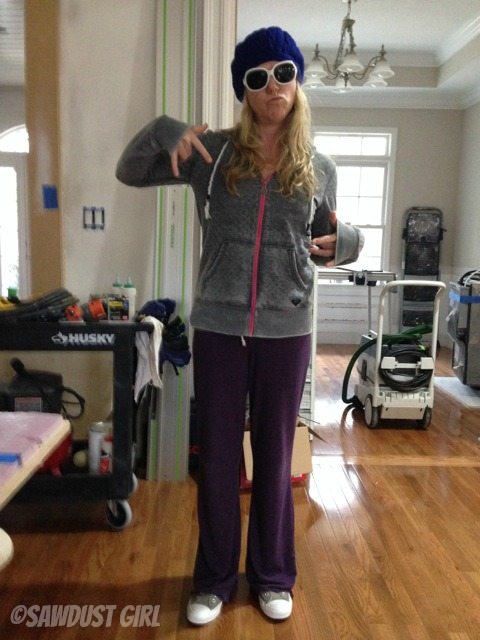 Ruptured nerve crushing disk gone – I haven't taken so much as an Advil since, let alone the Horse pill pain meds they gave me.  That's how much better I feel despite the little hole drilled in my spine.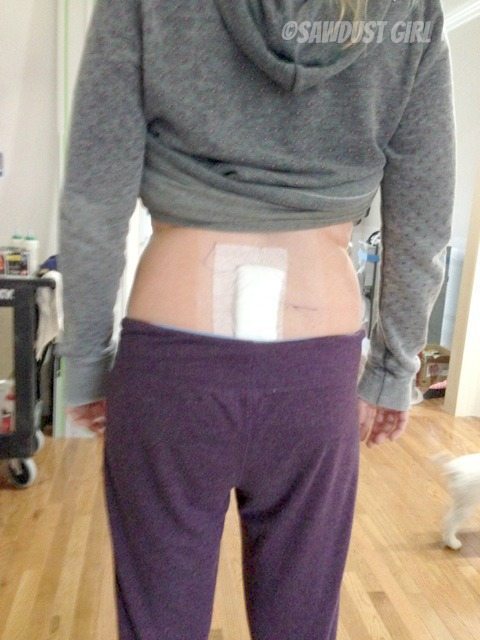 Of course I'm only up to walk around frequently and then there's LOTS of laying around. (Brody loves keeping me company.)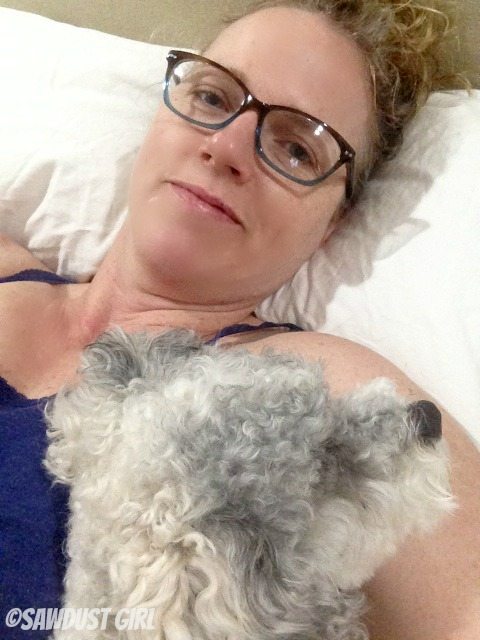 So focus kind of shifted from the kitchen to my Back for a while but I'm feeling better and recovering well and "the big guy" is taking GOOD care of me and Madison, and work, and dinner and laundry and cleaning AND he's finishing up a few more cabinets so we can get the rest of the contracted work (plumbing, electrical and HVAC) done and order countertops.
He's the bomb!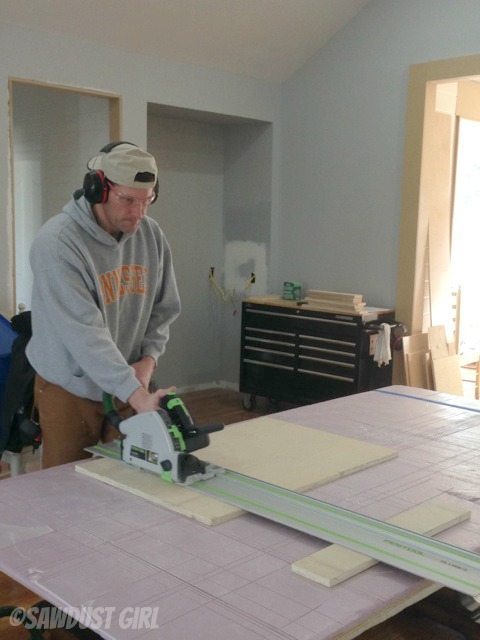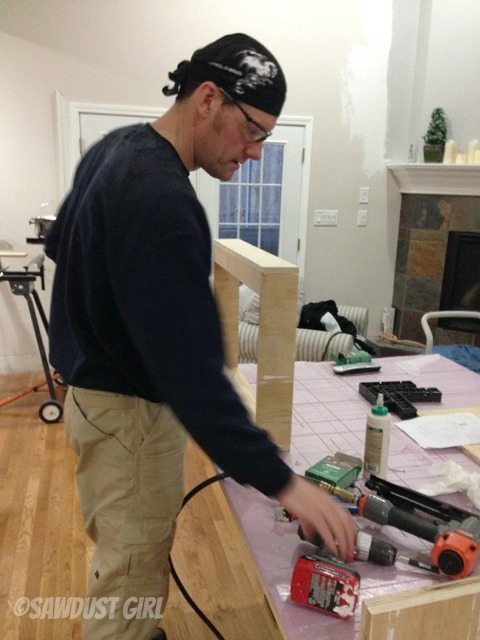 Brody and I are resting a lot.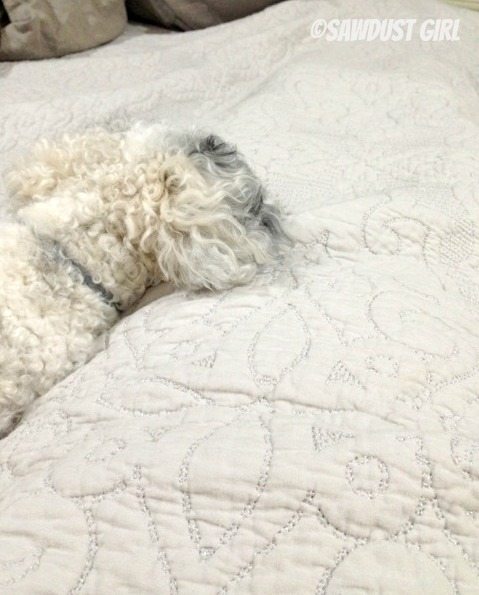 I have quite a few weeks before I'll be doing even any of the sorts of things you've become accustomed to seeing from me.  I have to spend a whole lot of time just laying around but I've got my laptop and a brain that doesn't stop thinking about design and creating and building…so I'll be putting out a LOT more plans for YOU ALL TO BUILD so I can live vicariously through you.  I'm not taking requests at the moment — because that put pressure on me which, at the moment, I do not need.
Over the next few weeks I'll start taking on more client projects and designing custom plans and doing more consulting and coaching.  But not yet.  Right now I'm just designing whatever makes my heart happy at the moment.  If any of my plans happen to excite you too and you build them — I'd LOVE to see!  Submit pictures directly to TheSawdustDiaries so I can see and maybe feature you!
Thanks to my friends for the well wishes and "Care Packages".  
You brought a smile to my face when I wanted to cry!  
I <3 U all!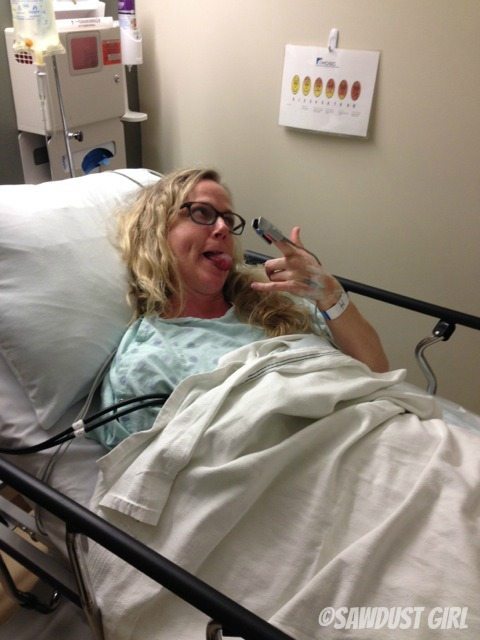 You know I don't bore you with all my bumps and bruises or how I deal with them so PLEASE don't assume I jumped right into surgery at the first twinge of pain.
I would really really really appreciate anyone that feels the need to second guess my decision for my own body and tell me what I SHOULD have done — NOT. Thanks in advance!  🙂  Sandra