Have you seen the new PORTER-CABLE cordless sander?  This random orbit sander is another new member of the PORTER-CABLE 20V MAX* System.  Available for $59.99 for tool only, battery and charger are not included.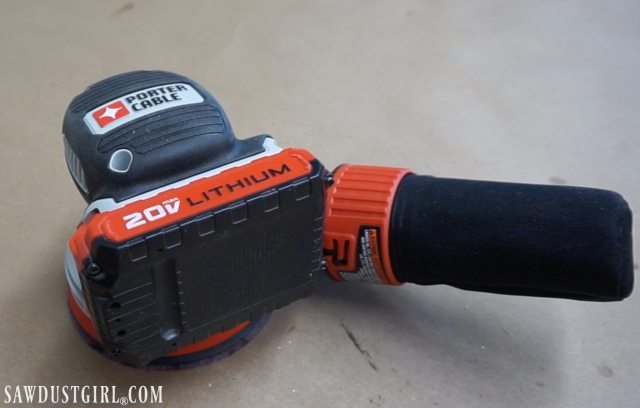 PORTER-CABLE Cordless Sander Review
It is a cordless sander –but it has only one speed.  All my other sanders are variable speed and I use that feature often.  I do like the cordless feature so I probably will grab this one if I need to run outside to do some finish sanding and don't want to pull out a dust extractor which I generally use to power my sander because it also takes care of the dust situation.
Dust collection
On the subject of dust collection, the PORTER-CABLE cordless sander has a multi-port adapter that accepts vacuum hoses of different diameters.  You could even hook it up to the PORTER-CABLE cordless shop vac and keep it very portable.
However, it put too much strain on my wrist while using it connected to a vac hose.  It's a lightweight sander and the connected hose made it harder to hold flat and less mobile which is the point of not having a cord.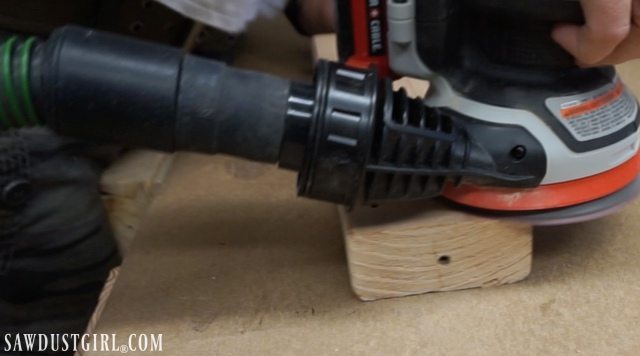 The included dust collection bag easily connects to the multi-port.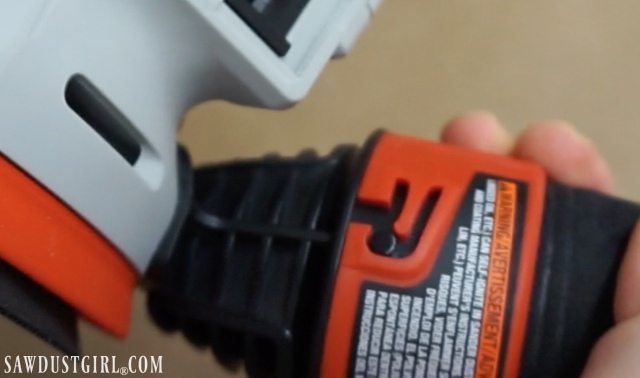 The dust collection bag did a great job of collecting the sawdust created from my sanding during my test.  The bag seems to surround a canister like filter.  So the dust stayed IN the bag and didn't ever "puff" out when starting the tool as some power tool dust collection bags do.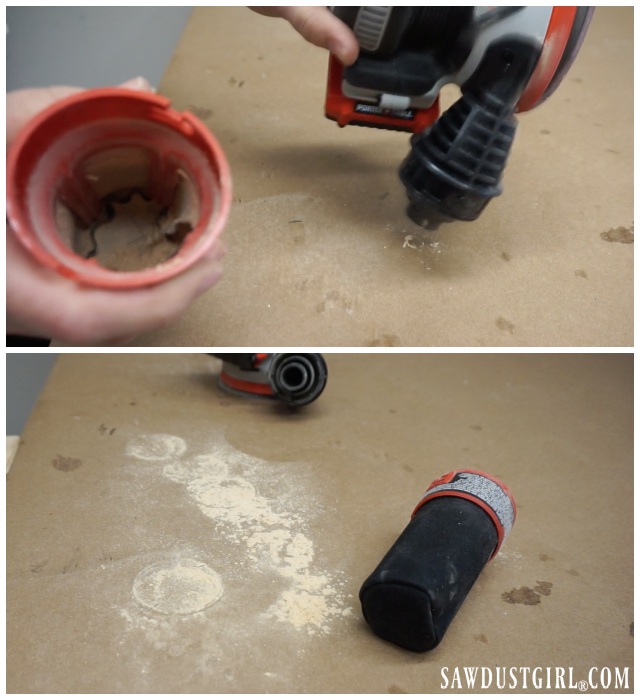 Lightweight Design
The PORTER-CABLE cordless sander is lightweight but I found it difficult to get a comfortable grip on it.  This is one of reasons I recommend going to a store that has the tool you're thinking about buying and seeing what it feels like in your hand.  All hands are not the same size.  "One size fits all" does not apply to tools made for single hand operation.  Obviously I'm not saying tool companies should make S, M and L sized tool handles.  But hey, that's a thought!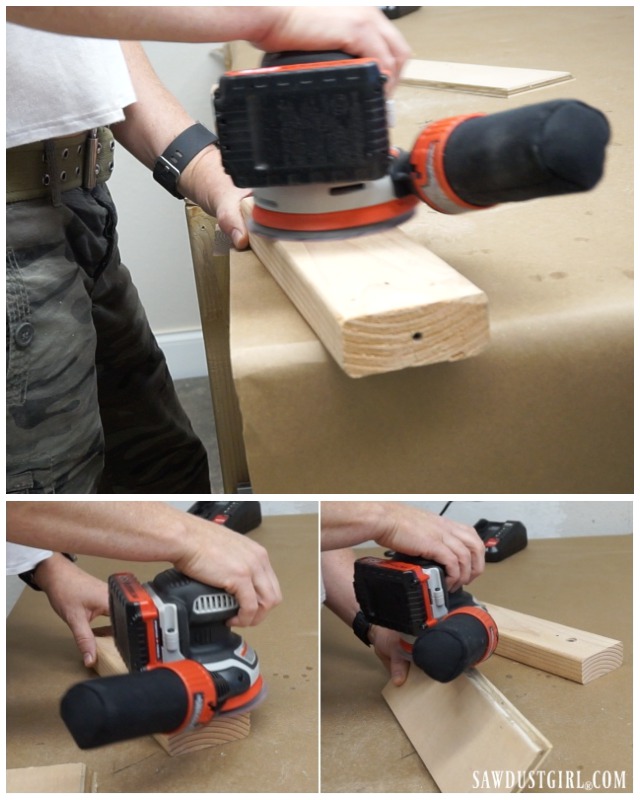 Sandpaper style
PORTER-CABLE cordless sander accepts 5″ hook and loop sandpaper.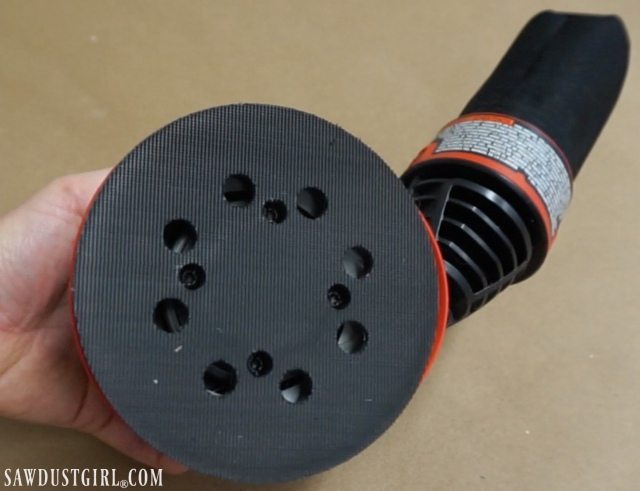 I sometimes clamp my sanders onto my benchtop so I can hold the wood to the sander instead of the reverse.  This sander would easily allow for that both face up and laying on it's side.  That's a good thing if, like me, you haven't yet invested in a benchtop sander.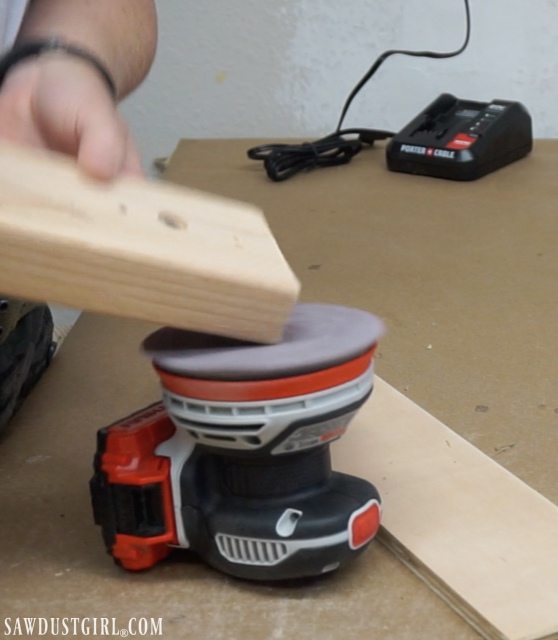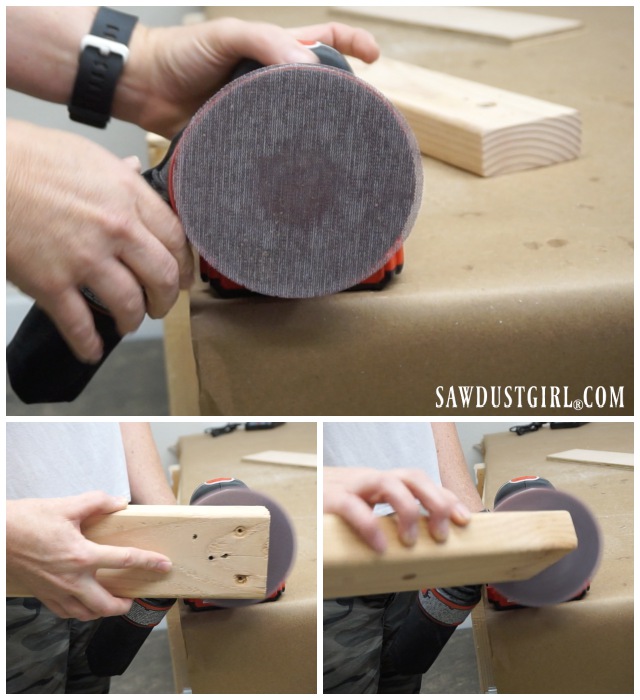 To sum up the PORTER-CABLE cordless sander…
Pros:
Battery powered
Included dust collection bag that works well
Lightweight
Low vibration
Works with the bazillion 5″ hook and loop sandpaper disks I already own.
Can make it work as a benchtop sander with some creative use of clamps.
Cons:
It only has one speed.
The handle seems to have been made with large hands in mind which made it difficult for my…more slender hands to operate.
If you already have some PORTER-CABLE 20V MAX* batteries it's a $60 investment.  If you don't ever change the speed on your sander AND you try this out in your hand to see if it's comfortable, then it's probably a great sander for you!  I personally would prefer a variable speed, cordless sander.  Preferably one that I can hold comfortably! THAT, however, is a thing I often have to compromise on because I'm a woman in a 92% male dominated profession.  Currently. 😉