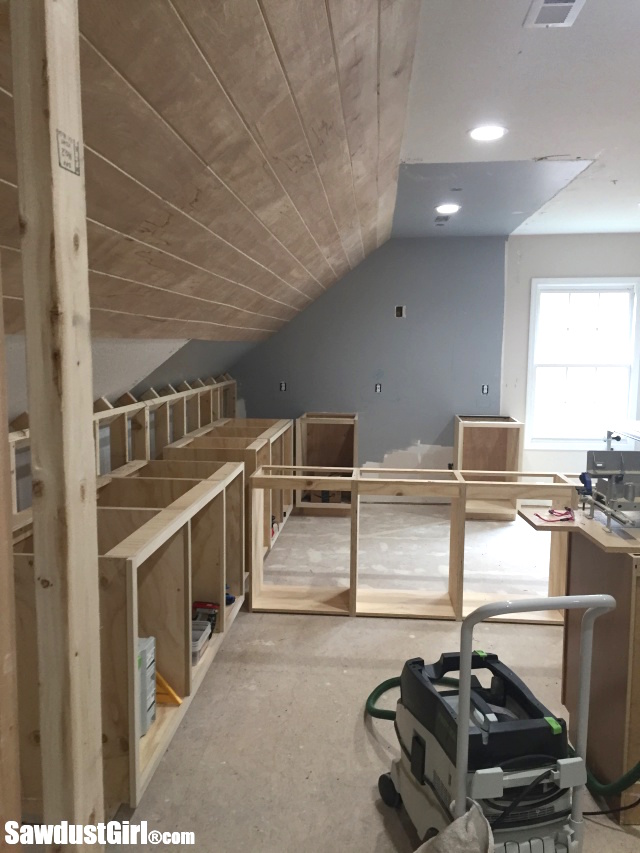 Installing cabinets in the craft room has to come together like a well choreographed dance.  I have to get to a certain point with the cabinetry before I can get the electrical put into place which has to happen before I can build and install more cabinets.  Same goes with the ceiling, the closet, the wall extensions…  I have to build a foundation or footprint, move electrical, cable, lights and plumbing (when I get to that side of the room) and then build some more.  It takes some planning and coordinating to make progress.
Last week I did move my little extension wall out 6″ and I didn't want to build a whole new wall so I just extended the one I previously built.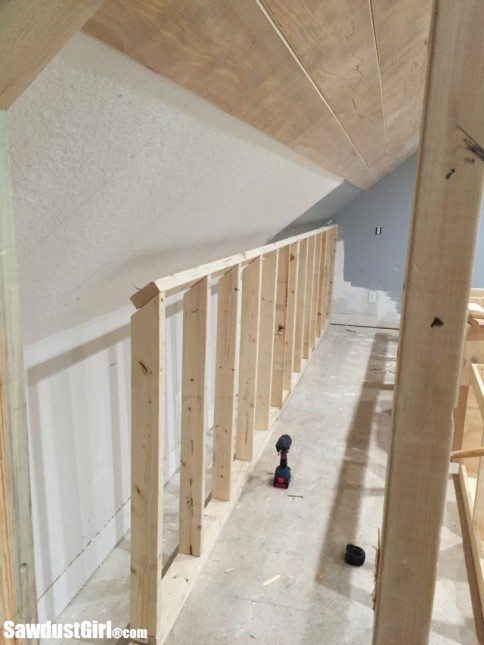 I moved my wall forward and filled in the space with little 2×4 pieces secured into the ceiling joists and my wall.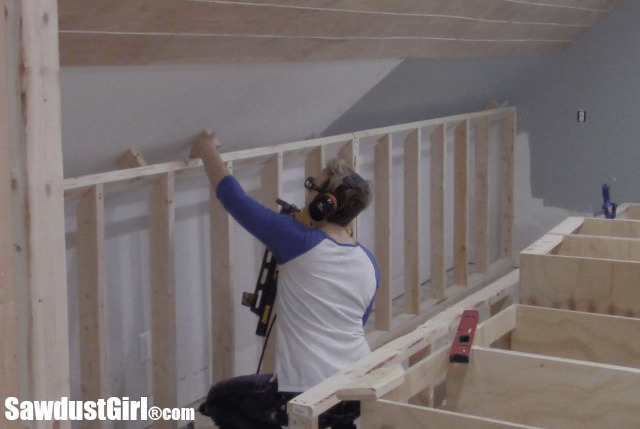 It'll do it's job and hold my cabinets in place.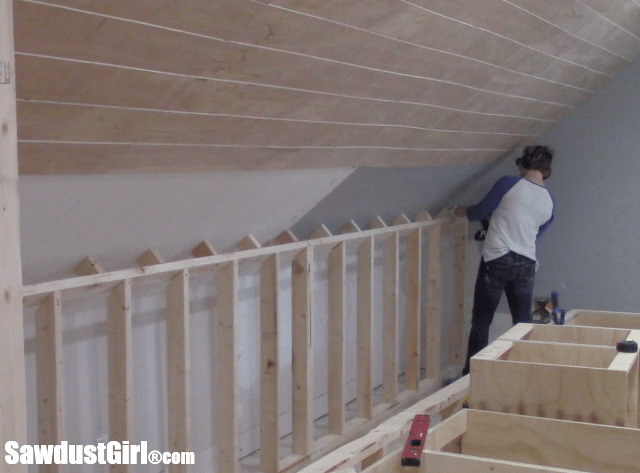 Why did I move my wall?  So I could build the upper cabinets a little taller.  My island will have to be slightly shorter but it was a compromise I can live with.  This whole loft design will be a series of decisions based on balancing compromise between low ceiling or loss of floor space.  I originally tipped the scale toward the low ceiling in favor of a longer island which is why I built the wall where I did.  However, I changed my mind.  It happens and it's better to change your mind as early on in the process as possible.  It lessens the work involved to switch to the new plan.
Installing Cabinets in Craft Room
I'm pretty confident that this is the footprint I want now because installing cabinets is not the easiest job and it's now done!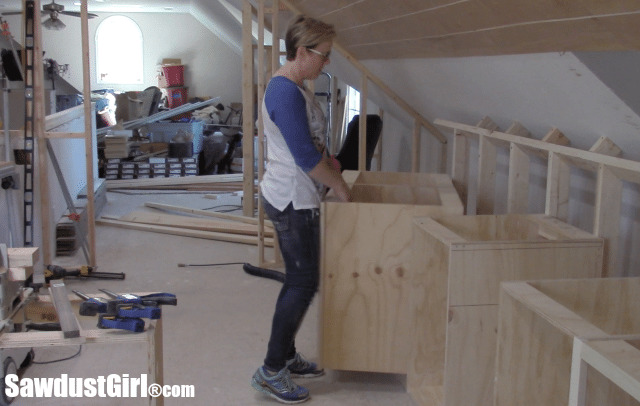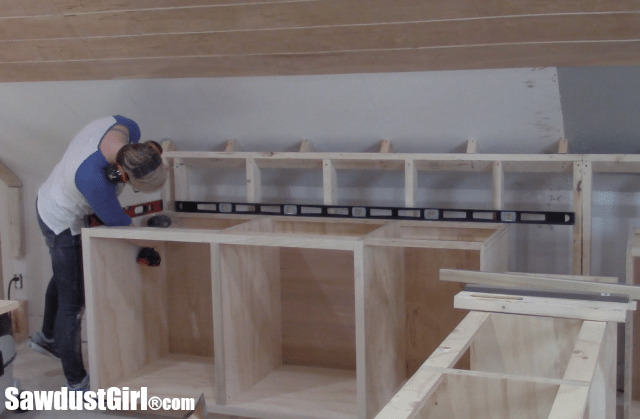 I made sure the cabinets were level and plumb and secured them to the studs in my half wall.  You can see I've also done some work on my ceiling and I'll show you all the details on that in another post.  Right now, the ceiling is on hold until the next phase of lighting work is finished.  (Again with the dancing.)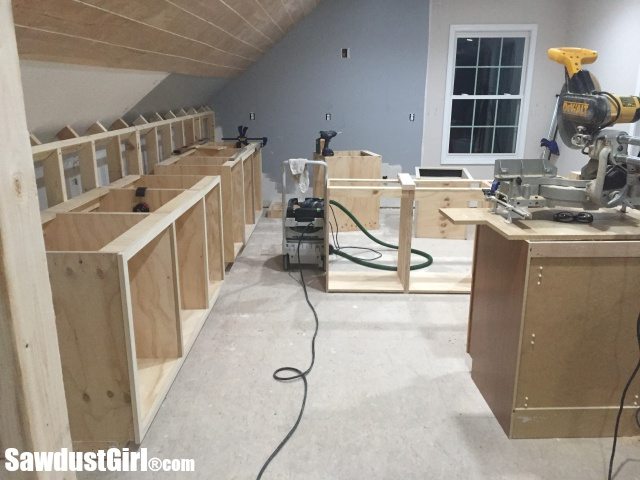 My feature wall is also on hold until I get some electrical "pre-work" done for my lights.  I did install one of the cabinets and I'm not even trying to use the space in that blind corner.  I have tons of storage in this loft so I don't mind at all.  I had to get back there to block out the toe-kick area.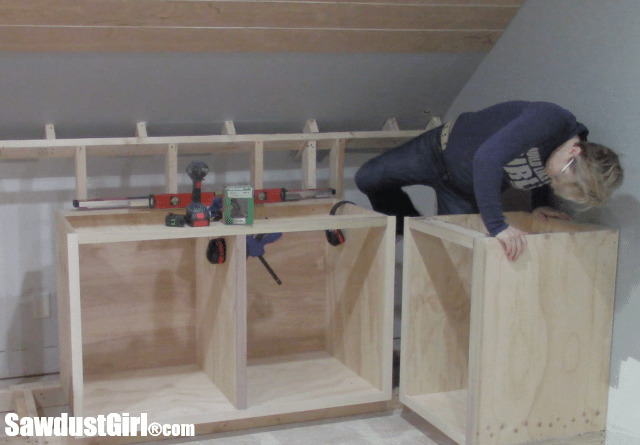 I know a lot of you were trying to figure out how I could somehow make use of the space I'm losing behind my cabinets.  I'm not worried about it but it I guess it could be a good hiding place!  I may leave access to it –somewhere.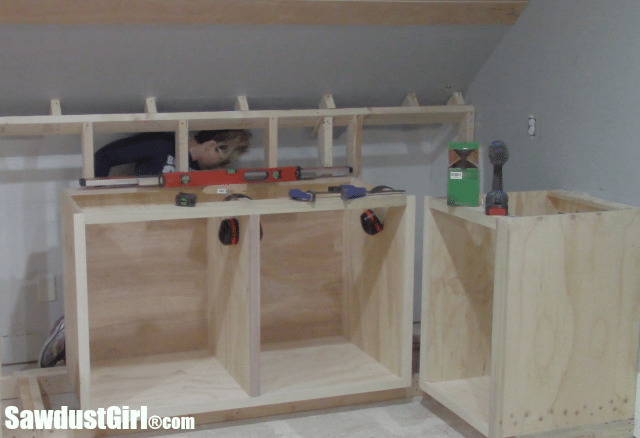 So this is where I'm at right now.  I thought I was going to get some countertops in place this weekend but we enjoyed a couple lazy days instead so I guess that's something to look forward to working on this week.  Then I can build a couple upper cabinets, get the electrical moved into those and then build some more.  At some point the whole thing will come together and that's what keeps me pushing through each of the tedious individual tasks.  I can't flippin' wait to get to the point where I get to make this room pretty!