Our side entrance door leads directly into the kitchen which is fantastic for putting away groceries. Or, it would be, but the lock itself is kind of a pain to get to work. It's always sticking, not turning, or just eating the key and not spitting it out. When you've got an arm full of groceries, it's kind of a pain to deal with.
So, naturally, part of this whole kitchen entry makeover is installing a new Kwikset Kevo 2nd Gen Touch-to-Open Smart Lock. I always want to be completely up front with y'all about sponsored content, so this post is sponsored by Kwikset. I received product and compensation from Kwikset to share this post with you. That being said, I'm always 100% honest with you about products that I share. My opinion is not for sale, and I am stoked about the benefits this lock has over my old 'you have to have a key' lock.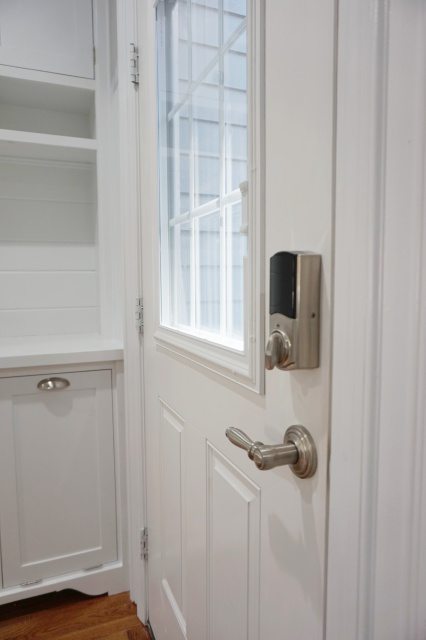 There are six entry doors in this house. I'm not sure why, but as I said above, the lock on the kitchen entry door has become really friggin' hard to open! One of the main difficulties was getting the key into the keyhole. The other five locks are fine, but for some reason, this one has been getting more and more difficult to use. It required a lot of wiggling, jiggling, and cursing.
We use the kitchen door whenever we have to bring anything into the house, like groceries, shopping bags, or luggage. Having your hands full makes it hard to dig out your keys and fiddle with a janky lock. So, when I had the chance to work with Kwikset and install the Kevo 2nd Gen Touch-to-Open Smart Lock, I was all about it.  
This lock doesn't require keys at all which is a double whammy, super bonus! In addition to the problem with the old janky lock, I was leaving that door unlocked every time I walked the dogs. And we do not like leaving our doors unlocked. We live in a remote area with a record of probably 0.01 home invasions over the past 500 years, but we always lock our doors. That's just what we do. Leaving the door unlocked during walks unsettles me a bit. Maybe it's just leftover from when we lived closer to the city, but I just don't feel comfortable with it. When I come home I watch to see how the dogs react when they go inside to make sure someone isn't lurking around in there. It's just a tickle in the back of my mind, not a real fear. If it was, I would take my keys. It's just that my keychain has 5 keys, 2 key fobs, and an assortment of other little cards and dangly objects. They're poky and bulky and don't fit in my pocket–and I don't carry a purse when I walk the dogs. So, I don't take my keys and, therefore, don't lock the door.
So, not having to have my keys and still being able to lock the door is a double whammy, super bonus for me!
Installing Your Kwikset Kevo 2nd Gen Touch-to-Open Smart Lock
I rarely read instructions, so I felt a small twinge of angst when I opened the box and realized instructions would have to be read. Wes didn't appear to be busy, and he's the type of guy that always reads the instructions, so I asked him if he'd install the lock–which he did! I don't see Wes getting involved in projects very often, so when he does, it's worth celebrating. Woohoo!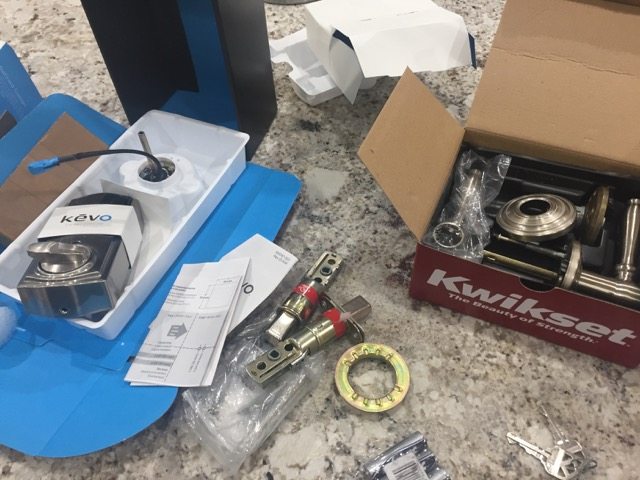 The first step was to remove the old lock, then figure out how to install the new handle and lock.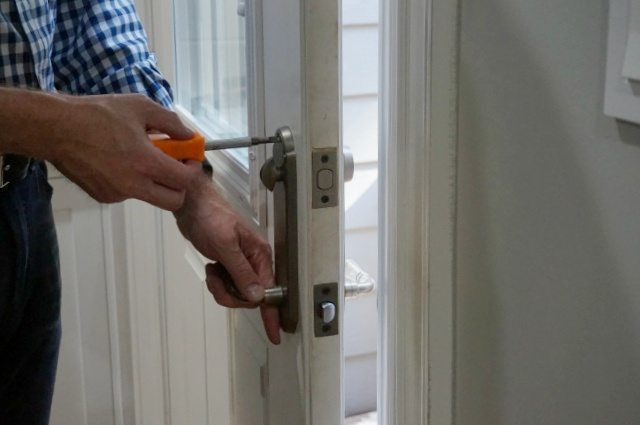 After all my trepidation about reading instructions, it turns out the Kevo app has an interactive instruction guide which made installation incredibly easy. One of the best new product set-up experiences in the history of ever! I wish every power tool setup and hardware installation guide was provided that way. Other companies, take notes!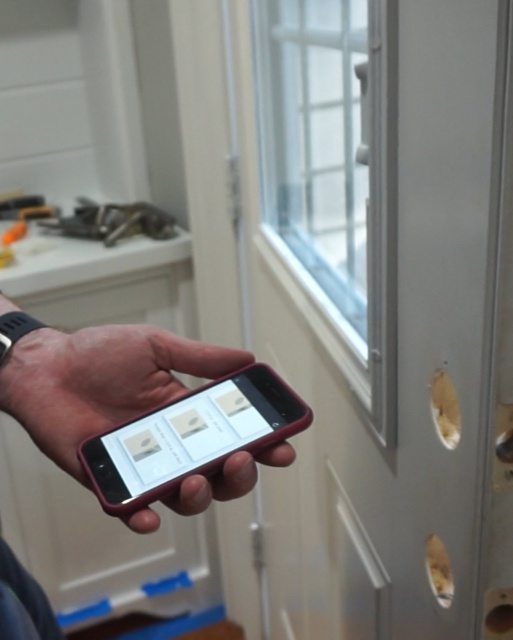 Speaking of the Kevo app, you control the lock with the app on your smart phone. I take my phone on my walks anyway, so no more unlocked doors! Boom!
Even more awesome, the lock senses my phone as I get close. All I have to do is touch the lock. AND the technology is smart enough to know if my phone is inside or outside the house, and it will not unlock when touched if my phone is inside. That's absolutely crazy, right?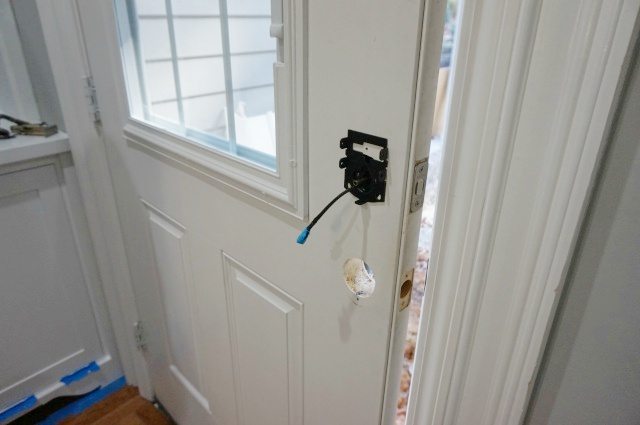 That's a lot of smartness inside this little box.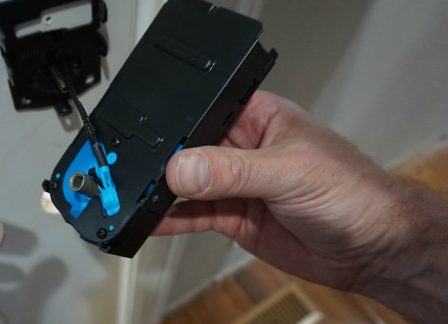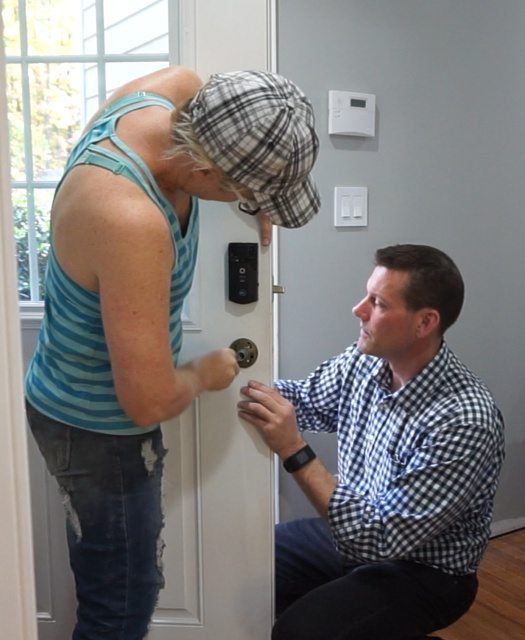 I got distracted from whatever I was doing to help Wes recover a dropped screw, and then just helped him finish installing. It was kinda' fun to work on something together.
That doesn't happen very often. Or at least, it doesn't happen pleasantly very often. I love Wes, but we are two very different people when it comes to doing projects. He's a 'read-the-instructions-and-think-about-every-step-for-6-hours' kind of guy, and I'm more of a 'let's-just-start-doing-stuff-and-figure-it-out' kind of girl.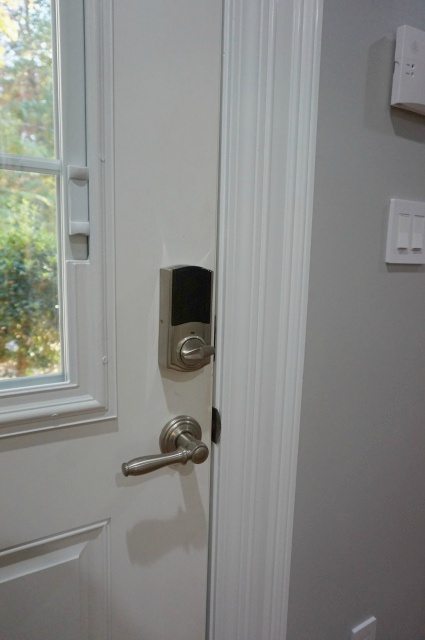 We all have smart phones now and always have them with us, so this smart, Bluetooth technology is pretty cool. We all have the app on our phones, and the lock keeps track of who uses it and when.
If you've got your phone inside, you can set the lock to keep the doors locked so no one unexpected comes in. When you and your phone are outside, it can tell when you're approaching your front door and will automatically unlock it for you with just a touch. In addition, you can give eKeys to others virtually, allowing access to whoever you want whenever you want without a physical key.
What happens if your phone gets stolen? You can log on to your account online and immediately stop access from your phone.
I can use a regular key if I want to, I can lock or unlock the door with my phone if I don't want to get up and go to the door (if the need arose), I can lock and unlock the door with just a touch when I have my phone with me, and I can give e-keys to people whom I want to give temporary access to the house. Really–the Kwikset Kevo 2nd Gen Touch-to-Open Smart Lock is a SMART LOCK.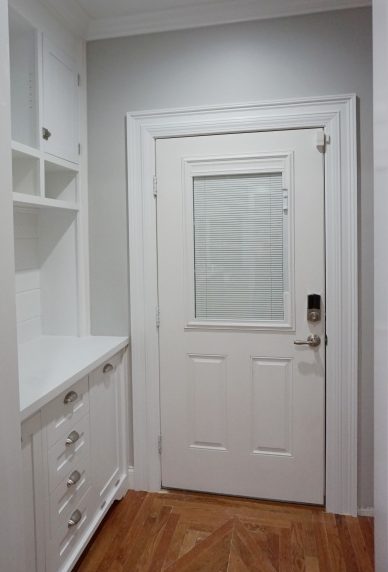 I just wish I could use this new Touch-to-Open Smart Lock but I can't because currently it's a BIG step down!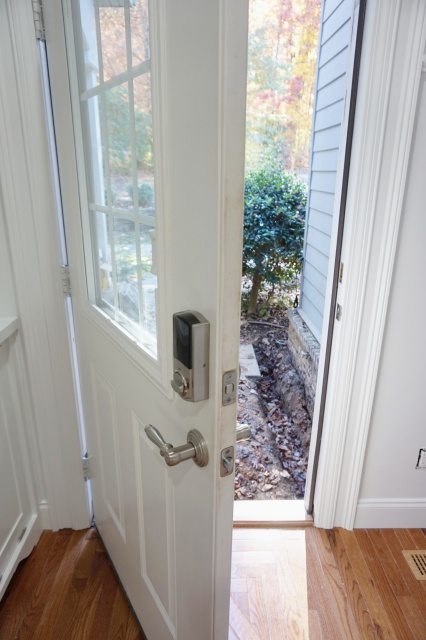 Mmm-hmmm! Remember the deck we installed when we put in this kitchen entry door? Well, we wanted a roof but chose not to spend the money on it at that time because we were in the middle of a kitchen remodel. We just did a composite deck, added a light, and moved on.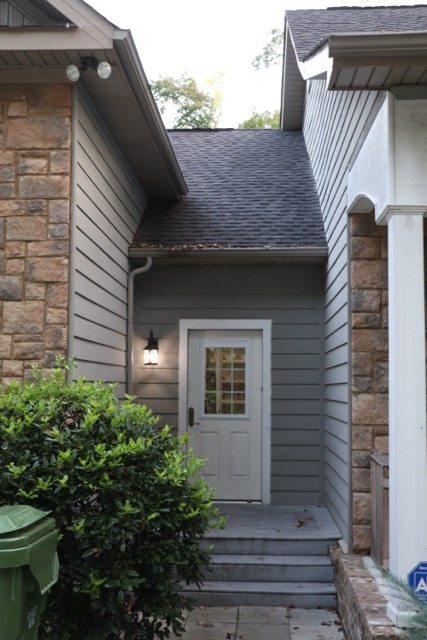 But it rains here a lot. We regret not building that roof every time we have a car full of groceries to bring into the house in the rain. We regret not building that roof when we have to take the trash out in the rain. AND, when it's raining we don't take out the recycling which is why it always accumulated on the entry bench.

All of that is why we decided we needed to do a kitchen entry makeover, including extending the roofline to end with arches and columns that match the front porch and adding a new concrete porch (and sidewalk). In preparation for the concrete work to be done, I hired a friend's son to tear out the old deck and dig up the gutter.  
And this is how that part of the project has sat for over a month. The multiple "concrete guys" I've tried to hire keep having babies, having accidents, not calling back, or not showing up when I finally talk to someone that can come take a look! Seriously, I think I might be a concrete jinx! I've been contemplating the fact that, even though I know nothing about pouring concrete decks and sidewalks, doing it myself might be the only way I'm going to get it done! Which is basically how I started doing DIY in the first place, that and the price of hiring out work! Maybe I'll change my site to Concrete Girl, who knows!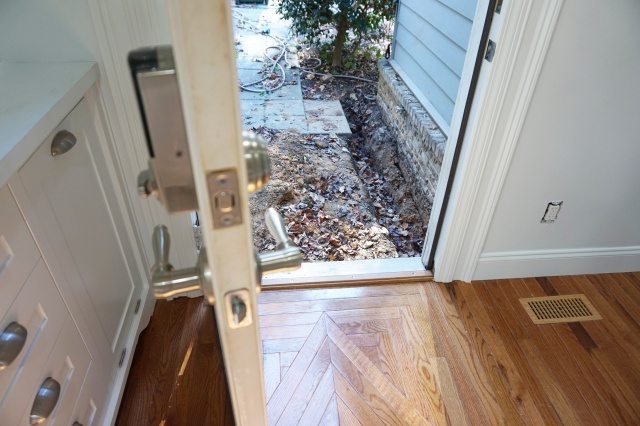 But, not right now, because I still have a couple more things to do in order to finish up the inside of my kitchen entry makeover. Then, I'll figure it out.
For now, I'm going to enjoy the part that is finished inside, finish up the rest of what needs to be done, and figure out the outside when I'm not stretched so thin. Or a magic fairy drops a solution in my lap. One way or another, it'll all get worked out–sometime.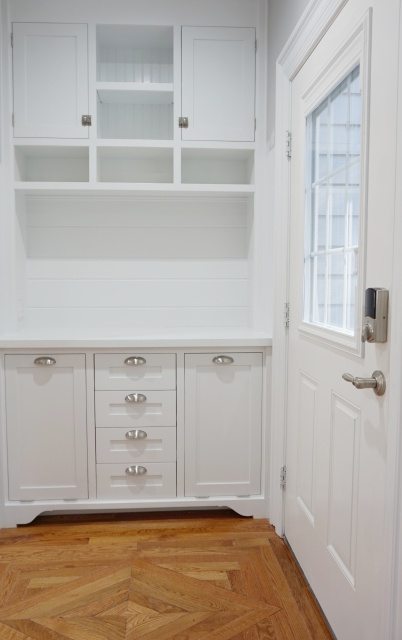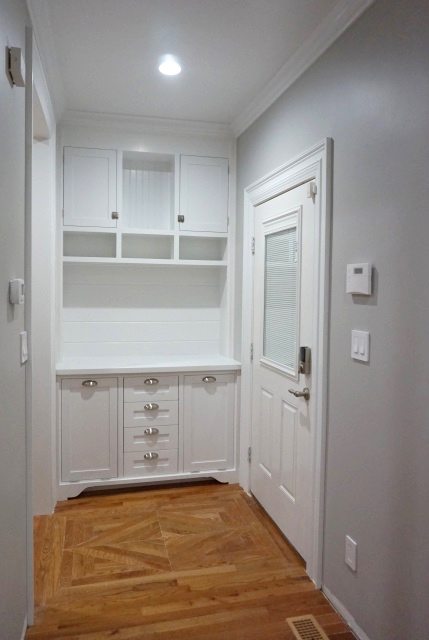 Oh, and here's a sneak peek at that crown moulding! Doesn't it look amazing?
P.S.  If you happen to know of a GOOD someone that can get the concrete done (in the Knoxville TN area)–I'd love a referral!
This post was sponsored by Kwikset Kevo 2nd Gen Touch-to-Open Smart Lock. All opinions are 100% my own.