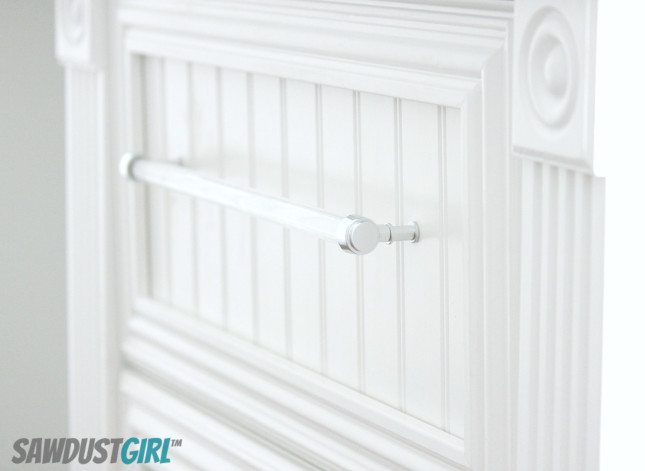 Hi Sawdust fans!  Julie here with an awesome DIY acrylic drawer pull tutorial that could save you hundreds of dollars (or thousands depending on the quantity of drawer pulls you need). If you are dead set on having acrylic hardware but don't want to spend over $300 PER pull (AS IF), good news– you can make your own.
I wanted to add some sparkle and old Hollywood glam to the hers side of our master bath, and acrylic drawer pulls seemed like the perfect way to do that. However, when I started shopping for them I realized that they can be expensive!
This is my favorite pull that I found while shopping, but even on sale at $264.00 down from $330.00, it's a little more than what I want to spend. So to keep my hubby happy (he had major sad face when I showed him the pull), and save a few $$$, I decided to DIY my own drawer pulls.
Materials:
3 Piece Dark Solid Oak Pull  from D. Lawless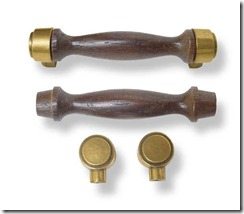 $1.00 (there are bulk discounts so I got mine for $0.80)
5/8 inch acrylic rod, I got mine from Interstate Plastics which has a store locally, but most plastic stores carry them.  They come in 72" standard lengths which has to ship freight,so if you need to have them shipped, call the shop you order from to see if they will cut to your length and it will save you a lot on shipping.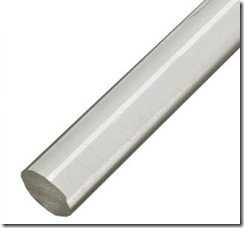 $6.46 for 72" divide by 5 (I need 14 inch pulls) so $1.30.
Washer, 1 1/2" knob screw, & spacer from local hardware store.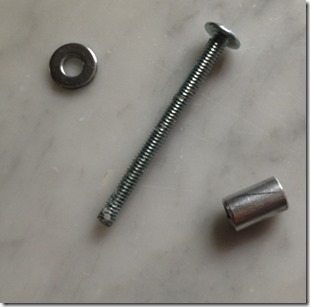 $0.05, $0.03, $0.95 = $1.03
Glue and spray paint of your choice. I used E600, and Krylon Chrome.
Step 1:  Cut your acrylic to length.
Sometimes the acrylic rods come with a protective film on them, if so, don't remove this until the end as it will help protect your rod from getting scratched and dulled. Mine did not have this film so I wrapped my rods in blue painter's tape. The rods can be polished if they do get scratched for a little extra shine, but better to protect them and create as little polishing work as possible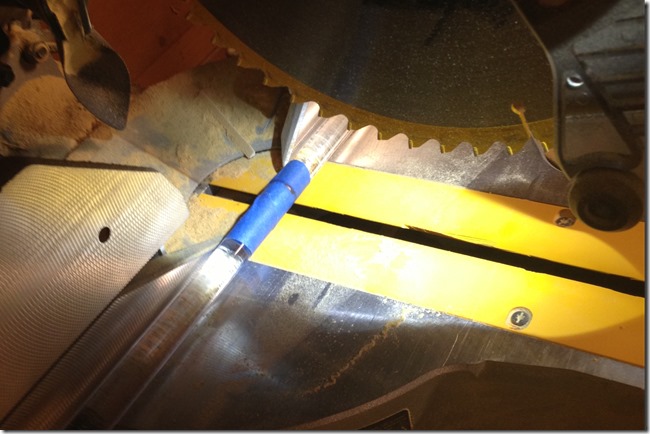 Measure and cut the rod with normal wood working tools, being careful not to scrape or scratch the rod.
Step 2:  Taper the ends of your rod to fit into the mounting brackets.
Remove tape or film to expose 3/8" of the rod, then use sandpaper to tool the rod to the desired taper. Don't worry about perfection, just get the rod so that it will fit into the mounting bracket.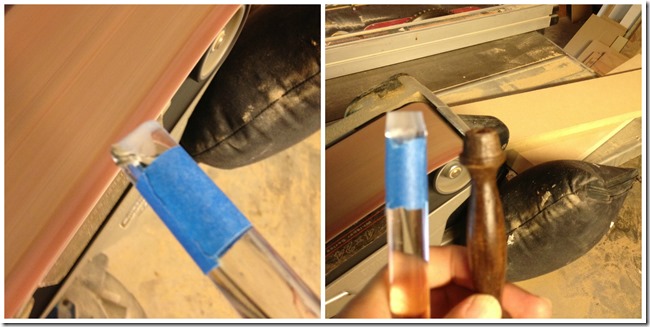 I used a belt sander turned upside down which worked great. The acrylic sort of melts/sands and removes fast, so it is a good idea to experiment with a scrap to get the hang of it.
Step 3:  Glue the mounting brackets to the acrylic rod.
Prep the mounting brackets by sanding the inside of the stem where the rod will be glued into place. Cut a 3/4 inch scrap of wood to use as a template that is a couple inches longer than the total length of the pull. Holding the mounting brackets tightly onto the ends of the rod, mark the center of the holes onto the wood (this works better with an extra set of hands to hold while you mark). Drill on the marks and test fit to see if the screws fit into the mounting brackets with the pull assembled.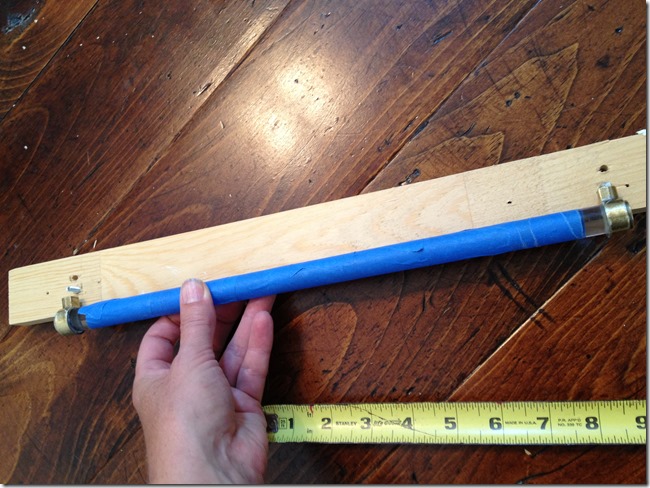 Next squeeze a small amount of glue into the mounting bracket and wipe some onto the tapered end of the rod.  (I made the mistake of doing this after I had sprayed my brackets and discovered that E600 melts fresh spray paint, maybe if the paint had fully cured it would have been OK, but I don't have 72 hours to wait around for paint to cure. So I cleaned off the brackets and glued to the bare bracket).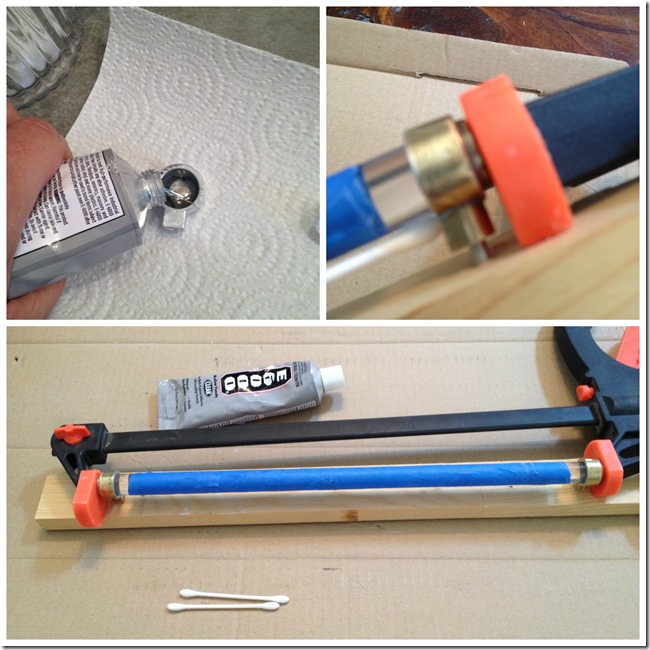 Wait a few minutes for the glue to begin to tack up and then insert rod into bracket, repeat with the other end. Next screw the pull to the wood template that you made earlier. This will ensure that the brackets are even and square. Use a clamp to push the rod securely into the mounting brackets.  Using a q-tip and acetone wipe off all excess glue leaving a clean smooth seam between the brackets and rod. Leave to dry according to glue directions.
Step 4:  Paint.
Tape off any exposed rod with painter's tape, and spay paint brackets, washers, and spacers your desired color.  I chose chrome for the sparkle and to match my fixtures, but I think they would be cute in bright colors as well as traditional metallics.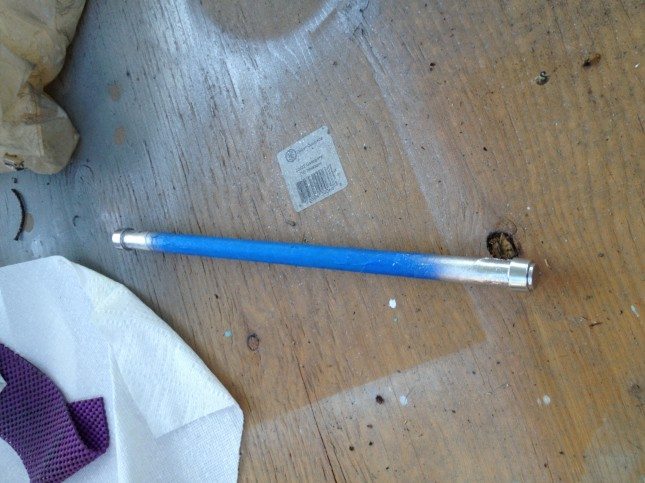 Step 5:  Let paint dry, remove tape, and install.
Use the assembly template to mark holes for the pulls. Before you drill the holes double check for level and centeredness. I like to use a nail or sharp screw point to create a divot at the center of the mark. This makes it easy to get the drill bit into just the perfect spot.  Install pulls using the washer, spacer, and longer screws.
Finished!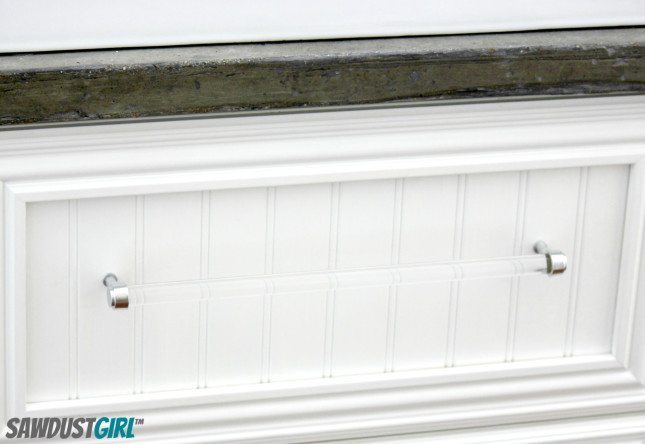 I am so in love with these pulls! I love how they add sparkle and glitz to the drawers.  I can't wait to install the other 32 in my closet (just as soon as I finish the drawers they will go on, but that's another story).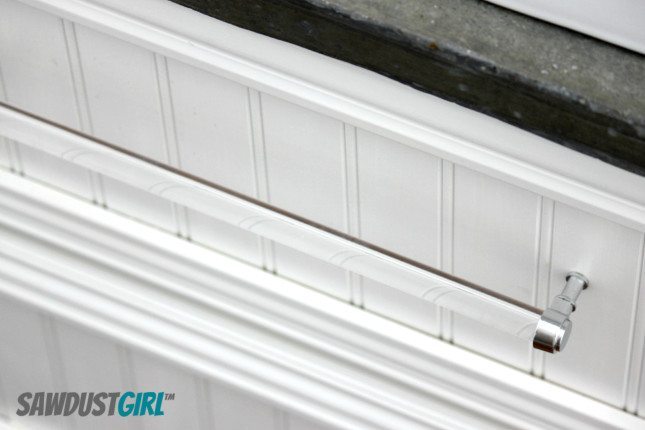 In addition to the materials cost I ended up using 2 cans of spray paint and about a 1/4 tube of the glue. So my grand total per pull = $3.40, Total cost for 34 pulls = $115.60. Less than half of the price for one of my shopped for pulls, which would have cost $8,976 for 34 pulls.
Total savings = a whopping $8,860.40!
Not that I would have spent that much on pulls, sheesh!!!