There are many ways to patch drywall.  It's seriously something almost anyone can do.  To prove it, I'm tackling this patch job at midnight when I'm half asleep!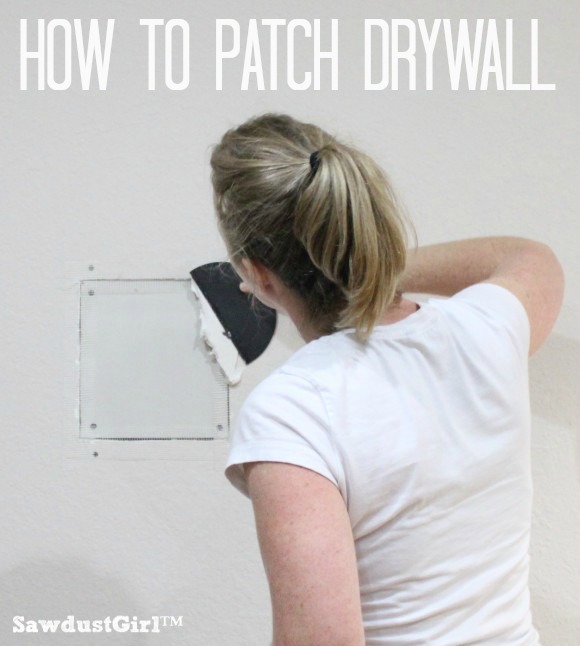 The easiest way to patch drywall is with a ready made patch kit.  They come if various sizes and are made of a thin metal square covered with self adhesive fiberglass mesh tape with "wings" of tape protruding beyond the edges of the patch that will stick to your wall.
Peel off the backing, stick it to your wall, remove plastic film from the front.
Then slap on some "mud" and your done!
I seriously go with this option as often as I can.  The patches cost around $3 to $8 depending on the size.  If you have to buy drywall and tape anyway, it probably would be cheaper to get the patch.
But, these patches don't work in every situation, like when the hole is an odd shape or too big for a patch kit.  Also, if you have a lot of holes to patch, you may not want to pay $3-8 per hole!
(Sometimes I don't know my own strength!)
In that case, get some drywall and tape and get ready to patch the old fashioned way.
Start out by cutting a piece of drywall that will cover your "hole".
To cut drywall, use a straight edge and utility knife to score the front paper.  You're not trying to cut through the drywall, just the paper.
Break it by pulling back and Karate chopping where you just scored it!
Then cut the back paper with the utility knife.
Now take your patch and place it over the hole in your wall and trace the outline.
It's much easier to cut a hole to fit a patch than trying to cut a patch to fit a hole!
 Now take a drywall saw and cut out your new hole.
It's kind of like cutting bread…only a lot more work!
Now you need something to screw your drywall patch into.  If you didn't expose a stud, no problem.  Use a scrap piece of wood and affix it into the hole.  Soft wood like pine is great so if you have a little left over baseboard or a thick paint stick, that works perfectly!
I hold onto the wood and drive a drywall screw into the wall above and below the hole into the wood.  If the hole is too small to get your hand into, use a piece of the mesh tape to wrap around the wood to hold  onto while you drive your screws.
I exposed a stud on the right side so I'm only using one "cleat".
Now you just need to secure your patch to your wood pieces or studs.  I always use screws because I HATE "popped nails"!   That's when the nail wiggles loose a little and the mud pops up or falls completely out leaving an exposed nail head.  Use screws!
When you drive your drywall screw, you just want to sink it in enough to create a dimple.  Don't break the paper.
Depending on the size of your patch, one screw in each corner should be enough.  Drywall screws can be placed about 12″ apart.
Now you're ready for the fun stuff, mudding!  There are two different kinds of "tape" that reinforce the seam.  Paper and fiberglass mesh.
Paper requires a lot more skill to install properly so let's just throw that option out!  OK?
Let's go with fiberglass mesh!
It's self adhesive so all you have to do is cut it with scissors and stick it to the wall.
Now you need to cover your seams with "Mud".  I use premixed joint compound.  It's easy, and ready to use!
Your first coat of mud is going to look sloppy so don't try to get it perfect.  Just glob some onto your spackle knife and smooth it over your tape pulling it out from the middle to the ends of your tape.
If you mess with it too much, you'll end up pulling the tape back off the wall.  Just slap it on and leave it alone, even if it is UUUUgly!
Let that coat dry completely before adding another layer of mud.  I don't sand after the first layer.  It's unnecessary.
After it dries, apply another coat.  Use a large trowel on the rest of the coats of mud because it's easier to build the patch up level with the wall around it.
Put a big glob on the wall, and then smooth it out over the patch, feathering it into the adjacent walls.
Again, don't try to get it perfect yet.  Sometimes your trowel leaves a ridge like this that is easy to sand off after it dries but if you keep going back over and over and over your mud while it's wet trying to get it perfectly smooth…you'll waste a lot of time.  Get it relatively smooth but don't worry about perfection.  The main purpose in your second coat of mud is to "level out" the patch with the surrounding walls.
I do 3 or 4 thin layers of mud.  Remember that paint will only accentuate any globs, ridges or pimples in the surface so make sure that your patch looks good before you move on to primer and paint.  Be patient.  It's an art!
After your second coat of mud dries, sand down any ridges and apply another coat if you need to.  You may not.  If you do, it will most likely be a very thin layer to fill in a void or better blend the patch into the wall.
Once the last coat of mud is dry, lightly sand, dust and you're ready to prime and paint.
That is unless you have textured walls in which case you'll need to add a little texture…which is a whole other party!
It's not that difficult.  Buy a can of spray on texture and follow the directions on the can.  Mostly, it's trial and error getting it to match up as best as you can.  Usually, you spray it on, wait a few minutes and then knock it down.  If you don't like what you see, scrape it off and try again.  (and again and again until you like it well enough.)  With textured walls, it's nearly impossible to create a patch that will disappear, even if you hire a professional.
So don't be too hard on yourself if you don't get it perfect yourself.
Of course, if this all sounds like too much work just to patch a stinkin' hole, you could always just cover it up with some beadboard or wainscoting!