1.  This is my compressor.  It's a little Porter Cable pancake compressor.  It packs 135 PSI (pounds per square inch) of pressure.  Every pneumatic tool has it's own operating pressure requirements.  You must refer to that tool or operating manual when setting the operating pressure on the air compressor before using said tool with said air compressor.  🙂
Pros: It is light enough for me to pick up and carry around the job site (my home).  It's got enough pressure and capacity to power all my nail guns.
Cons:  The small capacity tank requires the motor has to kick on frequently to maintain enough pressure to power my nail guns.  It doesn't cut it for powering a paint sprayer.  The motor has to run constantly and even then, there is just not enough air pressure to work with that tool.  (At least that is my experience.)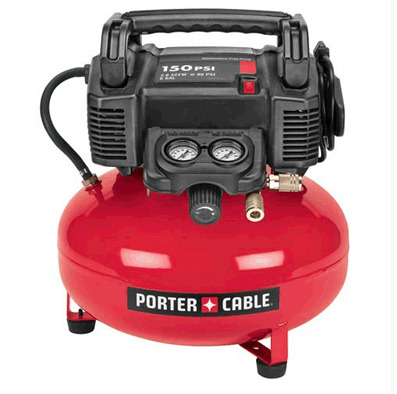 *Important step that is often overlooked or unknown:  The tank must be drained of condensation so it doesn't rust out your tank or get forced into through the hose and into the nail gun.
My 16 gauge Porter Cable Finish Nailer is my go to gun.  I use it when I build anything from picture frames and cabinets and when I install moulding and wainscoting.  It requires a range of 70 to 120 PSI.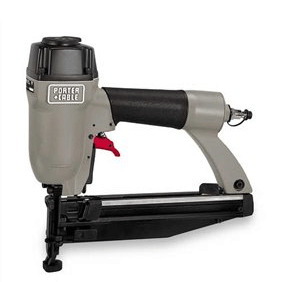 I have an 18 gauge Craftsman finish nailer/stapler gun that I can only use as a stapler because it jams EVERY time I try to use it as a nailer.
It would be handy if the NAIL gun aspect worked for tight to reach spots but I've been surviving without it.
*I use it all the time to staple on the backs of my cabinets.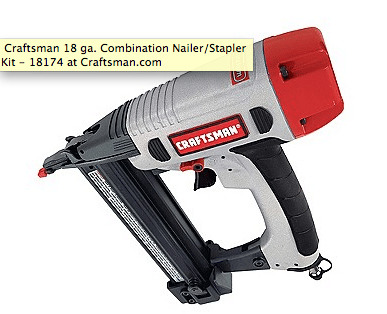 See my full review of the 18V cordless DeWalt nail gun.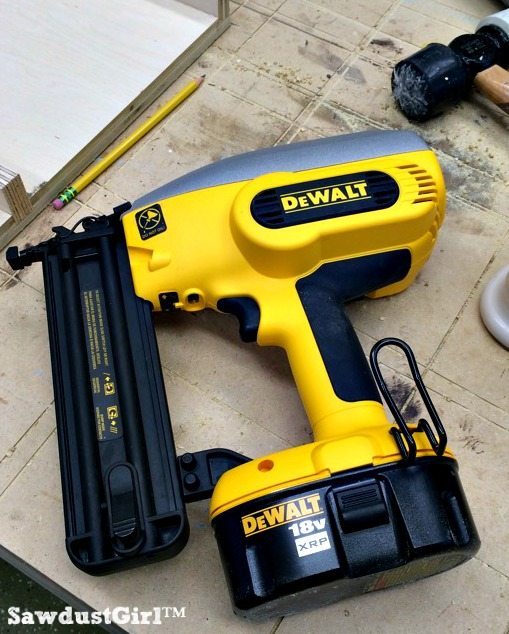 My DeWalt Framing Nailer packs a punch!  It has a strong recoil so I use two hands as often as possible with this bad boy.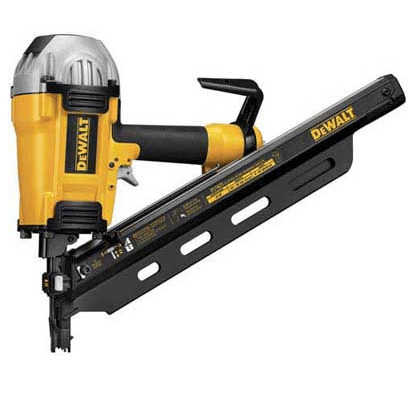 This nailer has dual fire options.  I can switch out the trigger to a bump fire trigger which would allow me to hold in the trigger and fire a nail every time I bump the nose guard.  I think that's an accident waiting to happen so I have never switched to the Bump Fire Trigger!
***It's important to know that not all guns have the same safety features so make sure you read your owners manual to understand how to safely use the gun that you have!***