When I built the walk-in pantry, I stole space from the hallway and master bedroom. They were both oversized and I had zero cares about stealing space from either. What I didn't anticipate was Madison's late night snack attacks…or the DING from the toaster before her early morning classes. I can tell you I'm SUPER HAPPY about the new product called, PURPLE SoundBreak XP RetroFit. It's a special 5/16″ thick drywall that is installed right over your existing drywall that reduces the sound between rooms! Since there is no real demo required, installation is quick with minimal mess. Depending on your mudding skills. Ha! This was a perfect project for me to tackle while Bucket was doing all the drywall work in the basement last week.
This post is sponsored by NGC. All opinions and ideas are my own.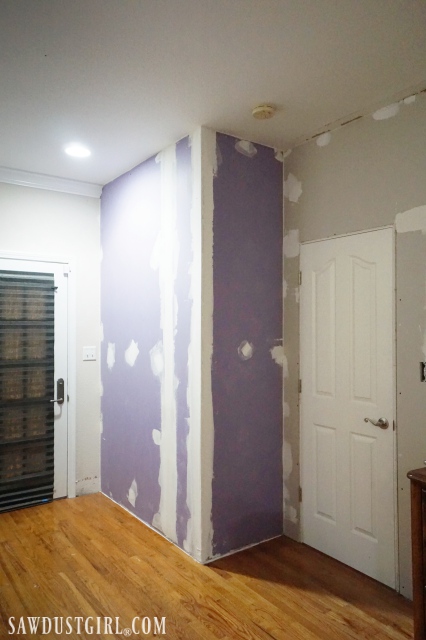 A couple years ago I visited the NGC headquarters and learned about all their PURPLE XP — special feature drywall products. At that time, SoundBreak XP RetroFit had not been released. I was told about it though, after stating that I wish there was something that could be installed OVER existing drywall to reduce sound transfer between rooms. I've been waiting patiently (I've had lots of other projects to keep me busy) for it to be released. Now it's available!
Preparation and Supplies
These are the pantry walls that stick into the bedroom. I removed the door to get it out of the way and taped down a floor protector. I'm pretty messy when it comes to drywall work. Because I knew I would be remodeling the master bedroom at some point, I never finished the new walls. So I didn't need to remove the crown moulding or baseboards. If they were there, removing them would be the only "demo" needed in order to install the SoundBreak XP RetroFit. That is one reason I was so excited about trying this product. There is no need to create a big mess, pulling off the existing drywall. It just goes right on top of it!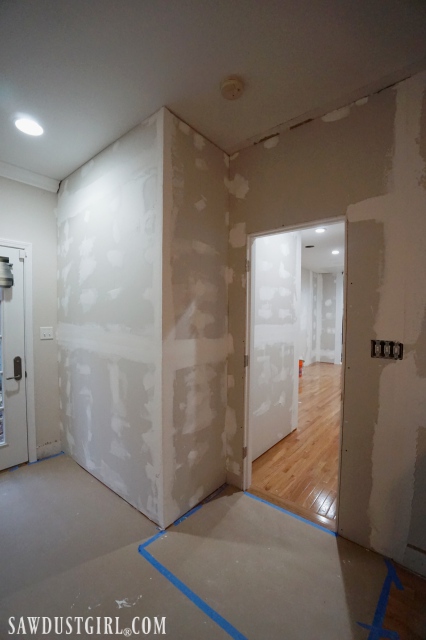 In addition to the PURPLE SoundBreak XP RetroFit drywall, here's what supplies are needed.
construction adhesive
latex or acoustical sealant
Installing PURPLE SoundBreak XP RetroFit
The company provides this easy to follow installation video which I watched before purchasing supplies and doing my installation.
Apply a bead of construction adhesive and then spread it with the notched spreader.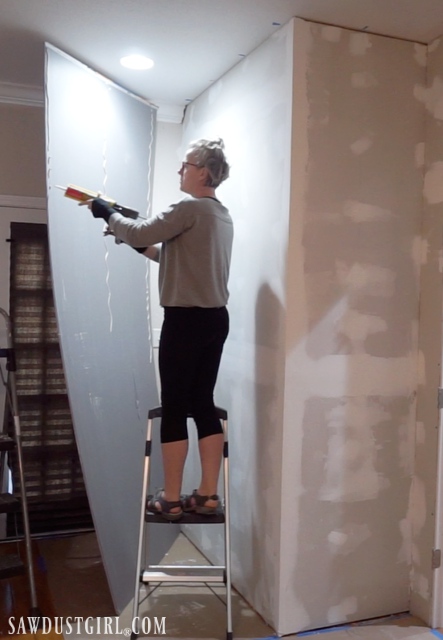 Then put the panel in place.The SoundBreak XP RetroFit is only 5/16″ thick but it's heavier than traditional 1/4″ thick drywall. It was a bit tricky to maneuver the full 9'x4′ sheet by myself. I got it –but would highly recommend getting a helper!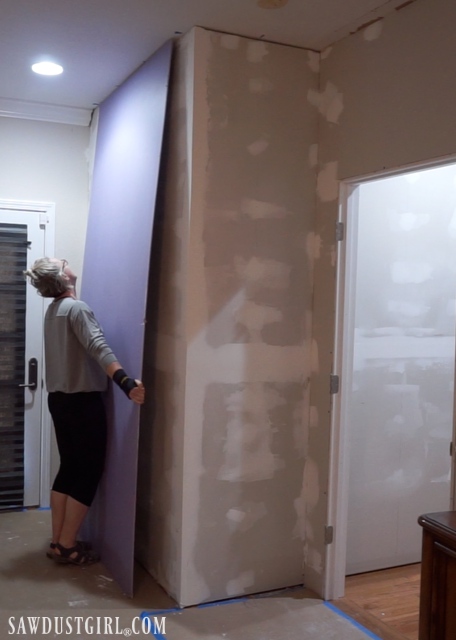 This stuff cuts (score and break) like traditional drywall. It's denser so it takes a bit harder smack to "break" it.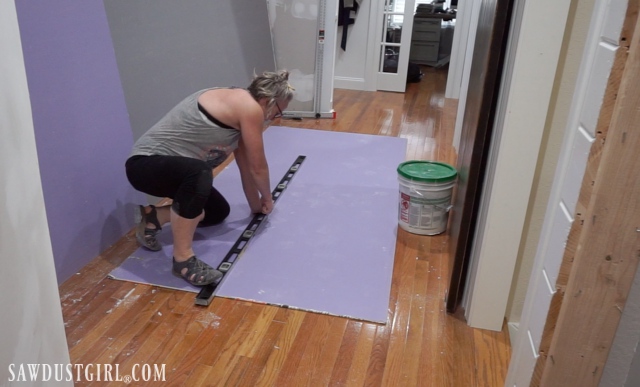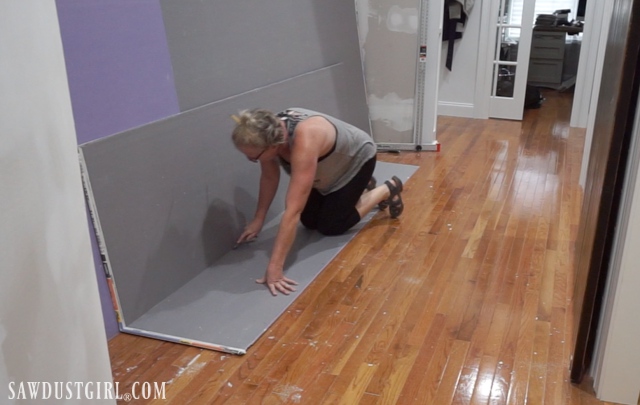 It's only supposed to need screws along the top, bottom and middle. Out of habit, I kept starting to drive screws up each stud. (So I have a couple more screws than needed.)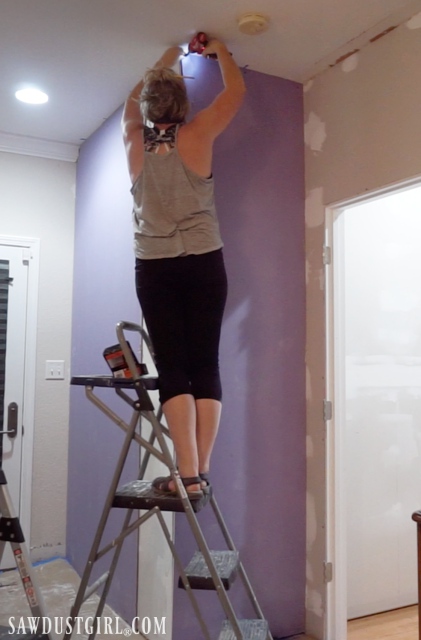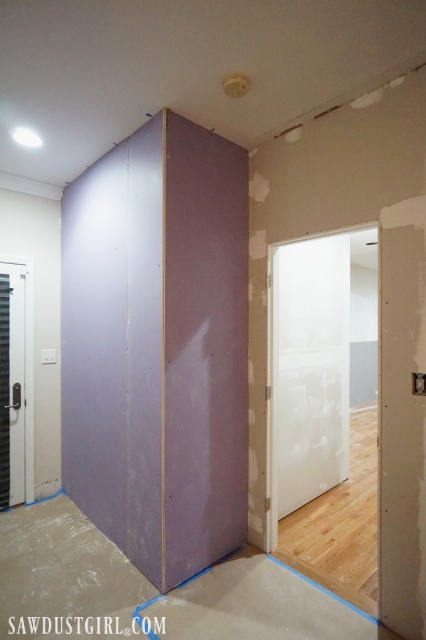 It took two sheets to cover the pantry extrusion.  I taped and mudded the joints and screw dimples.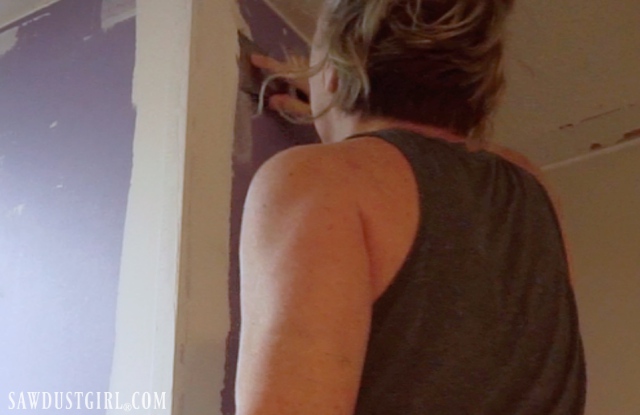 Next I used latex caulk to seal around the whole perimeter (sides, top, and bottom).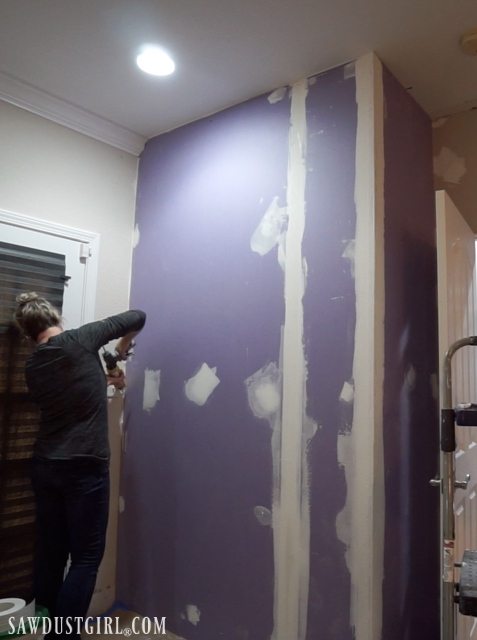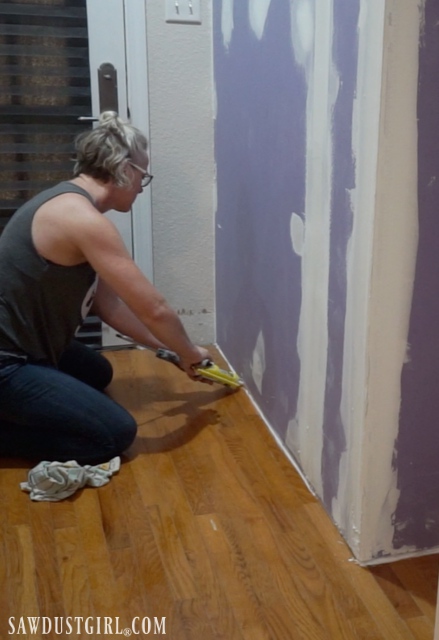 The sound test
The installation process was easy (other than lifting and maneuvering a whole sheet into place alone). Once I was done, I couldn't wait to test it out. Madison went into the pantry to rustle around while I went in the bedroom. I couldn't hear any rustling around in drawers.  "Are you in there"?
I did hear her voice when she answered me as well as the beep from the microwave. Both those noises were definitely muted and sounded more like they were coming from under the bedroom door (or from that side wall).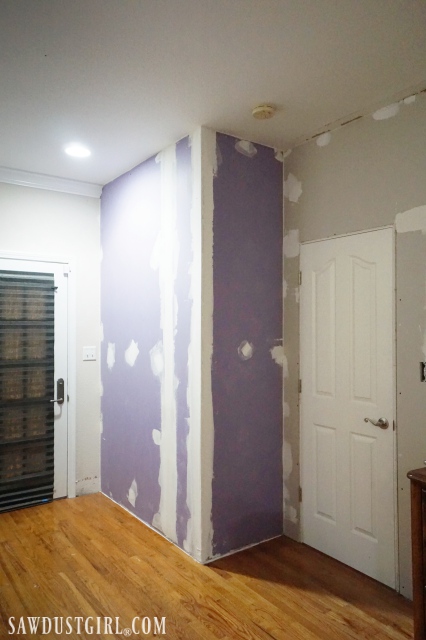 So I'm sold…but I am going to install more PURPLE SoundBreak XP RetroFit on the other pantry walls. The ones that are right OUTSIDE our bedroom door. Because I don't know of any way to block the sound through and under the door. I think finishing the back of the pantry will make it perfect!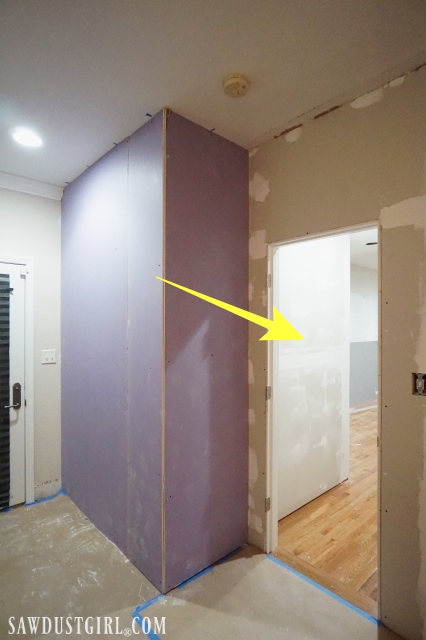 Do you have a place in your house or business that could use SoundBreak?