Hi there!  I know a lot of you are not on social media and most of you that are don't see half the things you signed up to see because these social media platforms keep luring us in and then changing everything right when you think you have it all figured out.  So I thought I'd "Take the Bull by the Horns" and hand them over to you — so you can control what updates of mine you see!
If you like seeing all the updates on what I'm doing in my house when it's happening…you'll love this!
Weekly Update Newsletter!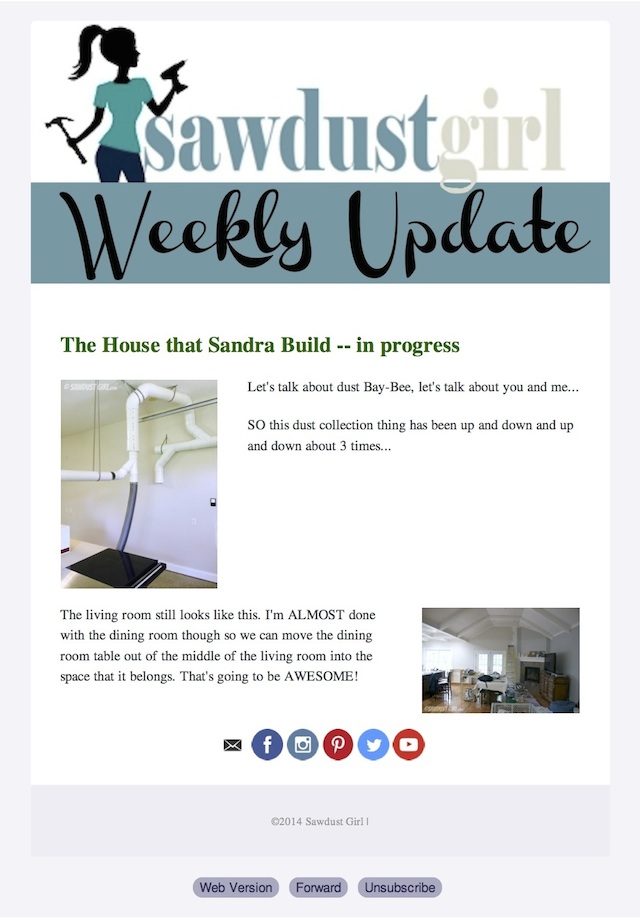 I take TONS of pictures of what is happening in my house as it's happening but I only share like, 1% of those because I don't want my site to be 98% "not so pretty" progress pictures and then 2% Reveal posts and project tutorials.  My new weekly update Newsletter will include more of that "behind the scenes" action for those of you who want all the gritty details.
Think of it as my "House that Sandra Build" project diary –that I'm sharing with you…which is the intent that I had when I started my blog 5 1/2 years ago (when it was called Sawdust and Paper Scraps).
This newsletter will also have a feature photo and short detail about any new posts I've shared that week as well.
I'll also be posting weekly videos to YouTube and I'll include a link to any new videos I've shared so you don't miss any of my antics!  B-)
Don't get me wrong, I'll still post to Instagram, Facebook and Twitter!
*If you don't want to see all the progress updates but you don't want to miss out on any new project tutorials or Room Reveals, you can get an email alerting you whenever I publish a new post on SawdustGirl.com!
You can sign up to receive JUST the weekly newsletter, JUST the new blog posts or both!
Simply enter your email address and check the box(es) for the option(s) that you want to see pop into your email inbox in the form below.  It's that simple!