Hey guys! I wanted to be unveiling the finished linen closet in the Jack and Jill bathroom but it's still not done.  Argh.  It feels like I've been trudging through knee deep molasses to make any forward progression.
Part of my problem has been my chaotic workshop. It's been a mess since October when Julie and I finished our first "30 day build" at Calderwood Cottage. Remember that place? Oh boy! That place is a lot more work than we ever imagined! We're looking at it as a really great opportunity to gain more experience than we ever thought we would need. So it's going to be a great investment!
We almost completely gutted it and got a small amount of new framing completed in our first "build".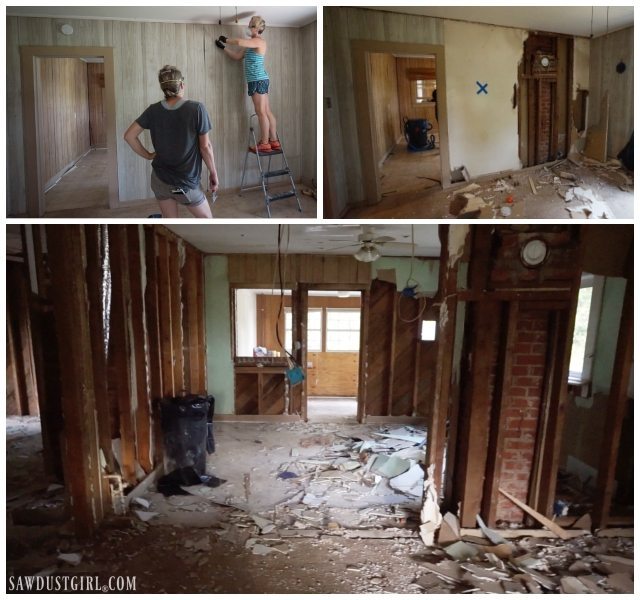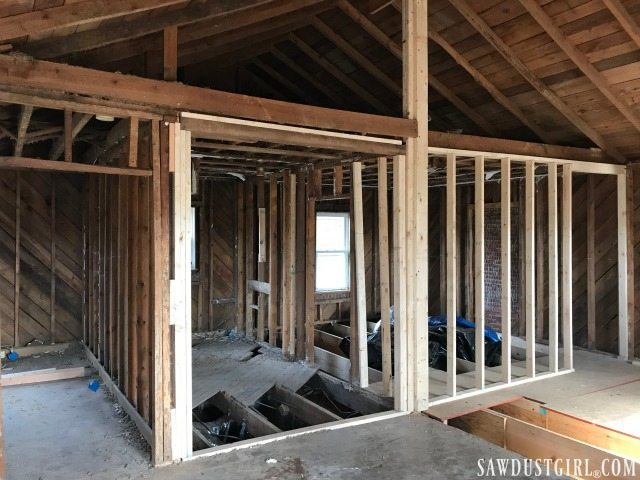 The day before Julie flew home, we loaded up my truck and trailer with all the tools borrowed from my shop, plus new tools and materials we purchased for the flip.  We locked up Calderwood Cottage and brought it all over and unloaded it in my workshop. (We left a path to get to the back of my shop and made sure I could access the table saw.  For realsy.)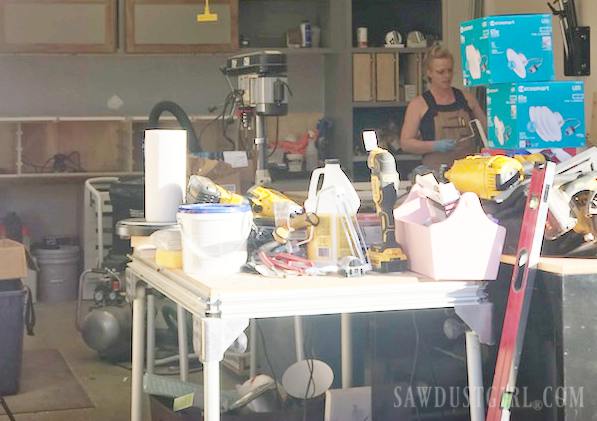 I started building some additional storage drawers so I could put things away and get organized. But then I told myself that I should finish the Jack and Jill bathroom before I dedicated time to building a better workshop. Then I'd flounder around, looking for things so I could work on the bathroom. I'd go into one space, turn in circles, looking at everything and nothing. I give up on doing anything and go take a nap.
In my Christmas House tour post, I told you I was feeling overwhelmed. I took a long break during the holidays and vacation and that was helpful. Since then I've been trudging forward. My slump has been clinging to me like I'm it's life blood.
Thanks to a friend who dedicated 5 hours to helping me on Friday — my workshop no longer feels like "the pit of despair".  Chantelle loves organizing and she offered to help me with my shop mess. (She didn't know what she was getting into.) Once we were in the shop, my eyes glazed over and I started turning in circles, trying to find where to start. She recognized that I'd become mentally paralyzed so she stepped in, took charge, and told me what to put where.  And I was totally ok with that. Grateful, really.  It's a temporary set up but at least things aren't just in heaps and piles that I have to dig through each time I need anything.
So now my shop is a million times better. The sun is shining and it's over 20 degrees outside. I think things are looking up. My shop is clean and everything is accessible so I can find what I need while I finish the Jack and Jill bathroom.
I think I'm going to finish that linen closet this week! Maybe Madison's closet too. Look at that optimism! It would be great if I could finish the whole bathroom before Julie and I start our next build on the flip house.
But, since I'm on the low stress train, whatever man. I'll finish things as I finish them.
On the subject of the flip house; we were supposed to be doing our next "build" in mid Jan to mid Febuary…so that would be now.  But Julie broke her finger and is wearing big metal finger guard. That makes it pretty hard for her to operate a power tool or swing a hammer. And plus it's been really cold here and neither of us want to work in that.
So we're now looking at mid February to mid March for our next build. We've decided that we're NOT going to kill ourselves renovating that house so we're going to chill out a bit on the work load.
We probably won't put in 15 hour days 7 days a week.  We're thinking of taking Sunday's off this time! I'm just hoping I don't give myself any more concussions or new facial scars.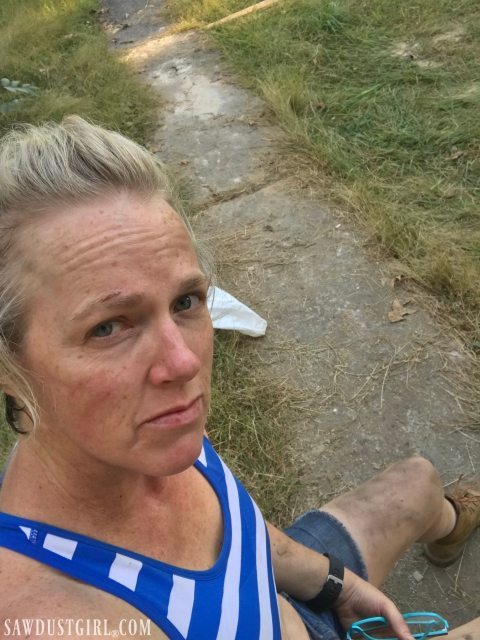 And definitely not bring any more mice into MY house after working on Calderwood.  But the Mouse in my House is a story for another day…