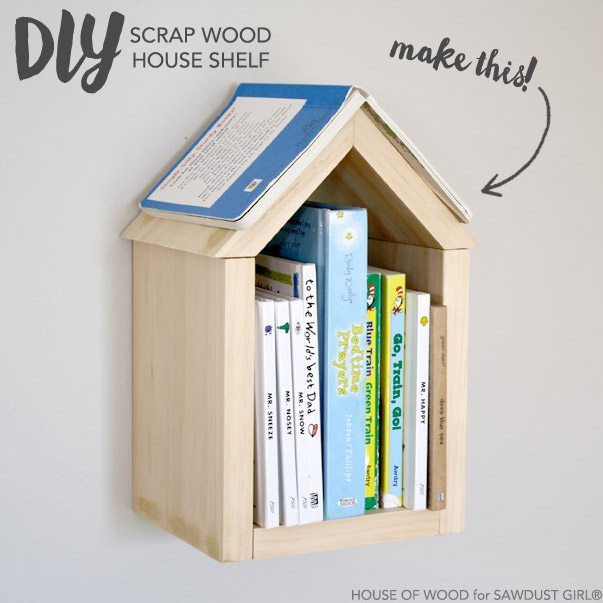 Hi awesome Sawdust Girl friends! It's Jen Woodhouse from The House of Wood and I'm back with a quick and easy DIY project you can make out of that growing pile of scrap wood that is slowly but surely overtaking your garage.I made this adorable Wood House Shelf out of a piece of scrap 1×6 pine.
DIY Scrap Wood House Shelf
You can easily modify this shelf to fit your needs, but here are the measurements I used: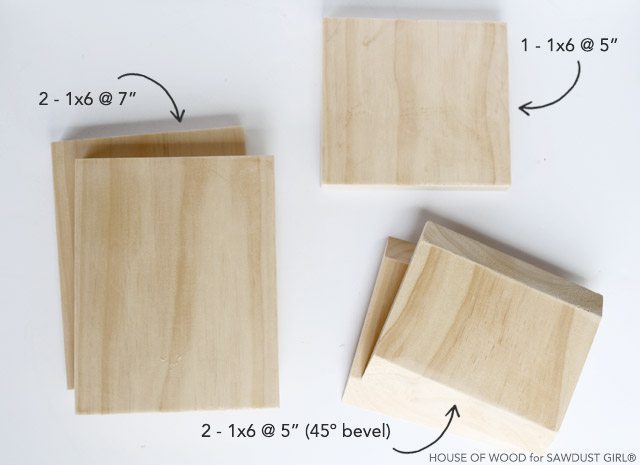 2 – 1×6 @ 7″
1 – 1×6 @ 5″
2 – 1×6 @ 5″ (45º bevel)
wood glue
1-1/4″ brad nails
For the roof, I beveled the ends at a 45º angle. The 5″ measurement is from long point to long point, so that I was left with a trapezoid shape. Then I attached all the pieces with wood glue and 1-1/4″ brad nails.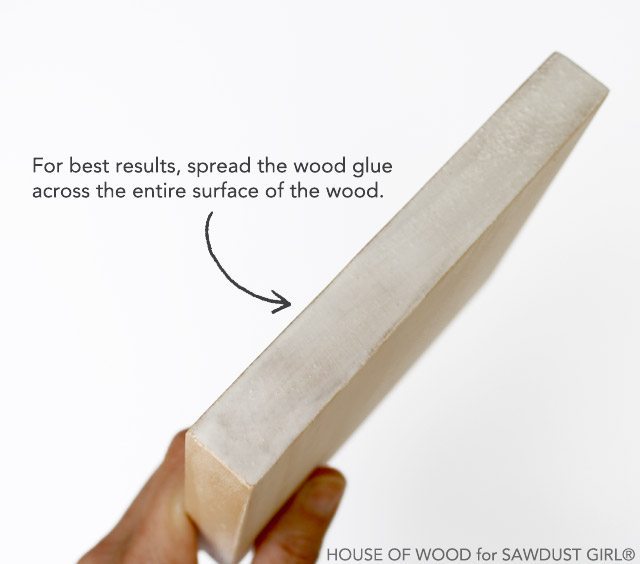 I glued, clamped, and used my brad nailer to connect the pieces like so: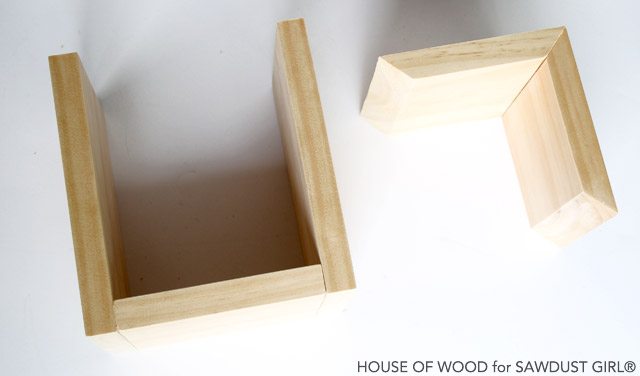 Then attached the roof with glue and nails.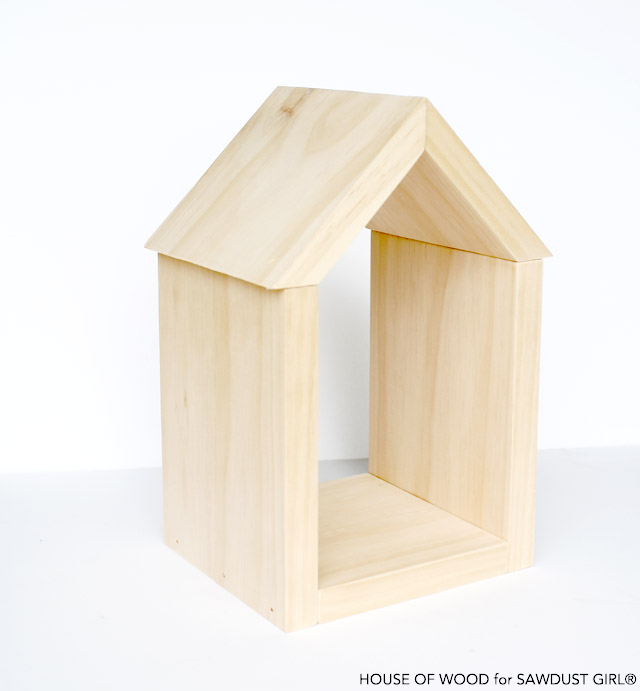 Then I filled the nail holes with wood filler, gave the whole thing a quick sanding, then hung it on the wall.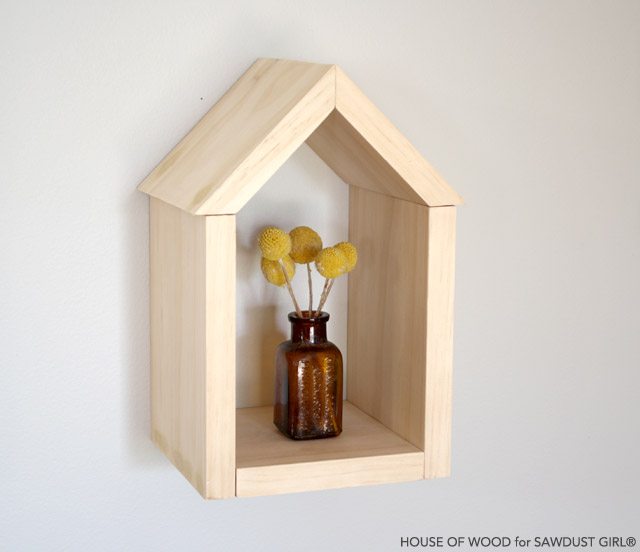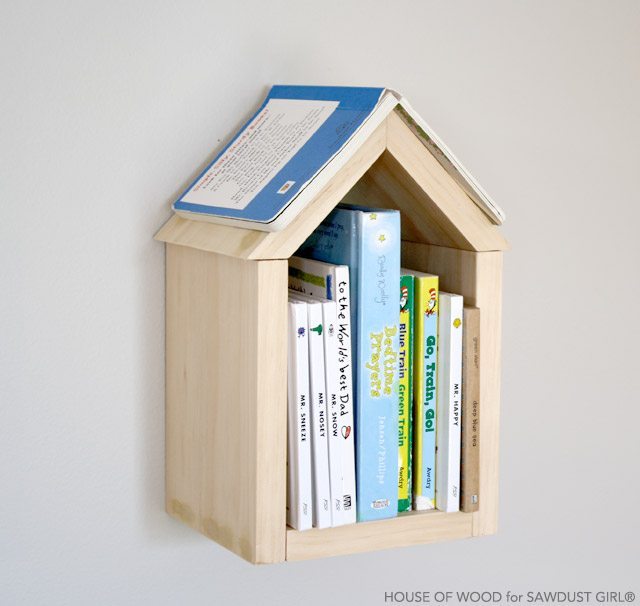 When my 4-year-old daughter saw this adorable little shelf, she decided she wanted it for her bedroom. I spray-painted it pink (of course) and hung it on her wall, as a makeshift nightstand (which is on my never-ending To Build list). It's the perfect little nook to stash her favorite bedtime books.
Her toddler bed is also a DIY build – tutorial with free plans are here. Do you like her custom wood name sign? I make and sell those in my Etsy shop. Her pretty personalized pink pom-pom pillow (I am the alliteration master) was made by the talented and lovely Jaime from That's My Letter.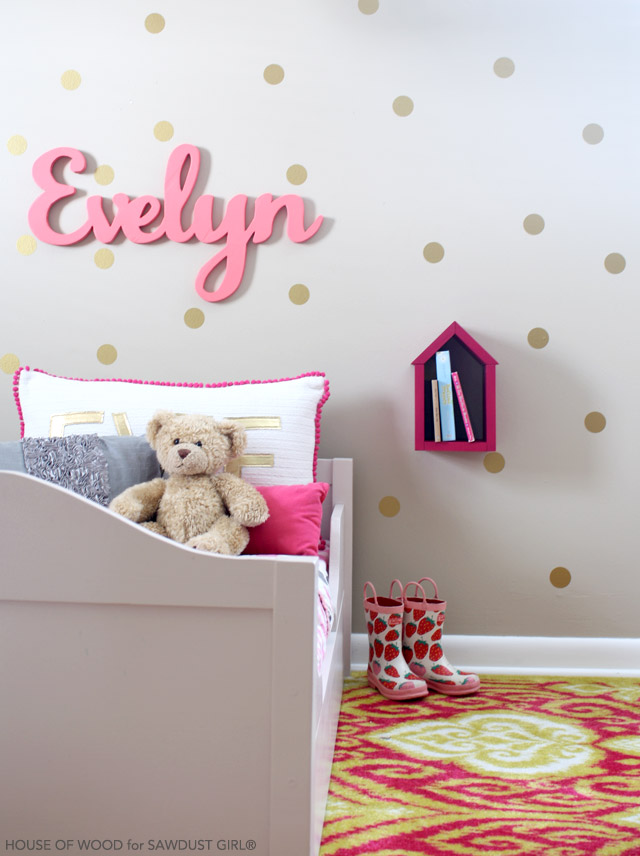 So what do you think? Quite a cute little project to use up some of that scrap wood, right? Happy building!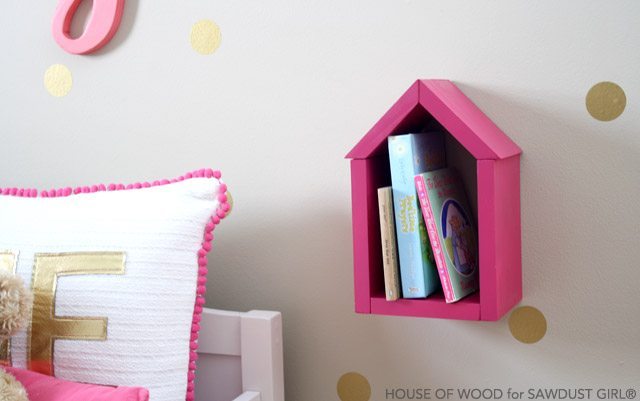 Thanks for reading, friends! I would love it if you shared this project on Pinterest. Feel free to use the image below.