Where and how you hang your window treatments has a big impact on the look and feel of an entire room.  It's amazing what a difference the height and width of your window treatments can make in a room.  Here are some tips to help you know how high to hang curtains.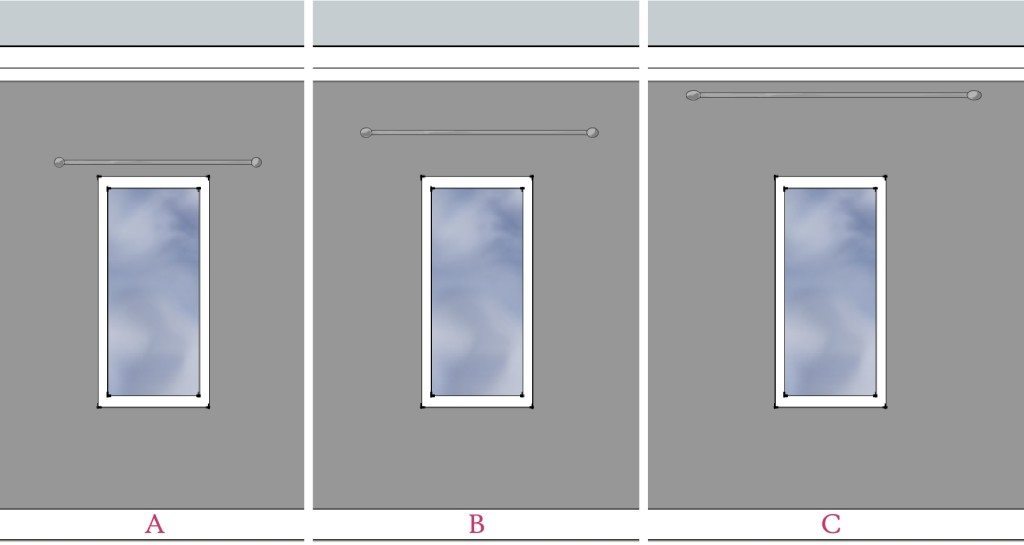 Here is a real life example of A.
Source: FABRICworkroom.com
Super cute! BUT, the valance is hung so that the top of the window is hidden and the side panels are covering what looks like quite a bit of window on each side. This window treatment is actually making the window appear shorter and smaller.
Here is a real life example of B.
Lovely. Nothing wrong with that, BUT, if the curtains had been hung higher, let's say right under the crown, it would have given the illusion of additional height to the windows and the room.
Now look at an example of C.
BAM! The curtains are hung high above the window tops, pushed up as high as they can go which creates a dramatic backdrop for the room. It plays up the high ceilings, adds importance to the windows, and looks current and fresh.
Not comfortable with all that bare space between the top of your window and the curtain rod? Create a valance or cornice that hangs from the ceiling to the top of the window (or casing if you have pretty moldings you don't want to cover). Like I did in Madison's bedroom in our Illinois home.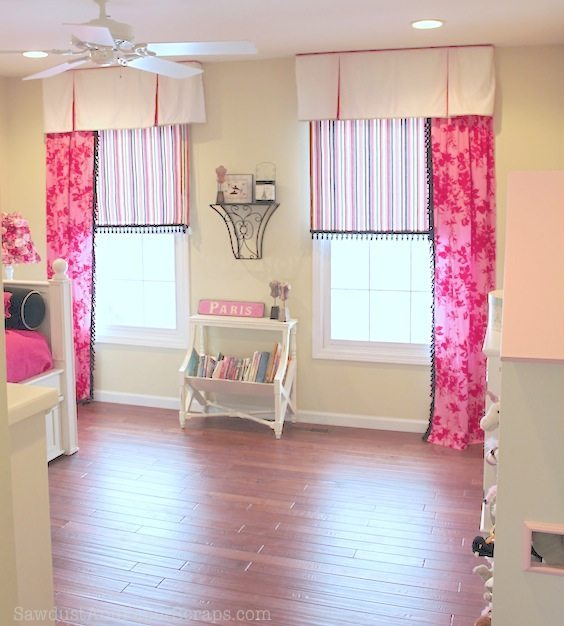 Imagine how much smaller the windows would look if I had hung the valance a few inches above the window casing? The whole room would have seemed shorter and smaller. If you are using a valance or cornice. Make sure to size them wide enough that your side panels can just skim the sides of your windows.
Another way to fill in that blank space is to use roman shades or textured blinds. Hang them just under the curtain rod down to the top of the window casing. If you want more privacy or light filtering they can be lowered to the bottom of the window, not only adding beauty, but also great functionality.
Or  use molding to create a header that fills in the space.
I have to admit that this is a bit of an addiction for me. Whenever I see curtains hung low over a window it makes my hands itch.
Source: Smith and Noble via activerain
I just want to grab them and hang them higher!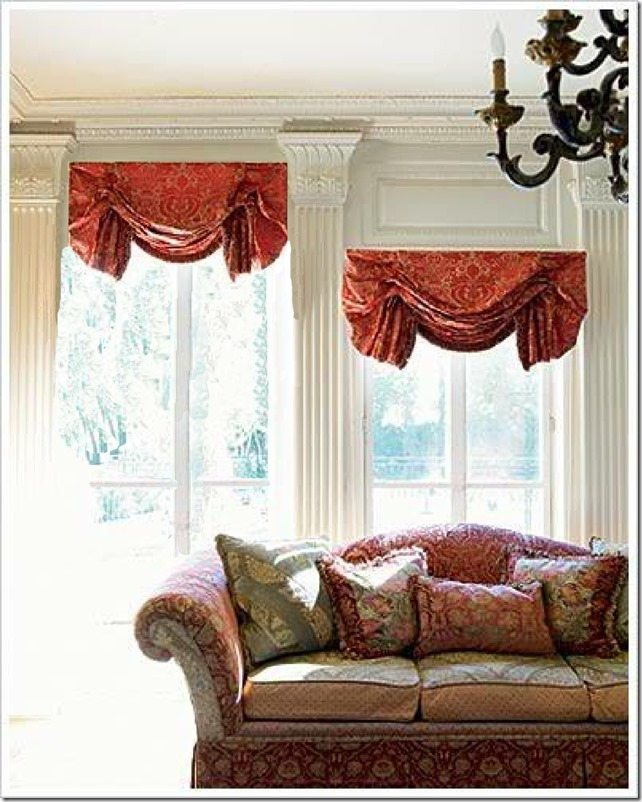 Ahhhhhhh, that made me feel better.
Window treatment placement can help to balance out poorly placed or sized windows. Look how short and small these windows look in the before picture.
It is stunning how much more balanced and better proportioned they seem with the curtains hung high. However, if it were up to me, I would have hung the black shades higher as well. It would have helped to elongate the windows even more.
Window treatments can help hide any number of awkwardly placed window issues. I used drapery to balance out the asymmetrically placed window in my master closet.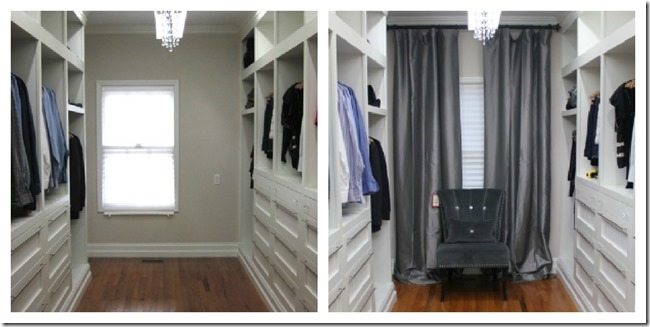 One big drawback to hanging curtains higher is that it can be difficult to find ready made curtains the length you need. Or maybe you already have curtains and would like to raise them up. A cheap and easy way to add length to ready made panels is to add a contrasting fabric strip. This is my Illinios house family room. I purchased these curtains from Pottery Barn on clearance (for like $20 each which you can't beat) but this effect could be an easy no sew project with a little fusible tape and an iron.
Here is another example with the contrasting fabric on top.
So back to the original statement: The placement of your window treatment will dramatically effect the feeling of spaciousness and height to the window and to the whole room.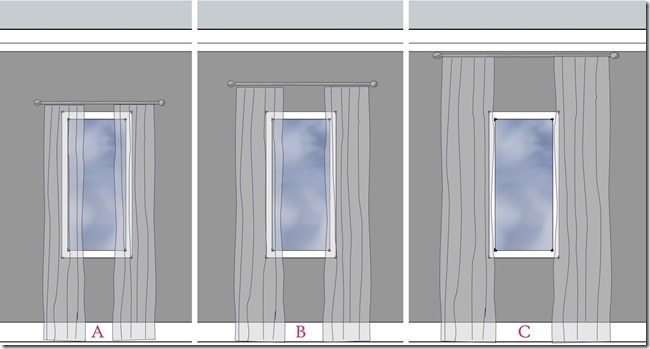 A: This placement will make the window seem smaller and will visually shorten the room.
B: This placement is pretty traditional, will not add a lot of height or visual interest to the room.
C. This placement will make the window feel larger and taller, will add visual height and drama to the room, and feels fresh and modern.
Source: S.R.Gambrel
So, to create big impact windows that help elongate your room and add presence and drama, hang your window treatments high and wide.