Designing is one of the best parts of remodeling in my opinion. All of the hard work put into tearing out, framing, repainting, building, and whatever else you've done to turn a room into something beautiful gets topped off with a shopping trip to get beautiful furniture and decorations for your new space. Sometimes when I'm not feeling particularly motivated on a project or space, I'll let myself go out and buy an interior design piece that I'll get to use in the room when I am done. Usually, that will pick up my spirits and give me a little push of motivation to finish the space.
However, interior decorating can be challenging, too, especially for those new to it. It seems like a pretty easy task, just look at what looks good, right? Well, yeah, but you've got to have an eye for design. If you don't, no worries! There are some easy tips and tricks that will get your room lookin great in no time!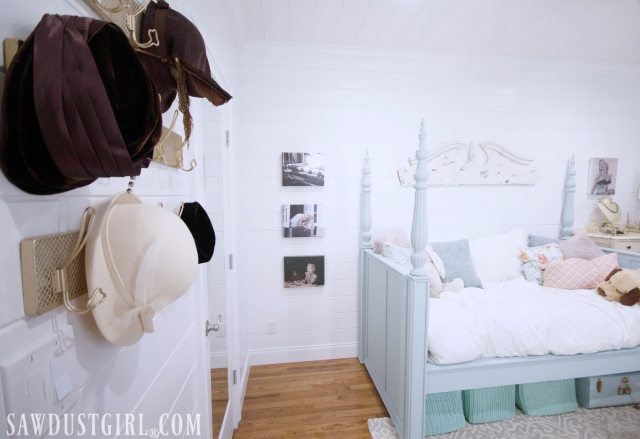 So, Madison's pretty bedroom re-do is complete! Even though it's my favorite part, decorating this small bedroom was a challenge, so we made the most of every inch of space by using beautiful and functional décor. You know me–I hate wasted space! And in smaller bedrooms like this one, every inch of space matters.
Upcycling Madison's old daybed was a great choice for this small bedroom. It has a small footprint, but big impact and lots of space underneath for functional storage. If she wanted to hide the storage a bit, we could put a makeshift curtain or box spring cover over the opening, but as it is there is easier access, and the storage items are pretty cute. When designing for smaller bedrooms, using the space underneath furniture is often a nice and easy way to get extra storage. Either under or above, as I always say!
The custom wall décor fills the empty space above her bed. In smaller spaces, having large items of décor on the furniture or floor often takes up valuable space. Instead, I try to focus more on making my furniture art in and of itself and using the walls as my main decorating space.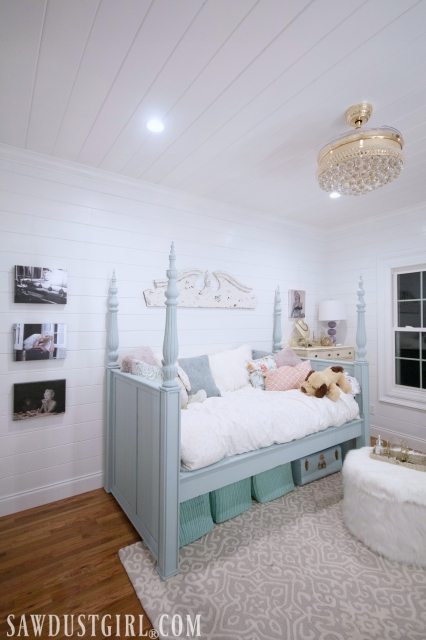 Two of our favorite accessories are the chandelier ceiling fan and the shoe storage ottoman.  Madison and I call it "The Fluff".  We found that at Home Goods. Not only is it a fun chair, it's also storage space. Lesson #304 (I don't know what number we're on): Use items that have at least two uses. Three is even better! In this case, she's also using the fluff as a nightstand. Now, that's what I call diversity!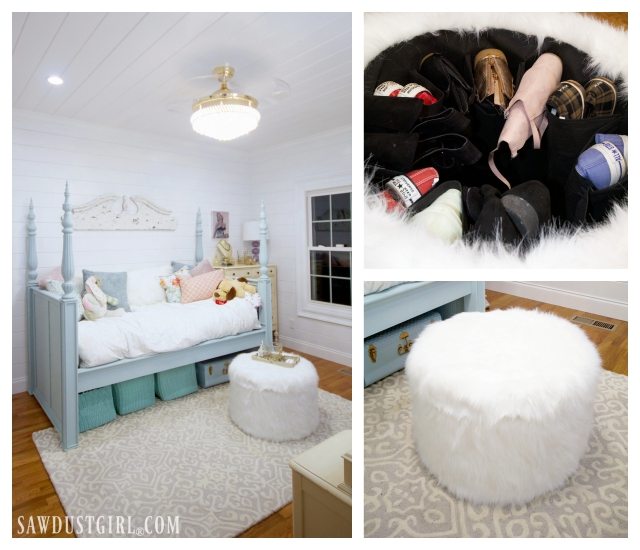 The ceiling fan is probably the biggest surprise in the room. It looks like a chandelier when the fan is not on.  The clear acrylic blades fold up and out of sight. When you turn it on, they unfold! It's the coolest thing ever!
Everyone who has seen it absolutely loves it, and Madison thinks it's amazing. I'm glad, because I had to search around a lot before I found something that was just right. It really is the prettiest ceiling fan I've ever seen though. This little thing definitely spruces up a tiny room.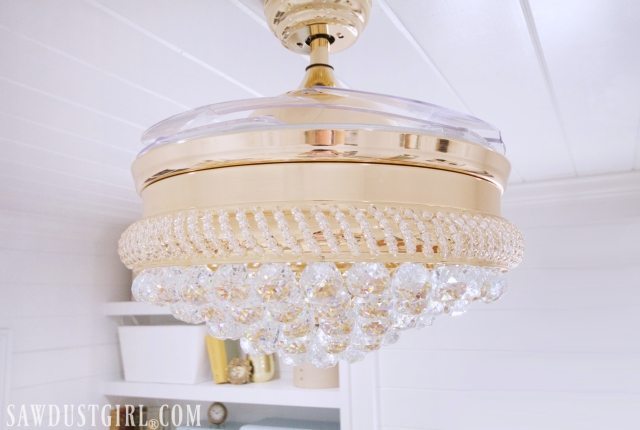 Plus, it's all controlled with a remote which Madison keeps on a pretty tray on The Poof.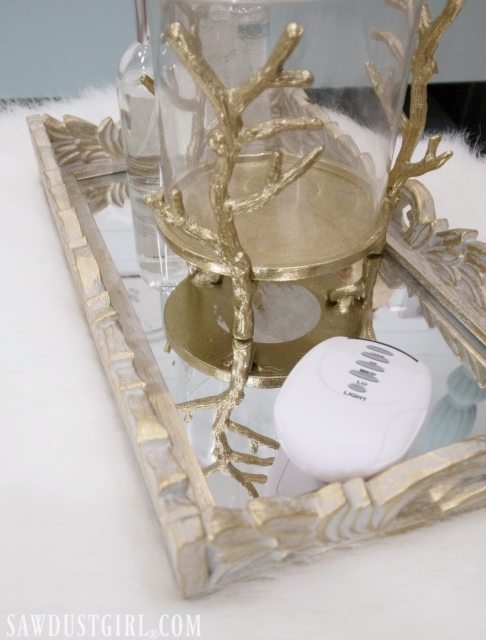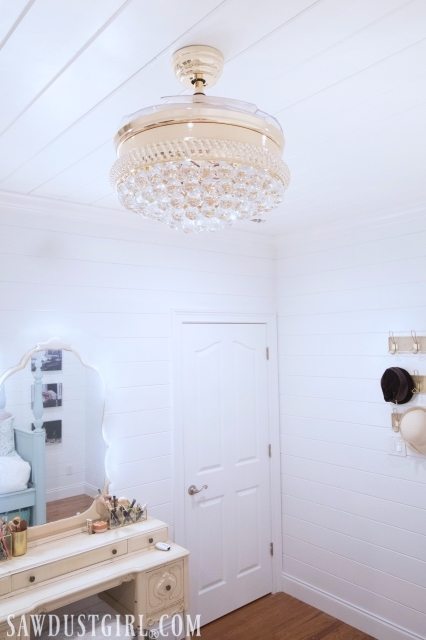 Is it not absolutely gorgeous!?! I seriously can't stop staring at it. Anyway, very nice décor item for a very small room. Utilize the space!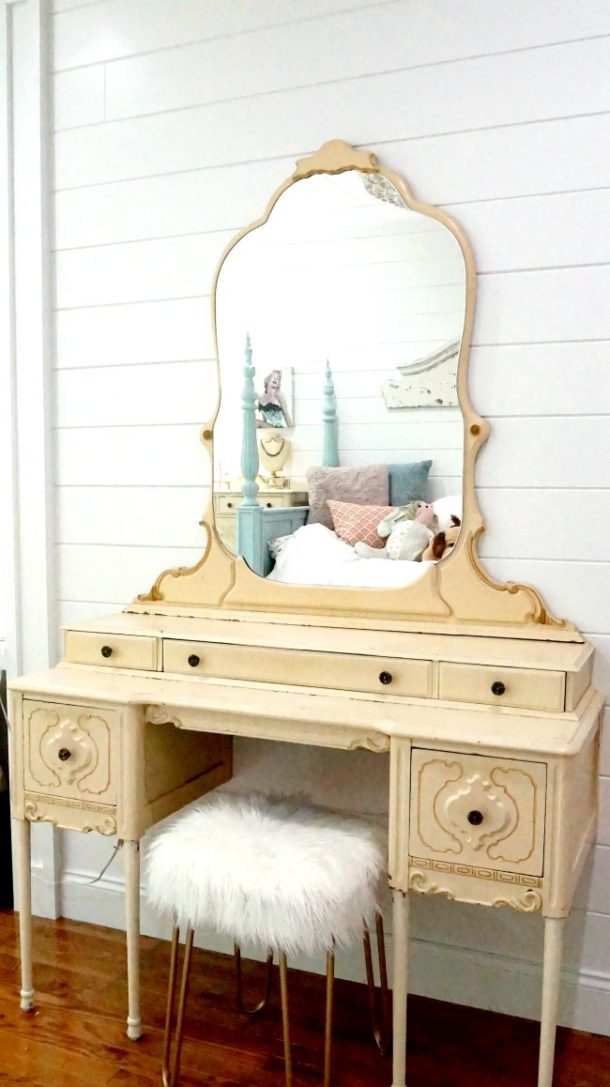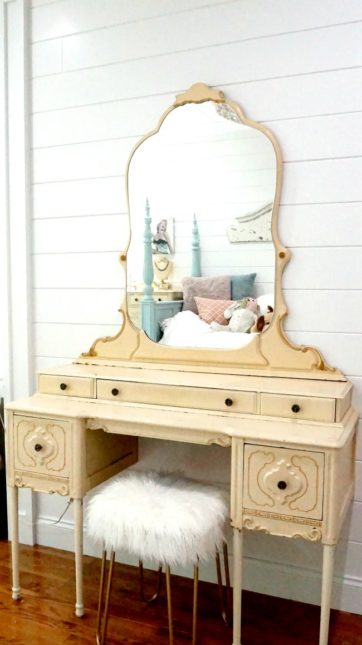 Next up is the old vanity that we found at an antique store and zhuzhed a bit to make it perfect. It was a little short, so we added on some legs to it and attached it to the wall for extra security. It's a really cool mirror, and pretty cheap for what a find it was!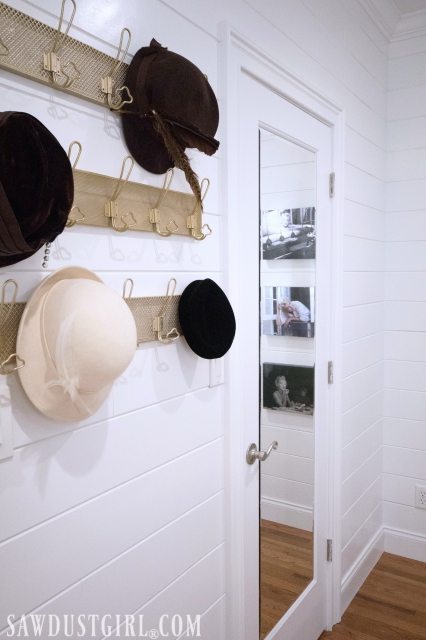 Madison was really going for a "retro glam" room. We found the perfect hooks for her collection of vintage hats. That's another thing about designing–it's important to have a clear vision when looking for décor, otherwise you'll go all over the place and end up having to return a bunch of things. Sometimes you'll still have to mess around and see what 'fits' the room, but having a clear theme and color choice helps. It's nice to have a few key items you can arrange the rest of the room around.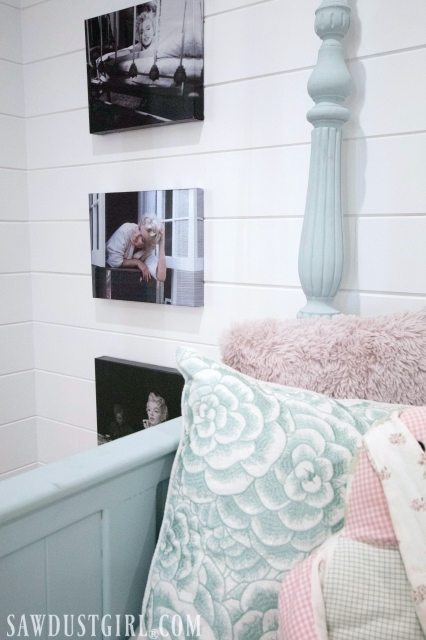 We also found some perfect storage accessories for her built-in desk and bookshelves. We needed functional storage, but Madison wanted it to blend in and not detract from the pretty bedroom décor. Like I said before, either above or below for extra storage! One of the coolest finds here is that golden pineapple. It looks just like another piece of décor, right? A solid pineapple? Well, it's hollowed out like a cookie jar so you can have some extra storage in there, too!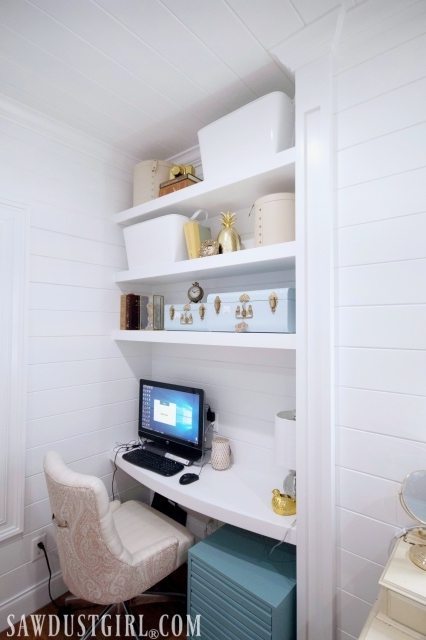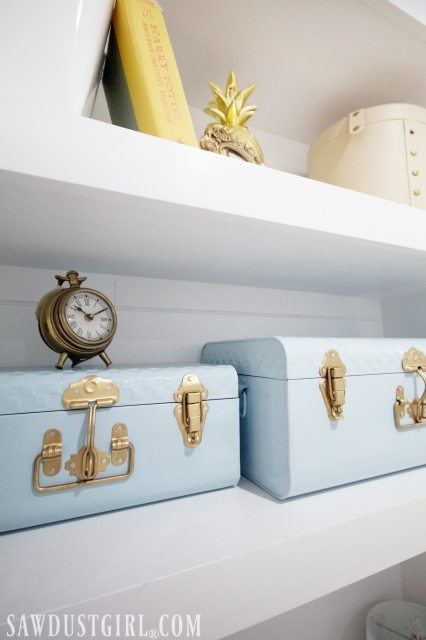 In addition, we found leather hat boxes and some metal luggage containers that were the perfect shade of blue. The clock is also super cool! Unfortunately, it's just a clock, no hidden storage there.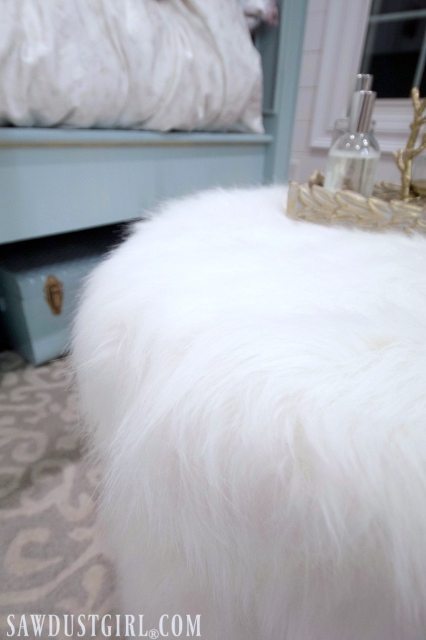 The metal luggage containers actually came in a set of three, so I bought all of them. The largest was too big for the shelves, but fits nicely under her bed.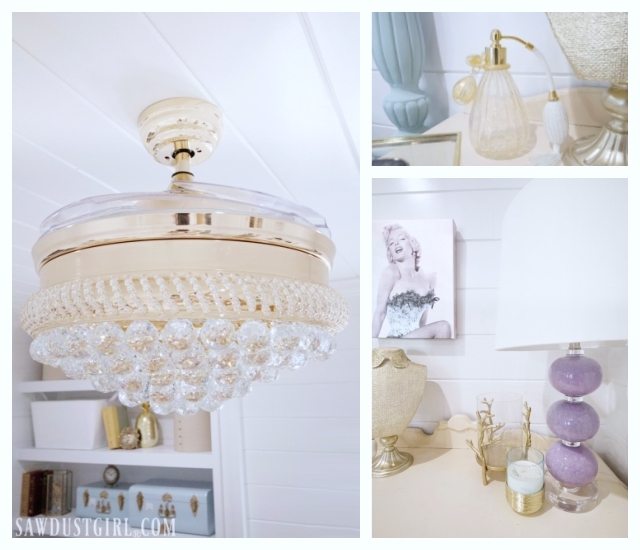 We found a bunch of accessories on various shopping trips to random stores. The accessories are not too large, so it's okay that they take up a bit of storage room. Plus, I count candles and lamps as useful décor, so we still won in that department. This pretty bedroom makes Madison's heart so happy! It turned out better than I planned, and now she's threatening to never move out. Which might have been my plan all along!
Remember, when decorating smaller rooms, just have a focus on what your style or color scheme will be, and it will come together easily! And if you're like me and want to prioritize storage and style, just remember the rule of two: at least two uses an item! Unless it's something you just really, really love, and then you might as well just treat yourself. Decorating is the best part of any remodel, so enjoy!