Hi My name is Ayisha and I'm a  Sawdust Girl in training.  I'm visiting from The Pursuit of Handyness today to share a quick way to modify your Kreg Jig for easier use.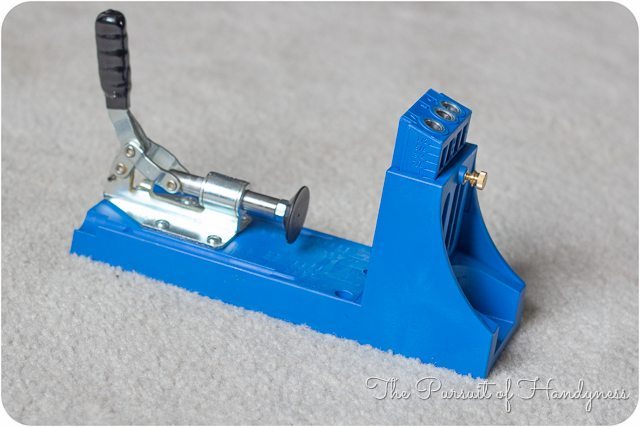 I have the Kreg Jig K3 Master system. I love it to pieces and it's really easy to use.
With this model, you have to slide the drill guide up and down to set the thickness of your wood. You also have to adjust the depth collar on your drill bit to avoid drilling too deep.
It's very difficult to see in the photo above but there are tiny markings scribed into the jig to assist in drilling perfect pocket holes for your project.
Lets take a closer look shall we…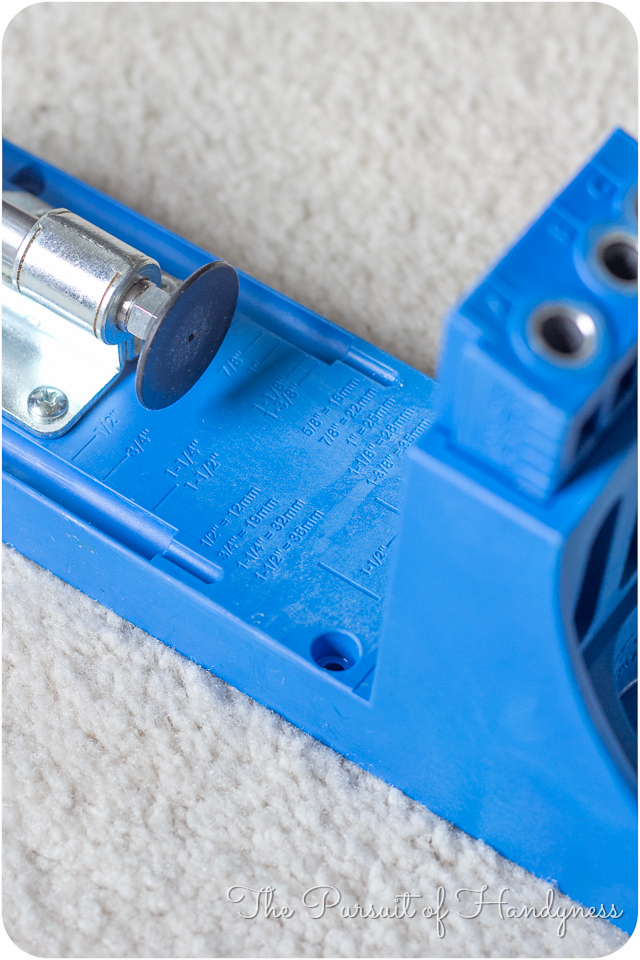 In real life, those marks are the equivalent of a 2 pt font and are really difficult to see. I'm a young woman with 20/15 vision but I have to get all up in my jigs business to see what they say.
One day, I was filling holes with spackle and accidentally rubbed a little on the jig. The spackle was pink but when it dried, it turned bright white. Instantly I noticed how easy it was to read the measurements.
I was so excited that I was ready to yell "EUREKA" and run down the street naked (name that Greek scientist). More than anything, I couldn't believe that the folks at the Kreg Jig company had not thought of it first.
Now this little tip could have easily been summed up in one sentence but I like to be thorough so I've broken it down for you with lots of photos.
Modify your Kreg Jig for easier use
First remove your drill guide from the jig assembly.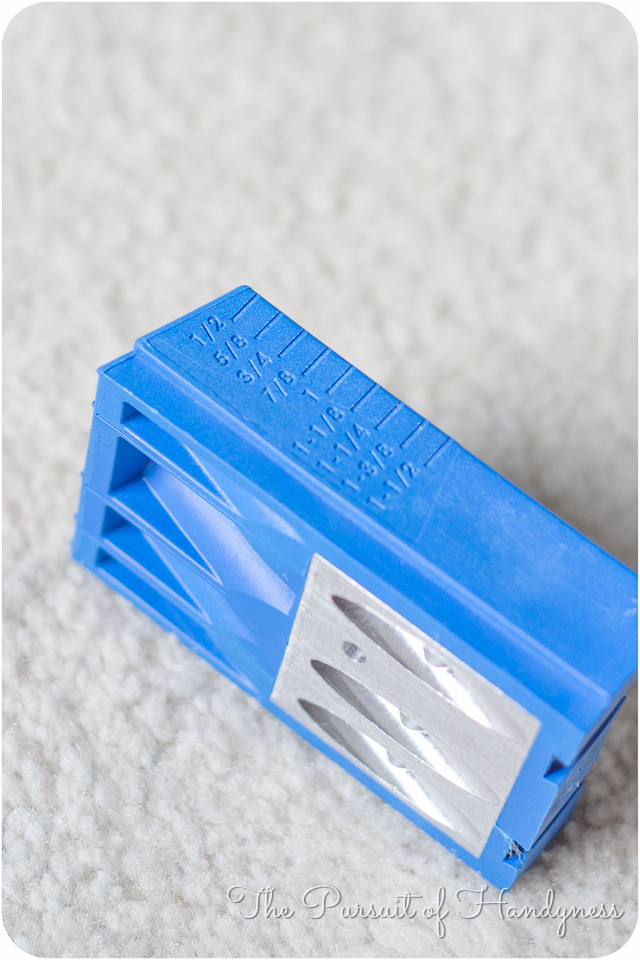 Grab some white paint, a small craft paint brush and some paper towel. I found that the spackle wore off too easy so I'm suggesting you use paint.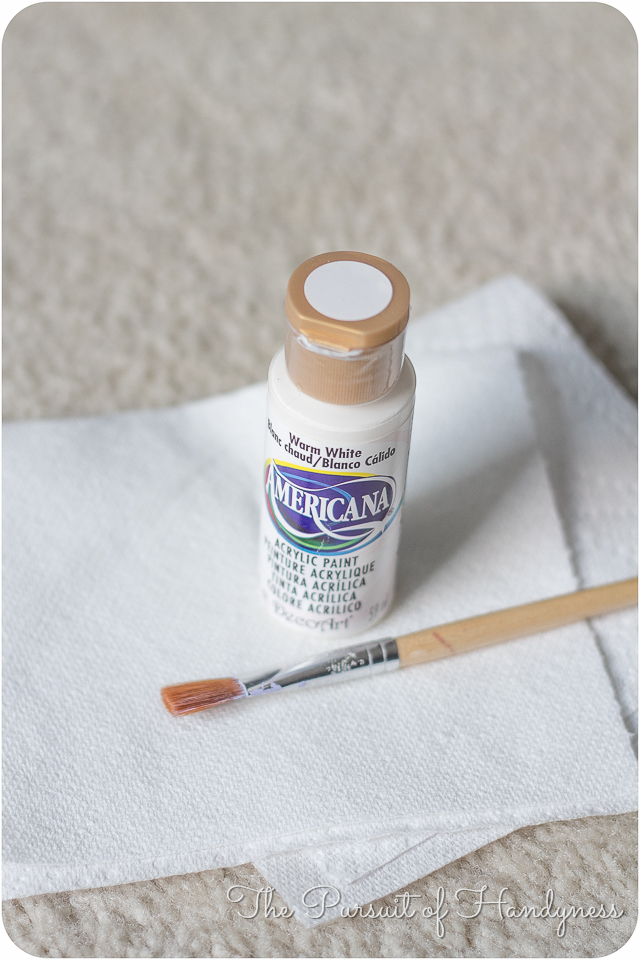 Acrylic paint works good, latex paint works even better to permanently modify your Kreg Jig.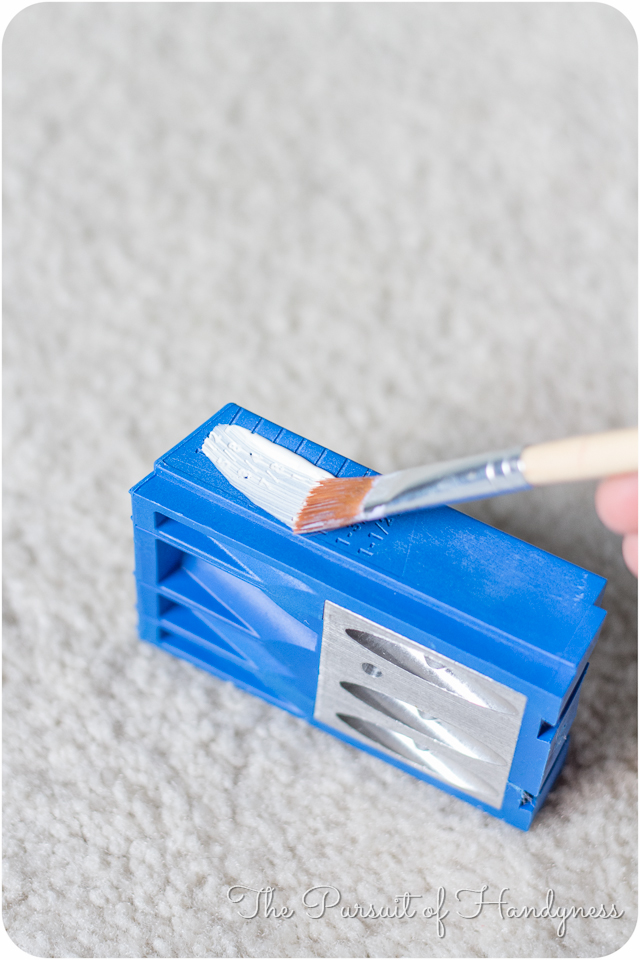 Paint the white paint over the markings making sure to get a lot of paint into the grooves.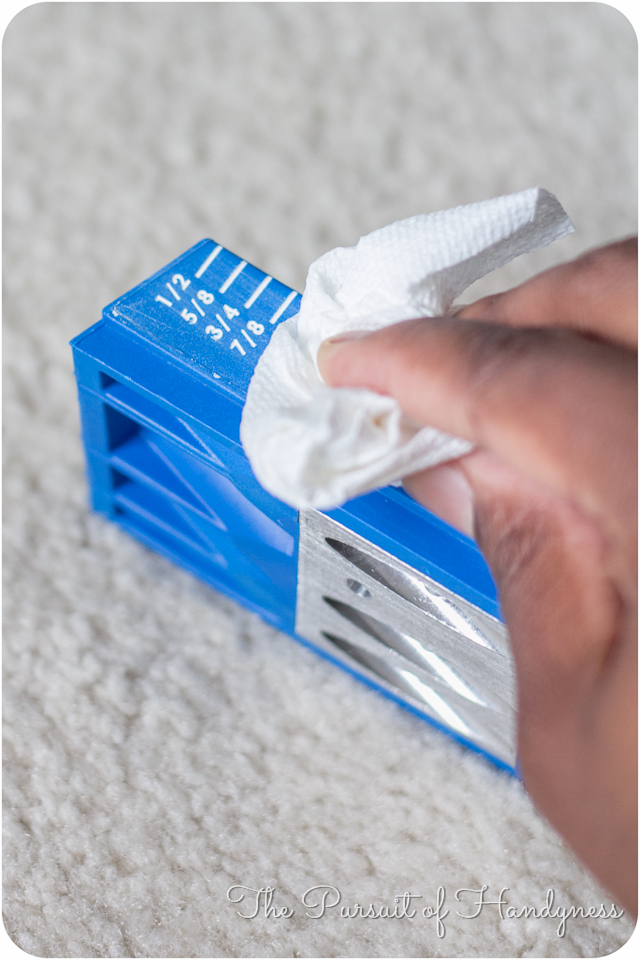 Quickly wipe the paint off with a damp paper towel.
Do the same thing with the markings on the jig assembly.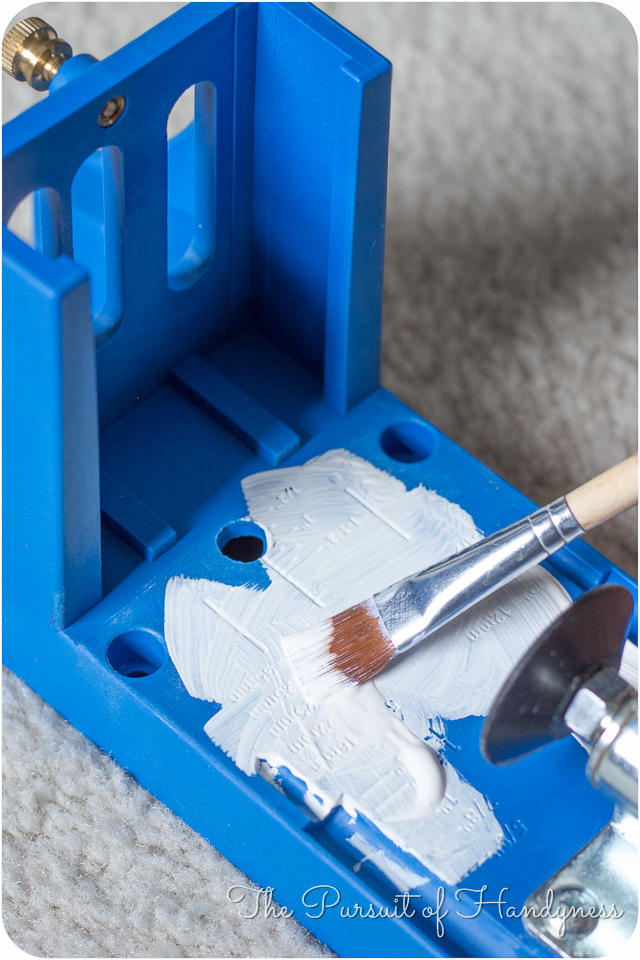 If the paint starts to dry and does not come off easily, use a little bit of nail polish remover to get the excess off the surface. Don't rub too hard or you will rub the paint out of the grooves.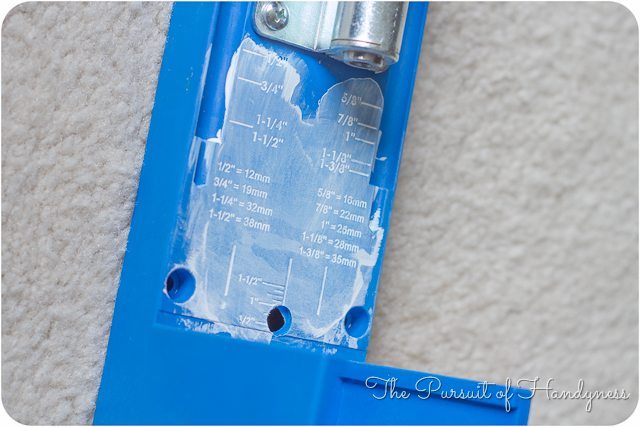 Once it's dry, you should have no problem reading the measurements.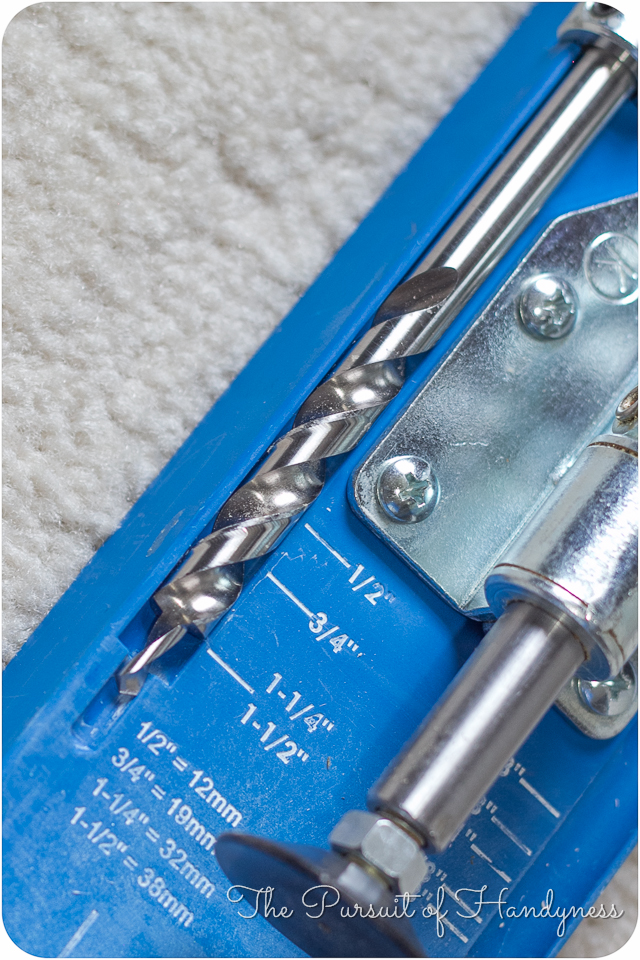 Adjusting your depth collar has never been more precise.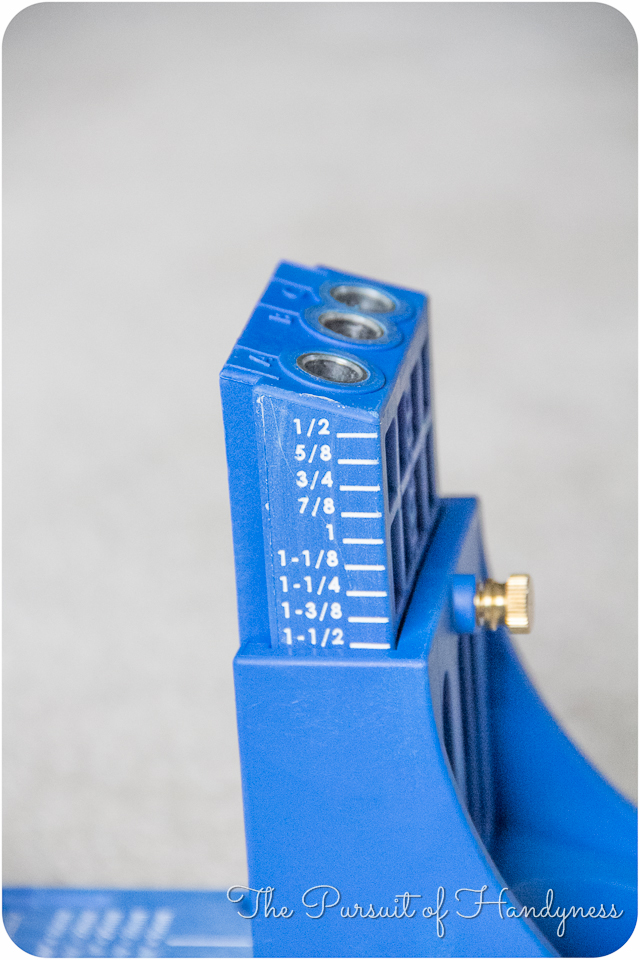 And no more getting all up in your jigs business to read the settings.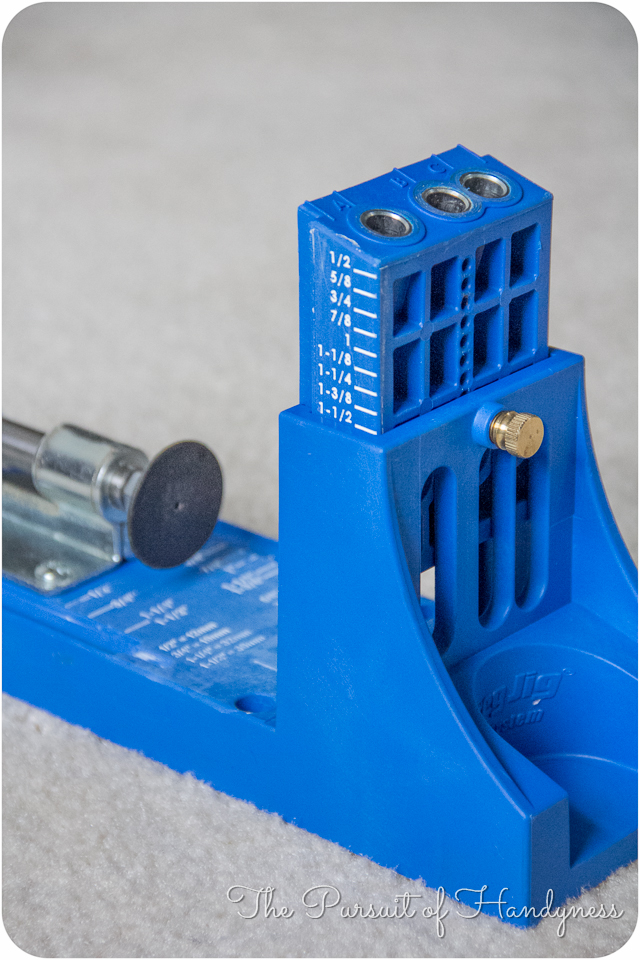 Now go and push some paint into the crevices of your Kreg Jig.  Your eyesight will thank you ! 🙂
Visit me over at  The Pursuit of Handyness  for more quick tips and tutorials.
Related Posts