I've used a Kreg R3 Jr Pocket Hole jig for many years and have been happy with that.  If I could only use ONE pocket hole jig, this would be the one because it can be used for every job; large or small,  in the shop or on the job site.  I can use it to drill box assembly pocket holes as well as on a cabinet after construction to attach the face frame.   Links in this post are affiliate links.
Kreg R3 Jr Pocket Hole Jig

The Kreg R3 Jr Pocket Hole Jig is a two hole pocket hole jig kit that comes with a drill bit, driver bit and its own nifty carrying case that doubles as a stop collar adjustment key.  Place the bit into it's housing and the markings show you where to position the stop collar for the different material thicknesses.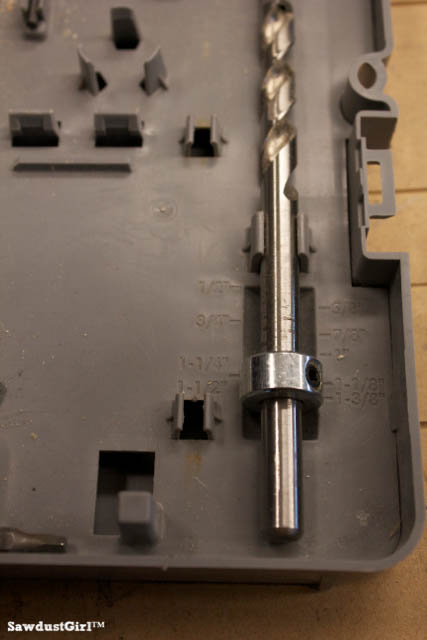 As is, this jig is made for use with a special face clamp that must be purchased separately making that $40 price tag jump to $60.  However, the round portion (which the face clamp slides into) can be removed so you can use it with a different clamp so you don't have to spend the extra $20.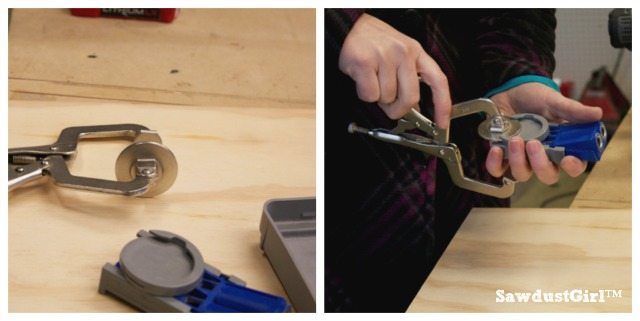 The Kreg R3 Jr Pocket Hole Jig really easy to use.  Just set the drilling depth to match the material thickness by squeezing the plastic tabs here and lining up the arrow to the correct thickness.  Then release the tabs.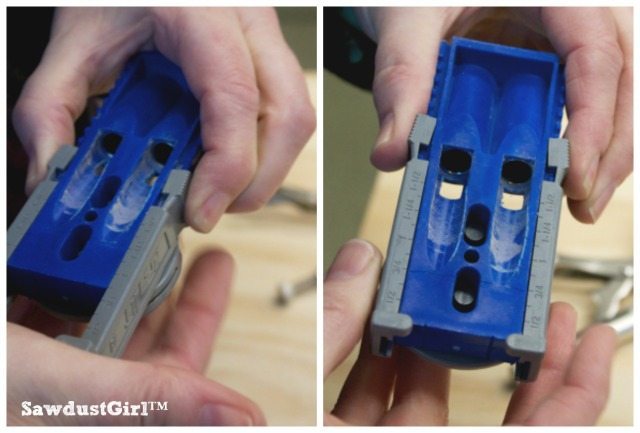 There is a small degree of difficulty when it comes to drilling because you are drilling towards yourself; with the drill and the long drill bit — it can be a bit of a reach. It doesn't feel completely natural to "Pull" the drill towards yourself while drilling.  But it is what it is.  I wouldn't want to do it all day long but a few holes here and there — not that big a deal.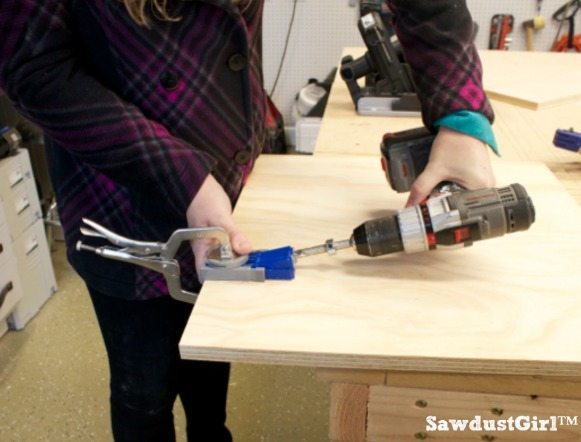 Wrap up:
I like this small jig because I can use it remotely on giant built-ins where it would be impossible or extremely difficult to drill pocket holes in the long side pieces.
The cost of $40 for a little plastic jig plus $20 for a special clamp that I don't use for anything else in my shop making the whole "kit" $60 — seems a bit high.
With that being said, I've looked at the other small jig options I can find, read tons of reviews and haven't seen anything that I think will work better.  So, currently for me, this little Kreg R3 Jr Pocket Hole Jig is the winner in the small, portable pocket hole jig category.
Check out my other pocket hole jig reviews: Kreg K5, Porter-Cable
Related Posts