Ready for some more trendy Halloween décor ideas that let you experiment with and enjoy current trends and then pack them away before they become passé. Here are 5 more on trend decorating ideas. See Halloween Trends 1 – 4.
5.  Au Naturel
I love the antlers, horns and tortoise shells I am seeing everywhere, but feel a bit squeamish about actually hanging something that used to be alive above the mantle. So I might play with this trend by making taxidermied ghosts and giving my pumpkins twig antlers. Bugs, birds, and creepy crawlies are the name of the game for Halloween.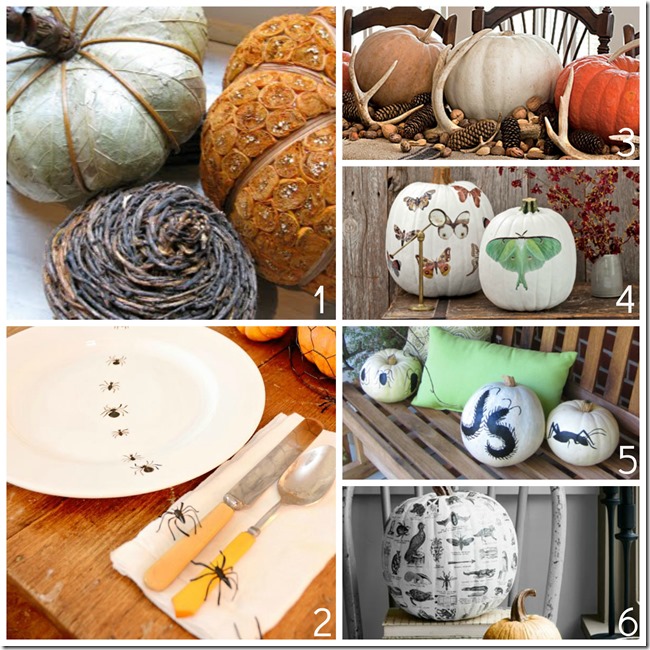 I love love love the vintage apothecary/botanist/naturalist/taxonomis etc. décor trend, but I can't really incorporate that into my everyday home furnishings. So Halloween is the perfect time to play with these natura elements, they don't need  to fit with anything else, it's Halloween after all.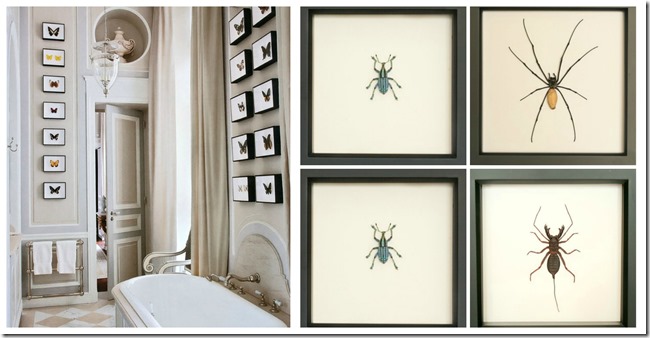 How fabulously creepy would a gallery wall full of pictures (or the real thing if you have it) of bugs and spiders be?!!! Like if you replaced all of the lovely butterflies in the photo on the left from arkpad with the pictures on the right from Bugs Under Glass.

6.  Pop of Color
Have a color you love but can't work it into your current color scheme, or feel like you just don't want to live with it all year long? Try it out in your Halloween décor. One vibrant color mixed into otherwise muted or monochromatic décor can really get your Halloween a poppin!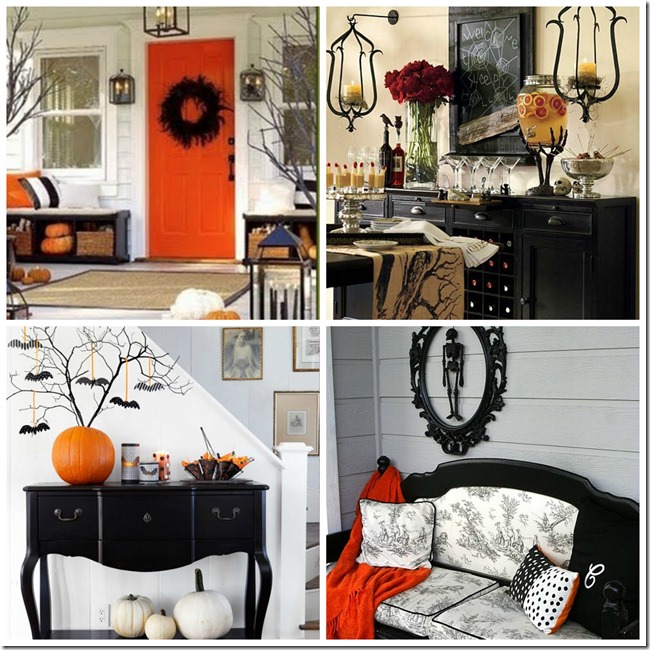 Pottery Barn orange door with black wreath via Vintage mint.
Pottery Barn via It's Written on the Wall

Black console table with orange pumpkin from Good Housekeeping
Ikea and Dollar Store finds create an awesome color popping front porch by ShabbyBlog.
Don't feel limited to traditional Halloween colors. Fabulous Halloween décor can come in pastels, primary, jewel tones, acidic colors…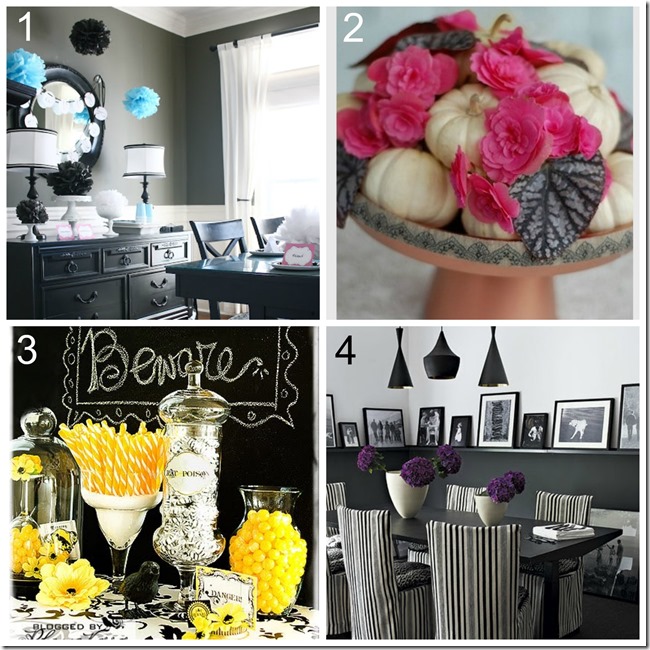 7.  Neon Pop of Color (so easy to mix and match trends)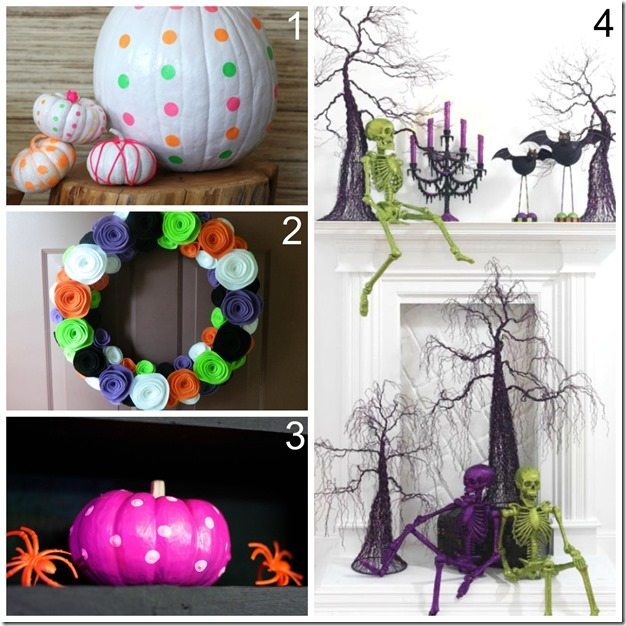 8.  Metallics
Aged gold and brass are coming on strong in the design world, so why not incorporate them into your Halloween décor?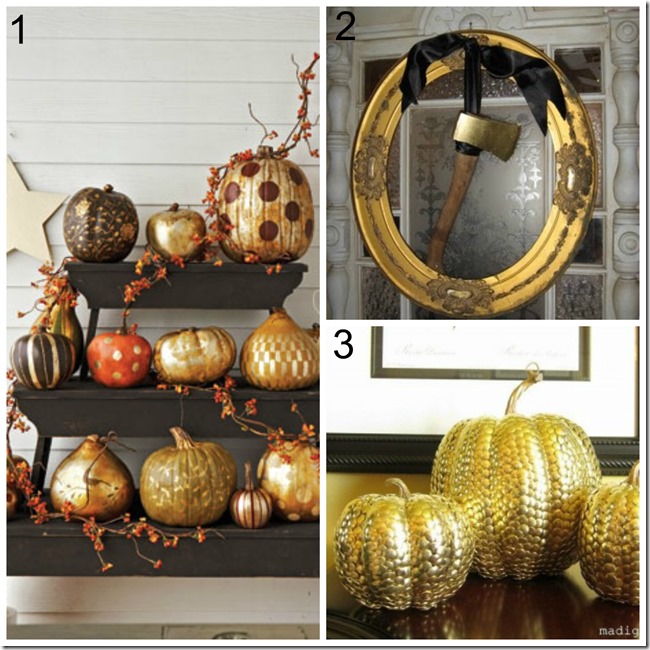 Gilded pumpkin and gourd display via Country Living
Wreath with an ax is from Buy Borrow Share
I don't think I have the patients,or the thumb strength, but I love these brass tacks gilded pumpkins from Madigan Made
But just because Gold is back, don't discount silver. Silvered metallics will always be classic and can add class and elegance to any Halloween display.
So fab silver entry table display by the Decorated House
DIY silver door knocker by Monmivore's Dilemma
Bejeweled white pumpkin with silver spider from BHG

9.  Modern/Minimal/Monochromatic
Sometimes a little can go a long way. One beautiful pumpkin sitting on a front step, three spiders hanging from a chandelier. It's OK to give a nod to the season without going all out—plus it makes clean up a breeze!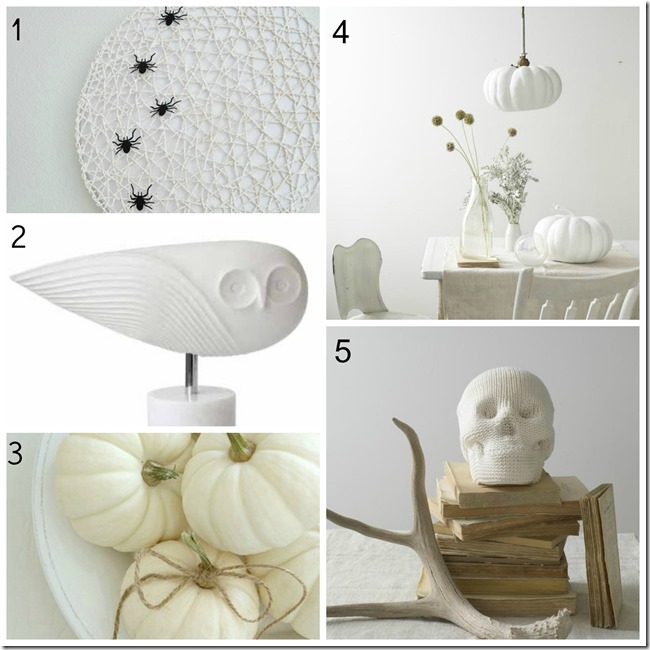 Spiders on the moon by Sally J Shim
Owl Sculpture by Jonathon Adler
Bowl of white pumpkins via David Mitchell Uncensored
&  5. from Sweet Paul Make.
Check out the next batch of Halloween Ideas!