Hi friends! I can NOT believe I haven't written an update since last July. I have been working but nothing has happened quickly. It didn't seem like I had much to share in August or September…and it just kept feeling like I had NOTHING to share.
Quite a few projects are now coming together to the point where I have a beginning, "how to", and an end – which is what I like to have in order to share a post.
After spending the last 2 days sorting through all the photos and video footage stored in my "for posts and videos" file, I see that I probably could have shared an update sooner…like maybe in November.
Better to catch up now than never, right. So here's a quick recap of the last 10 months.
Paint new drywall
First I had to prime and paint all that new drywall which was the big milestone in my last Lodge update post.
Idaho Treasures
Then we went to Idaho to help Dad sort through fields of old farm equipment and sheds full of … well all sorts of old things that Julie and I felt were treasures that we could make something cool out of. We wanted to keep a lot more we had to pay by the foot to have all this stuff trucked out to TN so we capped ourselves at 16′. You can bet we stacked it as high as we could!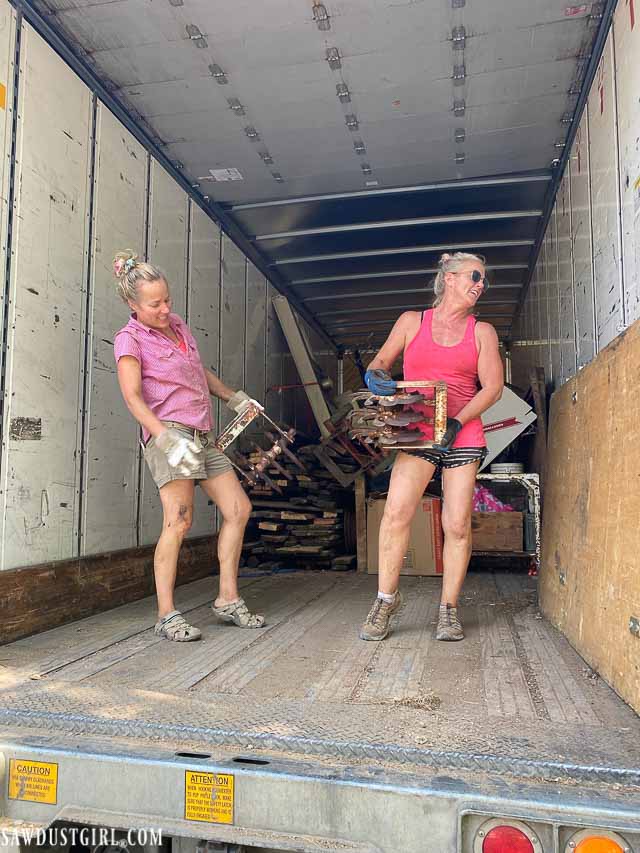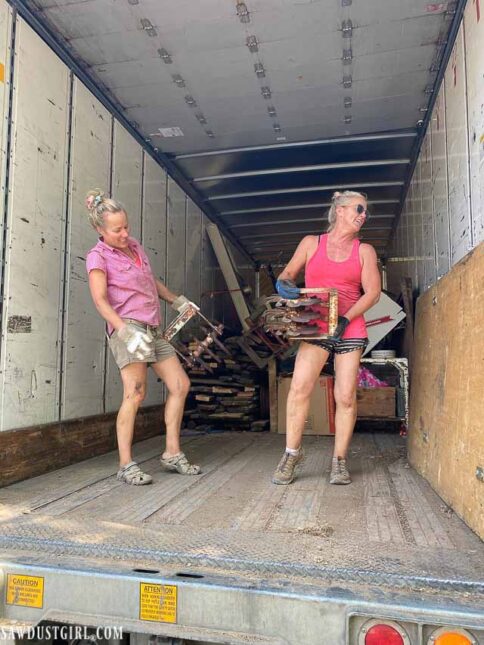 A lot of what we shipped out was 60 year old lumber saved from when they tore down our old mangers and fences. The lumber is really the ONLY thing I have a clear line of sight to how it can be used. The other stuff we basically just payed a nice chunk of money to move it from one storage space in Idaho to a new storage space in TN. (Julie and I are both working on our issues with "hoarding".)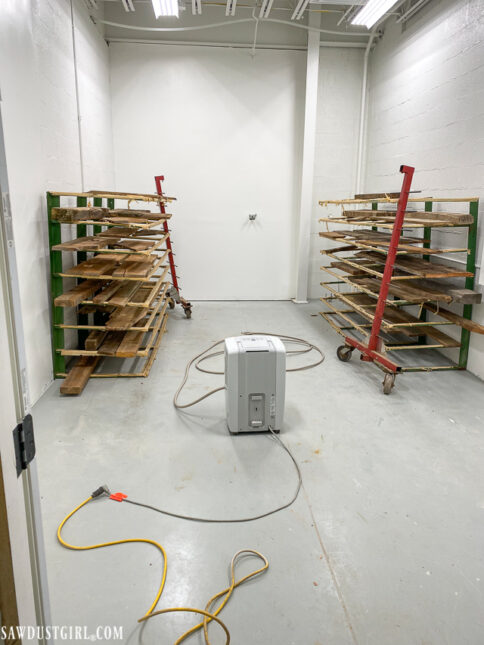 Madison
In August, Madison moved out to live her own adventures. We all loaded up a rental truck, then she and I drove 15 hours to her new life. Wes stayed at home to work and look after the dogs. I spent a few days helping her move in and get set up in her new place. We are proud of her and obviously this is the natural course of a child growing up. However, we miss her. Thankfully, texting, phone calls and video chats make it easy to stay connected.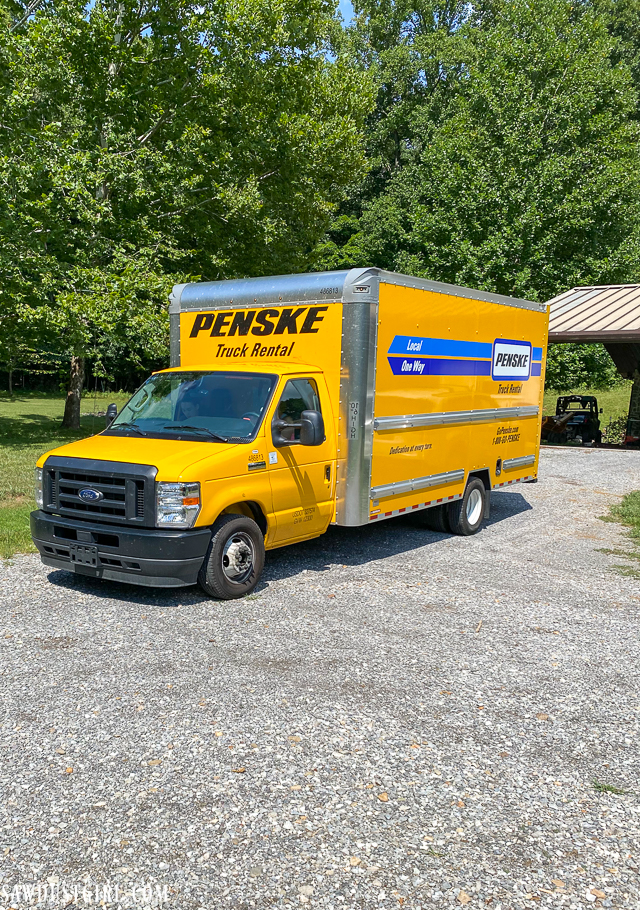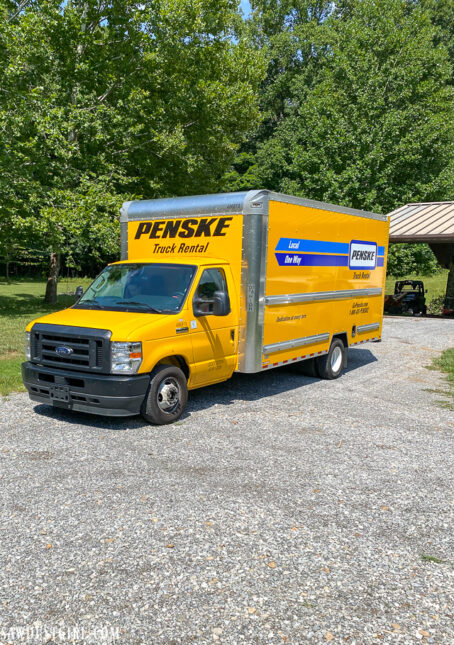 Loft – Guest Suites
We ended up adding drywall to the ceilings in the three small loft rooms. This after NOT having the pro's do it because we had plans for a super cool industrial looking something or other. Spending almost every day in the Lodge, I got a feel for the place that I hadn't experienced before. It rains here in East Tennessee quite often and almost as often, that rain is a torrential downpour. That kind of rain on this metal roof is quite loud. It was too small a space to make it worth having the pro's back. It wouldn't have been significantly more had I had them do it as part of the whole job. We had more than enough left over drywall and mud.
My (sometimes one, sometimes two) weekend helpers and I installed the drywall. I mudded, and mudded, and mudded. I'm a really messy mudder and the loft has some areas that required me to hunch and crinkle my body in uncomfortable ways. Needless to say, I had many cranky moments during that process. AND I haven't even finished the last room yet.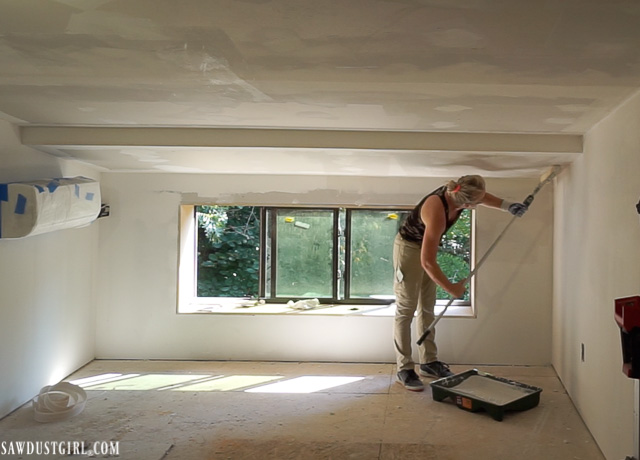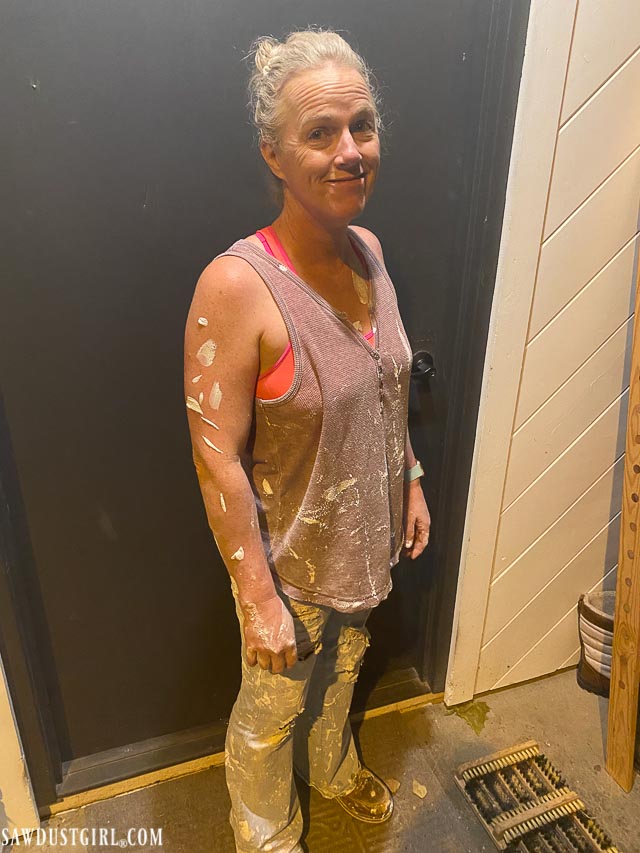 Floors
I found a stopping point at the doorway into the last room and stopped there so I could, sand, prime and paint – and then install floors up in the two rooms I had completed. (Keep in mind that every time anything is delivered for "The Lodge", we have to carry it all up by hand.)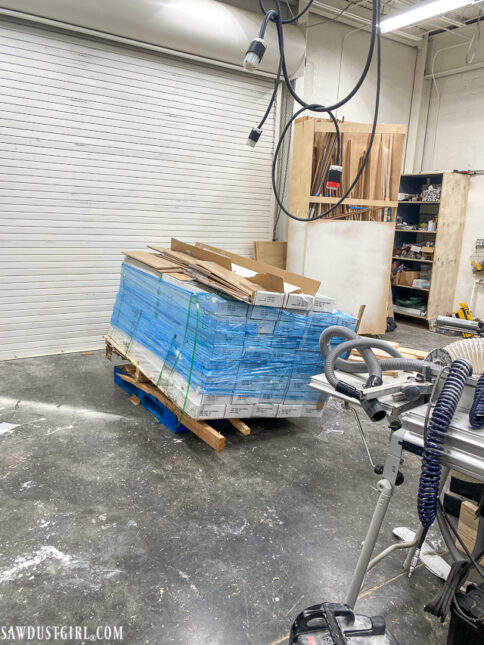 Madison AND my sister Bonnie were coming for Christmas and I REALLY wanted to finish a guest suite for one of them to stay in! I chose these engineered wood floors for the rooms and was planning to tile the bathrooms.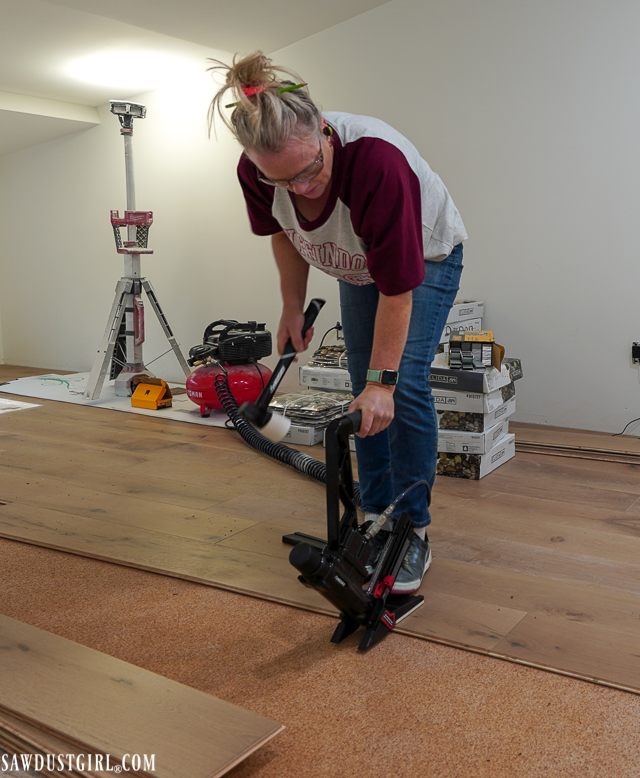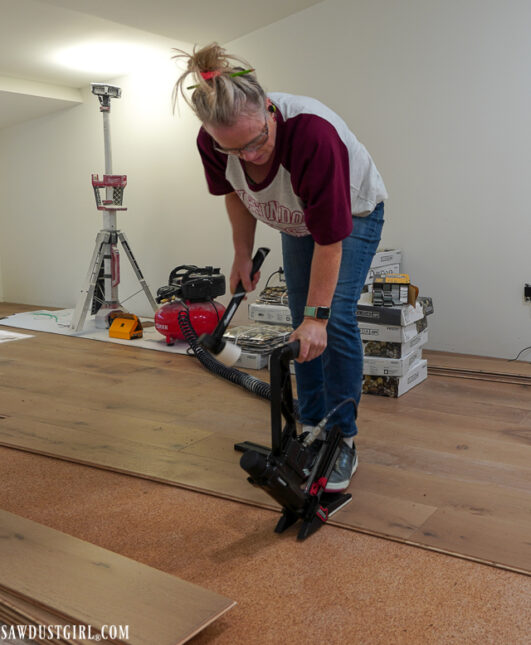 I found some pebble stone that was going to look SO COOL on the floor (and shower wall). After struggling with a 3 ft section of the floppy backed tile on top of the anti-fracture mat (I had left over from my Maryville Jack-N-Jill bathroom) I scrapped doing tile on the floor. This after already having re-done the anti-fracture mat because I didn't mix the mortar right. I tore out the tile and the anti-fracture mat, scraped up all the mortar, and installed wood.
The whole bathroom was a messy mess of mortar and thinset all over the walls and me. Had a few more cranky days with this project.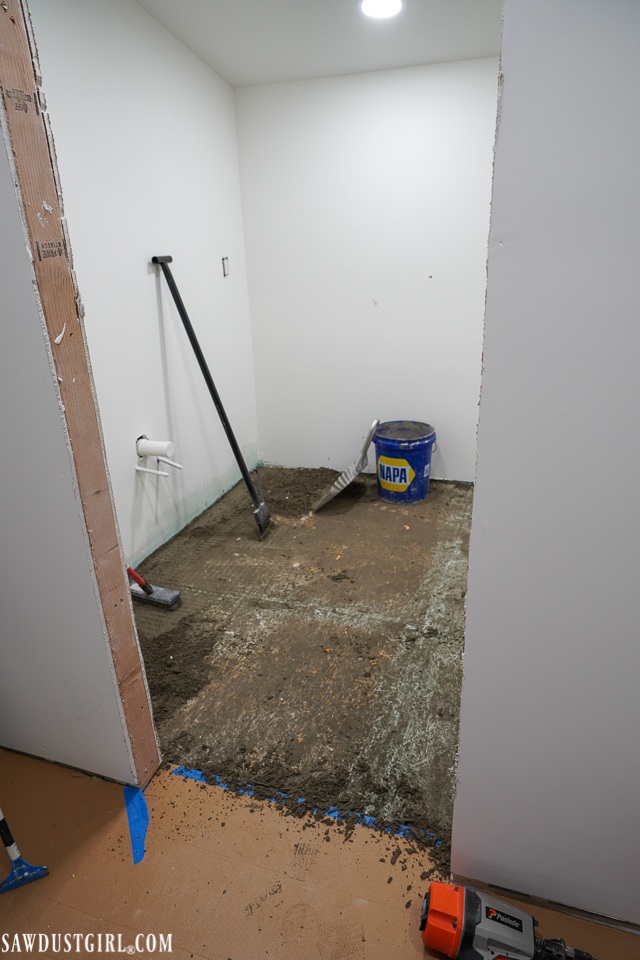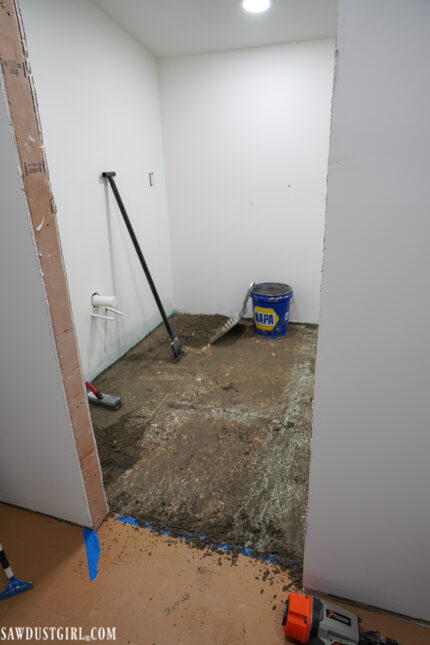 I was really pushing myself to get that suite ready and I COULD have done it. However, at a tipping point on the timing spectrum, it became clear that even if I did finish the guest bathroom, there wouldn't be any hot water for them to enjoy. The difficulty of finding labor (as well as products and materials) has not gotten any better since my last post. I could NOT get anyone out here to get gas to the tankless water heaters.
Main floor
I went back to working on the main floor of the Lodge to work on the kitchen/great room. I rented a flooring grinder to remove all the adhesive from the glue down floors we removed.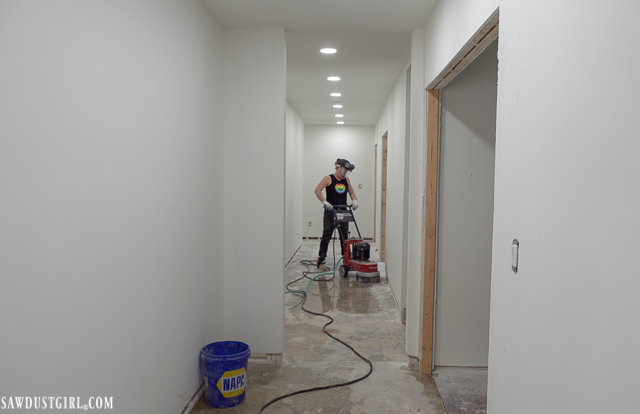 Christmas
We enjoyed having both Madison and Bonnie with us in our 2 bedroom, wonky house. Madison was here for 10 days so she took her old bedroom. Bonnie slept on the couch and used the bathroom in the master bedroom because it's nicer than the one in the guest room. Bonnie is a chiropractor at Revive in the Portland area and we all enjoyed the best adjustments EVER. I need to make sure Dad buys one of these massage tables so we can get adjustments when we're all in Idaho together. (I have mine from when I had back surgery.)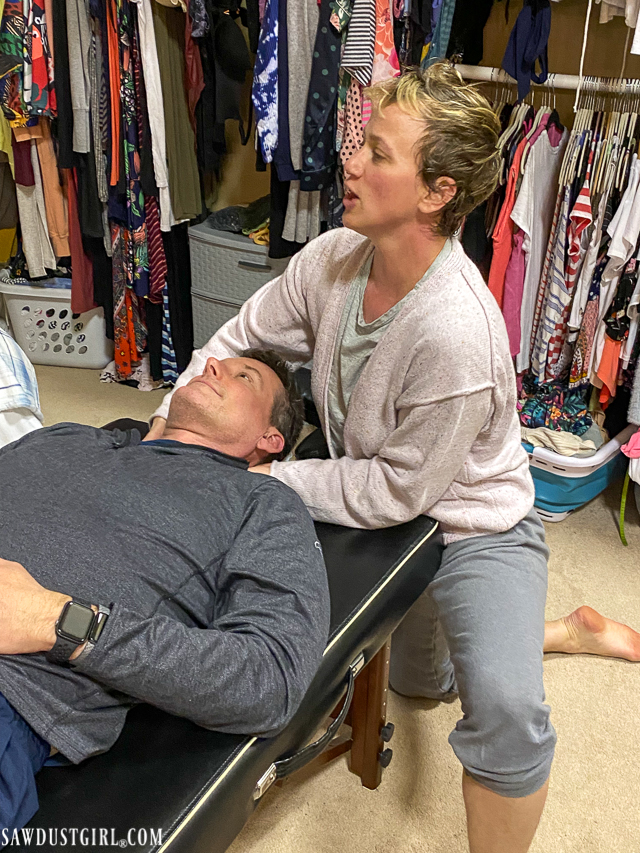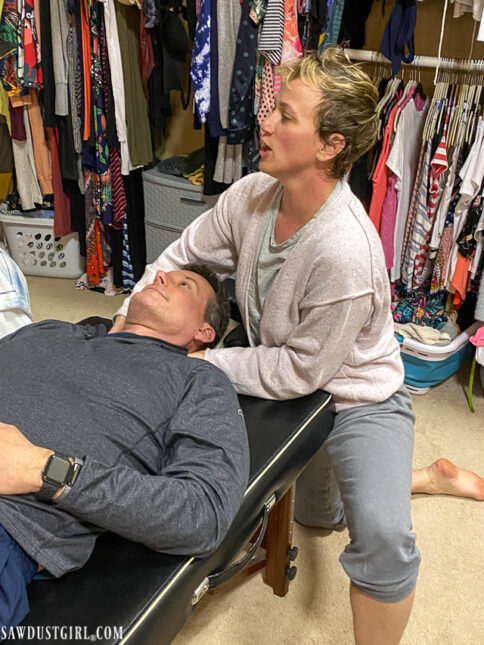 (Also, a whole wall in my bedroom is my temporary closet. I have a lot of clothes. It's part of that hoarding issue I'm working on.)
Kitchen/Living Room
Whitewashed Pine Ceiling
I drove 8 hours round trip to Kentucky to pick up some tongue and groove, end matched Pine carsiding. I finished each board by hand before installing, which I did with my weekend helpers. (I am working on a separate post and video tutorial for these Scandinavian, whitewashed pine ceilings.)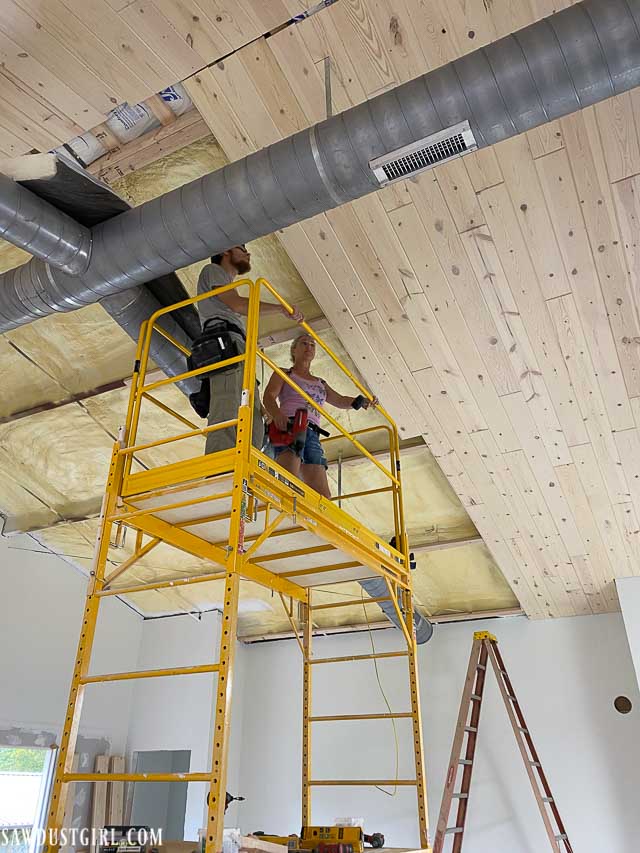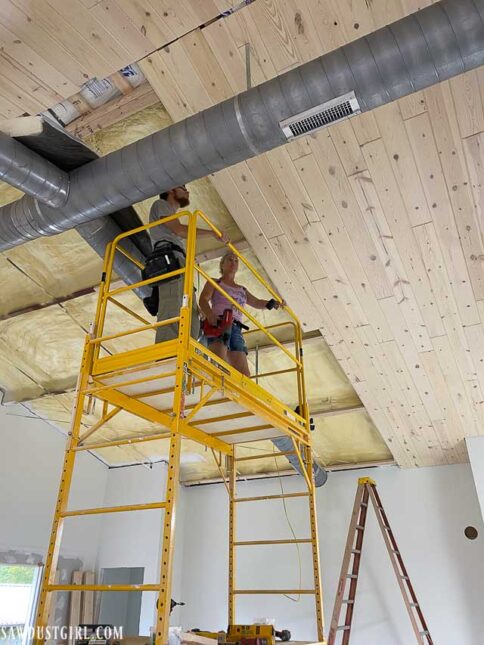 Beam
I made a bigass beam that took months to finish because I miscalculated the length and didn't build enough sections and my weekend helper is slammed with his day-job and hasn't had availability. We literally just installed the last section it on Saturday. (I am working on a separate post and video for making and installing a bigass fake beam.)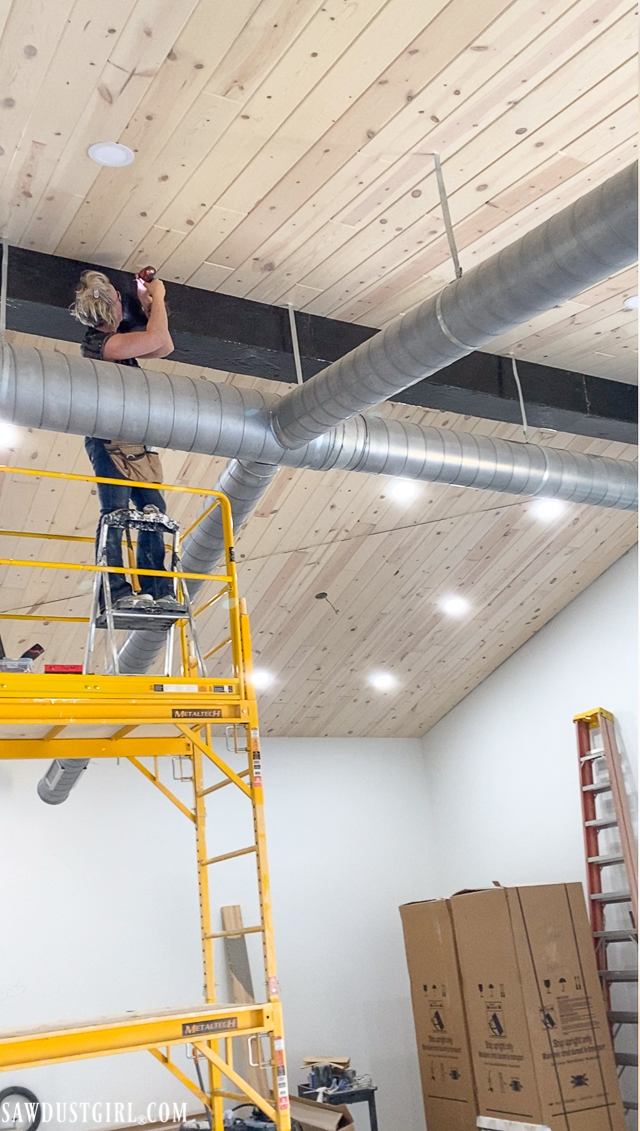 Grid Floor Experiment
I've been working on this beast of a floor for way too long. I won't get into what I'm trying to accomplish or what went wrong because I need the end of the story before I can share all the rest. Not to worry though, the end is nigh. I think I finished it last week but I'm letting it sit for a bit before I look at it again and decide for sure. (Then I'll definitely share a post of how not to ever do what I did.)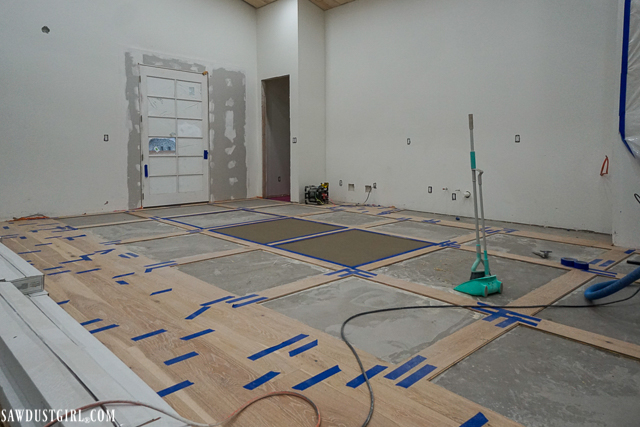 Bathroom Floor Experiment
I ended up also tearing out part of the floor I installed in the powder room. That is another experiment that I decided I couldn't live with. More on the what not to's AFTER I finish something I'm happy with. I literally can't make excuses for a project that I hate. All I'm ready to confess on these FAILS is that I'm experimenting with concrete.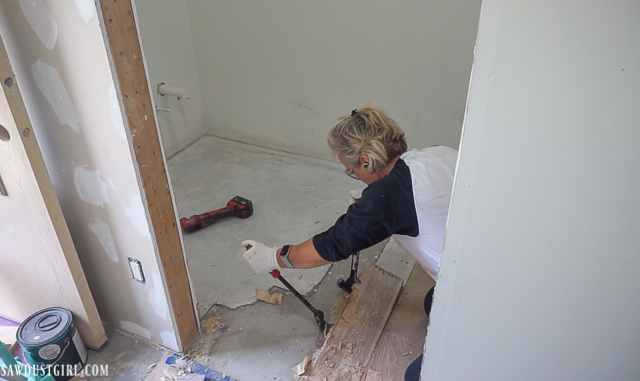 Concrete Backsplash
The only concrete experiment I've done and am happy with is with vertical surfaces. It took some failed attempts but I've got a technique figured out and will definitely do more with this. (Obviously will do a tutorial later. 🙂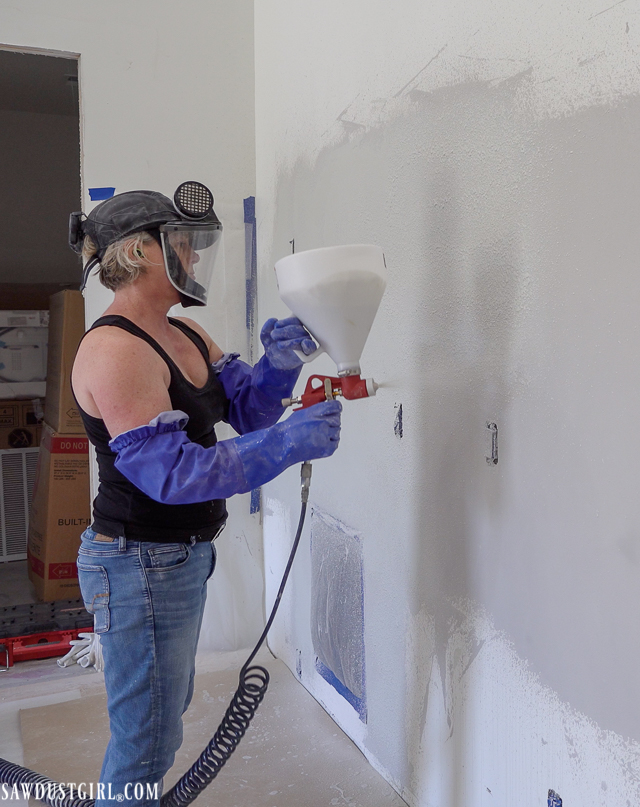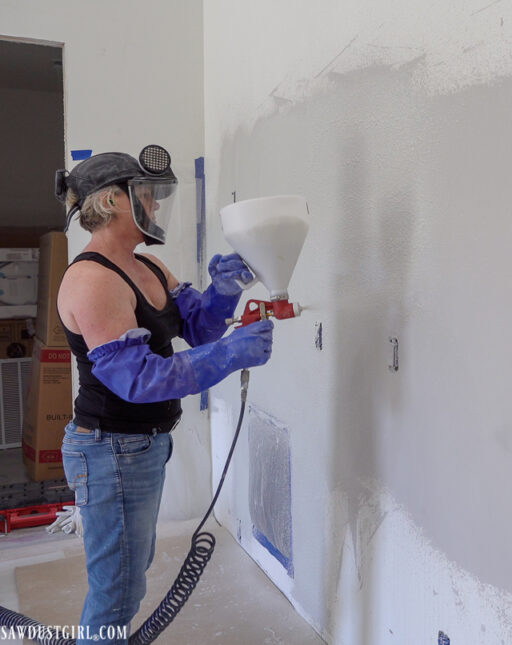 Front Entrance … ? … ? … ?
We've working towards getting a front entrance to the second floor built for nearly a year. It's been a frustratingly loooong process because of the "everyone is slammed" state of the world. In the meantime, (of waiting forever for the slammed engineer), the price of everything has gone up something stupid.
I don't know what we're going to figure out here but there has to be some good solution.
We'll do what makes sense and figure it out as we go — like we've been doing. The plan has evolved so many times I can't even remember all the iterations.
All I know is, I'm building a permanent, amazing kitchen and great room. For now, we'll be using the rest of the main floor as "our house" and use the loft for Build Guests. But When?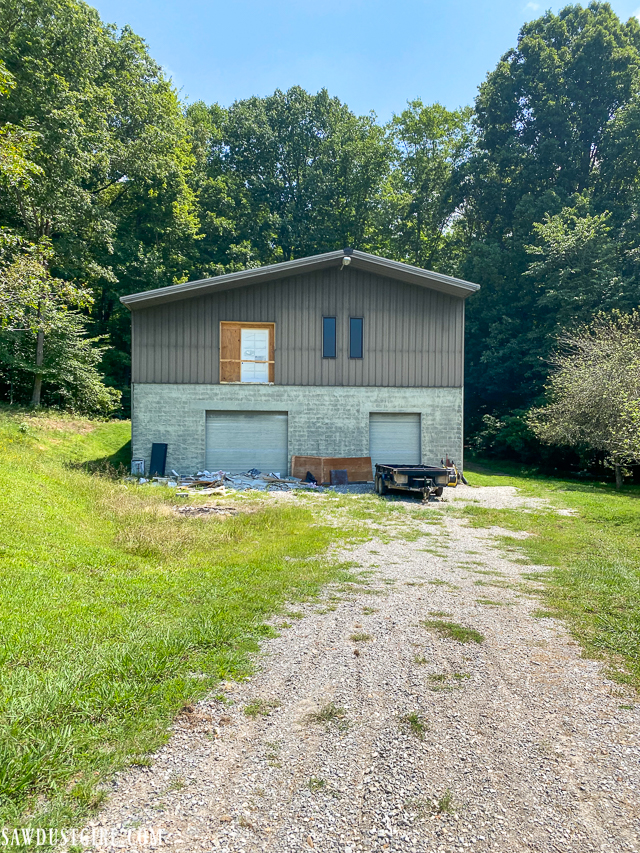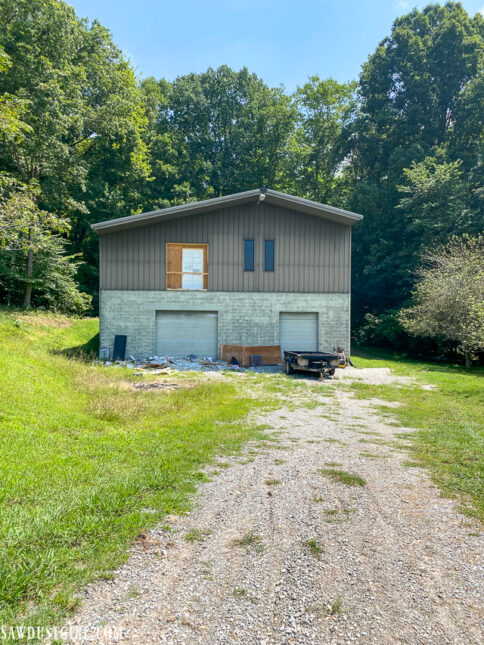 Build & Breakfast
This place is nowhere close to providing a luxury suite. But if you want to experience a completely authentic "Day in Sandra's life" experience, I'm all set. Of course, catering all projects around what you want to learn.
Lodgings: will either be a tent in the yard or Madison's old room where the cold water is so difficult to turn on you have to use a wrench.
Food: even bread and water taste great when you've worked hard all day (JK – Wes's cooking IS delicious!)
BYOB to an evening "put your tired feet up" campfire party.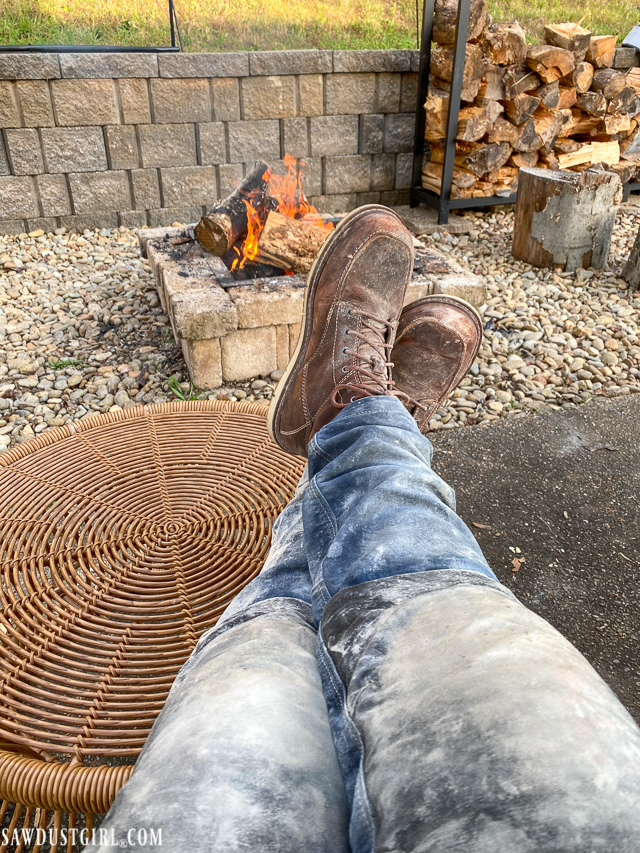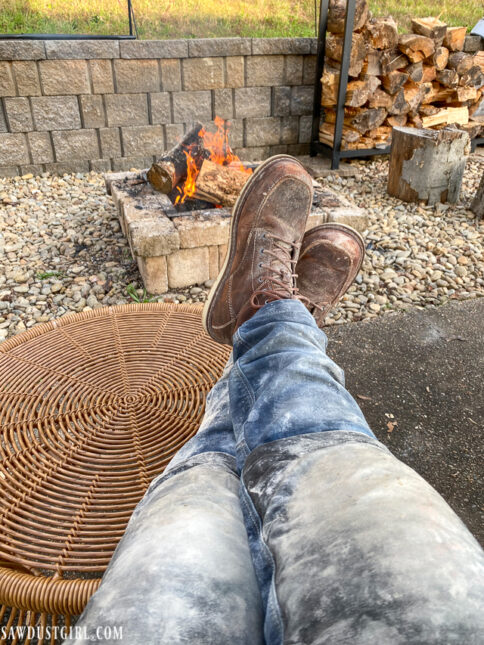 If that truly sounds like an experience you don't want to miss out on, email me. For anyone else, the answer is, "Soon-ish".
More soon. Promise!