Have you ever played Mad Gab? We love it!  I couldn't find Halloween Mad Gab anywhere so I made my own. We played it at Madison's 5th grade class Halloween party and it was a big hit!  I played it with some girlfriends and we had a blast too.  So it's great for all ages.  If you're looking for Halloween party ideas, give this game a try.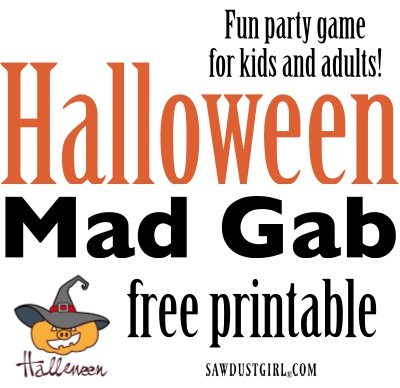 How to play Halloween Mad Gab:
Print the free printout at the bottom of this post.
Cut out "cards".

Each card will have one "weird" MadGab phrase with the corresponding answer.

One person selects a card and reads the MadGab phrase out loud to the group.
The first person to shout out the correct phrase wins and gets to read the next card.
Alternately, one person can read all the cards to the group.  This is great for a school class party.
The answers are included in the free printout.  I didn't want to spoil the fun you might have trying to figure out all the answers!  Can you get them all?
COUNTER ACT YOU LAW
WE COULD WE ITCH
BOB IN FOR UP HILLS
AUNT ED HOW IS
CAN DEE APE LESS
FRAN CAN STAY IN
HE ADD STOW IN
GRAVY HARD
CAN DECO YARN
THEM YOU ME
HOW LOT THEM ON
MOW IN STIRR
GO STING LEG GRAVEY HARD
MOW IN STIR AM HASH
BELL A CAB AT
GEAR HIM HER HEEP ARE
FLY IN BEE ARE ROOM
HE ADD LESS HOW ARE SEA MAN
HE ARE VEST MOW ON
GO FIN
GO EAST
DOE KIT OR JAY CAL
SKI LOT ON
DO ENGINE
WE ITCH
THE RAIL ARE
SICK ARE CAR OH
TO MOB IS TONE
WE CHESS CALL DEAR ON
JAY CALL AN TURN
SCAR ECO STUMP ARE TEA
See if you can get them all.
Free Printable
This Halloween Mad Gab Printout will give you the above mispronounced phrases with the corresponding correct phrases.
Other Halloween Party Ideas