Sometimes I look around at ALL the things that need to be done in this house and it feels like EVERYTHING still needs to be done and like I haven't accomplished anything.  But we've been in this house for two years now and I've been working really hard so I have to have accomplished SOMETHING.  So today I'm taking stock.
When we moved into the house we were living out of wardrobe packing boxes because there was literally no where to put our clothes.  The master closet was large but there were no shelves or hanging rods, the existing "cabinets" didn't utilize the space well and it was built out of the poorest quality plywood imaginable so I ripped it all out.  The Master Closet would be my very first project in this new house.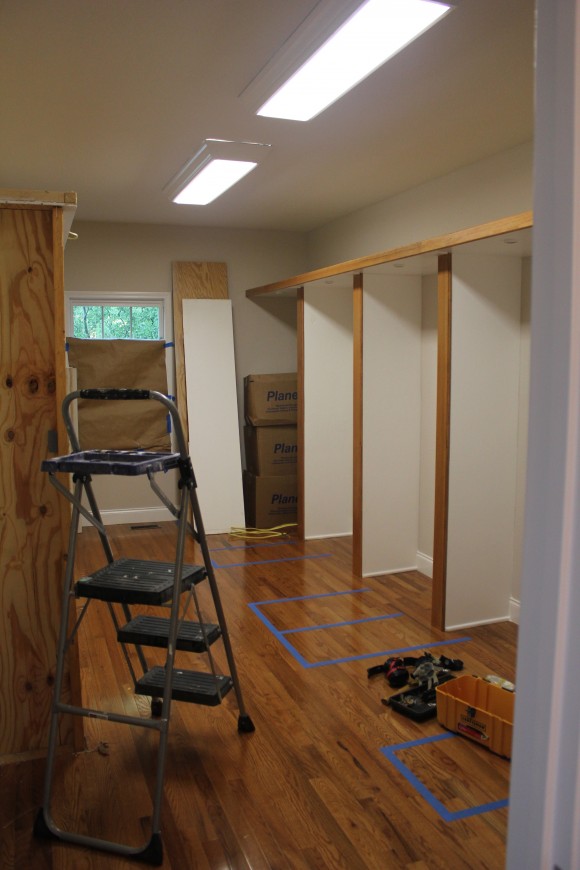 Master Closet before
It took me 4 months to complete this closet.  In hind sight, I should have started out building my workshop and getting organized.  Every other day I had to unpack boxes in the garage to find some tool or another that I needed and because there was NOWHERE to put anything away I'd have to put everything back in the boxes or line them up all over the floor — in an effort to be somewhat organized.  But I was like a horse with blinders on and wanted to finish the closet so we could put our clothes away.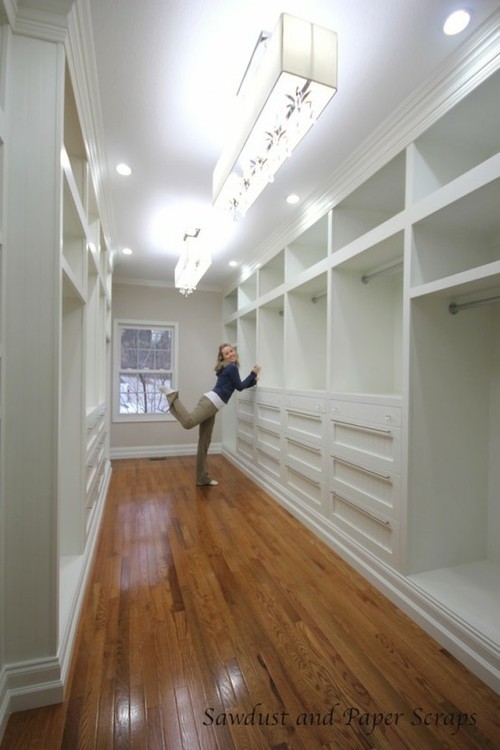 It's still not finished.  I have things to add–mainly my shoe wall but that won't come until I decide if I'm changing the wall that it needs to be built on and I won't decide that until I get to the Master Bathroom redo…  I add a little here and there when I have a day or two and need an instant gratification project.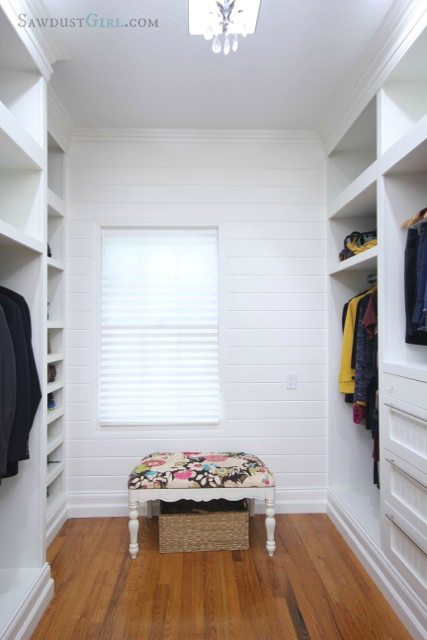 Wes and I did a couple projects together on the weekends.  We screened in the porch.  We had the deck stained and the porch painted for us.  Yeah for hiring a COUPLE things out.
At some point during my closet build I got tired of digging through boxes and took a detour to build cabinets for my workshop.
While still finishing the Workshop, my parents came for a visit and my Dad always needs a project to work on so we decided to install a pocket door in the Laundry room
Then I finished my workshop to try to get somewhat organized before I did anything else.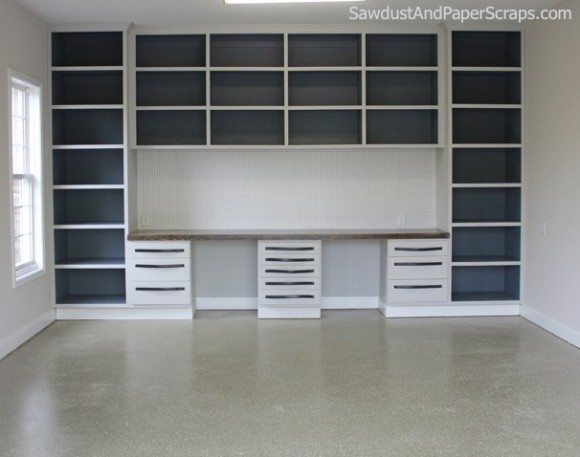 Next up was the main living area because it was driving me crazy!  I decided I needed to tear out the library wall as well as a GIGANTIC coat closet that was a huge waste of space.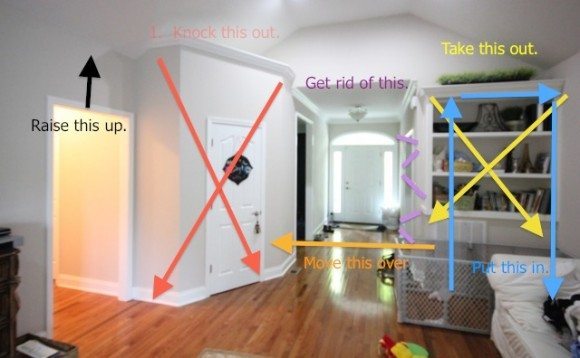 But in the process of exploring what was behind the walls before I just started ripping things out, I discovered the bathtub was actually pushing INTO the living room space.  WTH?
So I tore out the walls and the tub/shower.  (I hired a plumber to take care of terminating the plumbing lines and help me get rid of the shower.)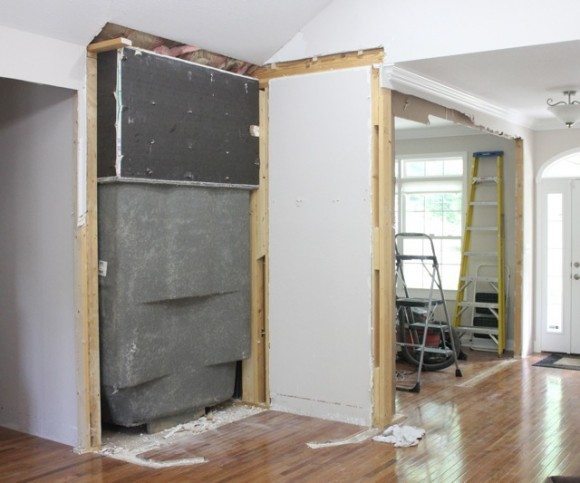 Then I got everything framed, drywalled, mudded, primed and painted …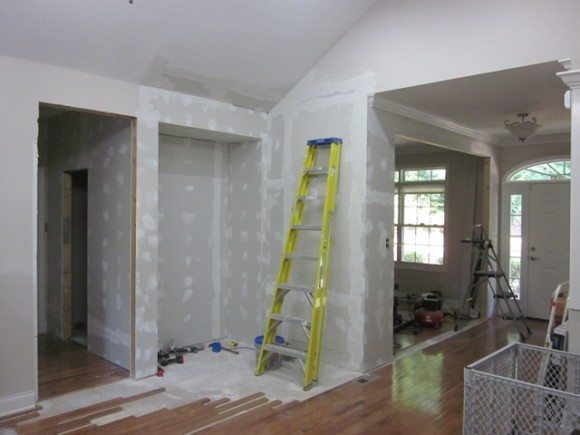 And  moved on to do something to make this room a functional space…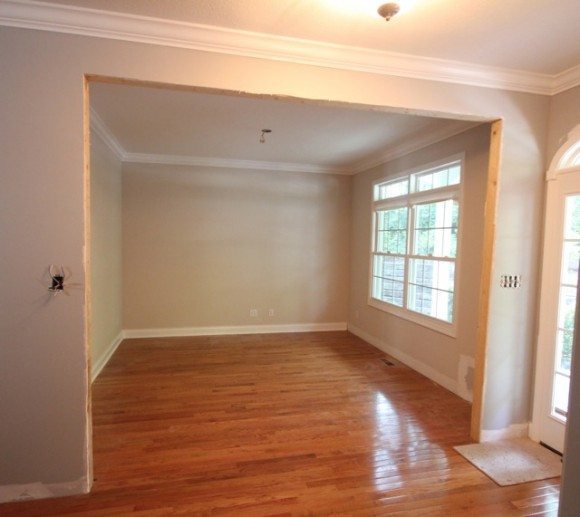 There we go!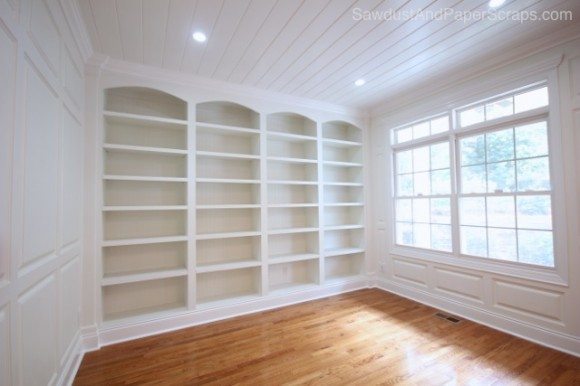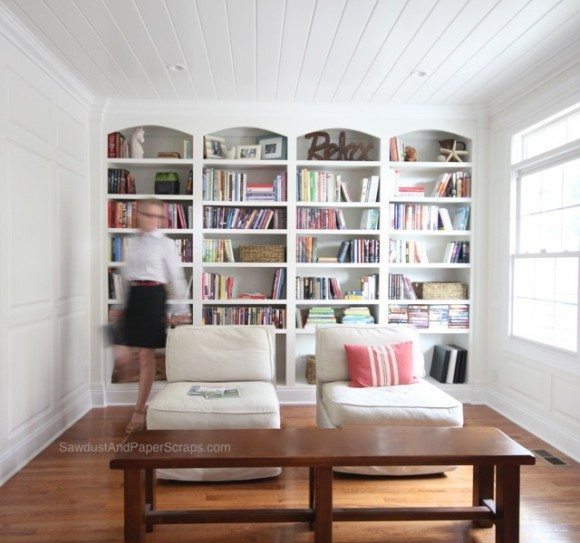 Library
Then I took some time to give Madison a room to escape the chaos in the rest of the house.  Whether or not that room is a calm from the chaos is debatable!
Then I started back up on the Laundry Room…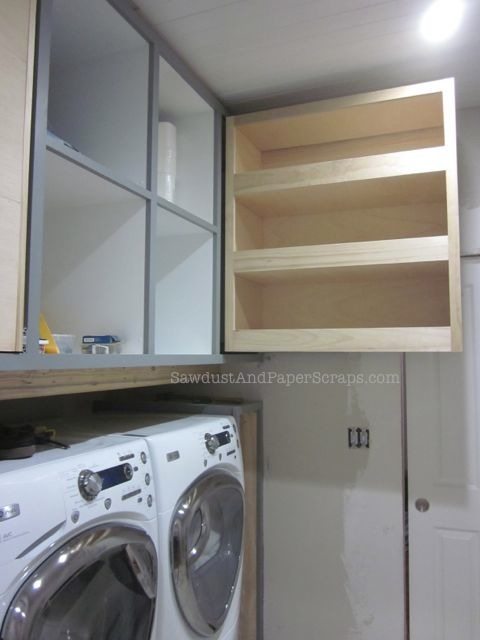 But I got ahead of myself and ordered a toilet and vanity for the Powder Room and am sick of staring at them sitting in the living room so I'm finishing that project up before I get back on track in the Laundry room.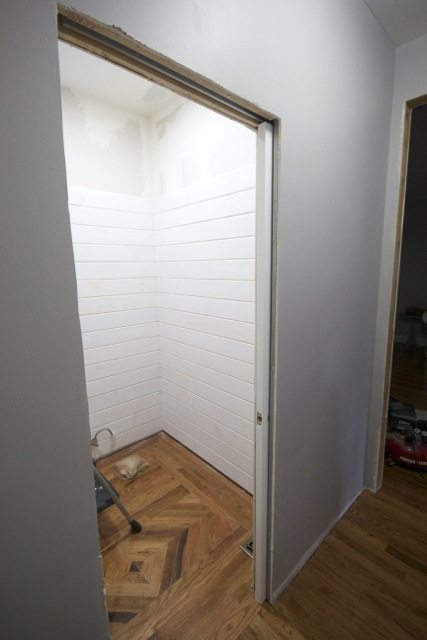 This year I also rebranded my blog from Sawdust and Paper Scraps to Sawdust Girl and started The Sawdust Diaries where I'm designing custom plans and coaching other's to build AWESOME and slowed WAY down on my personal projects…It's really cool but time consuming.  Which is why I'm not taking any more clients this year until I catch up on my own house and finish ALL the client projects that are going on right now.  🙂
Now that I see it all on one page it feels like an ok amount of progress for one person in two years time.  I need to hire some help though because I'm sick of living like this.  I want THIS HOUSE DONE.
So I'm looking into that — I wanted my kitchen done before Christmas.  I'm really afraid that's not going to happen.  I'll keep my hopes up though!  If nothing else, we all know — I'm a BIG dreamer.