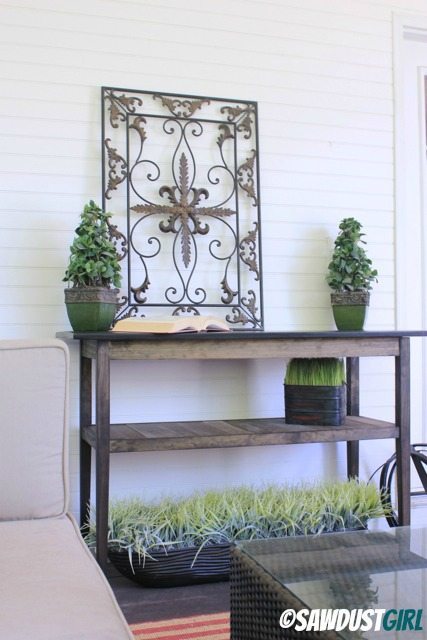 I built this console table using easy pocket hole screw construction in just a few hours.  Then finished with paint and stain to create a beautiful, functinal piece of furniture for around $50! This post includes the free plans and instructions.  For those that like to see actual building steps over drawn plans, I've documented each step with actual photos on The Sawdust Diaries.
 Materials needed:
two 8′ 2″x2″ (cut into four 32″ pieces for the legs)
two 6′ 1″x2″  (cut 12 1/2″ and 42 1/2″ out of each 6′ board)
two 6′ 1″x3″  (cut 12 1/2″ and 42 1/2″ out of each 6′ board)
one 8′ 1″x10″ (cut two 4′ sections and glue up together to make a wide top
either 1/4″ sheet 3/4″ plywood OR scraps of 3/4″ plywood 12 1/2″ long at various widths to equal 42 1/2″
wood glue
1 1/4″ pocket hole screws for 3/4″ material
1.  Attach top apron to leg pairs
Use 1 1/4″  pocket hole screws
leave 1/4″ reveal on the front of apron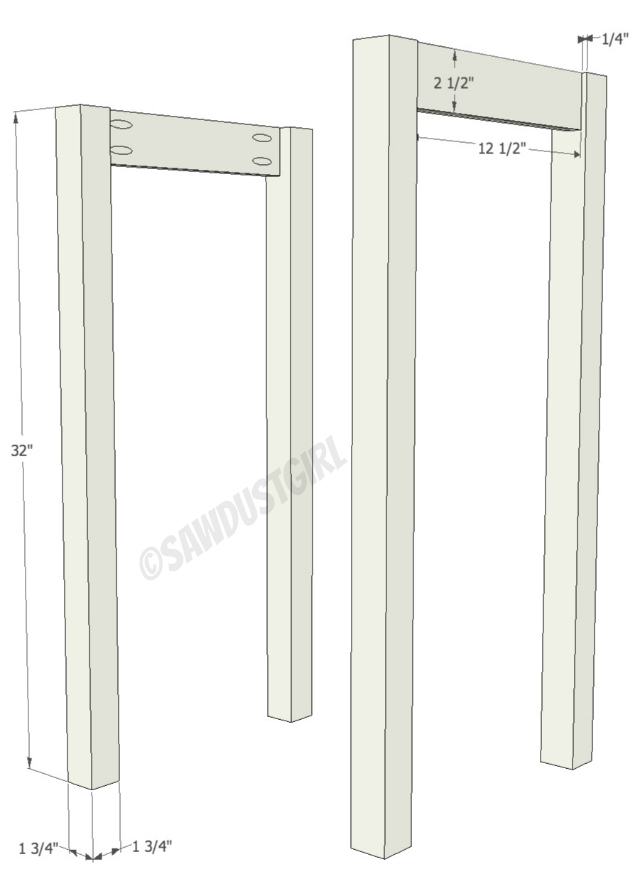 2.  Attach lower apron to leg pairs
I have the top of lower apron be at 12″ but you can attach lower or higher if you like.
Use 1 1/4″ pocket scews
lower apron is flush with the inside of legs.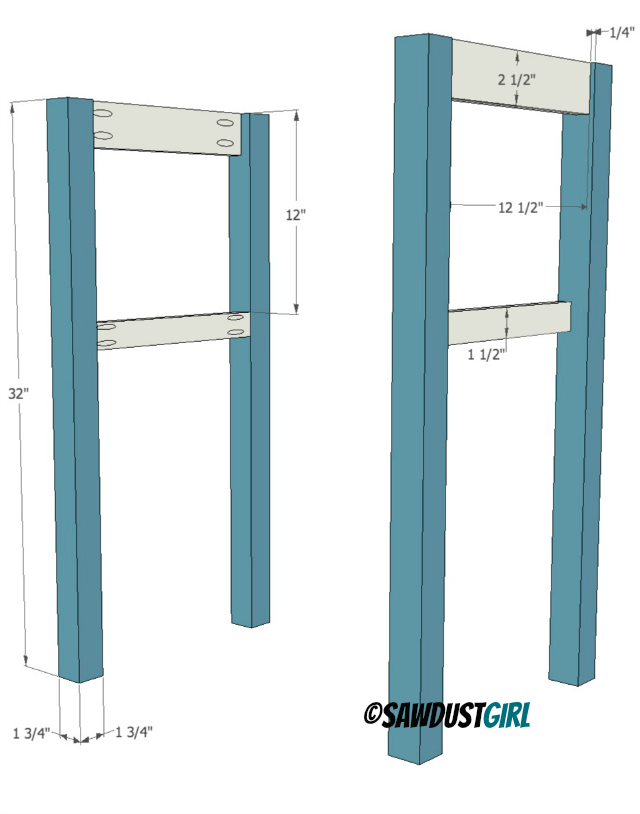 3.  Attach leg pairs with pocket screws with long apron parts.
make sure to leave a similar 1/4″ reveal on the outside of the top apron
make sure to attach lower apron flush with the inside of legs
Close up of lower apron attached flush with inside of legs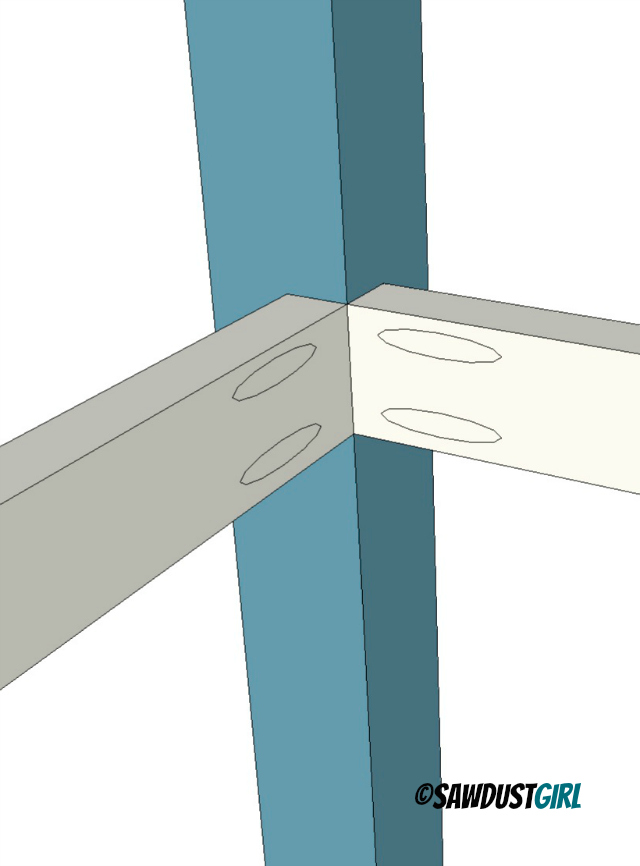 Close up of upper apron with 1/4″ reveal on outside of legs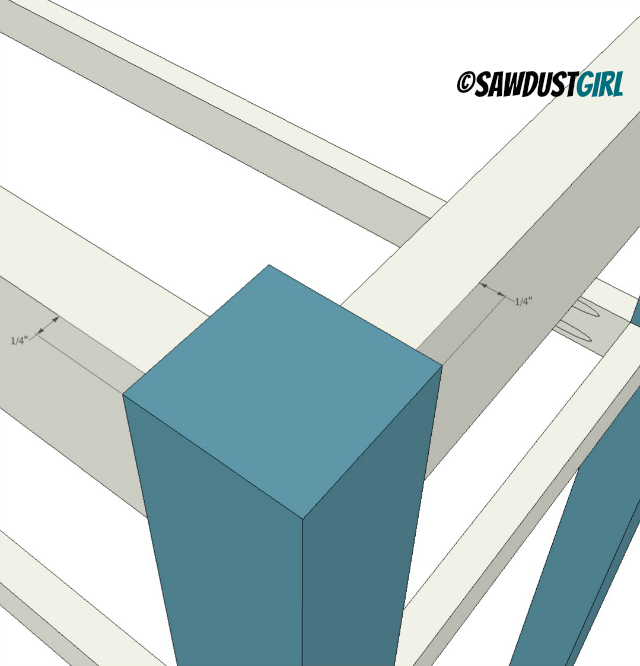 4.  Attach cleats to the inside of lower apron to create a ridge to set shelf on.
Attach with glue and clamps
make sure to attach it so the height above the cleat matches the thickness of the wood you are using for your shelf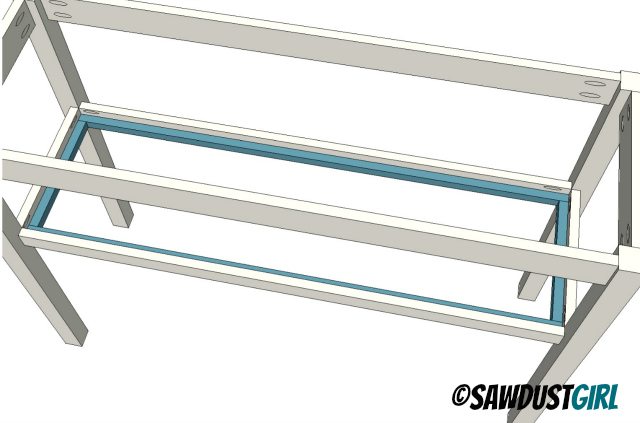 5.  Attach  shelf.
Shelf option 1:  solid shelf made of plywood or solid wood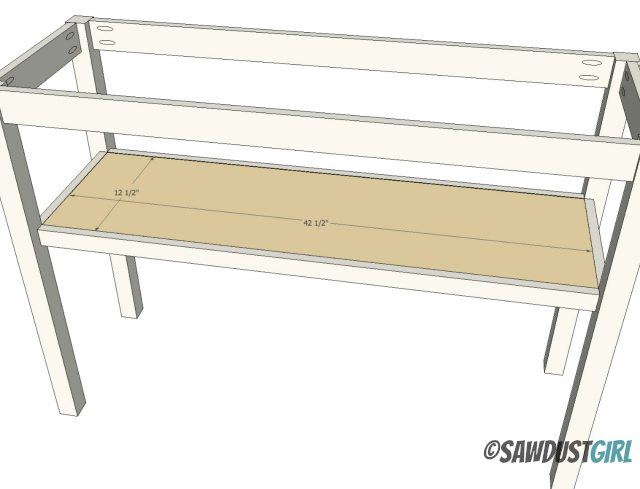 Shelf option 2:  strips of wood, painted or stained to add visual interest.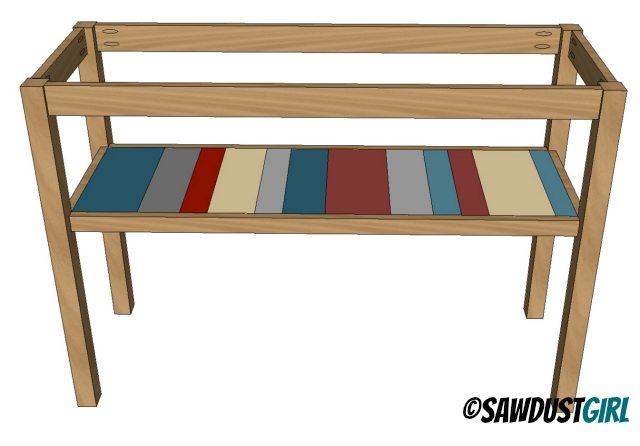 6.  Attach cleats for tabletop
use 1 1/4″ pocket screws to attach cleats to side apron ( this will give you something to easily screw the tabletop into).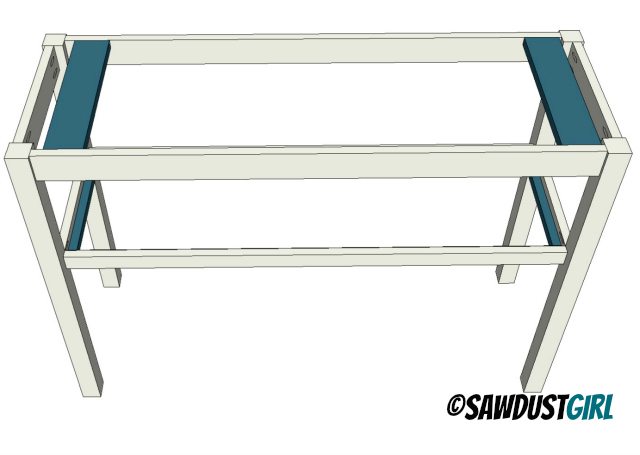 7.  Attach tabletop.   I used one 8′ 1×10 cut in half lengthwise, glued together widthwise to make my top.
(screw from underneath the table up through the cleats)
Top could be plywood edged with 1×2 and stained or painted or it could be MDF  (lots of options)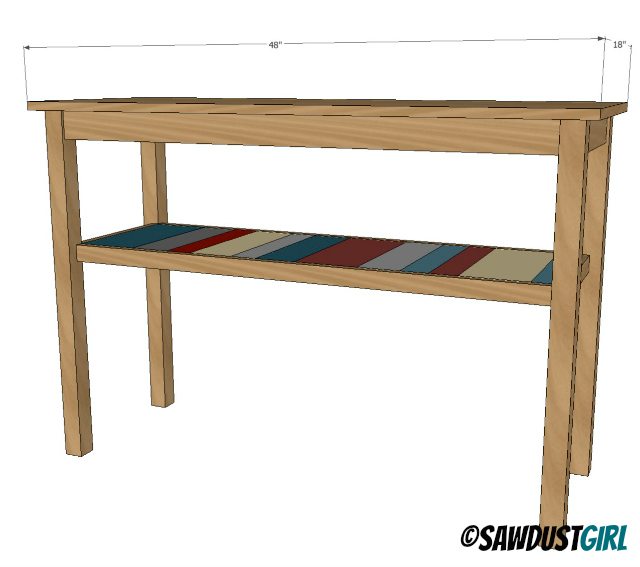 I needed something out on the screened in porch for drinks and what-not.  This is a temporary fix as we want an outdoor tv someday that will need to be housed in a cabinet to protect it from the rain that occasionally gets in but it's functional and looks better than a plastic table.  If you make this plan I'd love to see you share your pictures on The Sawdust Diaries! If you want to see real life photos of the building process as well as more finished table pictures, head over to The Sawdust Diaries and check it out there!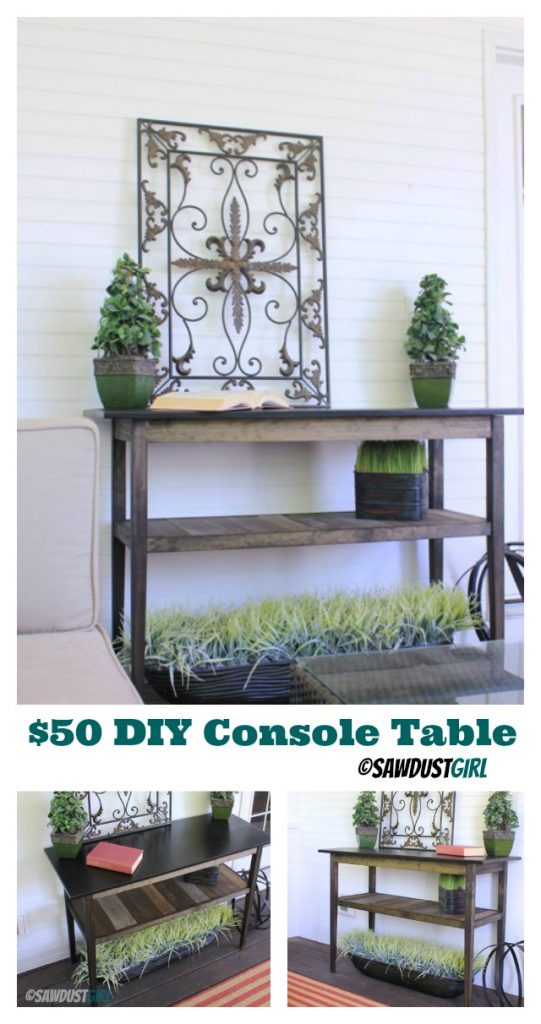 Related Posts