While my focus is 98% on the workshop/B&B progress right now, I periodically take a moment to make our daily living situation a little better. Since I'll be tearing out and 100% reconfiguring this house at some point, most of my "making life better" projects tackle function and beautification. Shoe management was becoming a big problem so I took a minute and built this cool Shoe and Boot Storage Ladder! (Along with a quick makeover to our carport/entry). This project is sponsored by Danner Boots!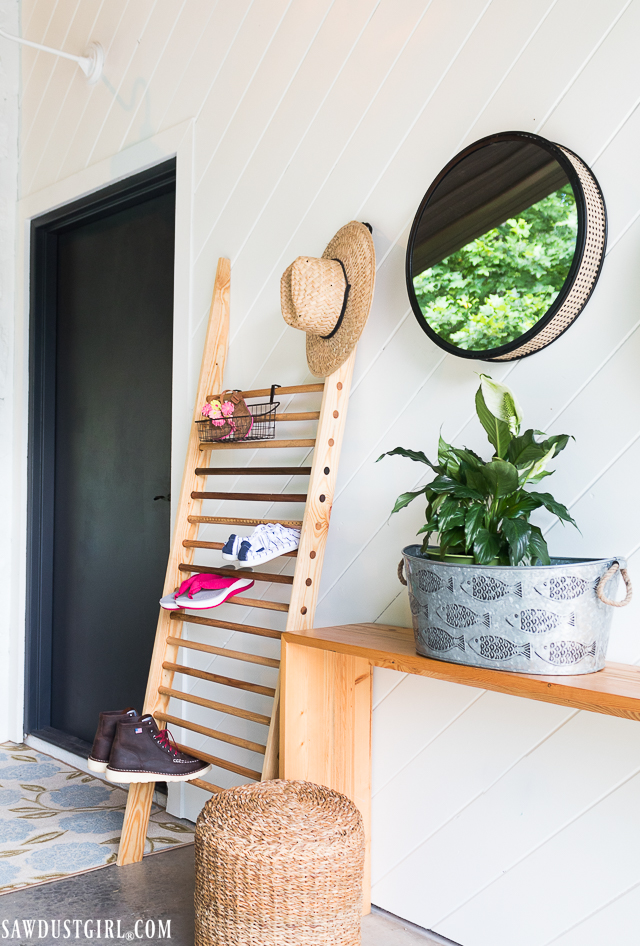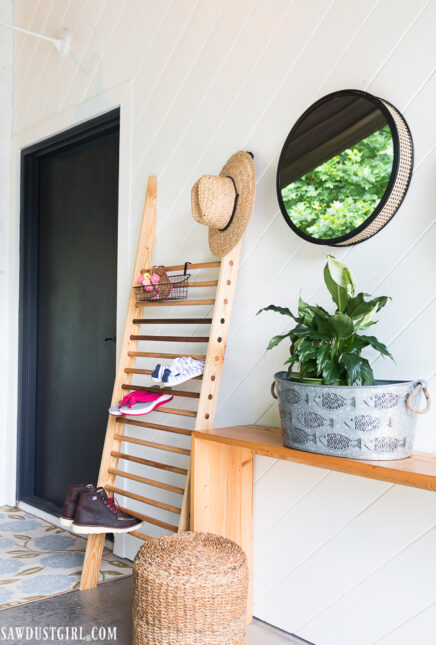 As you can see, we had a big shoe problem in our house. Because of how the kitchen is configured, there is no room for any kind of shoe/boot storage. There's literally no kind of mudroom or even an "entry". You just walk from the carport, right into the kitchen. OR, you can entry through the laundry room at the back door…and then walk all the way through the master bath, closet, and master bedroom to get to the living room and kitchen! It's a very impractical set up – but it is what it is.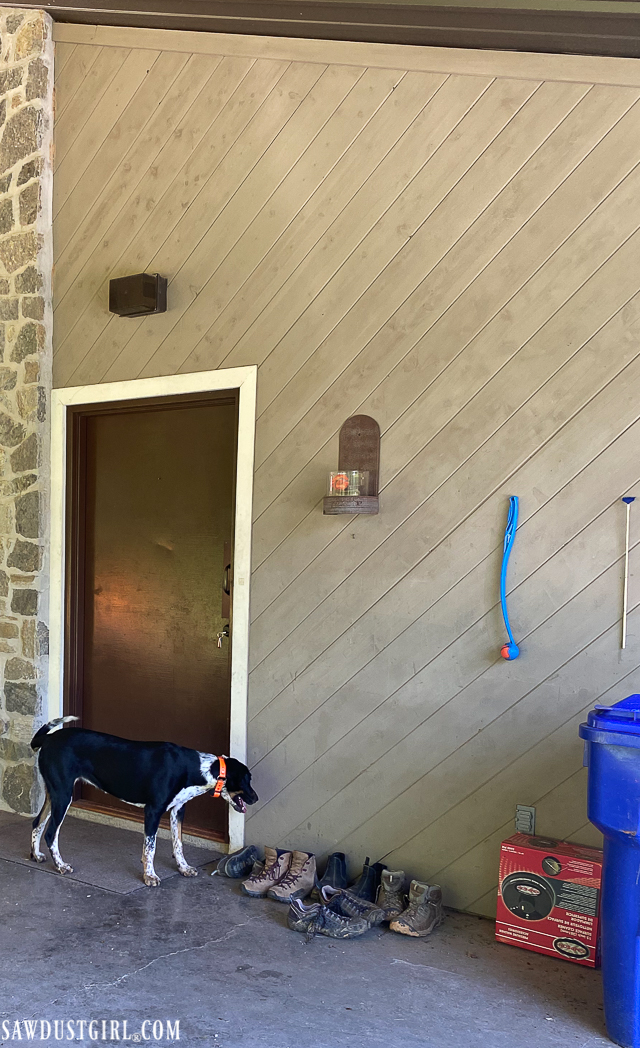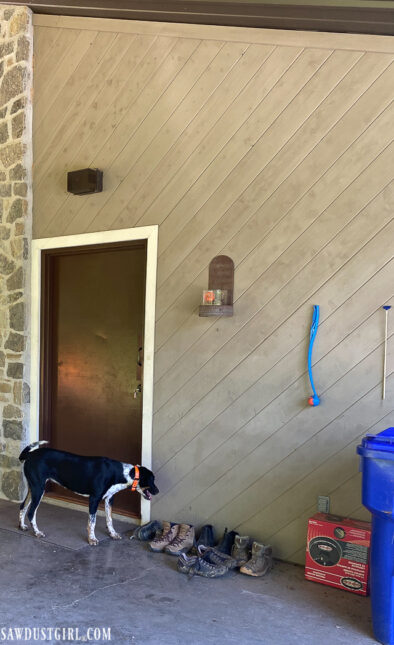 Entry Makeover
The very first thing I did was paint! The stone and siding are (Sherwin Williams paint but Behr colors) Snowfall White – the doors are Cracked Pepper). Paint always makes such a tremendous difference in making a space feel bright and new. In addition to the paint, I changed out the door handles and lights.
Building a Shoe Ladder
The paint makes the space feel better but the main order of business was to build a couple storage solutions for our shoes and boots. I built two such projects the first of which is this beautiful and super easy DIY shoe ladder.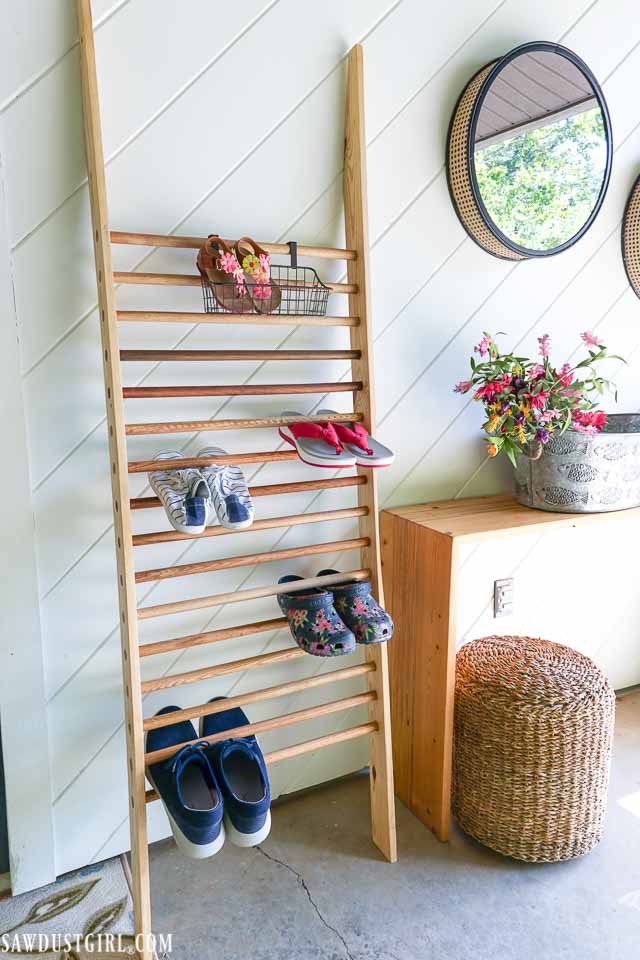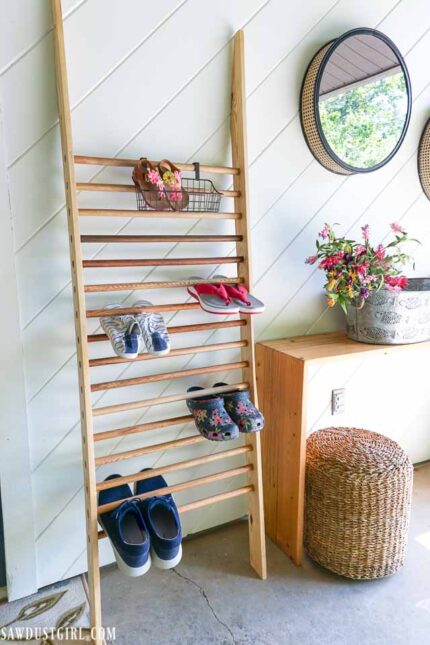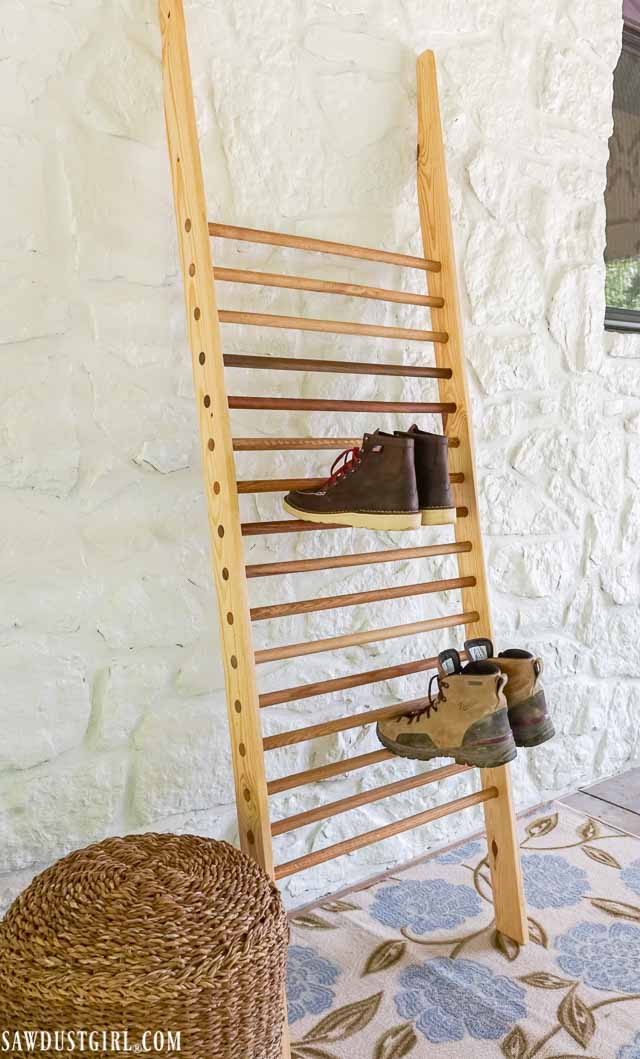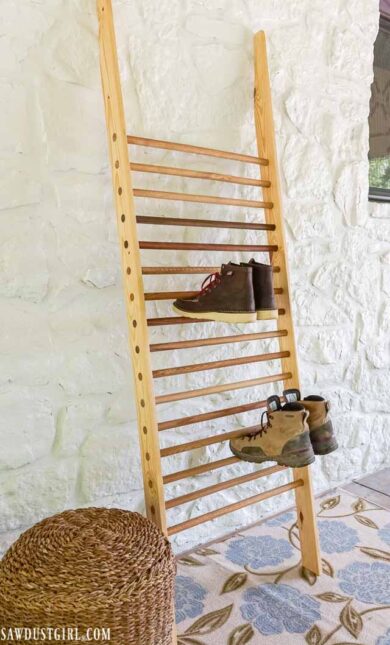 Materials
(2) 6′ 1×4's
(16) 24″ long wood dowels 3/4″- 1″ in diameter (mine are 7/8″ salvaged)
Drill bit to match the diameter of your dowels
wood glue and clamps, double sided woodworking tape
Step 1 – Secure legs together with woodworking tape
Attaching the legs together with double sided, woodworking tape will ensure both ladder legs are cut at exactly the same angles and that the holes are drilled in the same exact location on both legs. When you're ready, it takes little effort to pull the wood pieces apart and remove the tape.
Step 2 – Cut angles
The angles are going to change depending on the length of your legs and how far away from the wall you angle your ladder. I have the bottom of my 72″ ladder legs 12″ away from the wall. The easiest way to find your angle is to lean your "ladder leg" against the wall and then use a wide block to draw a line, parallel to the wall.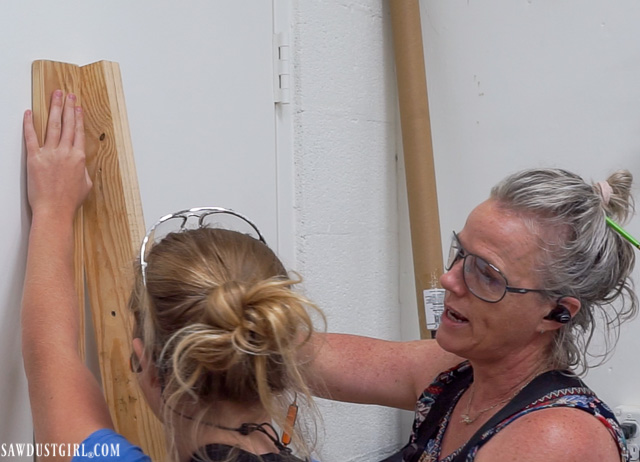 Use a track saw, jigsaw or circular saw with a straight edge to cut the long, narrow angled cut on the top of your ladder.
After you cut the top angle, do the same trick with a wide block sitting on the floor, next to your ladder leg while it's leaning against the wall at the right angle. Then cut the bottom angle.
Step 3 – Drill holes
With my two ladder legs still secured together with tape, I drilled 16 holes completely through both boards. I used reclaimed dowels that I purchased at Knox Rail Salvage and they're all different wood species. I think it's super cool to see the dowels though the sides of the ladder.
I used a long straight edge to draw a line down the center of the length of the board.
I started my holes 12″ from the bottom of the ladder and spaced them 3″ apart (on center).
Step 4 – Sand
After the holes are drilled you can pull the two pieces apart and sand them. I'm always particular about sanding edges and removing any possibility of future slivers. I used an electric sander for most of the sanding but smoothed out around the dowel holes by hand with loose sandpaper.
Step 5- Prepare Dowels
If you haven't already, cut your dowels to the exact same width. Mine are 24″. We also sanded each one to make sure it was smooth to the touch.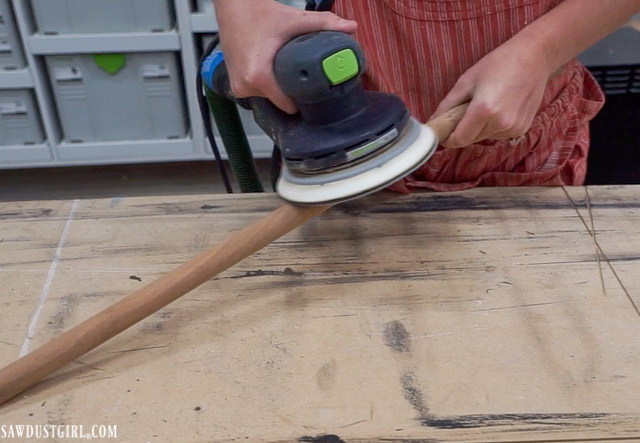 Step 6 – Assemble the Ladder
Kerra and I worked together to get the dowels glued in place in the first leg. I smeared the glue around in the hole and on the end of the dowel and then handed it to her. She pushed, turned and hammered each dowel into place.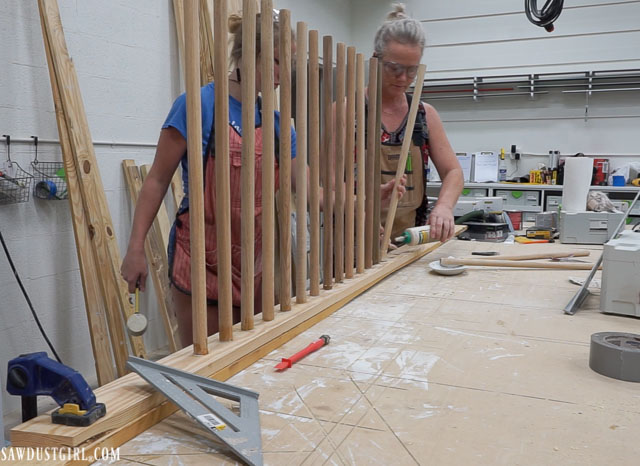 Then we flipped the whole thing upside down and got the second leg in place. Initially, we just put the second leg in place to hold all the dowels straight while they dried in the first leg. Once that was dry, we glued the second leg in place. I "wiped up" the extra glue with a handful of sawdust and then clamped it up and let it set for a day.
Step 7 – Sand and Finish
At this point, everything just needed to be cleaned up for finishing. Sand off any glue that squeezed out and double check for smoothness and no slivers.
After sanding, wipe the ladder down with mineral spirits and then finish with your choice of clear coat. I used Liberon Finishing Oil.
Once your finish dries your ladder is ready to be loaded up with shoes and boots!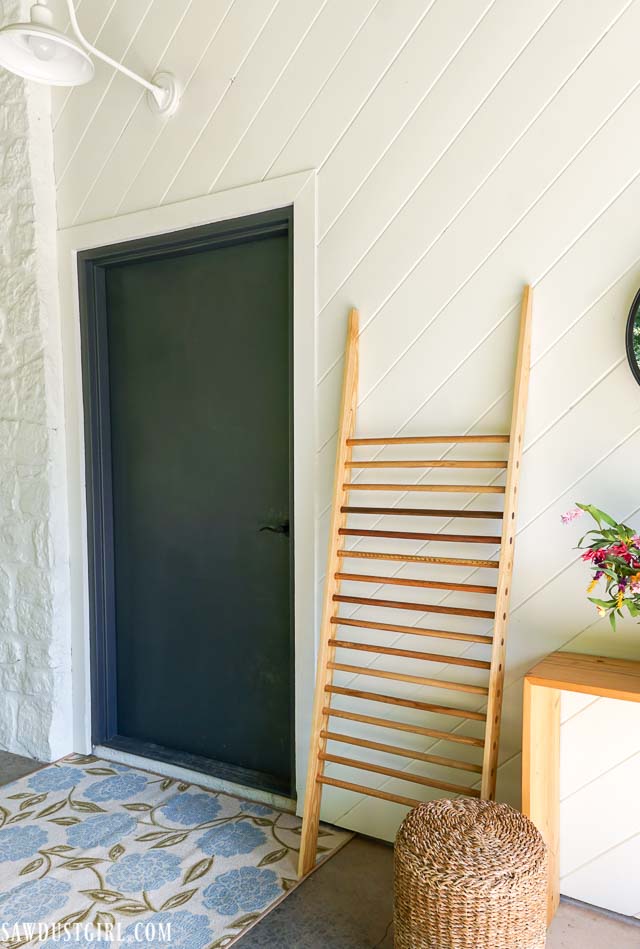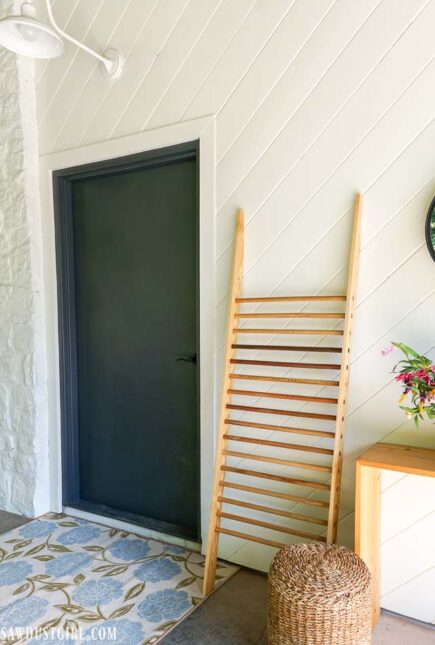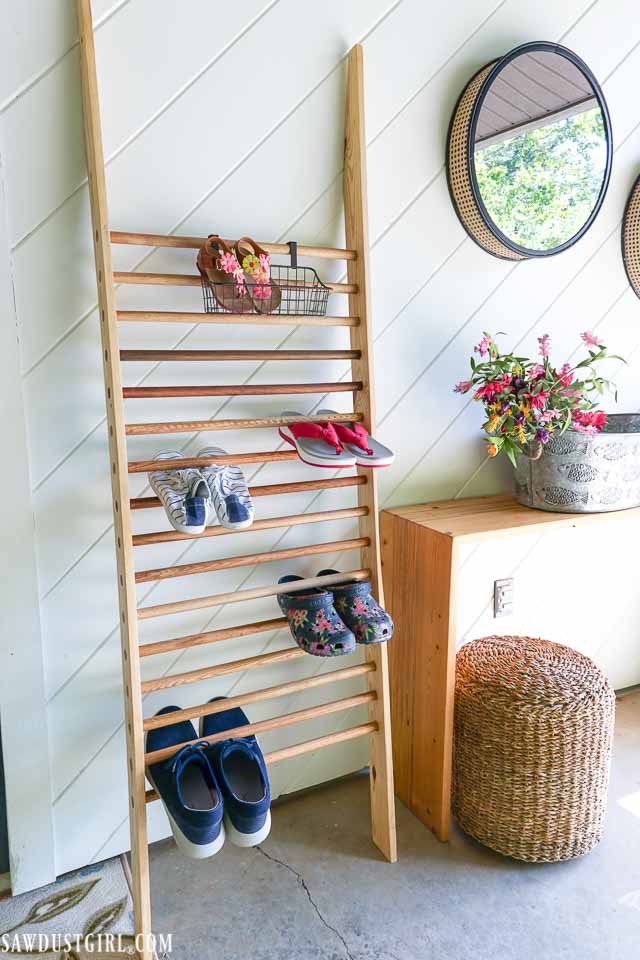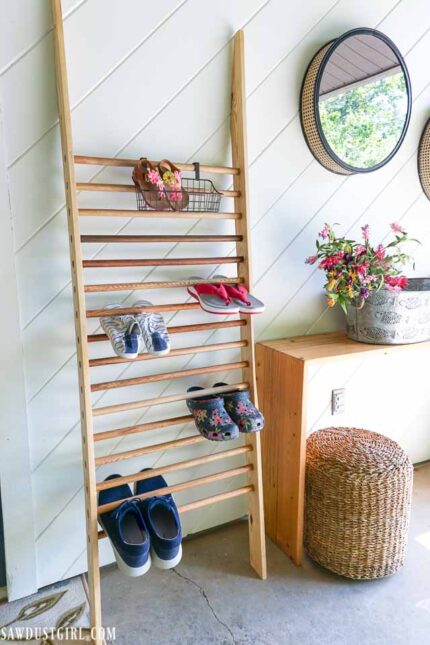 Most our shoes and boots fit in the 3″ spacing. I have a pair of steal toe shoes that are too thick. Also, "over the cabinet door" baskets can hang off the ladder for things like, gloves, stocking caps or for tiny shoes that are way too small for the spacing of these dowels. (How cute is that!)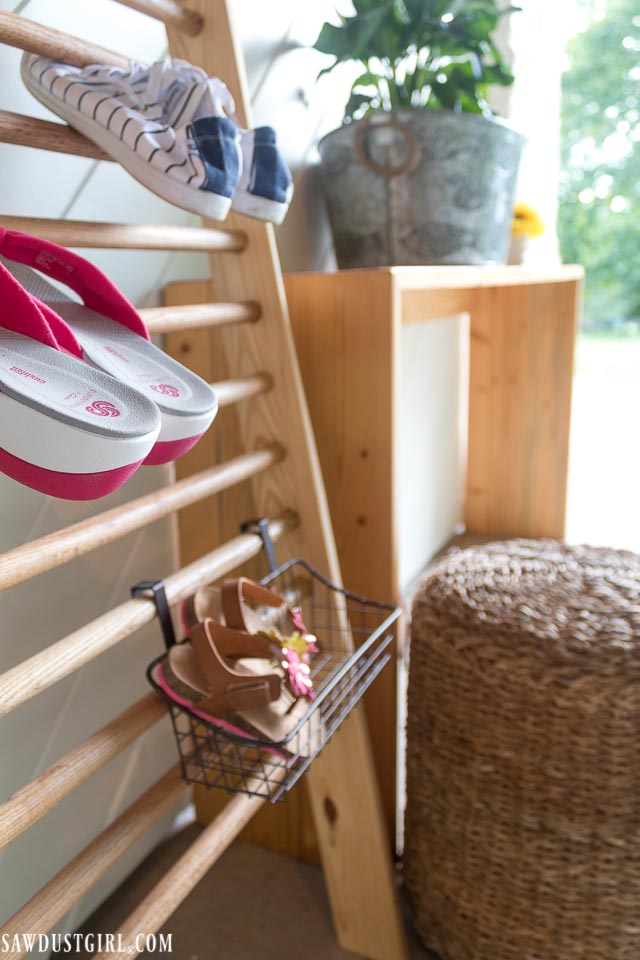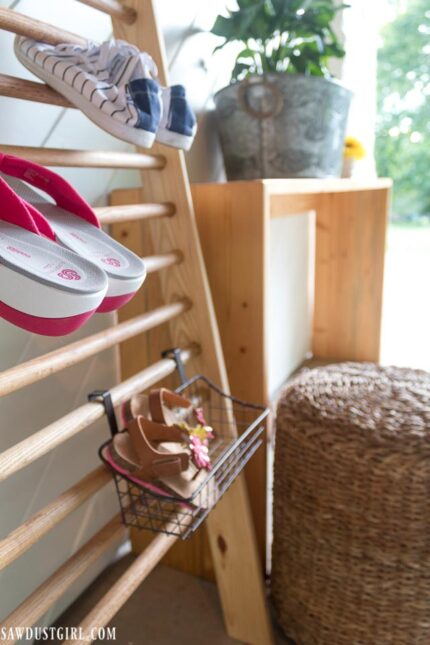 I also placed this table next to the shoe ladder which I think will be a handy place for mail and package deliveries to be placed. (I'm having a friend make a sign.)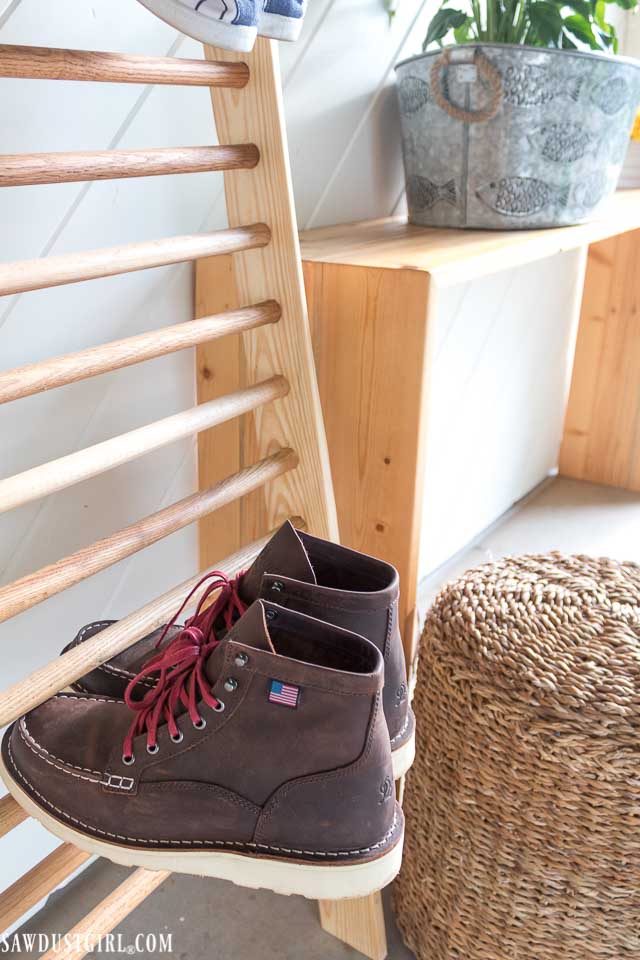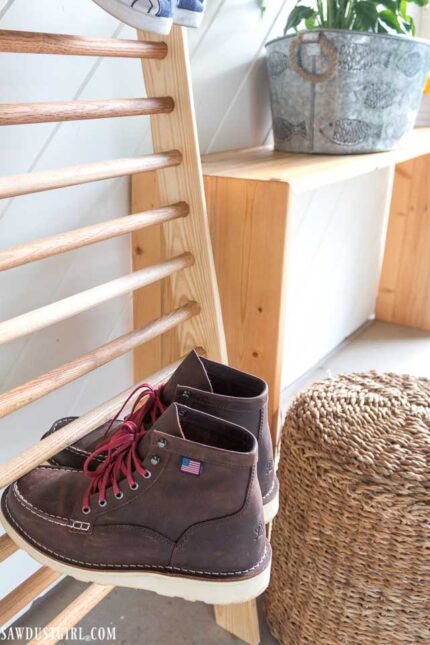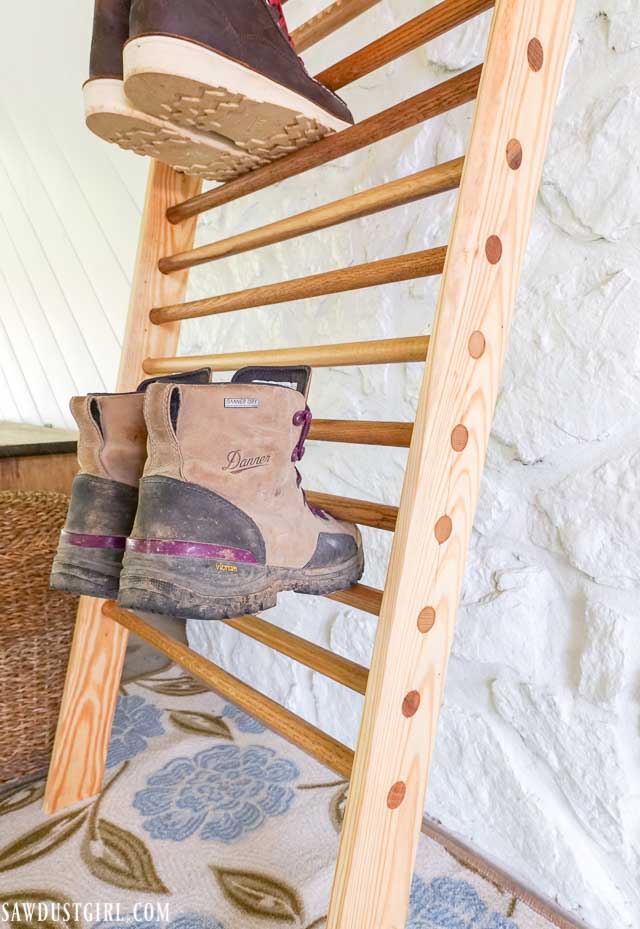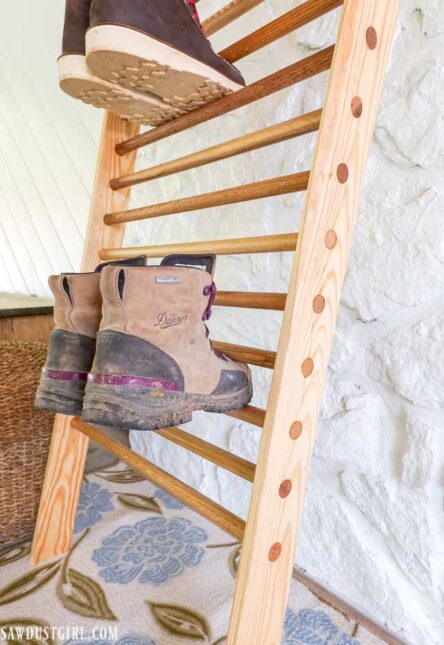 Danner Boots
As part of this sponsored project, Danner sent me a pair of Stronghold boots. They were comfortable right out of the box. In addition to the amazing comfort, they have the added protection of a work boot. Danner Boots have an oil-and-slip-resistant outsole which provides traction on wet and dry surfaces. This is especially important to me in my workshop because sawdust on concrete can be a slip hazard. Another feature is the waterproof protection which is great for me because here in Tennessee, it rains about 50% of the time.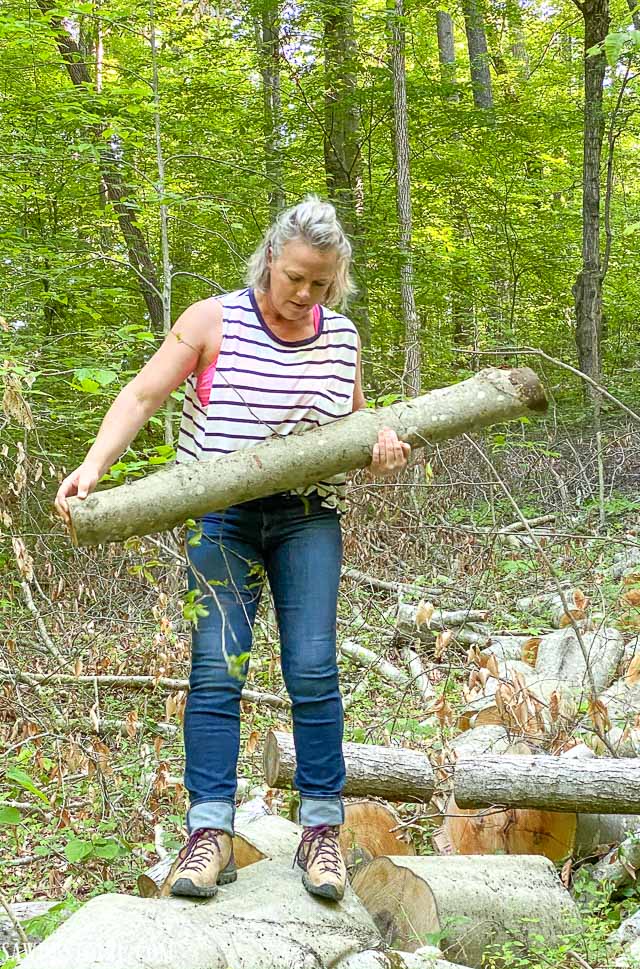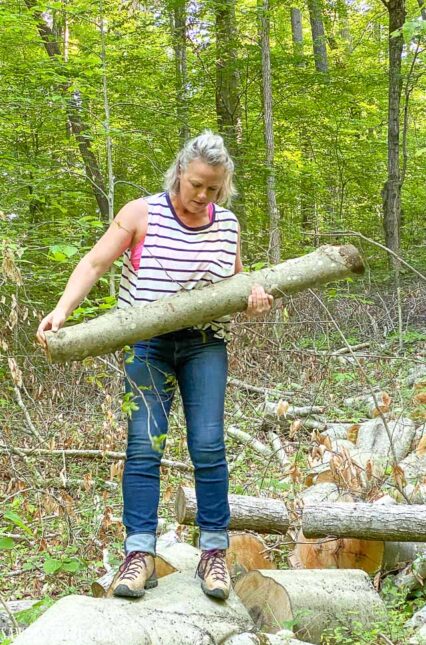 Now that we have this big property to take care of, Wes and I both have several pairs of work boots that were piled up outside the entry door before I built the boot ladder. Now we have an attractive boot/shoe storage solution as well as another pretty space to enjoy. Our refreshed carport/entry will make a much better impression on guests…which is basically the mailman right now. 🙂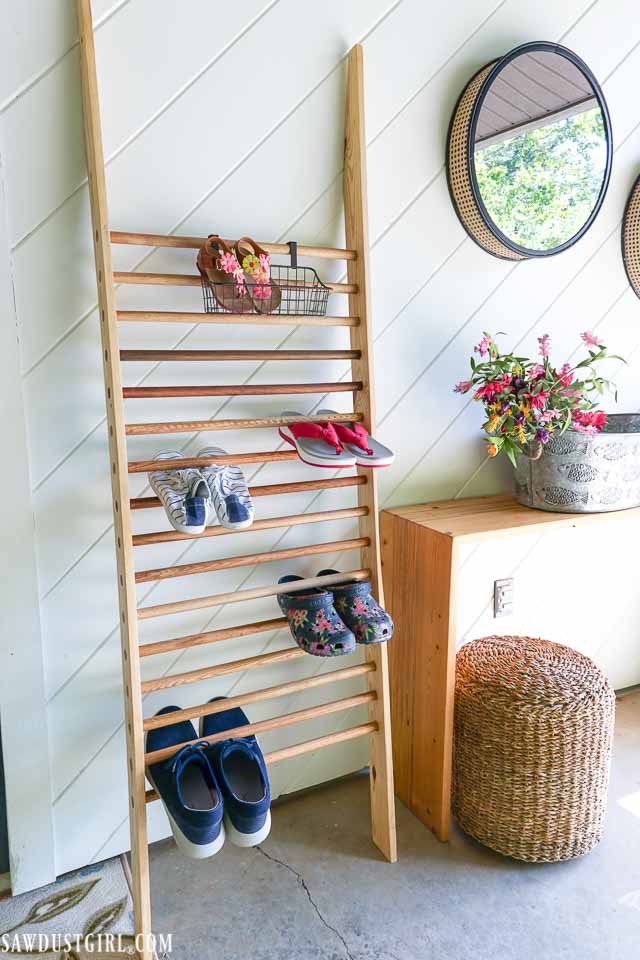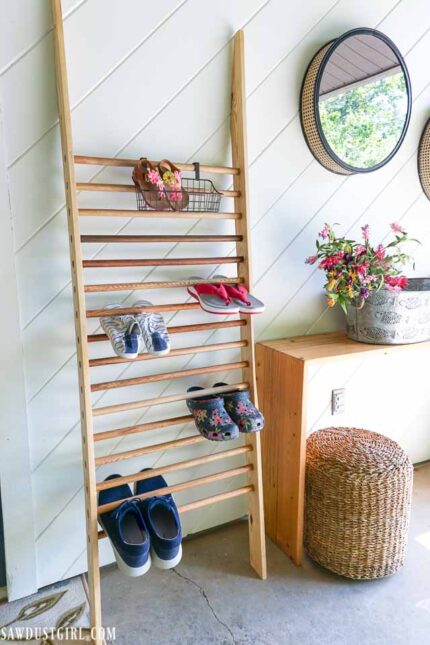 Thanks to Danner for sponsoring this project and providing me with my new work boots. I'm excited to continue to wear them as I dive in to my next projects. See you guys then!