Hey guys. I haven't shared a mentoring project with you in a LONG while, but I haven't stopped mentoring. In fact, I recently started a mentorship group, (Sawdust Squad) and will be inviting my mentees to share some of their journey with you.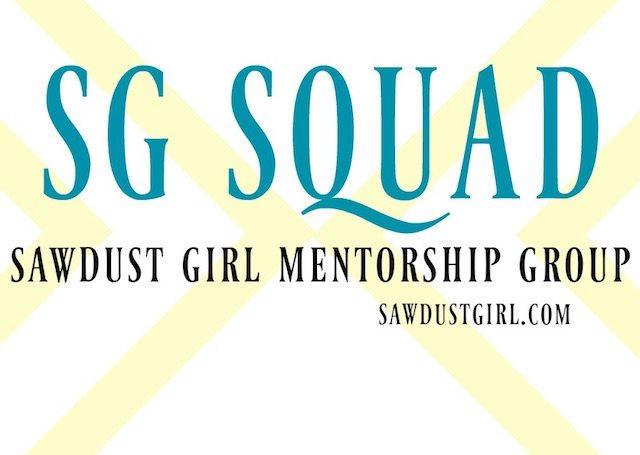 Mentoring
For the last four years, I've been virtually helping people tackle projects in their homes, all over the world.  In the beginning, my clients were required to write a weekly journal to share with you on the Sawdust Diaries.  It was very time consuming to manage editing my clients' photos and journals into posts to share –in addition to my own projects, videos, photos and posts.  After a year or so I stopped sharing those projects with you, but I didn't stop mentoring.
This year, as I took on even more personal projects (taking on transforming whole houses with my Sister in 30 day stints), I stopped taking new clients. I love mentoring and want to keep it up until I'm 99, but I currently can't do weekly sessions with individual clients.
Soooooo, I recently started a "Mentorship Squad".  We have monthly, small group sessions, via Skype.  My goal for this group is to stretch them out of their wheelhouses to learn new techniques and skills.  Each month I will issue a challenge (for instance November's challenge is to learn a new joinery technique), and then they will create a project that allows them to feature that a "new to them" technique.
Mentoring sessions have given me a lot of ideas for articles to share with you here.  The questions asked by one person are usually the things that lots of other people would like to know too.  In addition to the tips, tools, techniques and tutorials I create to share with you, my mentees will be sharing something from their "skill stretching experiences".    All my mentees are bloggers so photography and writing (and all the editing and everything else that goes with blogging) is part of the skill set they are honing — so that part of sharing this adventure with you all won't be on my shoulders.
I am looking forward to watching these awesome ladies as their skills grow and improve.  Hopefully you'll enjoy the creative projects and posts that are going to come out of this new venture too!
p.s. I wish I could mentor every single person that expresses an interest, but it's just not possible.   My SG Squad members have to be able and willing to turn what they learn in our sessions into teaching moments for our readers.  Here's a few requirements:
Must be a blogger and share unique DIY/"maker"/woodworking/cabinet making/ home renovation type content on your blog.
Must be interested in stretching your skills in one or more of these areas: woodworking, "making", home renovation, cabinet making, DIY kind of stuff.
Squad members will create one piece of unique content, exclusively for SawdustGirl.com, each month.
Photography and writing skills are important blogging skills.
If you are interested in being a part of my SG Squad, you can email me and tell me why.  This is definitely a test.