Understanding why crown molding is a PITA and how to make it NOT is the first step in becoming a Crown Molding Master!  OK, maybe not a master but at least have the confidence to try it and do a pretty bang up job of it.  There are three common angles for crown molding and about 100 different ways to cut it.
Cutting approach if often determined for you by the type of saw you have:  single bevel, double bevel, height of fence and length of cut.
You can cut it laying flat on your saw with the top always against the fence changing the miter and bevel with each cut.
You can cut it nested at an angle on your miter saw matching the angle at which it will be installed on your wall and only using the miter while cutting.
You can cut it laying flat on your saw with a left bevel seeing and alternating between having the bottom or the top of the molding against the fence and changing between a left and right miter.
You can even cut it angled upside down and backwards — but you loose some precision there!
HELLO!!!  No wonder most of us hear the phrase "install crown molding" and shudder and cringe!
To make it even more challenging, some crown molding manufacturers thought it would be a  SUPER GREAT idea to manufacture crown with different "spring angles" requiring us to figure out triple the amount  the compound miter settings.
*Spring Angle = the angle between the crown and the wall — as indicated by the yellow arrow in the picture below.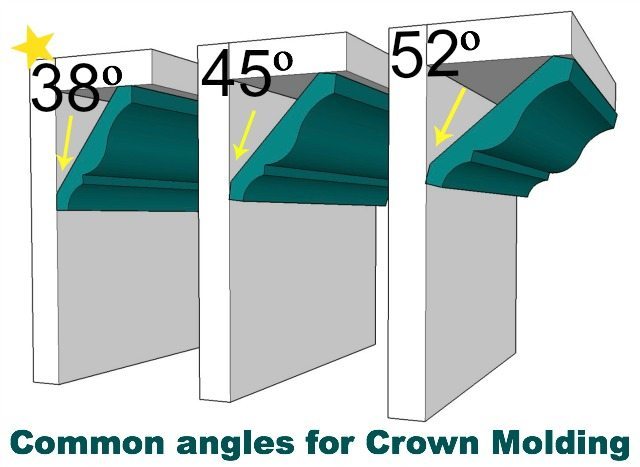 That being said, the 38 degree spring angle is the most common and the settings you'll need to cut it are pre-set on most miter saws.  Hallelujah!  
So I just ignore everything but that which applies to the most common version, the 38!
Got it?  Good.  Now you're ready to cut some crown molding templates.