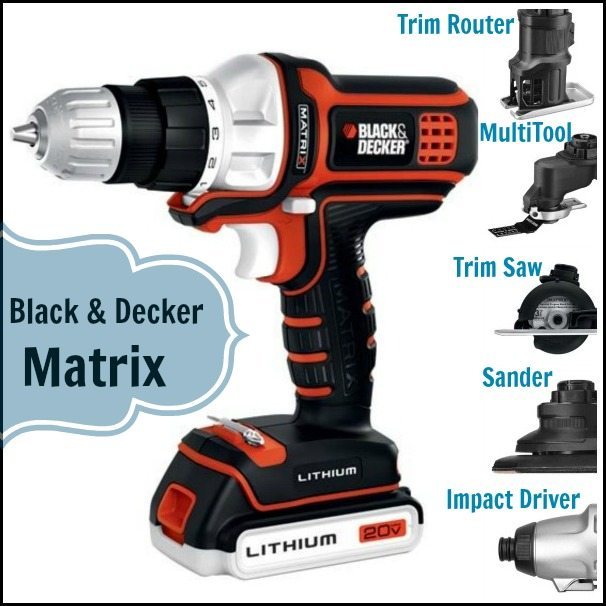 Black & Decker Matrix review and Sawdust Throwdown Monthly link party.
I received the 20V Black and Decker Matrix a few months back to test out. It's basically six tools in one. What? You can switch out the drill/driver for 5 other different attachments. When I first tried it out, I tested it as I would the individual tool that each attachment represented.
In the past several months, I've grabbed it for use on two different projects and found that it is completely handy. The handle fits well in my hand, it is light and compact. It has plenty of power. The lithium-ion battery is light, charges fast and keeps it's charge for a very long time.
Especially when I am on a job-site (which right now means a specific room in my house) it's great to grab the one (6 in 1) tool and have every tool I might need and not have to run back and forth to the workshop to find and grab another tool.
What I've done in the last few months with this one tool:
CUT
I used the multi-tool to cut off some nails that I had "missed the mark on".
I used the trim saw to cut 2″ off a cleat I was trying to install but found it was too tall
I used the jigsaw to cut an outlet hole in a cabinet back
I used the jigsaw to cut a decorative accent on my toe-kick plate. (Is that a word?)
Sand
Build
I used the drill to build my laundry room cabinets.
That's a lot of action for one tool!
When I first tested it out, some of the attachment felt a bit awkward because the tool extension on top of the drill handle felt too long. I wouldn't replace the full size tools that each attachment represents, but having all the different compact tools at arms reach without dragging all my bulky full size tools out has proven surprisingly handy. Sometimes I need to make a quick cut, either with a multi-tool, circular saw or jigsaw, and then need a quick sanding with more elbow grease than I care to provide with a block sander. Then drive some fasteners in to build something awesome. This tool is perfect for all that.
My only complaints:
The drill only comes with one battery. BUT, an additional battery is very inexpensive compared to other batteries I've priced out so I'm going to buy another.
It would be very helpful to have a case to hold and carry all the attachments. They all come separately packaged.
I didn't receive or try the router attachment so I can't speak to that but I do find the compilation of tools and attachments I mentioned to be quite a handy addition to my tool collection.
So, that's my 2 cents about that. Now let's see what amazing thing you've built in the month since my last party.
Link up only projects that you have built, cut, sanded, planed or produced sawdust in any other manner. This is not a party for painting or refinishing furniture. 🙂 Link back and have fun.