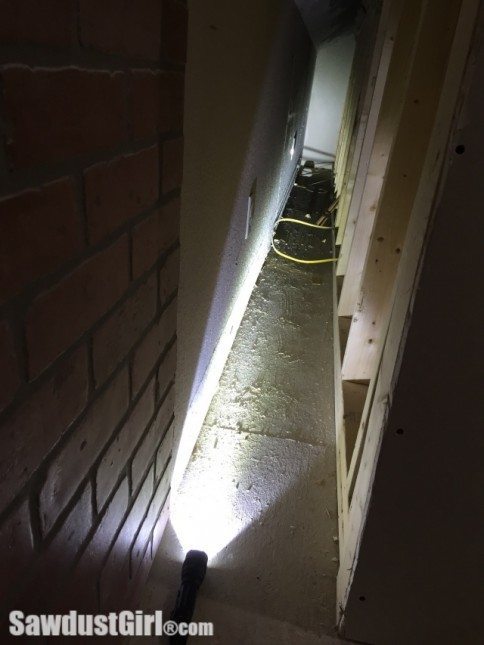 The following story is one of bravery and adventure…actually, it's about me building a cabinet. What's new?
The mission? Fill this gap. It may seem like a simple task. It wasn't. The reason there is a gap here in the first place is because I wanted to space these cabinets far enough apart that I didn't have to worry about the drawer hardware hitting each other when I open drawers in this corner.  I had to choose drawer pulls wisely in my Pantry because my corner cabinets were very close together.  I found ones that didn't stick out very much at all but I don't want to HAVE to choose wisely.  I want to be able to choose whatever I want — so I left more space this time.
I planned on installing a faceframe piece in the corner, at an angle.  I should have done that before installing the countertops but I hadn't attached the faceframes yet so I couldn't.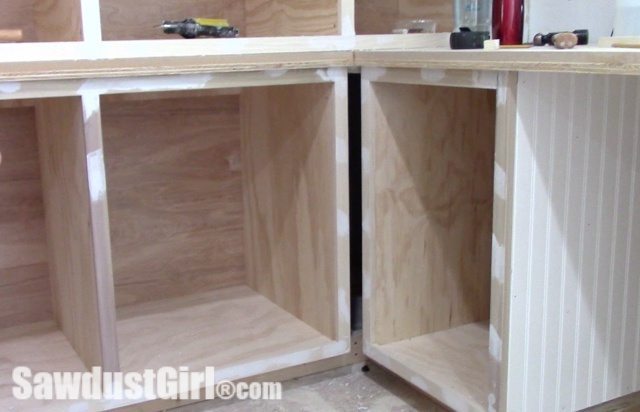 I helf a small piece of faceframe in place and then screwed a block of wood to the countertop behind that.  This gave me something to secure the faceframe to at the top but the bottom was another story.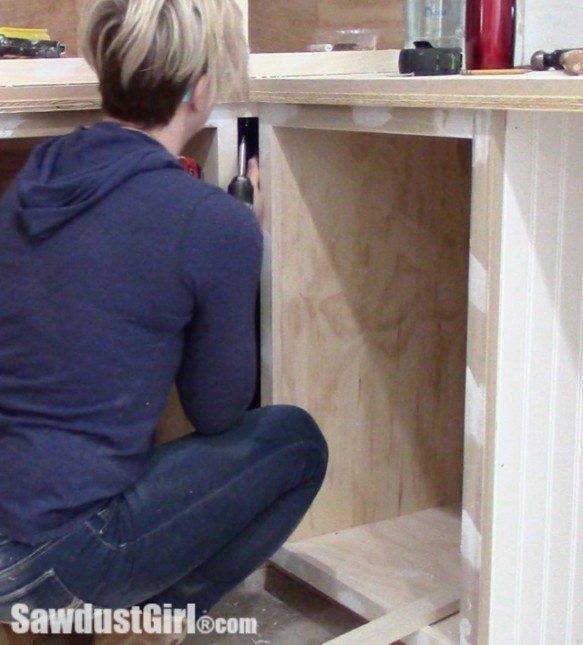 I used clamps to pull the piece into position and hold it snugly where I wanted it to be secured.  Then I began preparing myself for the long crawl.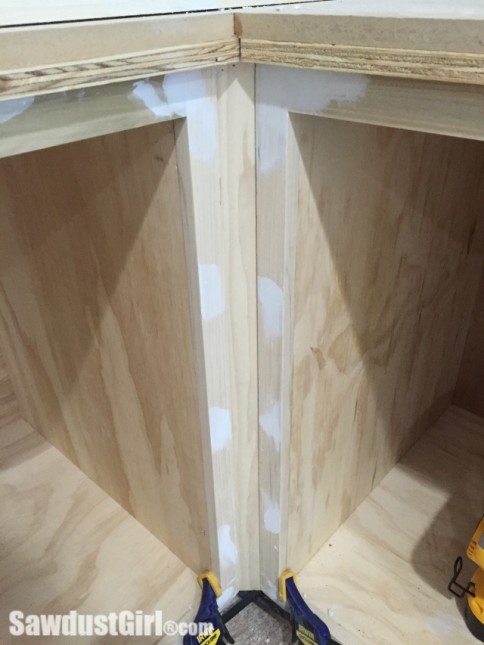 I'd be taking a few supplies with me on my journey.  I cut a block of wood to sit behind my faceframe filler piece.  I cut the ends at 45º angles so they would sit against the cabinets and make it easier to secure.  I wasn't sure how much room there would be between the block and the filler piece so I gathered up a big handful of shims to use if needed.  I also brought a drill, a pocket full of screws of various sizes and a flashlight.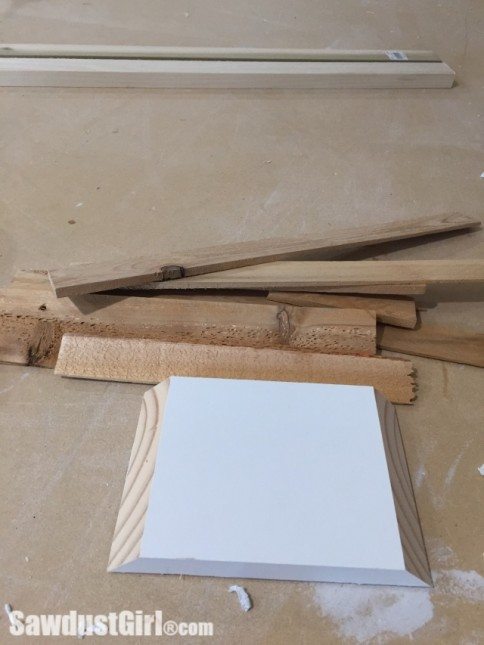 With my hands and pockets full of what I hoped would be ample supplies, I readied myself for cobwebs, dust, critters unknown and a really uncomfortable sideways scoochy kind of shuffely crawl through this tunnel of terror.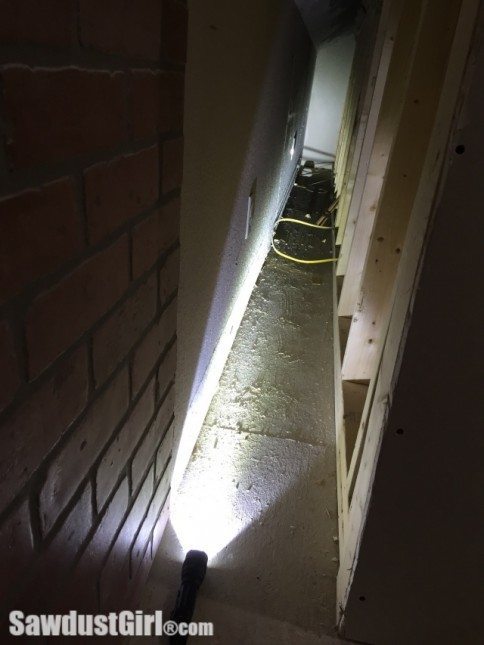 I ain't afraid of no ghost!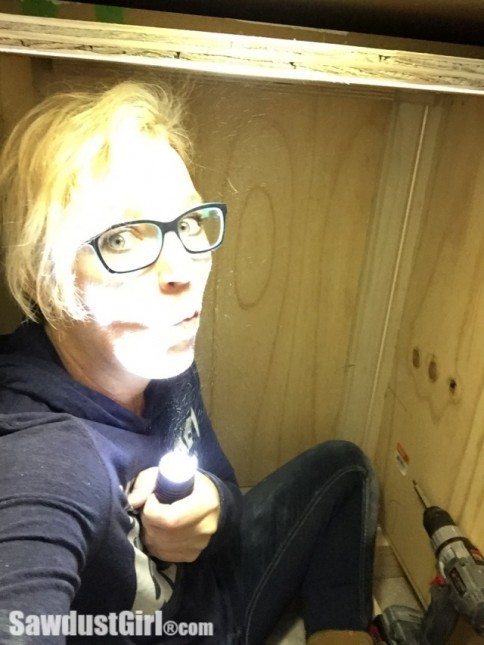 I secured my block and surprisingly, it was the PERFECT size for my needs and I didn't use a single shim.  I stuffed all the shims I had brought with me through the open space under the toekick along with my phone charging cord that I found back here!  (I had recently accused Madison of "borrowing" it and she asked why she got blamed for everything…)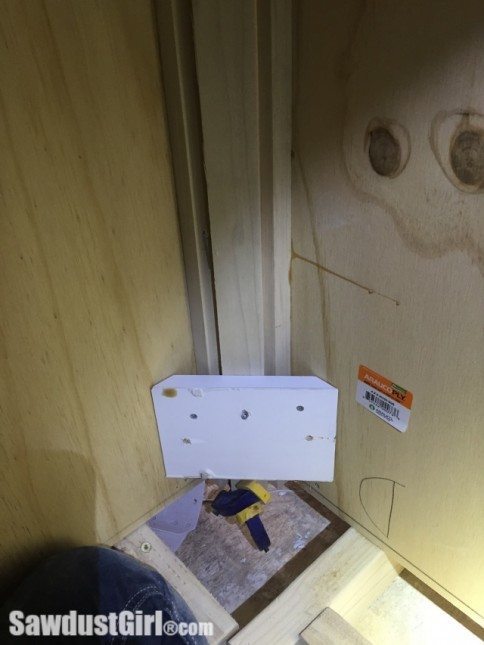 Mission accomplished! But then I had to crawl… back… out again.  :-O
The reason I have this wasted space is because of my slanted ceilings.  I built this little wall to bump my cabinets out so the upper cabinets could be taller.  The electrical is yet to be hooked up in the island and you can see the "pigtails" that will eventually be connected to one of the existing outlets.  This space won't be used but it's an access point for the electrical connections.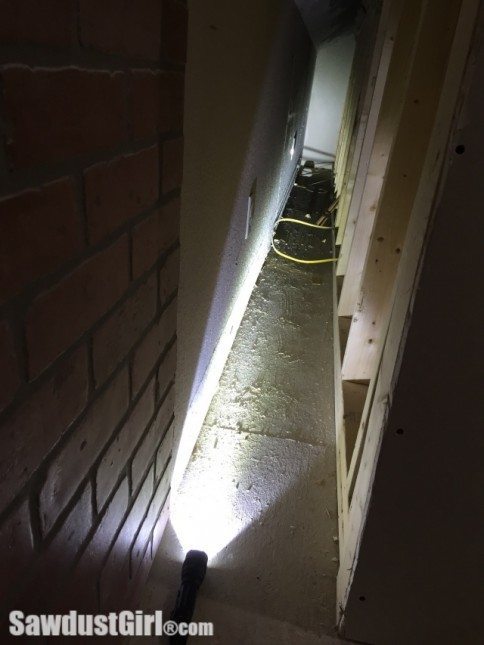 Obviously it was a useful access point for my empty blind corner as well.  Hopefully that was a ONE time deal.  The faceframe is secured, holes are filled and it's caulked up and should never budge or have to be messed with again.  And so the craft room journey continues…