I originally built and finished the pantry countertop in my workshop.  I finished it with Tung Oil and it was lovely!  Then I proceeded to build and paint the rest of the pantry … on top of the lovely countertop.  It became less and less lovely as this transpired.  Of course I can't have a non lovely countertop in my new pantry so I HAD to refinish it.  I've been fixing it for about 3 weeks and counting.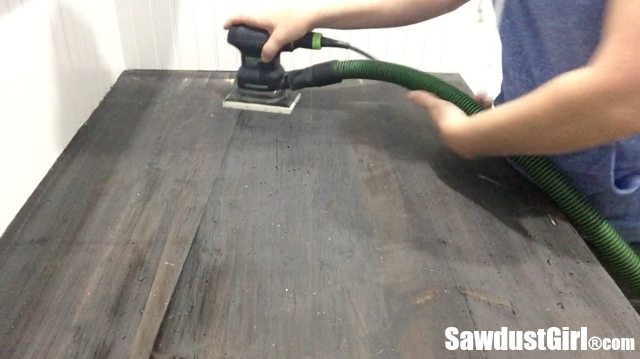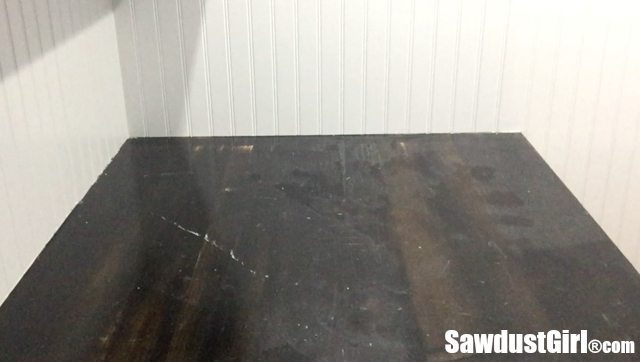 Refinishing Wood Countertops
I had to do some sanding to remove all the paint splatters and paint marred surfaces where painted heavy pieces had been dragged over the counter.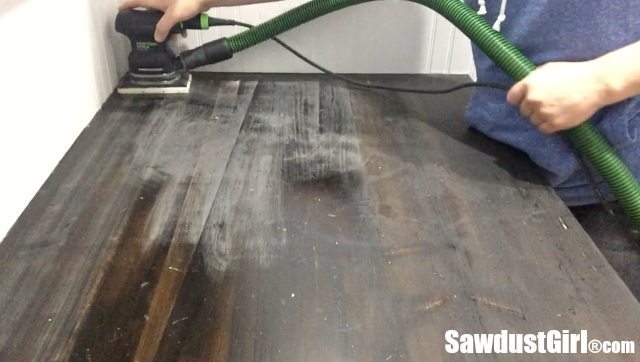 Sanding removed the paint as well as some of the tung oil finish AND some of the stain/dye making the coloring really uneven.  A few places were practically bare naked.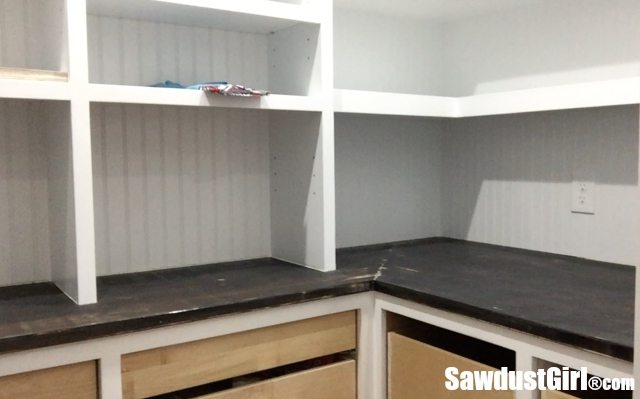 So I had to even out the coloring.  I used a gel stain or two because the gel stain is a mixture of stain and polyurethane and"other stuff" so . It isn't absorbed by the wood — it builds up a surface.
I applied a coat or two of ZAR Moorish Teak.  I used a brush and a rag.  Wiped off the excess.  Brushed more on in the areas where it was bare naked.  Got it looking very even.  Then let it dry completely.
It was WAY too red.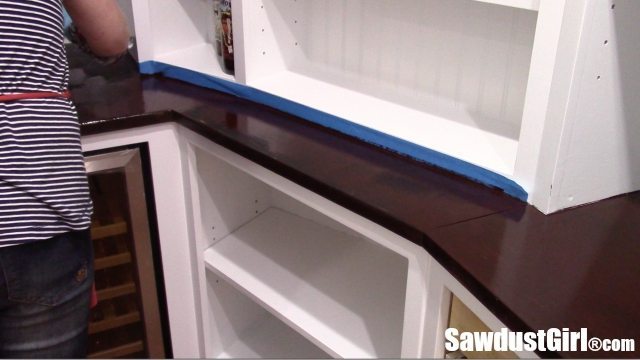 I then applied a coat of ZAR Black Onyx.  Better.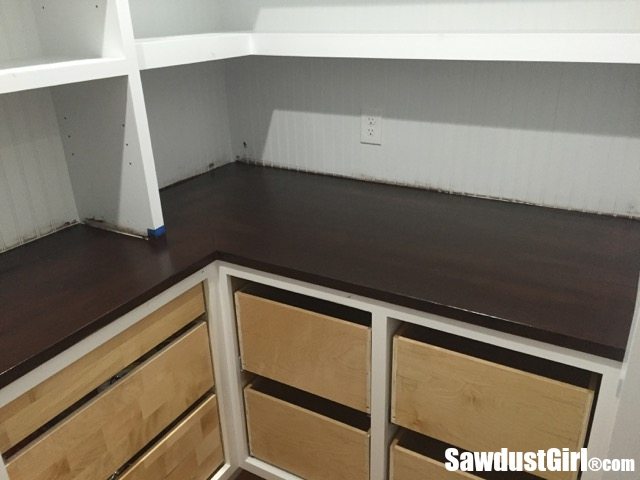 And then another.  Much better!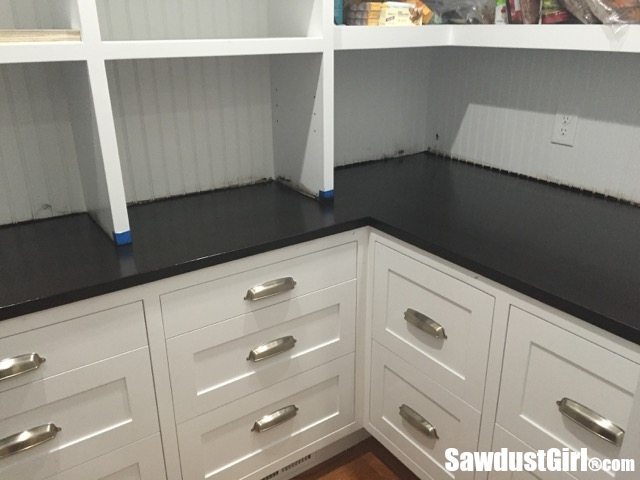 (Notice the stain all over the white beadboard?  I decided it would be easier to tape off the counter later and touch up the paint than to tape the beadboard — which is uneven and will inevitably allow the stain to leak anyway.  But MAN I slopped that stain all over!)
I had to top that all with polyurethane.  I couldn't use a lacquer because I can't spray in this tiny room.  I couldn't stick to tung oil because the compatibility of tung oil over the gel stain is questionable.  I felt like polyurethane was my only "sure thing" option…even though I am inexperienced in the art.
I first tried brushing it on and it was WAY too thick.  So I let that dry and then sanded it down.  I sanded it by hand because I didn't want to sand off my coloring again.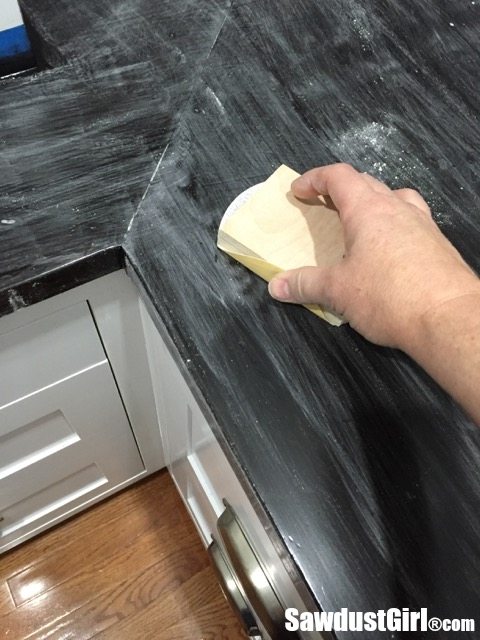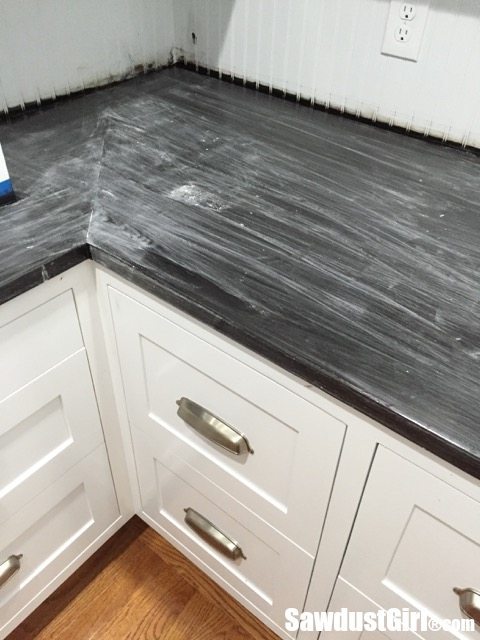 After sanding, I vacuumed and wiped the countertop off with mineral spirits and started again.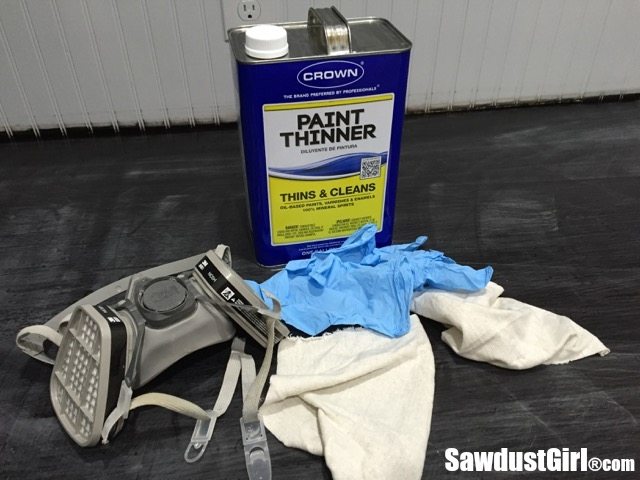 This time I mixed in 40% mineral spirits to dilute the polyurethane and then I wiped it on instead of brushing it.  Worked great!  I wiped on coat after coat after coat.  Day after day after day.
But it went a lot slower than it sounds.  It rained the entire first week so the humidity slowed the dry time.  I waited a day in between coats.  Then it got really cold, affecting the drying time. I continued to wait a day in between coats.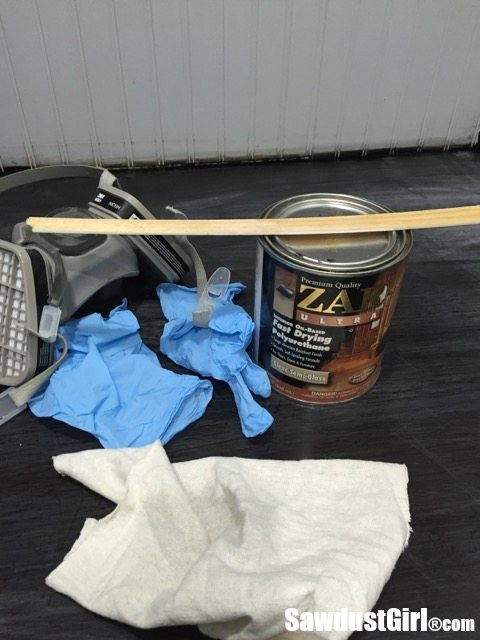 I applied about 3 or 4 coats and then I'd sand because even though it looked good it didn't FEEL good.  There is always some grit or dust or air bubbles that get in there.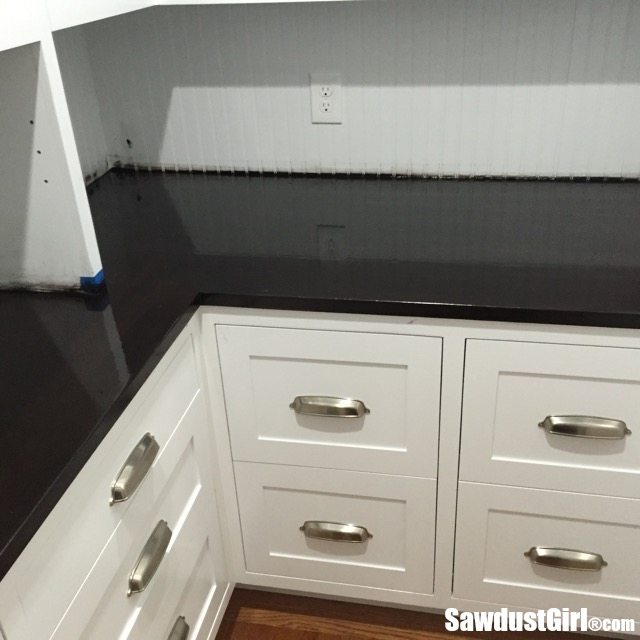 So I'd sand and wipe and coat, coat, coat.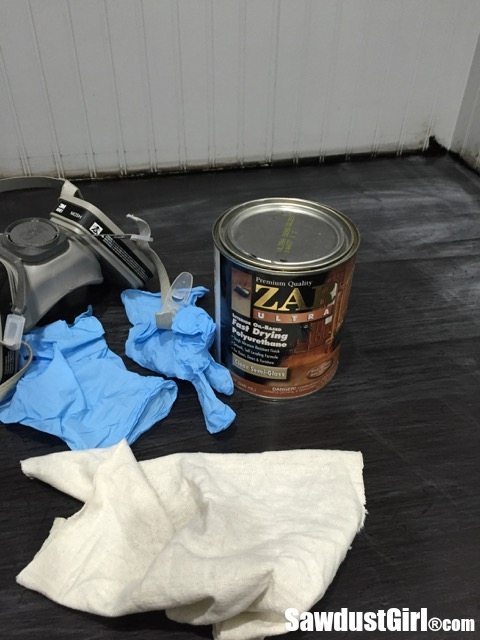 It was starting to feel like part of my daily routine …that would never end.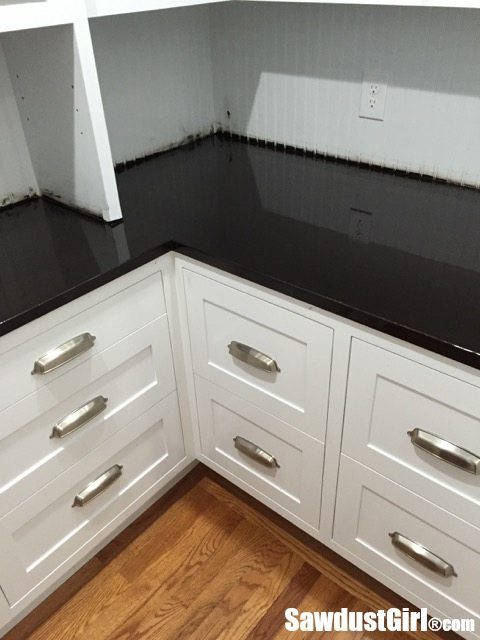 Every time I'd think, "This is it!  This is the last coat!"  After it would dry and I'd rub my hand across it I'd feel some little "something that was just not ok".
At this point I started wet sanding.  I read to wait 2 days before wet sanding polyurethane so that's what I did.  I have never "wet sanded"  poly before.  Google is great.
I started out with some 600 grit sandpaper that I had in the shop.  Not wet/dry sandpaper but I use it anyway.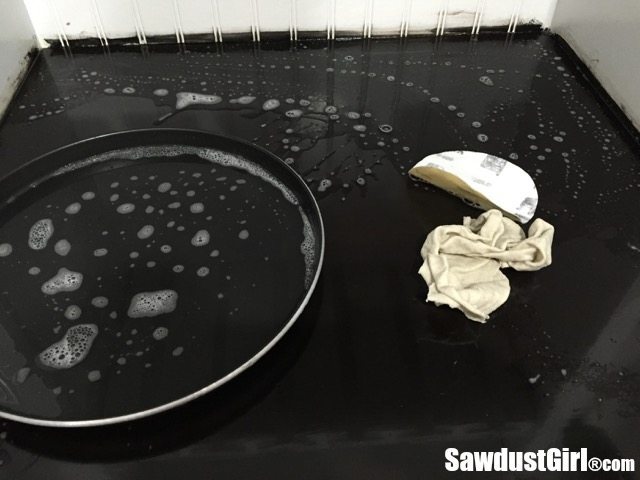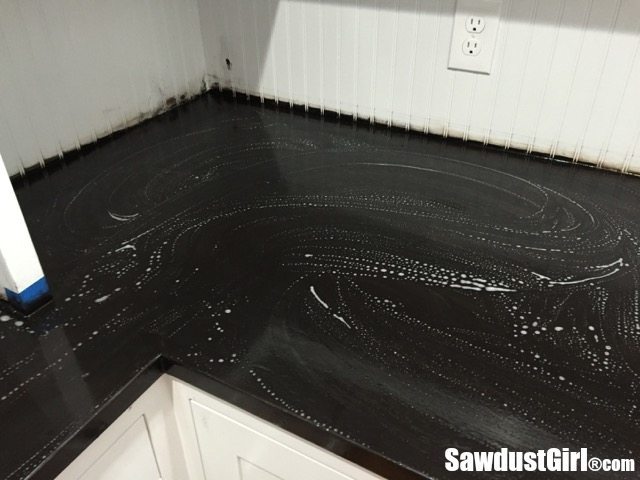 But I ordered some micro mesh sanding pads too because I wanted to get serious about this wet sanding business.  The grits are significantly higher in number but I read that those numbers are a bit hyped up.  Like the 1500 grit micro mesh is equivalent to my 600 wood sanding sandpaper grit.  (Nobody likes to keep things easy for the consumer, do they?)
I started with the 1500…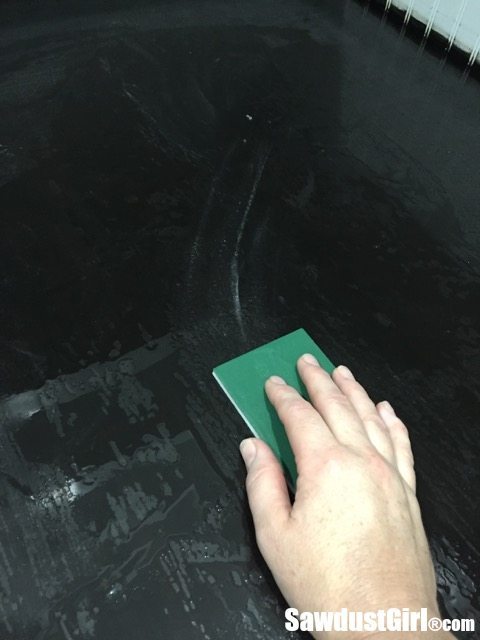 and I worked my way through my entire batch of micro mesh pads.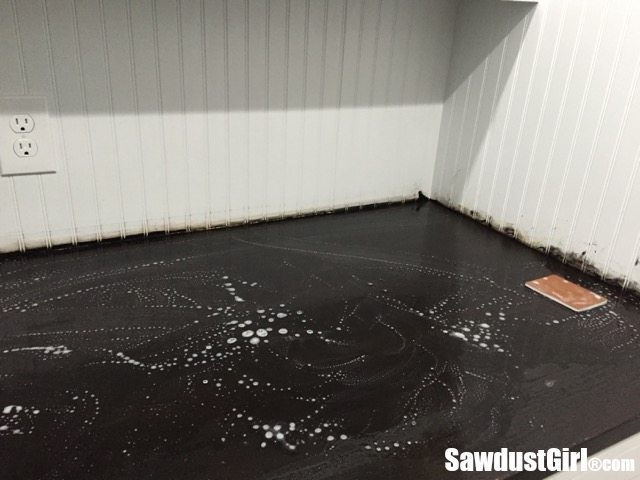 I have 9.  That was a lot of elbow grease.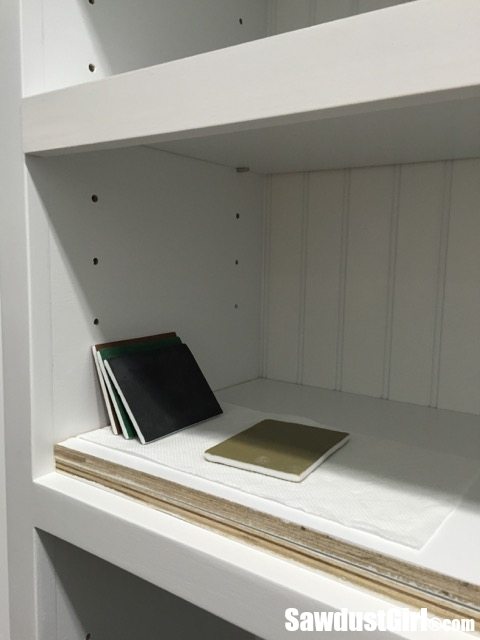 I used dish soapy water to "wet sand" so once I'd finished, I wiped up all the soapy, gritty wet residue.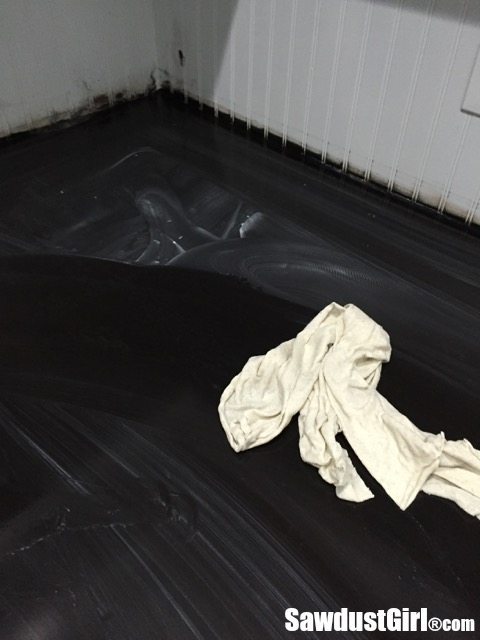 And it was no surprise to me that I had not achieved any level of gloss or sheen.  Though that was the goal.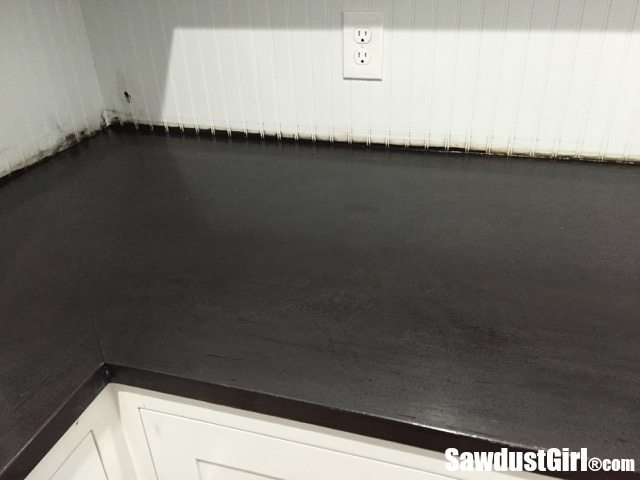 At this point I decided that I'd have to do a few more coats of poly and be happy with the absolutely beautiful to they eye finish I figured out how to achieve and stop feeling for bumps!
So why not try a couple more things?  'Cause I'm going start over again basically almost anyway!
I used some 0000 steal wool and rubbed on some Turtle Wax.  ('Cause that's another thing Google told me to do.)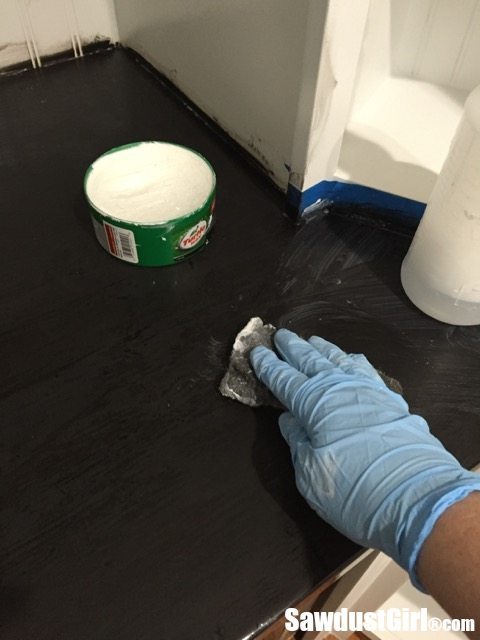 I decided I was sick and tired of hand rubbing these finishes so got out my orbital and tried that!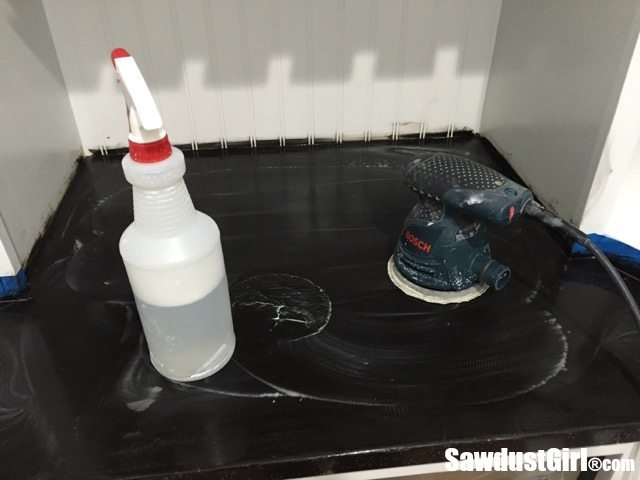 Like spitting on a fire — that did nothing.
Next I busted out the paste wax.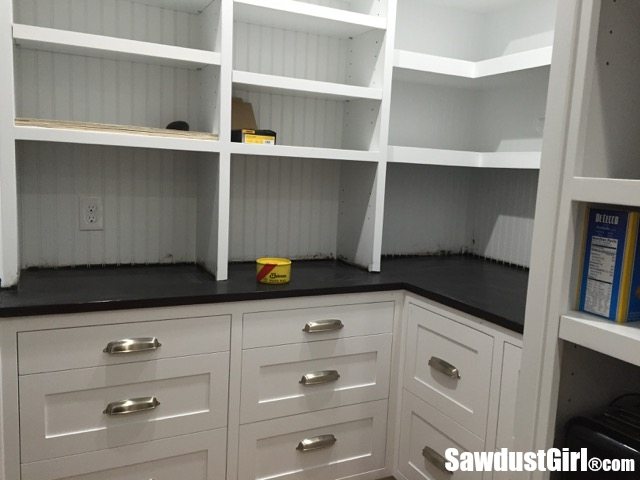 The wax didn't buff out to any kind of shine.  Pretty sure I applied way too much and it was too cold so it didn't really dry, more like just hardened.  It got sticky when I tried to buff it, even though it looked hazy.  Probably the frost.
I cleaned off all the wax with mineral spirits.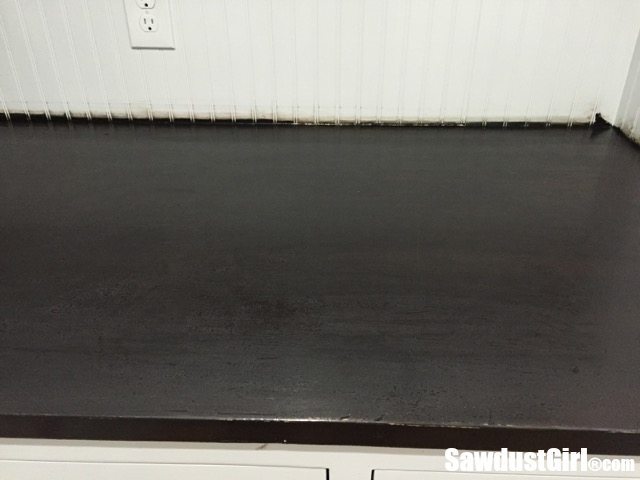 And because I had brought in the orbital — and used it when I was a bit beyond even being slightly peeved, I had to bring in some more Black Onyx to cover up a few spots where I cut through the entire process that I just recounted to you.
So now tomorrow I'll start applying polyurethane again…  Who knew Refinishing Wood Countertops was so much work?  I'll let you know how it turns out.