Sometimes there are obstacles in your way when installing cabinets and built-ins.  Sometimes you move the obstacles and sometimes you work around them.  I'm building a window seat and there happens to be a floor vent under the window.  It's a great opportunity to show you How to install a cabinet base with a floor vent.
How to install a cabinet base with a floor vent
I'll be building a stand alone base for this bench rather than a cut-out toe-kick.  Both explained in my Cabinet and Built-in Building Basics post if you'd like clarification.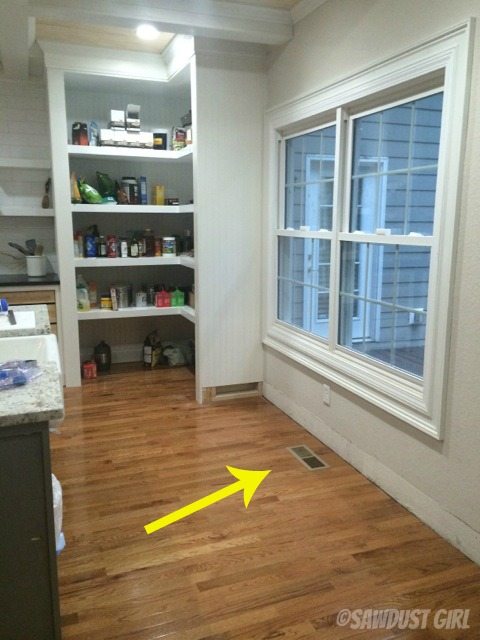 My base is built out of 2×4's.  I simply built the base frame to go around the vent.  I added another 2×4 directly behind the vent but apparently didn't take a picture of that.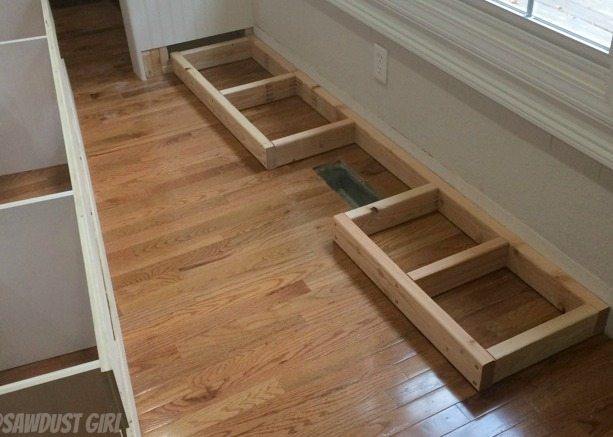 I added a top layer of  of 3/4″ plywood and MDF that were scraps I had laying around.  I added this layer to build my base to the appropriate height that I needed to match my baseboards.  This step is not needed as long as your base cabinet has a full bottom that will trap the air and force it out the vent and not up in the cabinet.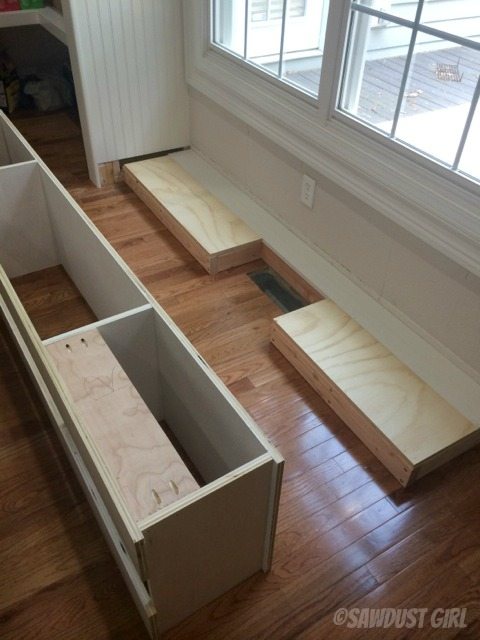 I will be adding a decorative toe-kick cover so my bench base 4″ narrower than the bench depth.   If you are putting a baseboard directly on your cabinet or bench, you'll install the cabinet and then add your base with vent.  I'm taking care of that first since  the vent and baseboard is set back behind the bench.  I don't like laying on the floor so I can see what I'm doing while trying  to nail things into place.  😉
This part is easy; set your base in place and mark where you need to cut out for your vent cover.  (Make sure you find a vent cover that will fit your baseboard), cut out a whole and secure your vent cover.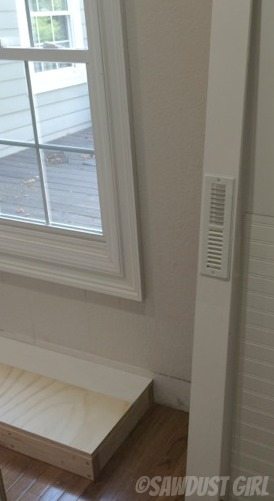 Then install your baseboard.  (btw– it's much easier to paint or finish this decorative base before installation as well.)  I caulked all around the base of the inside of my little air pocket so no air would escape anywhere but out the vent.  Probably not necessary since the air will take the path of least resistance but I like to be thorough.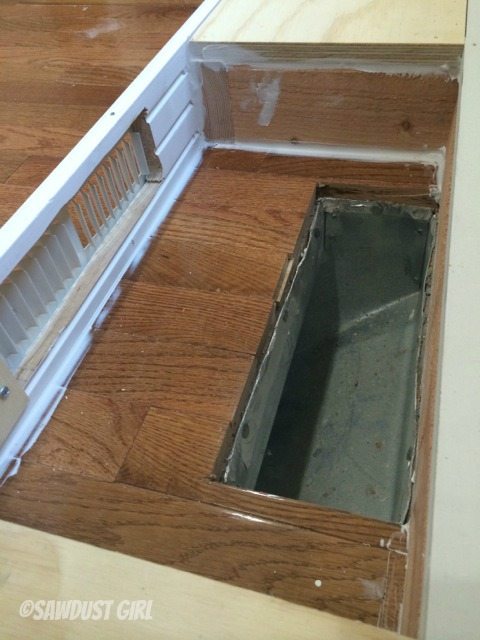 You might think it's necessary to have some sort of flex tube or extender to direct the air to the vent but you really don't.
The air is going to take the path of least resistance…it's going to flow through the air vent.  So now you can install your window seat, cabinet or built-in and get on with life!
*It is a good idea to paint the inside walls of your base around the vent to prevent mold.*