I built a second tier to my driver bit drawer storage.  After building my sliding driver bit storage tray, I needed additional storage for my bits that are too long to store in that top tray.  I don't have that many, but everything needs a home so these bits needed their own little storage area.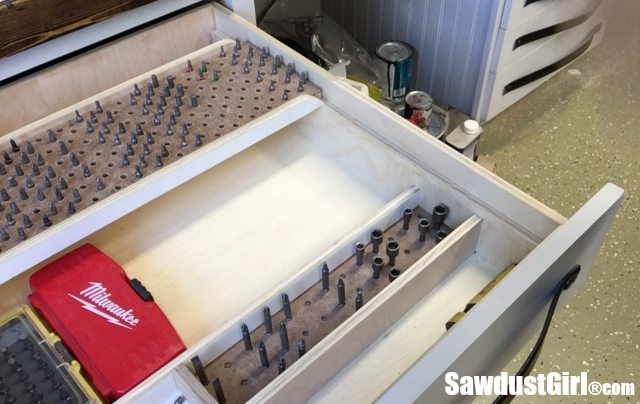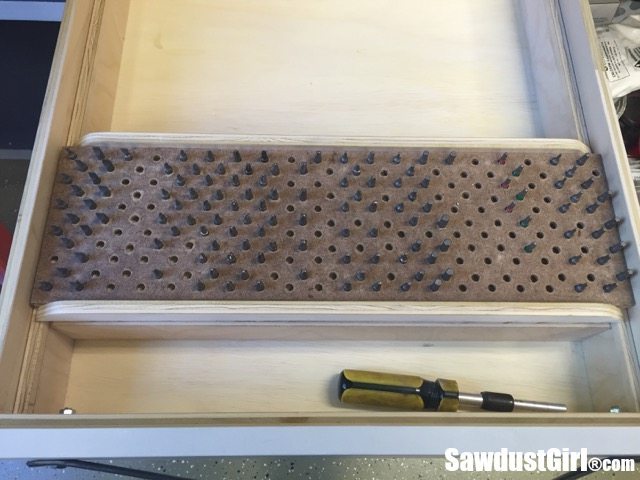 I decided to build that home for the tall bits, right behind the little cubby that houses my screw drivers.
Drawer Storage for Driver Bits
I cut a strip of 1/2″ plywood to fit the width of the drawer and then cut a piece of pegboard to cover about 2/3 the width of that plywood.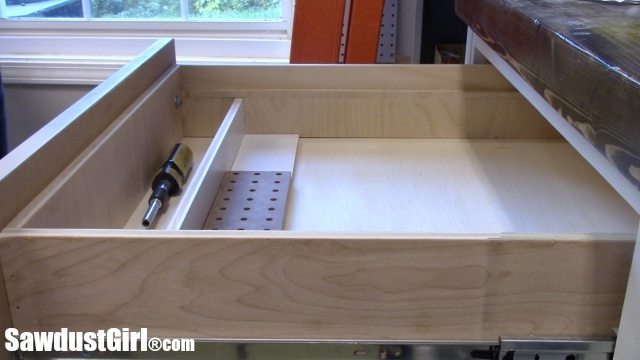 I had to drill the holes in the pegboard larger but I didn't add additional holes like I did in the sliding bit storage tray.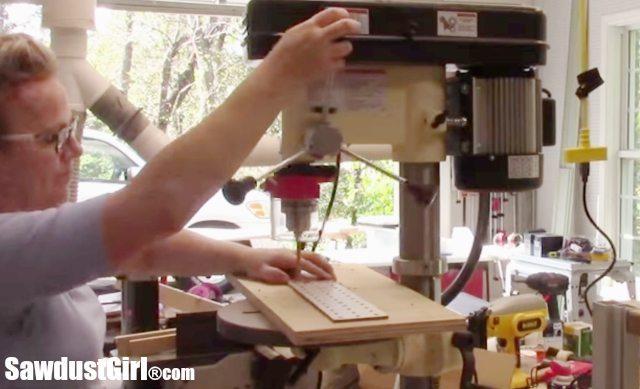 And, once again, drilling holes chipped out the melamine coating on the pegboard so I sanded that smooth (and removed most of the white melamine coating for color uniformity).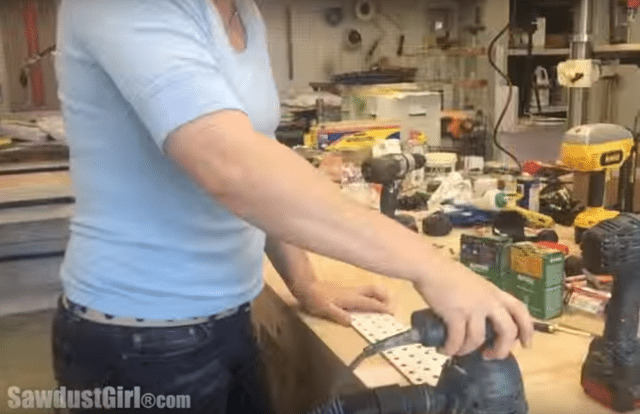 I glued a strip of thin wood around the perimeter of the pegboard and glued that to the 1/2″ plywood base.  This strip created a little extra height to insert the bit shanks into so they don't wobble.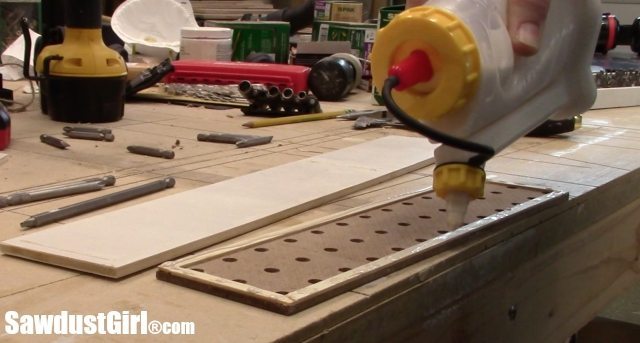 My glue-up weights.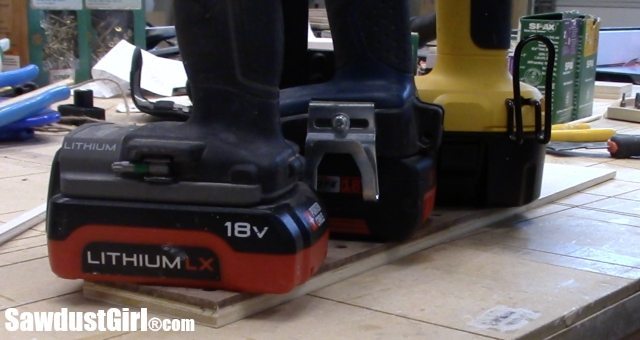 The blank area to the left of the pegboard is for even longer bits which will lay horizontally in this space so I needed a back to keep them from rolling OUT of their home.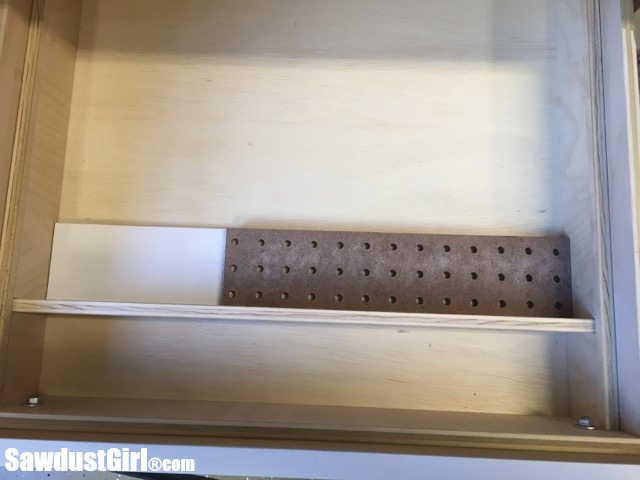 I added a side divider to completely enclose them.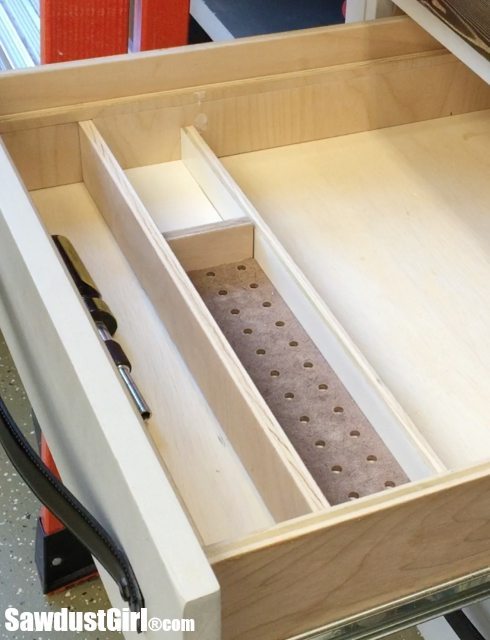 I glued and nailed the back divider onto the 1/2″ plywood bottom and then glued the bottom down so this portion so the bits didn't lift up the entire storage piece when trying to remove them.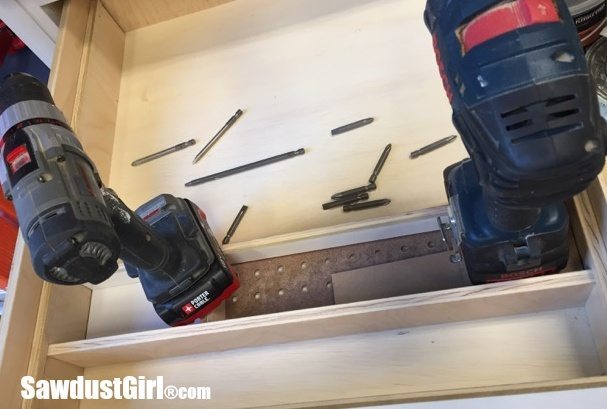 Again, my drills are great weights for glue-ups.  I added a stack of scrap wood under the back of the drill to keep the weight even.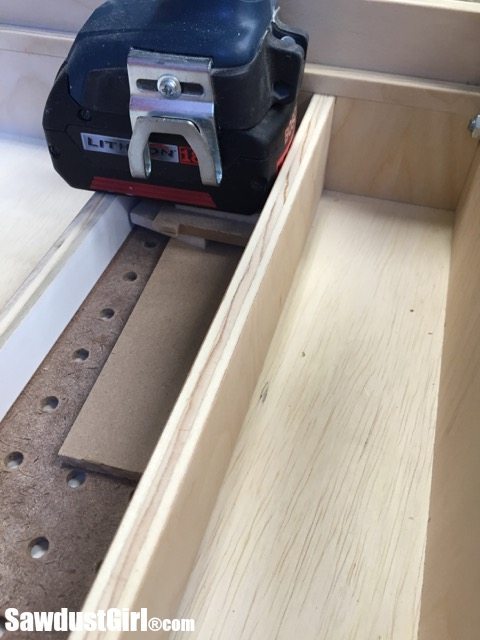 I'm repeatedly surprised by how much of a time and sanity saver it is to utilize this drawer storage.  Ever other day I ask myself why I didn't do this 4 years ago.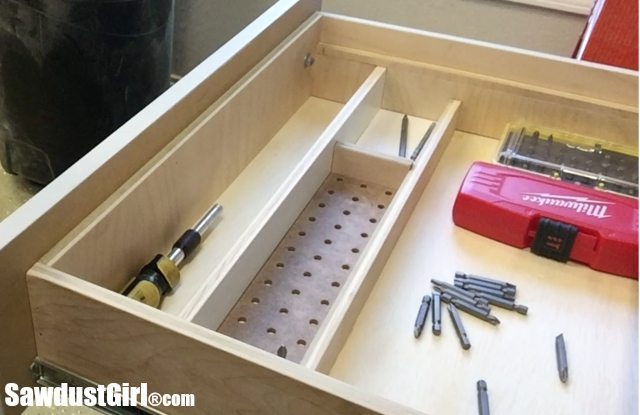 I have some socket bits (that I don't ever use but might someday so I better keep them) stored in a little clippy thing that I didn't want to keep so I hand wrote the sizes of each bit next to it's home.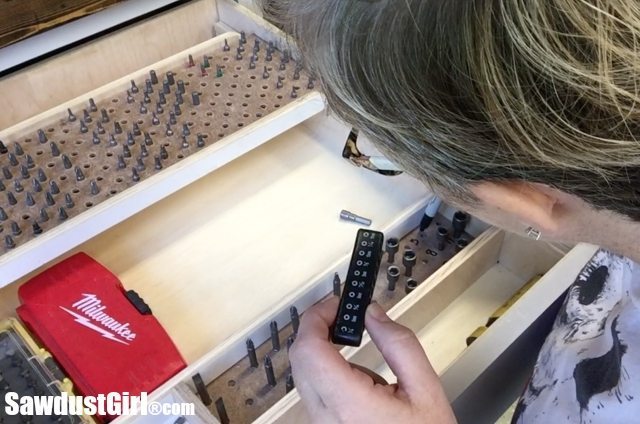 AND I hate how messy it looks so I ran out and bought myself a label maker for all my upcoming projects.  BUT I'm really proud of myself for leaving this as is and not redoing it with the label maker. That's kinda big for me and my perfectionistic tendencies.