It doesn't have to be perfect to be beautiful!
My friend, Myquillyn Smith  (The Nester) recently sent me a copy of her new book The Nesting Place.
I briefly flipped through the pages but set the book aside.   I was in the middle of a project, covered in sawdust and paint and wanted to shower and snuggle up in bed to read it later that night…but after a long day of work I promptly fell asleep.  Maybe tomorrow…or Sunday…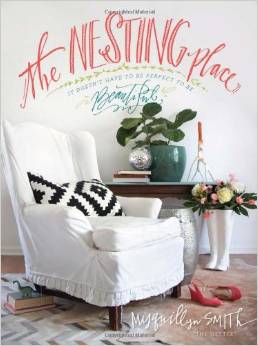 I finally got to a stopping point on my four projects and was finally so tired from trying to push through and get them all done that I went to bed early one night (like 7:00 early) and read…
and read…
and read!
I thought this was going to be a design book.  I'll give you a little spoiler — it's so much MORE than a book about design and decorating.  WAY more!
Don't get me wrong.  I love design, decorating and DIY – I basically eat, sleep and drink thinking about it.  BUT, I lately I've been feeling overwhelmed by the flood of "pretty images" that are so easy to access – and no matter how many times I swear off the internet I find myself jumping online during a necessary coffee break.
I have a serious love/hate relationship with Pinterest!  Great place to go for inspiration with literally thousands of images at the ready – all leading to a source where I can find the tutorial or even MORE images.   It's difficult NOT to start feeling inadequate in various aspects of your own life.  Home, body, hair, makeup… food (meals I cook for my family look NOTHING like the perfectly staged photos where I found the recipe).  Eventually I start feeling overwhelmed by the flood of unrealistic images.
Maybe that overwhelmed and inadequate feeling is part of the reason it took me so long to finally read this book — that was written and given to me by a sweet friend!
Maybe my subconscious was like, "pretty picture overload — overload!"
I can tell you that The Nesting Place is the perfect CURE for overload and feeling overwhelmed or inadequate and not just in your home, in any area of your life where you might be feeling those feelings.
Design and decorating are certainly covered, money saving tips, do it yourself project ideas, where to splurge and where to save…all those things are covered.  Myquillyn walks us through how to be a purposeful imperfectionist, how to repurpose and most importantly:  how to embrace the home you are in rather than waiting for…perfection.
I'm sure 50 could read it and come away with 50 different perspectives.  It's that kind of book.  I took what I needed from it.
This is what I needed:  I am far from perfect.  My home is far from perfect.  My skills, talents, efforts, family, body, hair, makeup, dinner preparation and presentation  … are far from perfect.
And I am totally cool with that!
If you win — Congratulations!  If you don't win — spend the $12.99 and buy a copy.
You will be glad you did!
Must have a USA shipping address to qualify.  The giveaway will end This Sunday (May 11 – Mothers' Day).
Related Posts