Hey guys! So recently, I asked y'all for some suggestions about what to do with my shop layout. I got some really great ideas from you, and I ended up changing my mind on a couple things. Just for a reminder, here's what my shop looked like originally…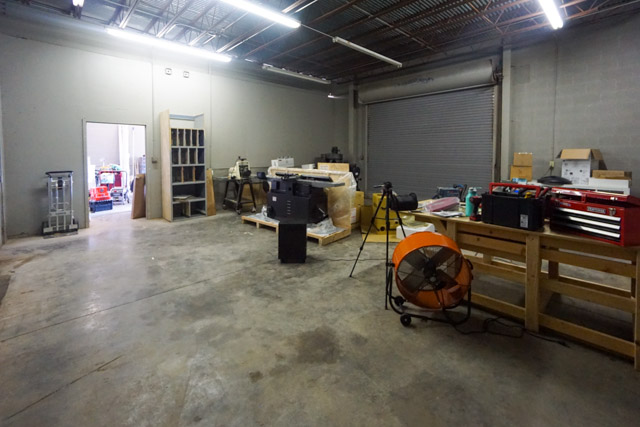 I decided that I don't need to take up valuable workshop space to create a dedicated painting room. I'll use one of the rooms in the back for that. Two of them are already rough plumbed for sinks. Most often, I'm painting parts and pieces so getting them through the door won't be an issue. And, it's a pretty large doorway so I'll probably be able to get most anything I want to paint, through the door. If at any point, I need to paint a giant something that I don't want to move to a back room to finish, I'll create a temporary spray booth. Like I did for the past 8 years in my Maryville house.
Demo
Without needing either of these bays for painting, I definitely want to combine them. At least partially. I'm closing up the existing doorway to create a solid wall at the front of the shop. This is a great place for outlets and tool storage. The door frame was metal and way harder to remove than any other door frame I've ever torn out.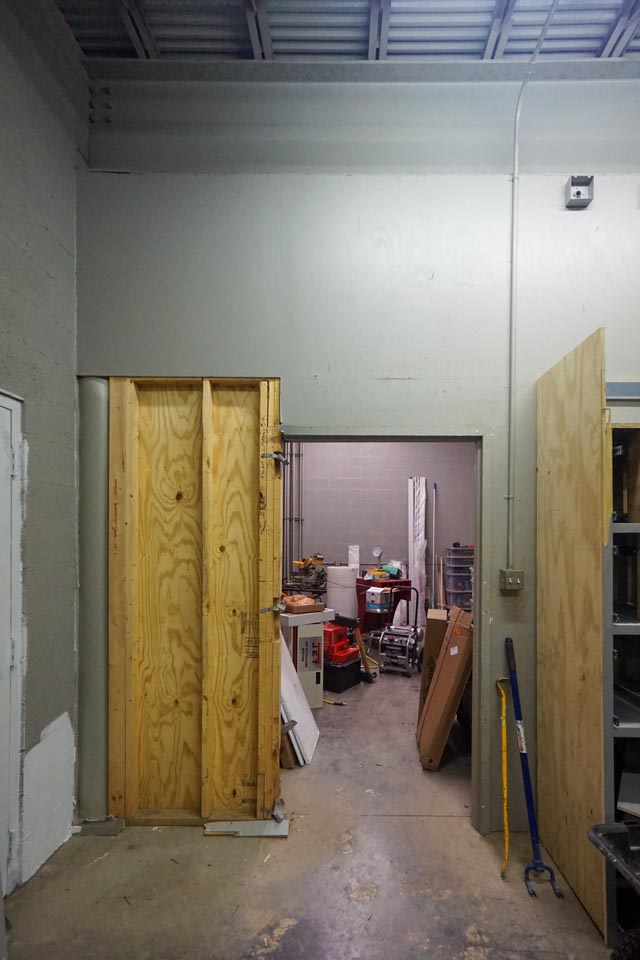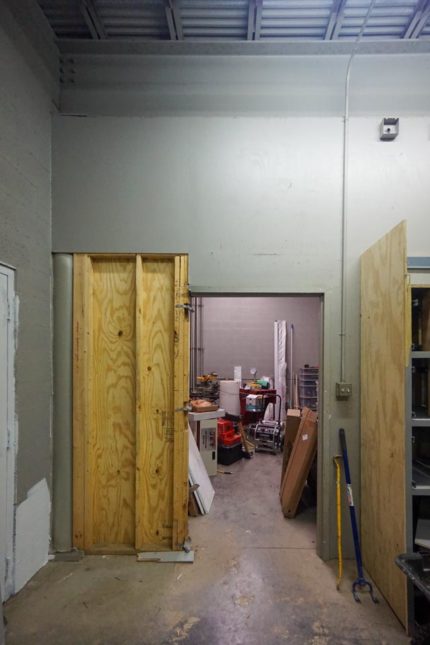 After spending one day tearing out that door frame and the bit of plywood off the walls, I decided to wait on the couple guys I lined up to do demo. (In my defense, I probably spent half the time looking for my demo tools — which ended up being at Julie's project house.) Anyway, after interviewing all those GC for quotes to fix my leak and demo the upstairs, I ended up not hiring any of them. When it came down to it, I couldn't justify spending $8000-$12000 for demo and fixing a problematic termination point in the metal siding.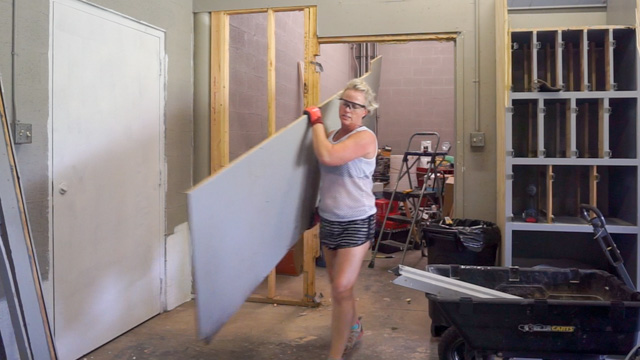 I hired a couple guys that work a couple days a week (when they're not busy with their day jobs) and they are demo'ing the sh*# out of the place for me. (Smartly. And the leak is fixed.)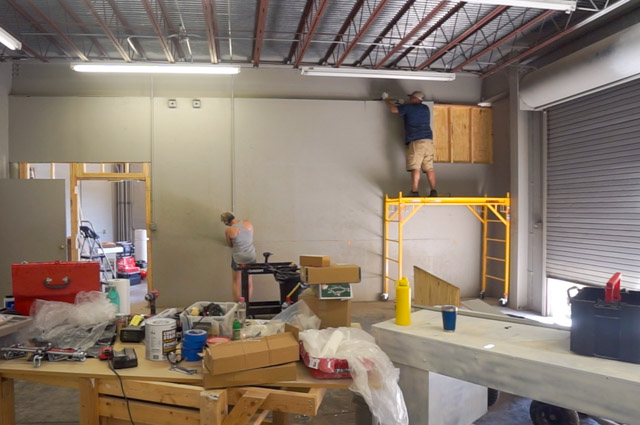 We ripped out most of the wall separating the two bays. I just wasn't able to create a layout with all my tools in one bay. Opening up part of the wall gives me the ability to spread out and utilize all the space while still saving some wall space for power outlets and tool storage.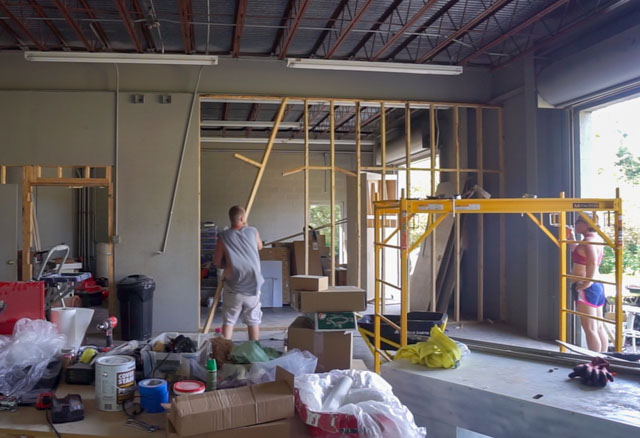 Paint
One of the suggestions that a LOT of you made was to not just paint part way up, as I had proposed. You all thought I should paint all the walls and ceiling. So I did and I'm so glad! It just makes it feel fresh and bright. I bought 15 gallons of paint and used about 12 of them – just on the large bay.
I'm only working on the large bay right now because the smaller bay is currently housing about 200 bins full of tools and supplies. After get the large bay to a usable state, I'll work on the other side.
I left the existing light fixtures up while painting (so I could have some light) and I didn't care about getting paint on either the fixtures or the bulbs because I'm not keeping either.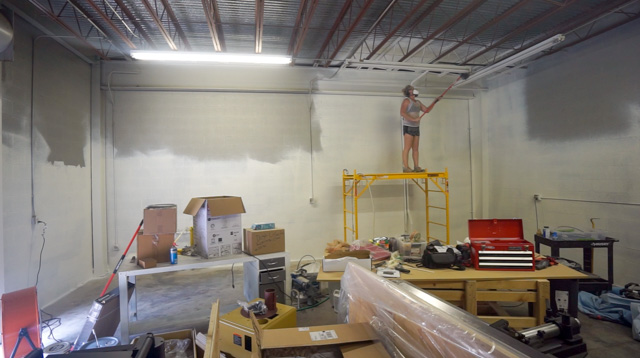 Electricity
My electrician (Sotero) and his helper, pulled ALL the wires and rewired the whole shop. He left most of the conduit but ran all new wire and added a lot of new breakers. I think every tool gets a dedicated breaker. The receptacles on that far wall are GFCI (because I'll have a sink).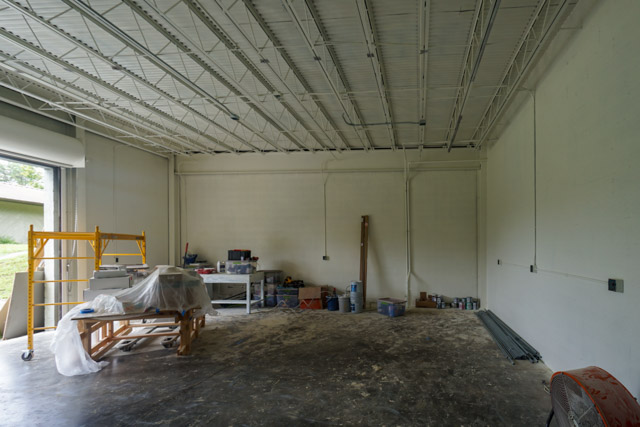 They also changed out the outdoor outlet (it wasn't even GFCI nor in a protective box) and put it in a proper box. Things like this is partly why my electrician wants to do everything new. He doesn't trust what was done. I stand behind that decision 100%, even though it costs me more money.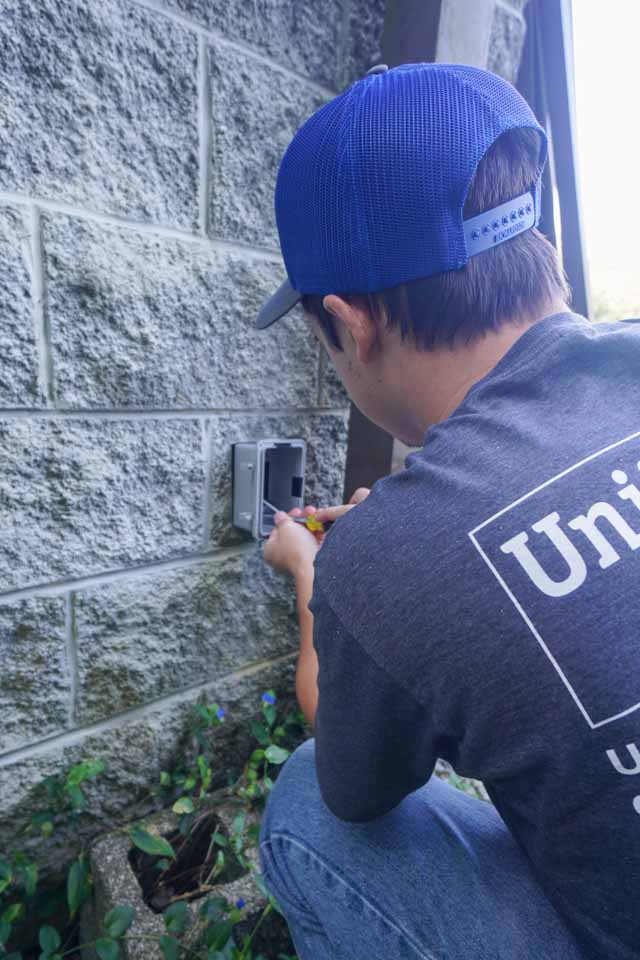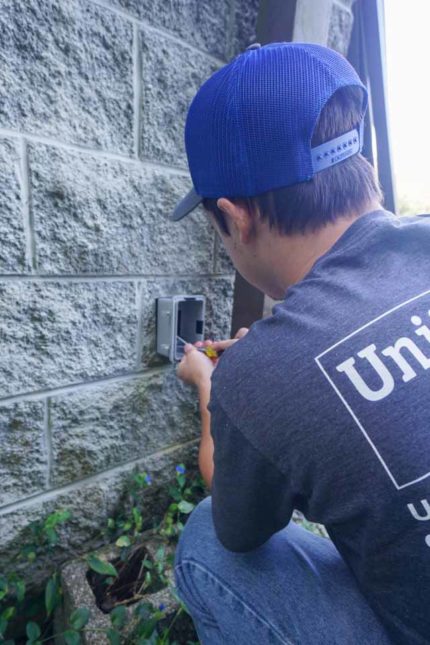 It is clear that someone, at some point in the history of this building, didn't exactly know what they were doing. One small example of evidence to this point is the spray foam that seemed to be their answer to everything.
Lighting
I have spend literally hours, searching the web for lights. What I want is LED, 5000K with a CRI of at least 90. (92-97 would be optimal but– MAN is it difficult to find and expensive!) Lighting is especially important because my workshop is basically a "production studio". My lights are going to end up costing a PRETTY penny. Once I have my tools in place, I'll probably have a lighting expert create a light map for me so I invest in fixtures that give the the right illumination in the right places. I both thank and curse Jay Bates for "bringing to light" to the many, many, many additional considerations I needed to be …considering– when purchasing lights.
For now, I have a temporary solution with some fairly inexpensive lights I can later use elsewhere. Where the Color Rendering Index isn't so important.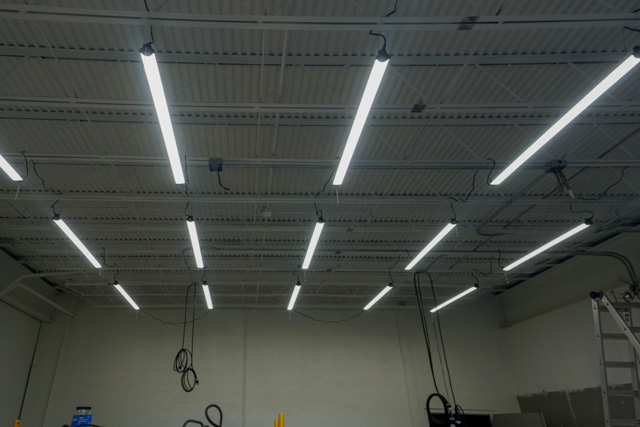 Since most of my big tools will be sitting in the center(ish) of the room, the power will be coming to those tools through these big "drops". I have both 30amp 220v tools, and 20amp 220v tools. So the plan is to change out the tool plugs to match the proper power outlet so no-one, ever, accidentally plugs a machine in to the wrong power supply.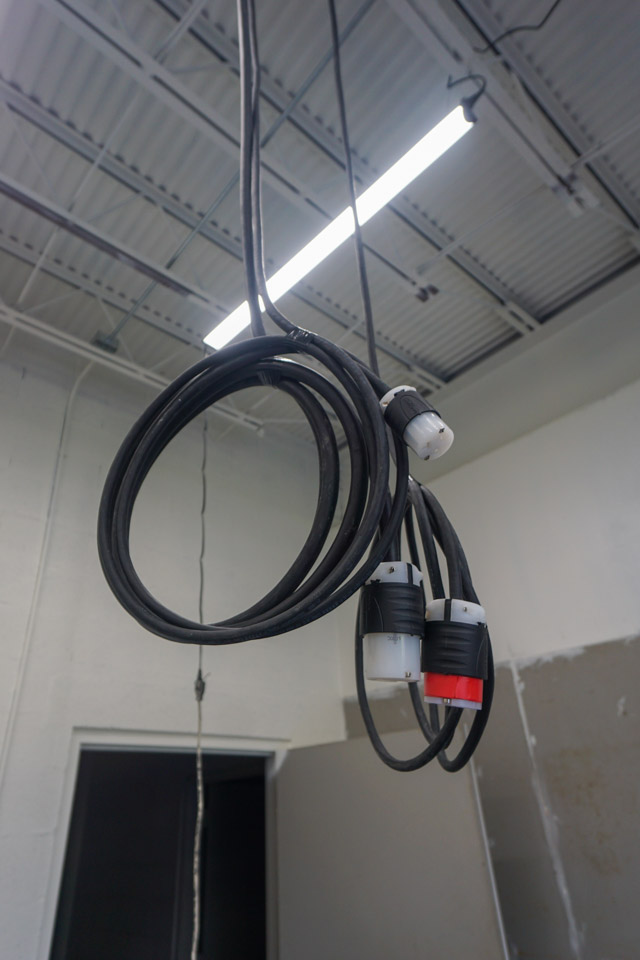 These don't actually have any power yet because Sotero had to dash off for a (day-job) work issue and won't be back until this weekend. I have power around the perimeter of the shop though so I can use my hand tools and miter saw.
I started on a project this week that would have been super fast with my table saw. However, since I don't have use of the table saw yet, I used my track saw. Today, as I was FINISHING this three day project, I realized that I might have made a critical error that wouldn't have happened if I'd waited for my table saw. It might take a day to remove, demo and prep to start over… But whatever. I'm finally in my workshop, using my tools to BUILD things –and it FEELS AWESOME!