Last week Madison and I decided to have a crafty day and one of the things we made was this Moss and Burlap Valentine wreath.  It's pretty messy so I wouldn't hang this inside but it's fun for the front porch this Valentine's week.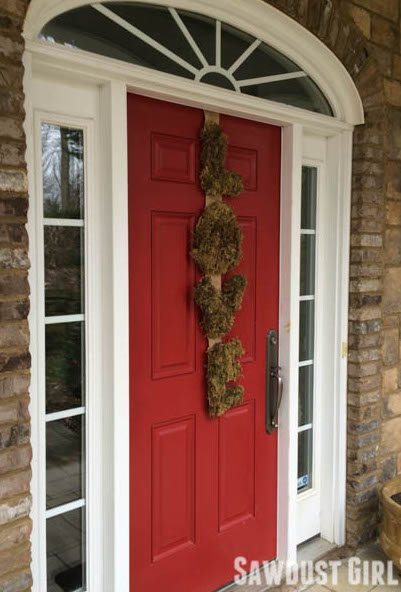 Moss and Burlap Valentine Wreath
Materials:
burlap
hot glue gun
foam craft board
spray adhesive
fake moss
box cutter
ruler
pencil
Step 1: draw out your letters
To start off we took a ruler and divided our foam-core board down the center vertically, then measured  2 equidistant lines horizontally. This gave the appropriate spacing for the letters. After the spacing is placed all you need to do is draw your letters.
Step 2: Cut out letters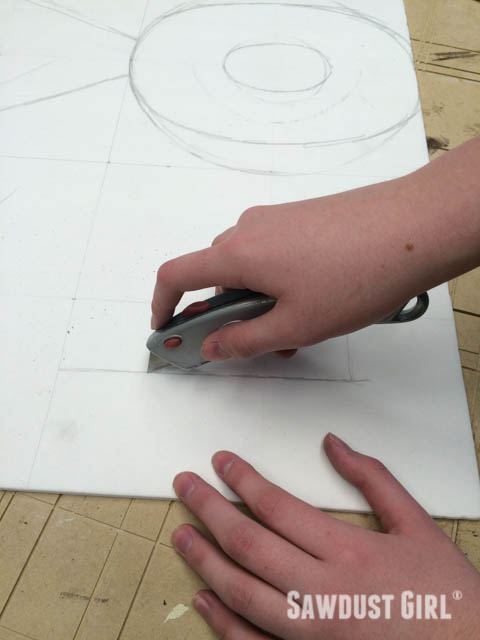 We tried scissors but found a utility knife was the easiest way to cut out the letters.  We cut this out on my work table so didn't worry about protecting our surface.
Step 3: Adhere moss onto the letters
We used spray adhesive and did this step outside.  Follow directions on your spray adhesive and make sure to do it in a well ventilated area.
Step 4: Hot glue the letters to the burlap
I wanted finished looking edges and had no intention of breaking out the sewing machine so I opted to fold my burlap edges over and glue them in place.  Then I glued down the letters.  Make sure you have an idea of spacing before you start applying glue to the burlap and try to get all of the letters straight.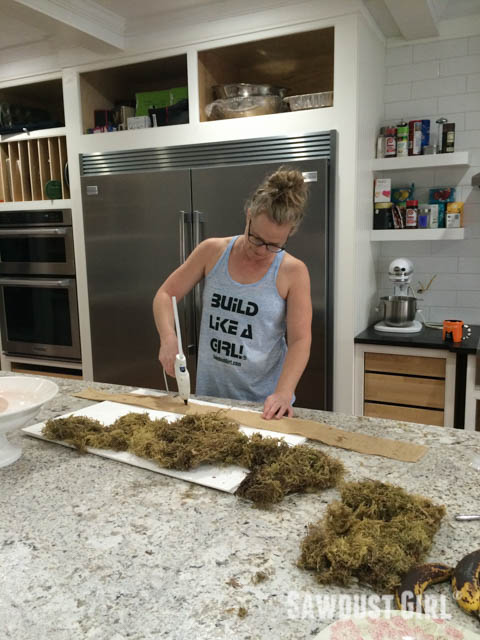 Which I didn't do.
My E is a little wonky…but it fits our personalities perfectly!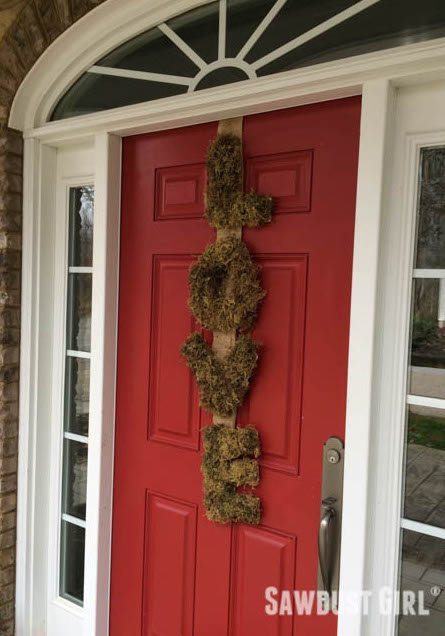 *I simply used some 3M heavy duty mounting tape to stick the burlap to the top of the door.
Boom.
We dressed our door with a Valentine wreath and spent 30 minutes of quality time creating together.  Which as we all know is priceless, so we have to get as much of that in as possible while we have the chance!