This is Part 2 of Andrea's bathroom vanity build story.  Read part 1 here.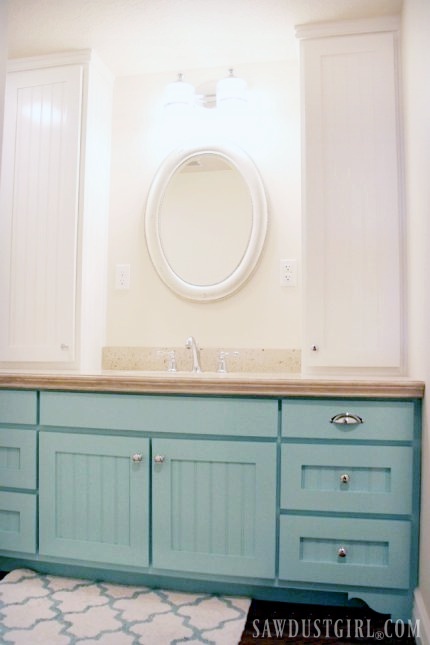 February 22
Today I built one drawer. It's way too small (by about ¼"), but I don't care. After my last experience, I am thinking too small is better than too big, and I am erring on that side of things. I need to go buy more wood, but now I'm kind of wondering if I can just use the old tattered pieces from the janky drawers, after all? We'll see. I am waiting for them to dry, as I had to glue them together in some places. Like I said, we'll see.
Cutting all the pieces for six drawers took an entire day (I waited for a sunny one so I wouldn't freeze to death out in the garage) because I am too cheap to go buy a dado blade set.
I hate building drawers. This is something I never knew about myself. I had to set them aside and think about them all weekend (as I am wont to do, come to find out). I was too scared to measure them to make sure they'd fit. I was positive they wouldn't – they were such a nightmare to build. Finally, I bit the bullet almost a week later and took one downstairs to install it. It fit like they were made for each other. I fought the urge to do a tap dance on my roof with a megaphone, screaming, "It fits like a freaking glove!" (I may have done it on facebook instead of on my roof)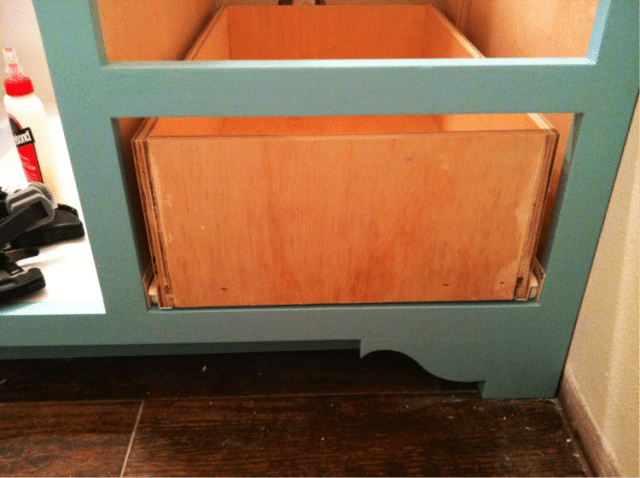 I installed the other two the next week (installing, to me, is WAY easier than building the drawers), and they fit even better than a glove, if that's possible. Of course there was one minor set back when I got so excited that I didn't even look at my drawer track when I put it on the drawer, and it was completely wrong (backwards). Fixed in no time. I rock!
I set aside a morning to build and install the last three drawers with confidence practically oozing from my pores. They didn't fit. Not one. Plus, I did something to my thumb and it bled everywhere. I wrapped it in a paper towel and secured it with some blue painters tape that was handy. My husband would be so proud (which is why I texted him a picture). Also received multiple sliver wounds. Ouch. I felt defeated. I spent the rest of the afternoon (okay, 15 minutes – which was all I had before my kids got home from school) sitting in front of my space heater, feeling sorry for myself and eating truffles (did Ty foresee this when he gifted me so many for Christmas?). I texted him that it was a two-truffle day.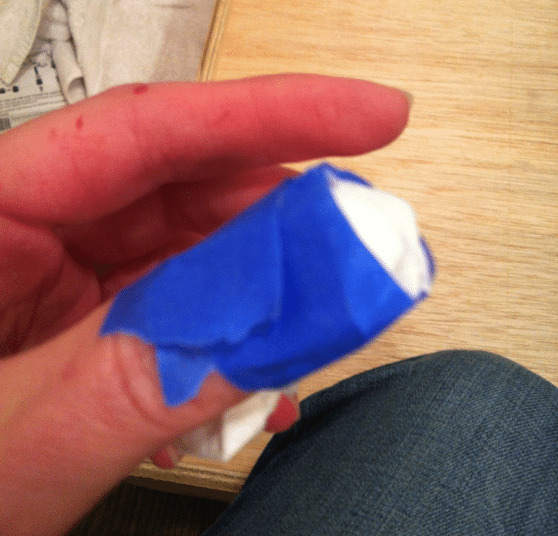 I tried to salvage wood from the traitor drawers, but just got mad every time I went in the garage. I felt ridiculously gloomy and tired of building for a couple weeks.
February 24
I ended up not needing any more wood! Hooray! Somehow I made it all work with scraps (luckily the top drawer is only 3" deep, so it was easy to find scraps that would work). The top drawer is shorter than the others, but who cares? After the kids were all in bed I installed the drawers. They were harder than the others to install. I swore plenty. They're IN!
Then, Lo, what is this? A router on Craigslist, complete with a router table, for $35?! Perhaps a router would make rebuilding the drawers easier (dado with a regular table saw blade much, anyone? No? Let me break it down for you: that equals 24 passes – if you're lucky – per drawer). Having a router made me feel rejuvenated and ready to try again (retail therapy works across the board, apparently).
February 25
Skyped with Sandra today, she's so cute. She talked me through the process of building doors and gave me some tips on finish (polyurethane inside of drawers, or paint with high gloss – I'm going to paint, since I had to use some wood filler in a few spots; polyurethane over turquoise if I am going to be scrubbing it, but poly turns white paint yellow over time, so use polycryllic for the white). I never know what she's talking about cause I'm such an amateur, but she explains it over and over, and I eventually get the gist of it…usually the next day after I've turned it over in my mind a few thousand times. I am excited to start the drawer fronts and doors. But not this week. This week my house looks like a Marty Gras party exploded in the living room. It is Chocolate Extravaganza (the biggest school/community fundraiser of the year) this Saturday. After that, I will be able to breathe, hopefully, and concentrate on my project.
Doors and drawer fronts are tricky, but I marked everything really well with painters tape, made copious notes, and totally nailed it.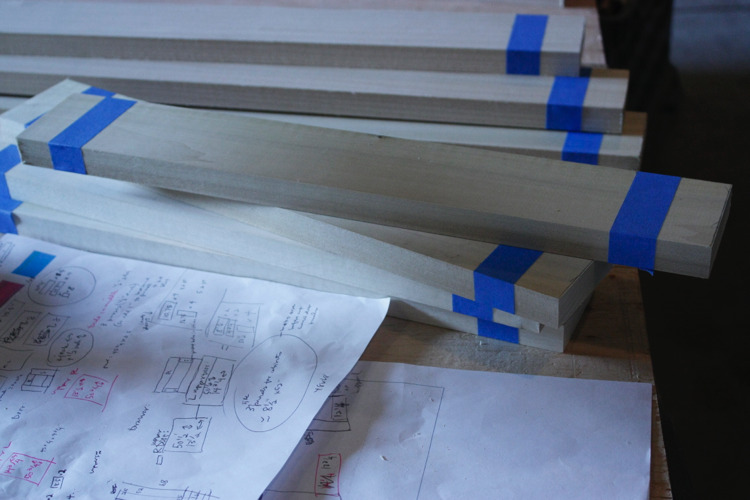 Just don't ever look at the backs of them…
I have been priming and painting for what seems like months, probably because it has been. It feels like it will never end. But it has to.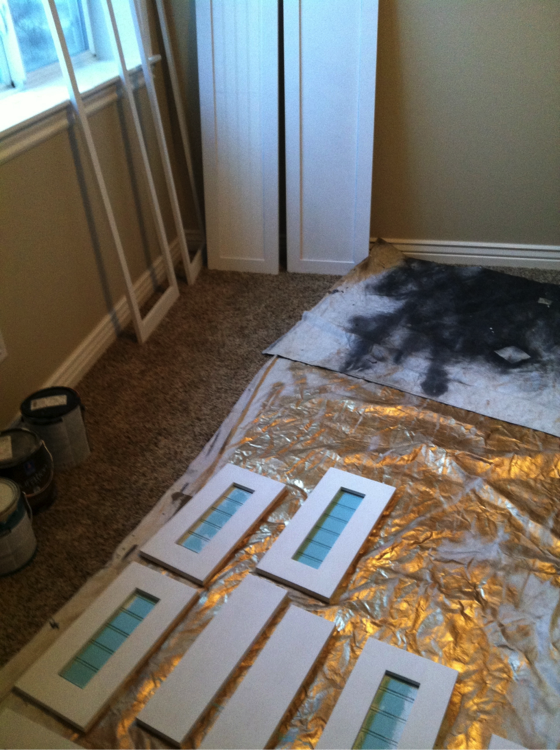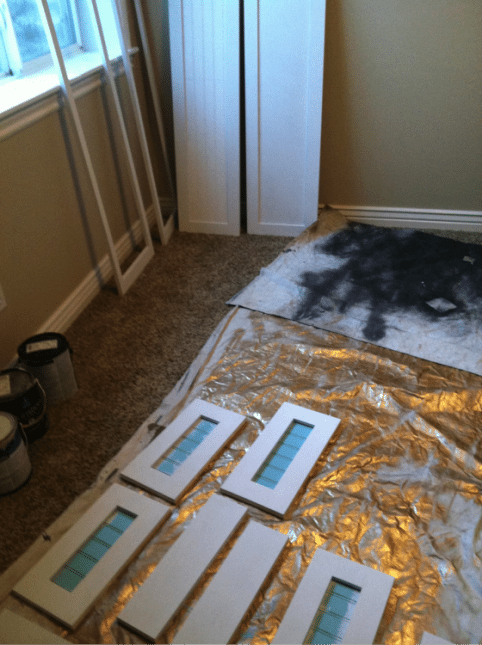 I never learn to be patient. Instead I jump straight to, "Oh, crap. I HATE them! What am I going to do?" I always forget that once everything is painted (and not just primed), it looks better. Getting these puppies all turquoised-up made me love them.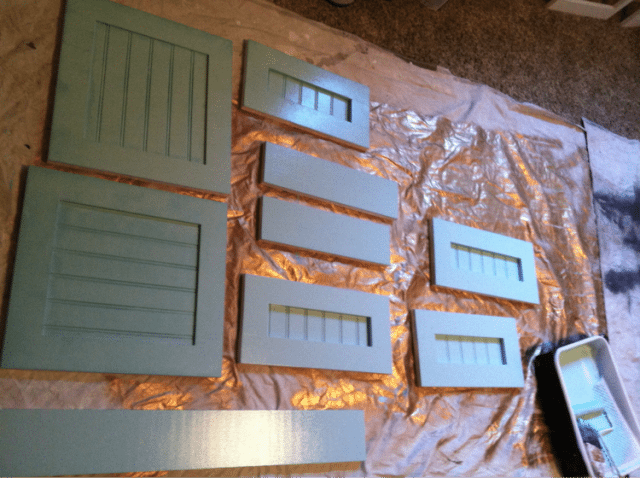 April 9
It took me several trips to the store, and the backs of my fronts (confusing enough for you?) look like wood peckers live in those drawers, but I got them on and they are like music to my eyes – if there is such a thing.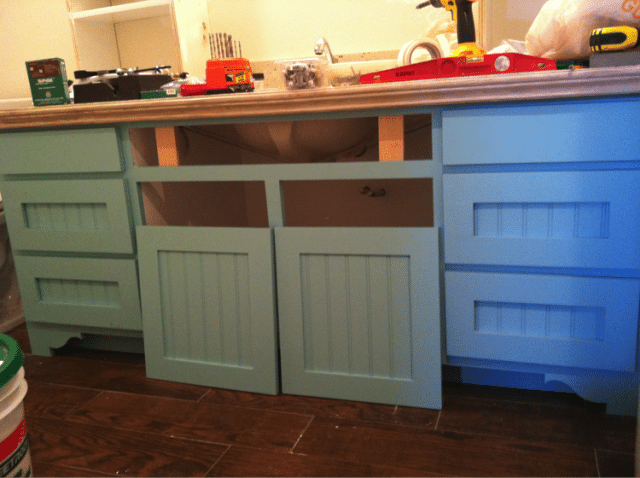 May 2
I am practicing some serious self-restraint right now. I will not cry. And I will not (…wait…will I…?) tear my stupid cabinets into tiny popsicle sticks. I tried to install hinges just now. I bought a template to make it easier. Foolproof, you might say. Well the hinge people never saw this fool coming, apparently. Because they don't fit. They tore little chunks out of my doors. I am ready to be done. I had planned to get hinges on today, and then get everything installed and trimmed tomorrow; the grand finale, right? Now I just want to burn down my house and walk away. I am seriously pissed and discouraged right now. I am waiting for my husband to get home, just in case he knows some secret magic trick that will make this all go away.
May 5
The moral of this story is don't buy cheap hinges from your local home improvement store. Save yourself a lot of grief and order some nice ones. I ended up doing a lot of sanding and drilled two extra holes that I had to patch (I used small chunks of plywood, and then sawdust and glue to fill those huge cup hinge holes – it was a pain). I installed the upper cabinets tonight (which sucked – next time I will consider the placement of studs when planning the size of my carcasses). I hate them. Like, a lot. I feel more than ever like a complete failure. It's been a rough week, and I'm sick, so maybe that's why it feels like the end of the world.
May 10
I hadn't stepped foot in the bathroom since I installed the uppers, because I just couldn't face them. I spent the weekend away, hoping Ty would just finish the project for me, but knowing he wouldn't (I have a strict no-helping-cause-this-is-my-project policy). Because I felt completely over it. Sick and tired, actually. Literally. I came home, saw the saw out, and ran downstairs. He had trimmed out the cabinets (the wall is so wonky, there were big gaps), and put the trim on top of them. I sat down on the floor and bawled while he told me that he knew I hadn't wanted him to, but that he had been in that situation before: stuck, and thought maybe I wouldn't mind a little help. I felt so relieved! Amazing how a few small feet of trim took me from hating the look of those upper cabinets to loving them. I am now reenergized and ready to finish this mo!
May 12, 2014
Caulked and primed everything that hasn't been caulked and primed (at this point it's hard to believe there is anything left in this world that I haven't already caulked and primed). I am so scarred from my last hinge encounter, that I am putting off putting on those last two doors. But I am determined to get done this week, so I think tomorrow is THE day!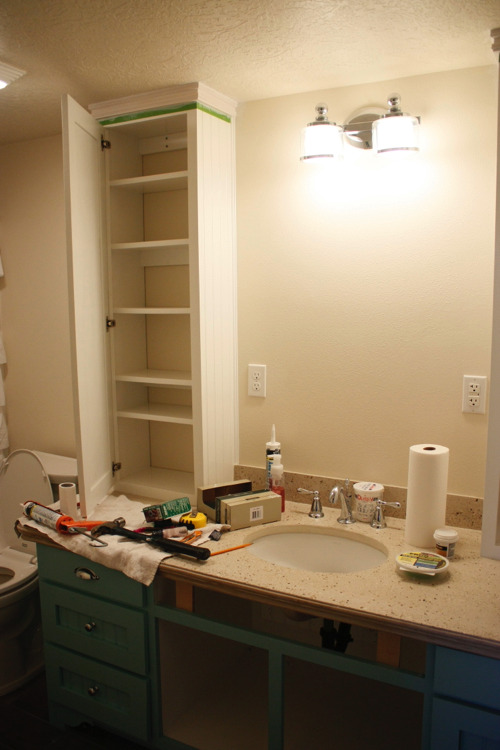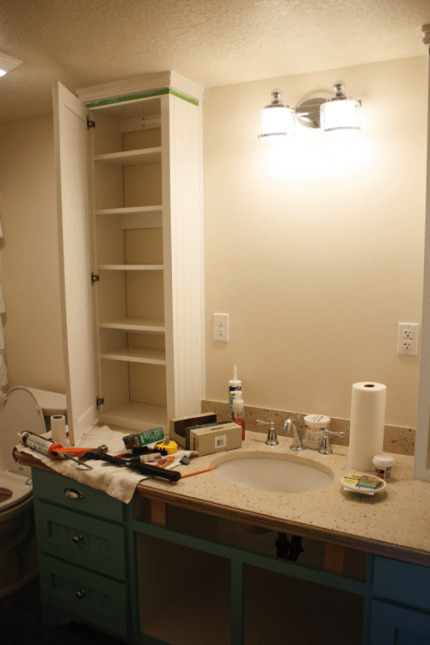 Finale:  Mostly I feel a sense of relief that this experience is over. By the end I was so tired of looking at it, thinking about it, worrying about it, and knew all its imperfections so intimately, that I kind of didn't want to look at it ever again. That has faded, and has been replaced with a feeling of accomplishment (thanks in large part to my husband, who countered all my bad attitude and negative remarks with positivity until I finally came around). Part of me – the perfectionist part – wants to build vanities repeatedly until I can do it in under an hour, perfectly, but the more dominant part of me – the part that wants to learn something new, and then once I do, I am no longer interested – has no desire to build a vanity ever again. BUT I have all sorts of other projects crouched in the corners of my mind, just waiting to pounce. And if what Sandra told me on Day 1 is true ("If you can build a vanity, you can build anything"), now I know I can figure them all out! By myself! It's a good feeling.